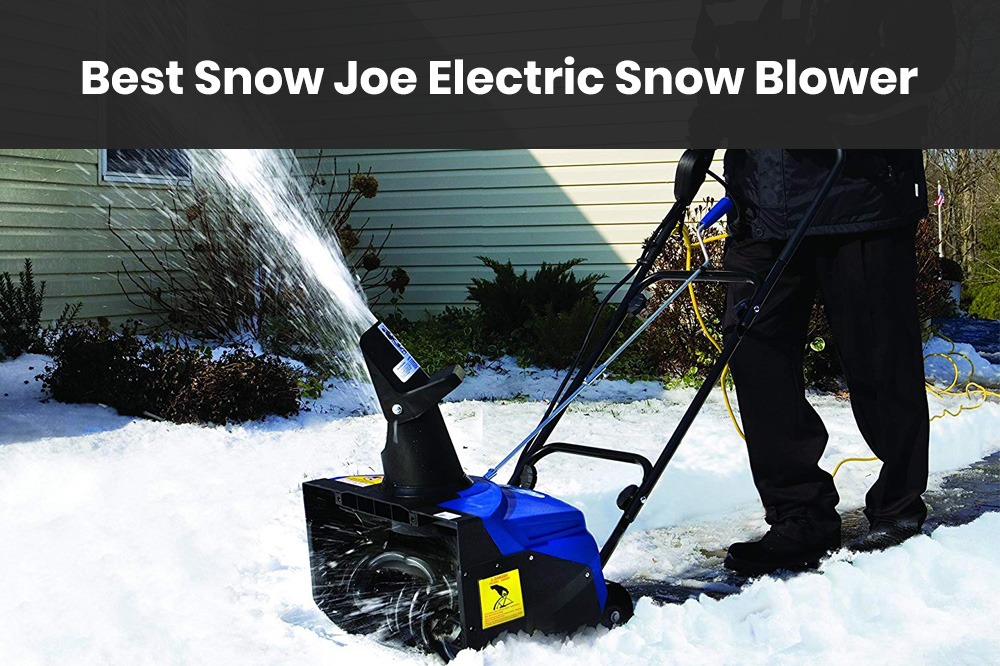 7 Best Snow Joe Electric Snow Blower Reviews in 2021
Snow Joe falls at the upper end of the snowblower manufacturer list, and for good reason. Let's take a look at some of the best Snow Joe electric snow blowers along with some valuable tips for choosing electric snow blowers.
| | | | | |
| --- | --- | --- | --- | --- |
| | | | | |
| | | | | |
| | | | | Battery-powered, Rechargeable 40V Li-Ion |
| | | | | |
| | | | | |
| | | | | |
| | | | | |
How to Choose the Best Electric Snow Blower 
You've decided to buy an electric snowblower. That's great, but what about all those features and specification details?
Check out all that you need to know about an electric snow blower before making a purchase.
Clearing Width and Clearing Depth 
The clearing width, also known as auger width, will determine how wide the snow scooper will be. Of course, it's best to have the largest possible clearing width since that means you can clear the entire area in fewer passes. However, a larger width might come at a higher cost, but it will save you loads of time outside in the cold.
Clearing depth is also known as intake height. It tells how much snow you can accumulate at once. Larger clearing depth is better for clearing up heavier snowfall. You can choose whether you'll need low or high clearing depth depending on where you live and how much snowfall you typically encounter.
Amperage load signifies how much current the electric snow blower needs. A unit with a high amperage load rating will have a more powerful motor and will be able to clear up heavier snow.
However, an increase in amperage load can cause problems with the outlet. If the outlet you're using isn't designed to withstand the rating, it might cause breaker switches to trip. Therefore, make sure you check the specifications of the outlet before deciding a suitable amperage load.
Today, most electric snow blowers are corded, but there are a few that are battery-powered. If you are looking for a more portable device, a battery-operated snow blower might be a good choice for you.
Most cordless snow blowers use Lithium-ion batteries. They have nearly all the features a corded snow blower provides. However, these machines come at a significantly higher cost.
Some extra features such as cleaning tools or headlights are highly useful. Be sure to check all the add-ons to see whether they are beneficial to you.
What Does Snow Joe Have In Store For You?
There are many qualities of Snow Joe electric snow blowers that make Snow Joe one of the top brands on the market. Let's  have a look at why:
The brand offers top-notch features such as powerful motors that improve the performance of the machines. That means clearing snow is both fast and easy.
Snow Joe delivers products with great durability. Although how long your product lasts depends on how well you care for it. But, expect them to last for about 10 years since they are made using durable materials.
You'd expect such exceptional products to come with a high price tag. That's not the case with Snow Joe; they create electric snow blowers with something in store for all.
So, if you're a starter and you don't know what type of snow blower you need, Snow Joe has an affordable range that doesn't compromise on quality.
The Snow Joe Ultra SJ620 is a highly affordable option. With its durable construction and quick operation, you'll be able to remove snow with ease.
This Snow Joe electric blower has a plowing capacity of 650 lbs. per minute with a throw distance of 20 feet. This means that you will be able to clear your driveway in no time. The 13.4-amp motor driver durable, steel blades remove snow effortlessly as they are better than plastic blades.
There is a rubber covering the blades which protect the surface you are moving the snow from against scratches. The Snow Joe Ultra SJ620 offers a clearing width of 18 inches and a clearing depth of 10 inches, which is close to the average electric snow blower specs.
It's important to note that the listed specifications for throw distance only apply when there is light and fluffy snow that's easily removable. If you're dealing with wet or heavy snow, plowing might take longer than expected, and you should expect a throw of fewer than 20 feet.
The product can handle throwing snow 6 inches without a hassle in regular, not perfect conditions.
Warranty:
The product comes with a 2-year warranty.
Overall, the Snow Joe Ultra SJ620 offers an amazing value for money with its durability, lightweight construction, and easy, quick operation.
This Snow Joe electric snowblower model is one of the easiest machines to use because of its lighter-than-average weight and compact design.
Snow Joe Ultra SJ618E is an easily maneuverable snow thrower with an auger assisted drive system and 13-amp motor. This Snow Joe model has a considerably lower throw capacity of 550 lbs. per minute which may not be enough for some users. But, it is quite strong and can clear your driveway even on heavy  days. 
Furthermore, the scraper blade right at the base of the snowblower makes clearing the driveway a breeze. Not only can you clean the surface with a single pass, but the blades also won't damage it.
The Snow Joe Ultra SJ618E has a clearing width of 18 inches and clearing depth of 8 inches.
Warranty:
The product includes a 2-year warranty.
The Snow Joe Ultra SJ618E blower can be a great option if you're looking for an option for new users. It is easy to operate and maneuver and offers a clean snow sweep in a single pass.
This cordless Snow Joe snowblower model is a brushless, single-stage machine with a run time of 50 minutes. That's more than enough to complete quick jobs.
The Snow Joe ION18SB operates on an Ecosharp 40V rechargeable lithium-ion battery and offers a capacity of 495 lbs. per minute. Even with a battery power source, this portable device has 18 inches clearing width and 8 inches clearing depth.
Although capacity is lower than average, this battery-powered snow blower is up to mark in terms of clearing width and depth. It also has a throw distance of 20 feet which is pretty good.
The 500W brushless motor along with a steel auger with rubber tips adds more power to the Snow Joe ION18SB. The machine can effortlessly clean fluffy and light snow, however, it can partially tackle heavy and wet snow as well.
This cordless snow blower offers a lot of power, but with any battery-powered device, you have a limited time window. According to some users, it will require to be charged after every use which can be troublesome for some users. 
Warranty:
The product includes a 2-year warranty.
The Snow Joe ION18SB blower is a great cordless snowblower for those who need a portable device. It is powerful and easy to use but can turn out to be a little expensive in the long-run.
The Snow Joe Ultra SJ621 is a powerful corded thrower with an added light feature that makes it one of the best snow cleaning machines out there.
The machine offers a throw distance of 20 feet with ann 18-inch clearing width and 10-inch clearing depth. The 13.5-amp motor drives a steel auger that has rubber edges to keep surfaces free from any damage.
The Snow Joe Ultra SJ621 offers a capacity of 650 lbs. per minute, which is nearly the average volume you'd expect from an electric snow thrower. The machine is suitable for light to medium amounts of snow.
This snow thrower is easy to maneuver due to its pivoting wheels. Plus, the machine is not loud, hence you will not feel discomfort and the neighbors will be happy too. Moreover, it comes with a 20W halogen headlight that emits bright light in front of the machine. Hence, you will be able to do the job even at night. No more skipping work due to snow!
Warranty:
The product includes a 2-year warranty.
Overall, the Snow Joe Ultra SJ621 is a good electric snow blowing machine with quiet, hassle-free operation, and reasonable capacity. It can be a good option for people who want a unit that's suitable for night use.
This single-stage Snow Joe electric snow thrower is the largest machine of its type on the market. 
It has a 21-inch clearing width, 11.8-inch clearing depth which makes it one of the most powerful units out there. Plus, it has two rubber blades on a steel auger that lets you clean snow fast. Other than this, there is a fully adjustable 180-degree chute that allows a 20-feet throw.
The highly efficient 14-amp motor and 730 lbs. per minute snow plowing capacity make it suitable to clean any surface. The device is also very easy to maintain and offers smart, eco-friendly operation without any carbon emissions.
Warranty:
The product includes a 2-year warranty.
This Snow Joe model delivers top-notch performance and is one of the largest snow blowers on the market. The Ultra SJ524E model is easy to maintain, has great clearing depth, and has exceptional plowing capacity. All this makes this one of the best Snow Joe electric snow blowers out there. Get your hands on this one if you're looking for a powerful unit.
This electric snow thrower has amazing plowing capacity and is one of the most powerful yet lightweight machines in the market.
The Snow Joe Ultra SJ625E cordless snow thrower handles snow very well thanks to its 21-inch clearing width, 12-inch clearing depth, and 180-degree rotating chute that offers up to 20 feet throw distance.
The 15-amp motor and 800 lbs. per minute plowing capacity comes together to create a reliable and powerful snow thrower. With light and fluffy snow, this machine breezes through the pile. These are perfect conditions, though, and with wet, packed, or heavy snow, it'll take you more time and effort.
That being said, this machine can cut through driveways, walkways, and porches covered with snow. You'll be able to quickly clear up a foot of snow without damaging the surface. There is an LED headlight included which lets you see well enough into the path, so clearing snow is hassle-free during the dark, too.
Warranty:
The product includes a 2-year warranty.
The Snow Joe Ultra SJ625E cordless snow thrower is a complete powerhouse and it's the perfect investment for those looking for a great all-rounder.
The Snow Joe Ultra SJ623E is an overall durable, extremely efficient machine with the standout feature of a significantly large throw distance of 25 feet.
The 15-amp motor has been made to handle any type of snow, whether its light and fluffy or wet and heavy. The machine can get through 720 lbs. of snow per minute, which is an amazing plowing capacity within a reasonable price range.
The SJ623E provides 18 inches of clearing width and a clearing depth of 10 inches. Of course, we're talking about ideal conditions here. When there's more snow than expected, all you need to do with the snowblower is go slow and steady.
The unit can tackle heavy snow, but it will take longer than it would with ideal conditions. In case you get stuck somewhere because the blower gets clogged, Snow Joe has included a handy tool that lets you clear the chute easily. This one comes in handy and can make the job easier.
Additionally, this snowblower model includes a 20W halogen light that allows you to use it even at night. 
Warranty:
The product includes a 2-year warranty.
The Snow Joe Ultra SJ623E offers a lot within a reasonable price tag. It doesn't matter where you live, this unit will take care of everything. Its amazing features make it one of the best Snow Joe electric snow blowers. Consider if it you want a reliable product.
Snow Joe Electric Snow Blower:  Our Best Pick
Snow Joe is one of the most reliable companies when it comes to snow blowers. Most of its products come with a 2-year warranty but they are made to last for much longer as they're manufactured using durable materials. Plus, the company also offers excellent customer support.
All the products we have covered in this Snow Joe electric snow blower reviews are great. However, if we had to pick one, we'd go for the Snow Joe Ultra SJ621 blower because of its great specs and affordable cost.
The machine includes one of the most useful add-ons, which is the bright halogen light that lets you easily clean up snow even in the dark. Plus, it's quite powerful and easy to use. But, if it's not your cup of tea, then consider other options we have highlighted in this review. We're sure you will find something that suits your requirements.