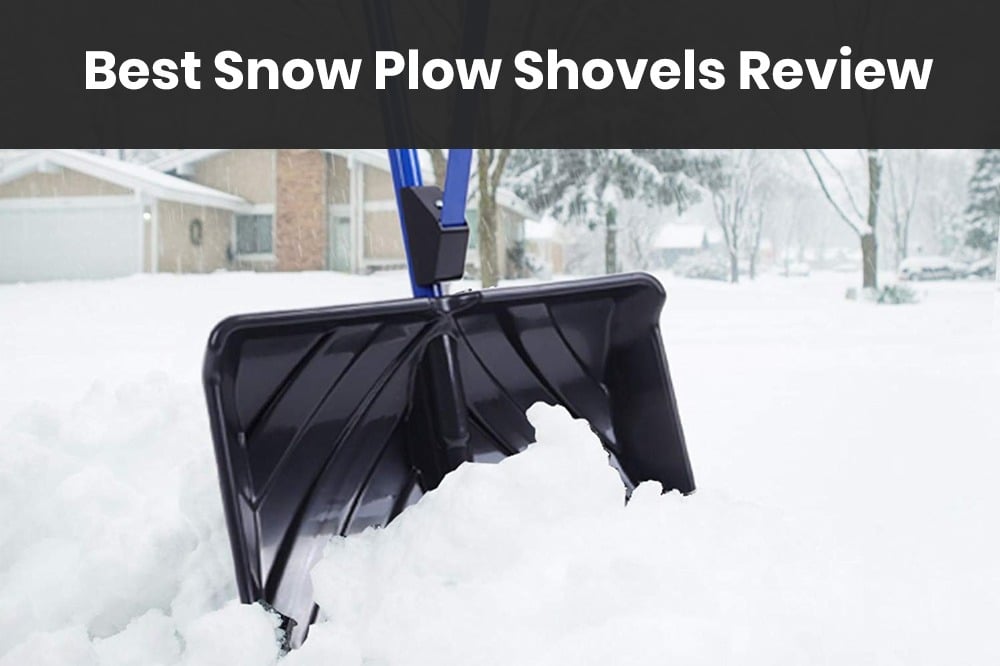 5 Best Snow Plow Shovels in 2021: Top Picks Reviewed
Even if you own a snowblower, having a good snow shovel is essential, especially if you live in places that experience regular snowfall. There are some locations in your home or property where you can't easily access with a conventional snowblower. For instance, a snowblower would also be overkill when it comes to accessing narrow areas such as wooden decks or narrow walkways.
Winter weather can be unpredictable, and most people might have snow brushes or ice scrapers for snow removal purposes. That said, don't get caught unprepared for days when you have to clear a walkway or dig out your car after a winter storm.
The best part of owning snowplow shovels is that they leave zero carbon footprint. Yes, that's right! A snowplow shovel won't release any carbon emissions into the air. Thus, when you invest in lawn tools for snow removal, consider aspects such as quality. You want to invest in a tool that will get the job done efficiently, and let you enjoy your free time during the weekend.
With a snowplow shovel, you will have a fully functional snow-removal tool. More so, the tool won't release harmful carbon emissions or perhaps having to haul gas cans to a filling station — no more tune-ups or maintenance as well. A recent publication by the EPA shows that fifty-four million Americans mow their laws every weekend, which involves close to 1 billion gallons of gas each year. However, with a good snowplow shovel in most homes today, this amount of toxic emission can decrease significantly.
​Top 5 Snow Plow Shovels

Discover the excellence of the Orientools Heavy Duty Snow Shovel that comes with many unique features for snow removal. For instance, this unit has a telescoping handle, that is simple to adjust to suit different height ranges. Furthermore, the ORIENTOOLS heavy-duty snow pusher is efficient, and it can clear large paths of snow with just one pass. The wheels are made using rubber material, which provides anti-slip benefits and can be used for several years.
The high impact polypropylene shovel can also dig deep into large collections of snow, thus making it simple to use. Featuring exceptional 6-inch rubber wheels along with lightweight materials, this unit will significantly reduce any stress on your arms. More so, the grip of the wheels also makes it simple to push around even in slippery conditions. The machine is also easy to set-up, and it's available with detailed instructions for optimal convenience.
The Ivation Heavy Duty Rolling Snow pusher has a unique design that helps you reduce the backbreaking nature of snow removal projects. Designed to be both compact and powerful at the same time, this unit is an excellent recommendation for winter season. It has a tall, angled and concave design that makes it easy to clear large layers of snow. What's more, the snow shovel has a unique vertical placement, that sets it out from the conventional snowplow shovel. You can easily adjust it from 45 to 50 inches, to accommodate your height.
Wrapped in soft foam material and with an ergonomic design, this unit is both comfortable and safe to use. The inclusion of the 6-inch robust wheels and lightweight design will reduce stress on your body as you engage in lifting motions. The snowplow also has grippy wheels which offer enhanced traction as you move through slippery conditions. To keep this snowpusher compact despite its heavy-duty design, all its components are developed for optimal strength.
Equip yourself with the Snow Joe SJ-SHLVO1 Shoveevolution snow plow shovel. Made using an impact-resistant and durable blade, this unit is ideal for various outdoor purposes. Furthermore, the snow shovel also has a spring assist handle that also acts as a fulcrum, thereby improving the mechanics of the shovel. It is also easy to use, which provides optimal lifting leverage to the lower hand, to make it easy to lift loads with ease. With this shovel, you can be sure of a unit that is to assemble and store at the same time. It also works well for various types of roofs, including those with hard to reach sections.
The shovel also has an ergonomic design, that is comfortable in the hands and easy to use. It also has a unique design that does well to reduce the effort, strain, and injury that could be associated with the shovelling process. The shovel also has a wide 18-inch blade, that provides adequate surface area for lifting large loads of snow. You can also adjust the structure of the shovel to suit your unique physical characteristics.
With the Suncast SC2700KDD snow shovel, you can be sure of a reliable blade that delivers reliable performance where it counts. The snowplow blade has a unique design that combines the individual elements of a shovel and pusher for safe snow removal. Even more, the galvanized steel wear strip does well to maintain the integrity of the blade. Thanks to the D-grip handle, this unit adds comfort to function, thus making it a highly reliable shovel.
It also has an angled rib pattern on the blade, that does well to collect snow efficiently. The durable steel shaft has a rust-resistant powder-coated finish to provide optimal longevity. The Suncast brand has also done well to ensure that this shovel has a solid feel in your hands, without being overly heavy. You can even adjust the shovel, to suit your ability to reach hard to reach areas of the snow. You will also appreciate the ergonomic design that is not only easy on the hands but your back as well.
Winter is no match for the Lifeline 4004 One Size Aluminium Snow Plow shovel. Featuring a collapsible design, this lightweight unit makes life more comfortable during the winter periods. Users can easily adjust the shovel from 26 to 32 inches, thereby providing optimal leverage depending on your needs. Weighing in at just 1.7 pounds, this sport shovel is easy to use, regardless of its size and strength. Furthermore, the shovel is also simple to store when not needed.
This best snowplow shovel is durable, and without causing any compromise to its overall performance. You can even break this unit down into three pieces, to allow for easy storage. The Lifeline brand has also done well to make it adjustable to suit different snowplowing applications. Such a unique physical design also makes this unit ideal for car safety, and your emergency safety kits. To make things much better, the shovel is available in various finishes to provide enhanced user choice.
Choosing a Snow Shovel
Snow shovels are available in different designs, and to suit different climates as well. From the basic metal blades to ultra-chic shovels with wooden handles, to the start of the art fibreglass made shovels, you can choose different options. The general school of thought when it comes to investing in snow shovels is to invest in one that is balanced and comfortable. In some cases, you might end up using it regularly, and it is too heavy, shovelling snow can become a challenging task. That said, we have prepared some general tips for you to consider:
Snow Shovel Designs
Snow shovels are available with many unique design features, but the two main components to consider are the handle and the blade.
The snow shovel blades are often either rounded scoops or flat rectangles.
As far as the handles go, they are the most critical component of the ideal snowplow shovel. Some brands are foldable, while others have two handles and some feature wheels for ease of pushing.
The most common materials for snow shovel blades are either plastic or metal. Each of these materials has its benefits and drawbacks. For instance, some users prefer owning one metal shovel and one plastic shovel to suit different applications. Broadly speaking, you can expect the following as far as blades go:
Weather changes are an inevitable aspect of life, and you can still have fun and maintain a normal lifestyle regardless of how the environment change. With the best snowplow shovels, you can easily get rid of snow that affects your ability to move around. A snowplow shovel has unique design features that make it easy to use. Since snowplow shovels have different design features than snowblowers, it's essential to invest in a brand that suits your specific needs. The shovel should feel comfortable and make it easy to plow snow without leading to physical body issues. We highly recommend that you start with the Suncast SC2700KDD and the Snow Joe SJ-SHLV01. This way, you get to enjoy winter with style and convenience.