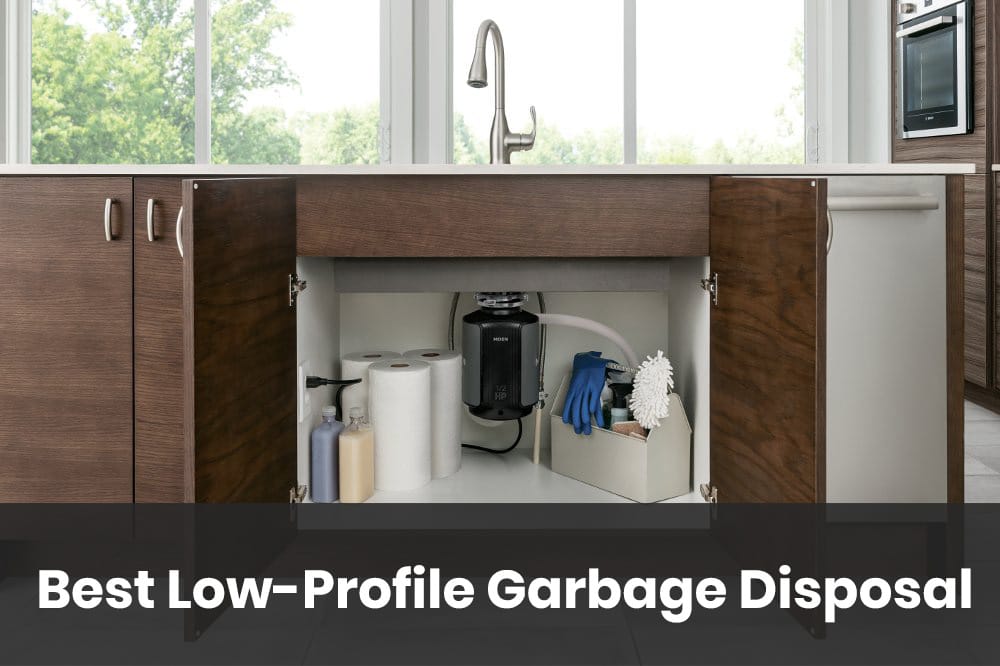 7 Best Low-Profile Garbage Disposal Reviews 2021
Being well informed when it comes to getting rid of waste is a reasonable venture for anyone today. Various initiatives are coming up all over the world, because people are learning of the benefits of getting rid of waste correctly. Not only do you have to get the correct waste disposal resources, but you also have to learn to make the most of such resources.
Take for instance, the best low-profile garbage disposal units, which are perfect for areas that are already limited in space. Yes, that's right! You can still enjoy the benefit of a high-performance unit, without having to go for something that is massive in size. We have identified lots of useful information to help you make the best decision.
Let's get started:
Motor Size
The size of the motor is crucial because it determines the power which the garbage disposal can produce at any given time. Furthermore, the horsepower of the motor ranges classifies between 1/3 to 1 hp. They include: 
1/3 horsepower – the lowest horsepower garbage disposal power category is 1/3 hp. While they may seem like suitable solutions, their utility levels are relatively small. They tend to get jammed easily and tend to feature cheap internal components. These components are prone to rust, and you might have to spend a lot of time before getting a suitable brand for your needs. More so, these types are only suitable for limited or temporary use. 

½ horsepower – this is the least horsepower level ideal for home use. Usually, these types are relatively smaller than the ¾ hp units, which makes them ideal for use in small spaces. Furthermore, the ½ hp disposal is suitable if you don't have to use the garbage disposal regularly. While these types might produce some noise during operation, the small size means that you can use without earmuffs.

¾ horsepower – this is the perfect size for most kitchens. These types have plenty of power and are suitable for handling leftovers and more. More so, these powerful machines are ideal for breaking down items such as potato peels or celery fast.
With this much power, you never likely to get a machine that will jam during functionality. More so, you can also expect to get a machine with various features. The stainless-steel grind components tend to be durable and offer exceptional longevity. Furthermore, most, if not all, waste disposals in this category provide excellent sound protection, so you can expect one run with a small amount of noise produced. 
One horsepower – if you want to grind products such as fruits, chicken bones, or coffee grounds, then this machine is perfect for your needs. Most of the machines in this category are high-end products, which you can customize for various applications. Furthermore, the machines in this category should come with stainless steel grinding chambers as well as have the capacity to grind large amounts of waste.
Types of Low-Profile Garbage Disposal
Continuous feed models - These types are the simplest to use, and you can use them to put new waste as the old waste breaks down and washes down the drain. That said, these types tend to have open filler necks, which are not suitable for small hands. Consider getting an electrician to install a power switch since these machines usually are not corded. Also, consider holding the supplied stopper at an angle over the drain as a shield, when it operates. 

Batch Feed Models - These types require loading before you can fill them up with waste, and you turn down the stopper to trigger the blades. Since the stopper maintains the food inside and your fingers stay out, these types tend to be safe to use. Thus, they make up for excellent waste disposal solutions for families or if you have many small kids around. However, these types tend to be the most expensive and can require more time to complete the breakdown process.
Best Low-Profile Garbage Disposal Features
Before you can get a suitable disposal unit for your needs, there are a few key features that you have to take into perspective. They include: 
Electric Cord – an electric cord makes it easy to use the machine on several power outlets, and those without wires might require hard wiring.

Auto-reverse mode – this function can make it easy for spinning blades in the disposer to clear waste, which is a bane for most disposers. Some brands even come with oscillating "jaminator" features for removing waste. 

Horsepower ratings – even garbage disposal brands with the least powerful motors, should be able to break down waste such as bone or carrots. However, if your kitchen waste often includes tougher stuff, then consider going for a large model. The ideal garbage disposal should be fast and reduce any issues such as clogging during machine operation. 

Quick mount neck – most excellent garbage disposal units feature quick-mount necks that make it easy to perform DIY installation. That said since the large models often when as much as 30 pounds, installing one under the sink might require an extra pair of hands. 

Safety cover – this feature is found in most low-profile garbage disposals and stops the machine from operating unless the lid is on top. 

Grinding chamber – you want to go for a durable grinding chamber that offers longevity, especially when grind items such as chicken bones. The common one in this category is aluminum alloy material.
Top 7 Low-Profile Garbage Disposal To Buy In 2021
Equip your home with the exceptional InSinkErator Garbage disposal, which provides various useful ways to get rid of waste at home. This unit comes with all the unique features you would wish for in a convenient and straightforward to use the waste disposal unit. For instance, this unit is reliable and easy to install, which makes it ideal for use in small spaces. Furthermore, the badger series disposers are functional and dependable when it comes to addressing functionality issues in your modern space.
Even more, this comes with an exceptional ½ hp dura drive induction motor, which is both powerful and efficient at the same time. The motor and long-lasting galvanized steel components provide the perfect waste break down results for everyday food waste. From meal preparation to cleanup, the InkSinkErator makes it easy and fast to keep your kitchen clean.
This unit also comes with various convenient features for you to consider. For instance, it has a fast and easy to replace the interior structure, to make it ideal for traffic-laden places. If you have pets or negligent children in the house, you will be pleased to know that this unit has a quick lock mount for added security.
Eliminate everyday food scraps, all thanks to the Moen GX50C GX Series garbage disposal. This unit comes with a permanent magnet motor that does well to quick and powerful grind food scraps. Furthermore, this unit is easy to install, and it fits most three-bolt mounting assemblies. The preinstalled power cord function also helps to save money over other models, where you must purchase a cord separately. 
For noise reduction, this unit comes with a unique Soundshield, which assures optimal noise reduction and silent dependability. The compact design makes it ideal for lighter weight and frees up sufficient space under the sink. Equipped with a high speed 2600 RPM Vortex permanent magnet motor, this unit won't ever experience jamming issues. 
It even comes with a pre-installed power cord, which saves money and time. Thanks to the compact design of this unit, you can be sure of a convenient machine that you can store in small spaces. 
The Waste King Legend 2600 HP Disposer comes with a powerful motor and stainless-steel components for optimal longevity. Furthermore, it also comes with excellent sound insulation components and a corrosion-proof grinding chamber for efficient waste disposal. Once installed, this continuous feed garbage disposal will become an essential centerpiece in your kitchen regimen.
Equipped with an energy efficient and high-speed permanent motor, this unit provides more power per sound than most garbage disposals. More so, the powerful 0.5 horsepower motor will easily grind through the toughest of foods. This jam and mess-free disposer is highly convenient to use. It has a continuous feed design, which means that you can add waste even as it operates. 
Are you still using a septic system? Well, this waste king disposal system is safe to use with septic tanks, and it's suitable for your home. It even comes with a manual reset button that will shut off in case the machine experiences an overload or jam.
Made using glass-filled nylon material, you will never have to worry about corrosion issues. All the stainless-steel components on this unit are insulated to provide the best grind results. It is also adequately sized for septic tanks, and it features a power cord for convenient functionality.
Discover the excellence of using the BECBAS ELEMENT 5 Garbage Disposal unit. This disposer comes with all the unique features you want in when getting rid of food waste. For instance, it features a ¾ HP 2500 RPM permanent motor that is both powerful and efficient. More so, the stainless steel grinding system is corrosion-proof and can grind various types of kitchen scraps fast. Thanks to the pre-installed power cord, you are sure of a convenient waste disposer design.
The machine also comes with a host of additional accessories for your needs. These include the splash guard, stainless steel stopper, multifunctional scraper, and more. The EZ system is also user-friendly and allows for quick installation results. The foam insulation and innovative splash guard will reduce noise levels significantly, without compromising performance. It even features a convenient feed, which breaks down everyday kitchen scraps. The hardened stainless steel cutting ring makes quick work of most types of food.
Additionally, this unit has a higher starting torque because the motor does not have a winding phase. While most systems feature a plastic or metal grinding chamber, this unit has a different design. It features reinforced fiberglass nylon material, which makes the grinding chamber much more robust than most plastic materials.
Get rid of food once and for all, thanks to the high-quality performance features of the GFC525V food waste disposer. This unit comes with a powerful grinding action that does well to break down food waste to small particles fast. Furthermore, the waste disposer features a heavy duty ½ horsepower permanent magnet motor, which can provide more than 2,800 RPM grinding action.
On top of that, the unique EZ mount installation with removable splash guard and stopper included make the disposer highly convenient. The food waste disposal also has an advanced insulation package that ensures silent operation each time. Thanks to the thoughtful construction of this unit, this food waste disposal system is highly convenient to use. It even comes with a two-level pre-cutter, and a wall switch to make it suitable for use when breaking down large pieces of food.
To operate this unit, you just have to remove the sink stopper and turn on the flow of water. Moreover, the continuous feed disposal takes of the rest, and the non-skid feet mean that this unit sits stable on the floor. The waste disposal even features drain boost technology, which helps to keep the drain free and clear of any food waste. With an angled fin, you can be sure of a garbage disposal that can pump water and ground food through pipes at high-speed levels.
Make quick work of any type of kitchen waste, all thanks to the General Electric GFC320N garbage disposal. This compact but powerful unit makes up for an excellent way for you to get rid of kitchen waste. Designed to be both durable and small at the same time, it's a reliable addition to your waste disposal regimen. 
This unit features a continuous feed disposal system, which makes it highly convenient for use regardless of the nature of the waste available. Furthermore, the interior section is also spacious and suitable for storing large batches of food waste.
Thanks to the heavy-duty construction of this unit, you are sure of a garbage disposal unit that offers years of reliable performance. The garbage disposal unit also has a durable metal powder coat finish, which provides longevity.
Realize what you have been missing when it comes to waste disposal with the Kitchen Aid KCDB250G unit. With this unit, you will enjoy a clean and tidy environment, thanks to the exceptional features customized for waste disposal. For instance, the Kitchen Aid KCDB250G comes with a powerful motor than can rotate at 1725 rpm, to make it ideal for grinding.
On top of that, the motor even comes with overload protection so that you can be sure its safe from issues such as power surges. The motor has a manual reset function to make things convenient, primarily as you work on large scale projects.
The continuous feed system makes it easy to perform continuous grinding and makes things convenient after meals. Its also connected to an electrical switch, which makes machine use and operation highly comfortable.
In today's world, people are growing ever more concerned about waste management, regardless of whether its at home or a company. With the proper waste disposal solutions, you are not only are responsible environmentalist, but you also make a good impression on other people. This is why we recommend the best low-profile garbage disposal as an excellent place for you to start. These tools are simple to set up, and can provide years of reliable waste break down performances,
Even more, the choice in terms of features you should also expect is broad and dynamic. Equipped with the right information, and you are sure of getting the best value for your money.