You don't need to go to your local swimming pool or have an in-ground pool in your backyard to take a refreshing dip in your very own pool. Above-ground pools provide the perfect balance if you want a pool in your backyard, but don't have the space or the funds to afford an in-ground pool.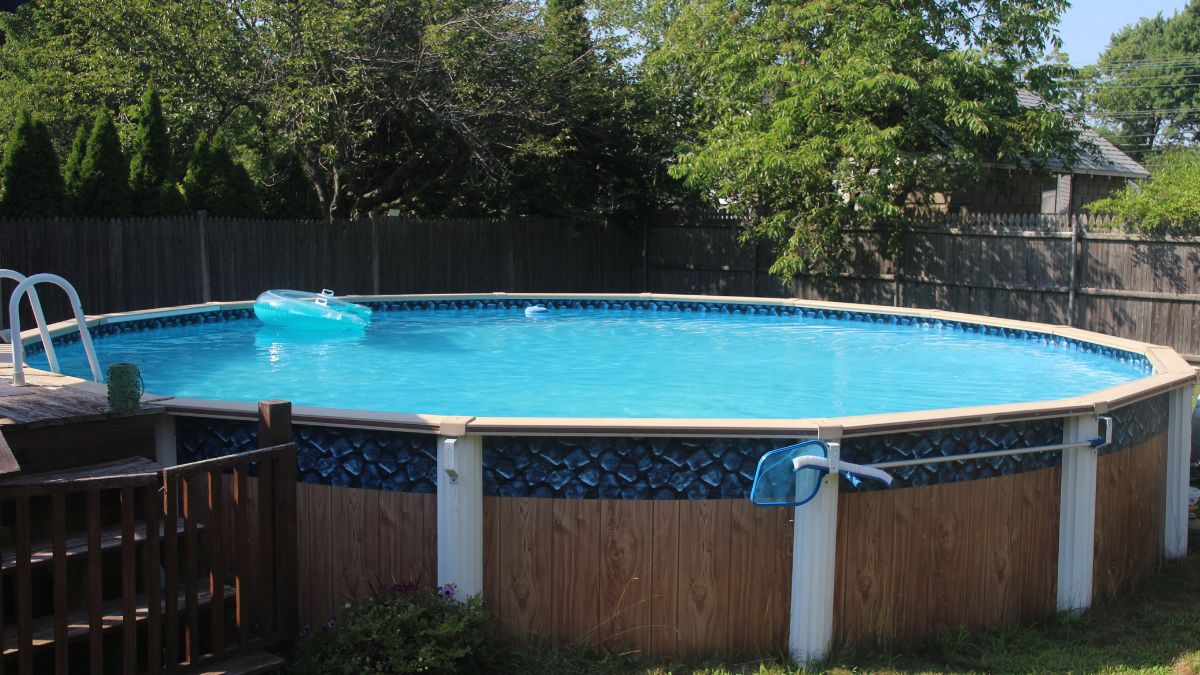 Read Next
Best Above Ground Pool Reviews
There are many shapes, sizes, and types of above-ground pools so you can pick the one just right for you and your family. And, rather than spending months having an in-ground pool put into your backyard, you can typically install an above-ground pool all on your own within just a couple of hours!
So, if your kids have been begging you to get a pool of your own, or you just want something to keep you and your family entertained, especially during the hot summer months, look no further than getting an above-ground pool of your own.
Without further adieu, let's dive into the top 6 above-ground pool reviews to read to find the pool right for you.
With nearly 4000, 5-star ratings on Amazon alone, this above-ground pool is a best-seller, and for good reason!
There are many different sizes and shape options for this above-ground pool. This makes this option the perfect choice to find a dimension to exactly fit in your yard.
You should expect plenty of room in this pool, which can easily fit at least 4 to 5 people. Therefore, space is not an issue, unlike some other above-ground pools.
The actual installation of the pool is reported to be easy and relatively straightforward. As long as you ensure you have the necessary equipment, a clear and level yard space, a couple of people, and about an hour for setting up, you'll have this pool up and ready to go in no time.
Specifications
Dimensions: Varies, the popular option is 24ft x 12ft x 52in
Shape: Varies, options are rectangular or round
Frame: Steel
If you are looking for a cost-effective above-ground pool that can still fit 4-5 people, this is the pool for you.
The Bestway Steel Pro above-ground pool offers an easy set-up that you can likely complete in just an hour.
And, although this pool isn't extremely large, for the price, you can still fit a decent amount of people comfortably. However, one main disadvantage to this pool is that it does not come with a pump or filter. This means you will have a commitment to taking action to clean the pool around your own clock.
That being said, for the cheaper price and easy set-up, this above-ground pool makes for a budget-friendly choice.
Specifications
Dimensions: 144 in x 30 in
Shape: Round
Frame: PVC
If you are looking for a reliable inflatable above-ground pool, look no further than this Gogo pool model. This pool comes with an electric pump to quickly inflate the pool without any hassle.
With two different sizes to choose from, you can pick the exact right option for you without being too big or small for your yard.
This pool is also a great inexpensive option for your family and friends to splash around this summer. Even better, this inflatable pool comes with two repair patches and two inflatable beach balls for plenty of fun in the sun.
Specifications
Dimensions: 9.8 by 6 ft. (large size) or 7.6 by 4.3 ft (small size)
Shape: Rectangular
Frame: PVC
If you have little ones that want to splash around this summer but aren't old enough to swim in a pool, this is a great inflatable above-ground pool play set.
Although not your typical above-ground pool, this option provides the perfect opportunity for kids with plenty of games they can play with and a slide to keep your kid entertained.
With two pool levels, this also gives a chance for more than one kid to splash around in the inflatable pool set.
Not only is this a great option for small children to feel included in the summer fun, but because this above-ground pool is small and inflatable, this makes for easy installation and deflation too.
This also gives you something to entertain your kids without having a massive above-ground pool take up your yard. And, when done for the day, if you choose you can easily deflate and re-set up the pool another time your kids play outside.
Specifications
Dimensions: 9.75 by 6.4 ft
Shape: Round
Frame: Plastic (inflatable)
If you have a really tiny yard, but still want an above-ground pool, this is the one for you.
The Summer Waves swimming pool is small and spacious enough for a few kids to play and splash in.
The setup is easy and just involves inflating the above-ground pool. Also, this pool comes with a filter system so you don't need to completely empty the water and refill it each and every time you want to use it.
Since it's a small, inflatable pool, it's also easy to store during the cold winter months, and inflate when needed.
With just over 4500, 5-star reviews on Amazon alone, you can rest assured this is a reliable small above-ground pool.
Specifications
Dimensions: 10 ft. by 30 in.
Shape: Round
Frame: PVC
This spacious above-ground pool is another model to consider. This pool by Summer Waves comes with a pump and filter system to effectively clean your pool without worry. Likewise, additional accessories like a pool cover, ladder, and maintenance kit make this a reliable, well-rounded pool option.
Therefore, if you are looking for a durable pool that's rather inexpensive for a non-inflatable above-ground pool choice, consider this model.
Specifications
Dimensions: 240 by 48 in.
Shape: Round
Frame: Steel
How To Choose The Best Above-Ground Pool For You
As you can see from the above-ground pool reviews above, there are a wide variety of above-ground pool types, shapes, and sizes. If you're still struggling to decide which one is right for you, below are some key factors you need to take into consideration that will (hopefully) make your decision easier.
Size
Depending on the size of your yard space will inevitably impact how large your above-ground pool will be.
Yet, if you still have a large yard but small children, you may want to opt for a smaller, kiddie-size inflatable above ground pool so it's safe for your young children to play in.
Likewise, you must keep in mind the time it will take to fill your pool. Although most larger above-ground pools have a filtration system, you will still need to fill up large above-ground pools initially, which is something to keep in mind.
Large above-ground pools do make for many fun memories with family and friends to swim and play around in with ease.
Yet, with smaller above-ground pools you are limited to how many people can be in there, and what pool games and activities you can play.
That being said, if all you want is something for your small children to dip their feet safely in, a small pool is the way to go.
Type
The type of your above-ground pool is also another thing to consider. Namely, there are two categories as you have read based on the above-ground pool reviews: inflatable pools and non-inflatable pools.
Inflatable pools provide the ability to easily deflate the pool and store it away rather easily. However, non-inflatable pools aren't as easy to install and take up more room to store (if you choose to even uninstall during colder months).
That being said, inflatable pools are going to be less reliable in terms of durability simply due to being made out of plastic rather than a material like steel. So, if you know you want a larger pool that's extremely durable, you should consider getting a non-inflatable above-ground pool model.
Lifestyle/Personal Needs
Last but not least, try to understand why you want an above-ground pool.
Is it to entertain a large party of family and friends? To have your young child splash around in?
How you expect to use your above-ground pool will largely determine which model is right for you. Above-ground pools can vary greatly in price, some well under $100, while others are above $1000.
To ensure you are happy with your final purchase, buy an above-ground pool based on your own personal needs that fit in with you and your family's lifestyle.
And, don't forget to apply some SPF while you're out playing in your new above-ground pool!