Fire pits have become the must have accessory of the 21st century. They're being used to transform homes and gardens across the country, offering a feeling of style, luxury and class.
The fire pit, as a concept, dates back to prehistoric times where an open fire was used to cook food and provide heat and light. These days they still offer the same qualities but they're used more as a style piece than for practicality, though there is some crossover.
There is a lot to think about when it comes to fire pits. There are now countless different models and designs suitable for any home and it can be difficult to know where to start. We've gathered our favorite options into this article to hopefully give you some inspiration and give you an idea of what you're looking for.
​1. Natural rock fire pit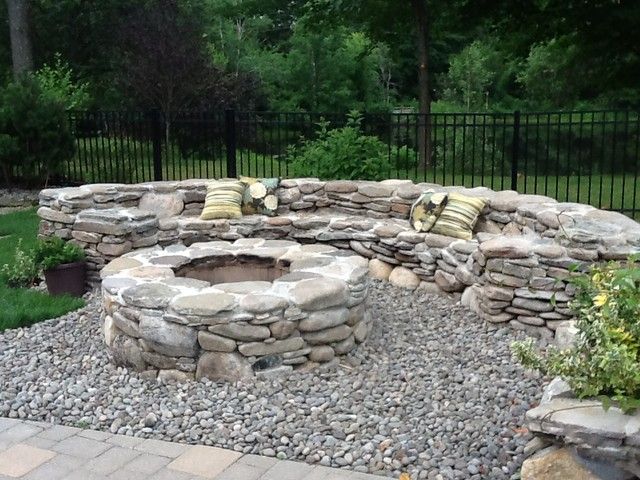 A natural rock fire pit is the old school option. It's simple but looks incredible and it very easy to set up. Use large stones to form a ring and then use timber or coal to light a fire in the middle. This looks great if you have a patch of ground which is separate from the rest of your garden, your camping ground.
Natural rock fire pits are great for those who appreciate the rustic look. The natural wooden fire gives the ashy smell that stays with you but will produce smoke. This makes it a better option for those with a large garden who aren't worried that smoke will get inside.
​2. Concrete fire bowl
Fire bowls are the latest development when it comes to fire pits. They're literally self contained bowls which house the flame. Normally they're gas powered making the flame cleaner and easier to maintain, but not giving that natural smell you'd associate with the outdoors.
The concrete fire bowl looks great and adds some sophistication to any backyard. It's also easier to maintain and can be moved indoors or outdoors as needed. It's where a natural look meets modern convenience and it is well suited for any home.
​3. Folding fire pit
Folding fire pits are useful for those will be moving the fire pit indoors and outdoors, or around the garden. They're smaller than other fire bowls and have legs which fold up to be carried.
Priced competitively, you can pick up a folding fire pit for less than $100. They're lightweight and versatile, and can even be taken on holiday as they fit in the back of a car. These are the simplest models to set up and you should be able to get started without any hassle. If you've never had a fire pit before then this may be the best place to start.
​4. Stove bonfire pit
This is one of the most interesting models on the market and certainly built for its efficiency rather than style. The most popular variety of stove bonfires was originally funded by a kickstarter campaign, and now it's used on camping trips across the country.
These are small, highly portable fire pits which are essentially a pocket bonfire. They're easy to light and even easier to contain. They're often used for cooking but you can always use them for light and warmth after a long day hiking. A really great option for those who enjoy the outdoors and go camping regularly.
​5. DIY fire pit
Building your own fire pit can be incredibly rewarding and actually not too challenging (depending on how fancy you want to go). You can easily put this together by clearing the ground, arranging bricks in a square and using wood and lighter fluid to get the fire going. It won't be as attractive as some other professional models but it will still get the job done.
This is a really affordable way to have a DIY fire pit in your own home. It's not as easy to manage and takes more clean up, but it has all the qualities of a real bonfire. A great option for those who may only use the fire pit a few times a year in Summer. You can find a full guide on building a DIY fire pit here.
​6. Fire pit table
Perhaps the most sophisticated option on the list is the fire pit table. These are specially made, hollowed out tables where the fire is housed. The frame is generally made from cast iron so it won't be damaged by the high heat. This makes it durable and it can be heavy to move.
Generally fire pits are gas powered. This makes them easy to manage and there isn't much clean up. Plus they burn clean and you won't have smoke being an issue. They're really well suited as a centerpiece in the middle of the patio, offering light and warmth to all guests gathered round it.
​7. In ground fire pit
One of the easiest ways to set up a safe fire pit in your home is to dig it into the ground. By inlaying it around a foot you can enjoy all the benefits of the flames without having to manage them as closely. This is one of the easiest options to set up yourself.
First you should find an appropriate space and dig about 12 inches down. You should fill this with lava rocks and use stones to coat the inner ring. You can opt to put more stones around the top, or you can just light it up and enjoy. Alternatively you can buy fire pits which will slot down into the space once you've dug it out.
​8. Fire pit grill
For those who love to cook (or maybe just those who lose to eat) a fire pit grill is a great asset. Think of it as a floating BBQ where you can put all your food on for slow cooking until it's juicy and tender.
The fire pit grill hangs over the in ground fire pit and many users think that it offers a better quality of cooking. This is a great option for those who often have BBQs and is more cost effective than most store bought outdoor grills.
​9. Fire pit pizza oven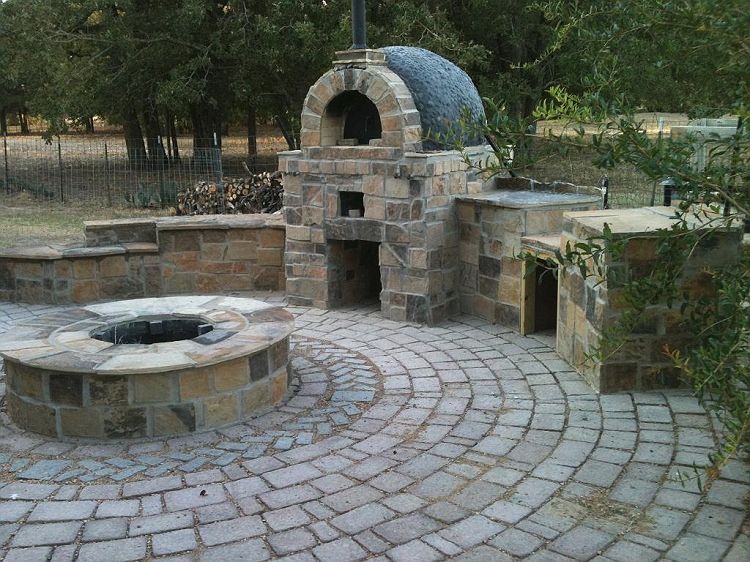 In a similar vein to the fire pit grill, you can also opt for a pizza oven attachment. This takes a little more work because you'll need to create a clay or stone house on top where the heat can be captured. This is doable at home, but you may decide it's easier just to buy one from the store.
Rest this on top of the fire pit until the heat starts to rise. You can then slide the pizza in and it should cook in minutes. There's nothing better than a woodfire pizza and this makes a really nice change from traditional outdoor bbq food.
​10. Propane Coffee Table
One of the most popular options for those buying their first fire pit is the propane coffee table. A small flame is contained within the metal work which often includes specific shapes in the design to cast interesting shadows. The flame itself is powered by gas and therefore easy to maintain, plus you can use it indoors or outdoors because there's no smoke.
This is a useful option for those who want a hassle free fire pit that doubles as a piece of furniture. It's fairly unobtrusive but guests will still be impressed when they see it.
​11. Repurposed fire pit feature
As homeowners we're always looking to reuse and recycle wherever possible. A repurposed fire pit gives you an opportunity to take an old piece of equipment and give it a new lease of life. This works especially well for old washing machine drums like the one pictured above (if you don't have one you can pick one up for under $10).
This is a bit more of a DIY job but can be very worth it. You can paint it and customize the shape to make it a more interesting light feature. This may not last you as long as some of the store bought alternatives, but for practically nothing it's still great value for money.
Backyard Fire Pit Ideas
There's no better way to enjoy the Summer nights than sitting round a fire pit with your friends and family. Whether as a centerpiece for your garden, or something you use more practically, a fire pit is a great addition to your home. In fact, despite being inexpensive they can add a lot of value to your garden by improving the look and feel of the space.
There are a lot of options out there and it can be difficult to know where to start. Hopefully this list has provided some inspiration, or at least identified what you don't want, so you can narrow down the search going forward.