Compost tumblers are a great way to make compost. When the right tumbler is used, you can be sure that you have the best compost that can be used in your garden and this can help you save money to boot. But with so many products available, it can be hard to know which one to choose.
There are many things to consider when looking to purchase a compost tumbler: ease of use, capacity, build quality, ease of assembly, and price, just to name a few. This article will review the top products to help you decide.
Read Next
Compost Tumblers for Waste Management
Managing kitchen or organic waste correctly is among some of the trending topics today. A recent study documented the fact that half of the world's food supply goes to waste, and composting might be an excellent way to use the waste. More so, issues such as environmental contamination have the potential to be significant issues for the survival of organisms. The misuse of chemical fertilizers and pesticides can compromise the quality of the environment. Thus, such complications have a compounding effect, and will finally have adverse side effects on the quality of your yield.
Compost tumblers are an effective waste management method for every household, apartment, and more. Thus, with the best compost builder, you can easily get rid of organic waste, while also getting a ready supply of compost for our needs. Before buying a good compost tumbler, there are a few key factors you should consider. We have outlined some of these factors, along with some of the best brands for you to consider.
Best Compost Tumbler Reviews
Getting rid of compost at home has never been this easy. Why may you ask? Well, the FMCP Outdoor IM4000 tumbling composer offers the perfect way to get rid of waste. It comes with an original 8-sided dual chamber and a tumbling structure for the best performance. Using this unit is easy, and it will eliminate the need for having to dig the compost pile by hand.
The tumbling design of this makes it easy to mix compost because you just close the door and turn the tool a few times. In hot sunny conditions, and with the correct balance of ingredients, this unit can complete the tumbling process in a few days. The easy-to-use design makes it perfect for beginners. It comes with large openings and a removable door that make it simple to add scraps and remove the finished compost. The deep finds on the body offer optimal ergonomic solutions for enhanced comfort when in use.
The two composter chambers offer enhanced performance when compared to one tumbler. This way, one side can finish the process, while allowing the second side to work on the fresh scraps and clippings. Continuously swapping sides after finishing will provide an uninterrupted flow of productive and healthy compost results.
PROS
Tumbling composter with high-efficiency design
Easy to use and with large openings
Deep fins on the body for enhanced ergonomics
Excellent aeration and dual composter design
CONS
Heavy to carry around for some users
The turning axle could use ergonomic grips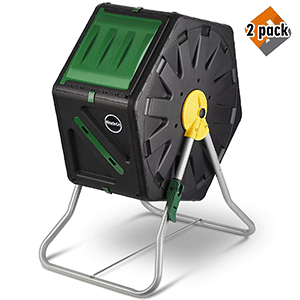 Small spaces won't keep you from composing when you have the exceptional Miracle-Gro Small Composter. This unit comes with an outstanding 18.5-gal volume, which is ideal for various locations, including your porch, patio, rooftop, and more. This way you can compost from anywhere. With this best composter tumbler, you can convert kitchen and garden waste into rich compost for your needs. This unit has a unique aeration system that ensures the compost is ready for use in a few days.
Equipped with unique internal mixing bars, this unit does well to speed up the decomposition to make growing a garden simpler than ever. With this best compost tumbler, you can forget about issues such as food going to waste. There is no more reason for you to compost when the season is favorable. The Miracle Go has a heavy-duty design that makes it easy to compost all year round.
It even comes with a unique side locking mechanism that makes it easy to load and unload. Also, the durable construction maintains a tight seal to ensure that your compost is never affected by air from the outside.
PROS
18.5-gal volume suitable for large yield
Internal mixing bars to speed up decomposition
Side locking mechanism for a snug fit
CONS
The EJWOX Composting tumbler offers the perfect way to get rid of waste material in your home. This unit comes with a dual-chamber, that makes it easy to perform continuous composting. It comes with an aerated internal bar that mixes compost and provides a steady airflow. More so, the black and double wall panels work well to absorb heat during the compost breakdown process. This unit is ideally suited for your garden, and for people who want to mix compost in the bins.
The ingenious tumbler design can also turn on an axis, to provide convenient and balanced rotation results. Equipped with secure slide doors, this unit makes it easy to keep track of each batch of compost. To make things better, the compost tumbler has a convenient loading height to suit your needs. It provides adequate height to put a cart under the composter during the tumbling process. This feature is also backed up by an easy turn of the barrel, which mixes waste easily.
With its powder-coated frame, this unit offers a sturdy base for the large bin, and it sits stable on the floor surface. Best of all, the galvanized steel feet also work well to prevent issues such as deterioration and rusting.
PROS
Dual-chamber compost bin design
The aerated internal bar mixes compost
Black double wall panels
Turns on the axis for easy and balanced rotation
CONS
Cleaning the interior is not easy
The handle could use ergonomic grips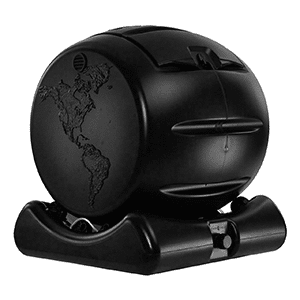 Making your home a functional place has never been this easy. Why may you ask? Well, Envirocycle Composter is one of the best ways for you to get rid of waste material. This unit is sturdy and will produce solid compost each time. More so, the robust design of this unit makes it durable enough for various types of outdoor settings. The compost tumbler is also made using BPA and rust-free materials, which are exceptionally durable.
The Envirocylcle brand has also done well to create this unit to provide ease of functionality. To be specific, the compost tumbler has an ergonomic handle that turns on an axis. This way, you can easily turn the tumbler to improve the aeration process and the rate at which organic material breaks down. Portability is also convenient because this unit is both compact and easy to move around at the same time.
To make things better, the tumbler also has a tight seal, which does well to regulate the presence of air in the tumbler.
PROS
The ergonomic handle turns on an axis
Heavy-duty compost tumbler design
Offers optimal aeration for organic material
Solid like a tank and made using rust-free material
CONS
The tumbler cover warms up when left in the sun
Could use a much more stable structure
As a gardener, you have to own the appropriate regimen if you want to take good care of your plants and more. This is why we recommend the FCMP Outdoor HF-DBC4,000 tumbling composter. This unit has two separate sides that allow the first side to finish while leaving the second side free so that you can add new material. Changing the sides regularly once you complete them will provide a reliable supply of good compost material for your needs.
Thanks to the unique BPA-free UV inhibited recycled material, this unit is contact safe and won't get compromised by the sun. Even more, the heavy-duty steel frame on this unit is made using galvanized steel that offers outstanding levels of corrosion resistance. Similar to the best composter tumblers out there, this unit comes with aeration holes and deep fins that break down clumps in the chamber. Such a unique design improves the supply of oxygen in the tumbler for the best results.
Using this tumbler is also simple, and you have to close the door and leave the tumbler for a few days. With Its exceptional 37-gallon capacity, this unit provides more than sufficient material for your large garden.
PROS
Easy to use with large openings and removable doors
Two composting chambers with separate sides
Aeration holes and deep fins to break clumps
37-gallon compost capacity for rich compost
CONS
Somewhat heavy to carry
Warms up when left in the sun
What is a Compost Tumbler?
Simply put, this refers to a barbell that can rotate and turn the compost. In most cases, the barrels are made using recycled plastics, and the barrel is filled using organic and yard wastes. The composting process occurs within the barrel and under controlled conditions. More so, the process is activated using products such as commercial starters, finished compost, garden soil, and more.
Microbes in the organic material are responsible for breaking down the organic material by using oxygen. To maintain the optimal breakdown of the compost, users usually have to turn the tumbler on average two times a week. Turning the tumbler helps to mix the compost with organic material while adding a fresh supply of oxygen.
The tumbler helps to keep the material contained, and the heat produced during the breakdown process. In a few days or so, or even less when using the right methods and the best tumbler – you remove the lid from the unit. Voila, you can enjoy an abundant supply of compost made right in your backyard.
How To Use A Compost Tumbler
Composting is an age-old practice that dates back thousands of years. Back in the seventies, when most environment-savvy initiatives started, a few gardeners came up with plans for a particular barrel. Commercial tumblers have been on the market for thousands of years, and you can get one that suits your needs.
Types of Compost Tumblers
Compost tumblers classify into two categories, which are vertical and horizontal types. The variations include the spherical tumblers, which can roll along on the ground. The sizes of tumblers are also different and can consist of large bins that can accommodate bushes of yard waste. More so, the most straightforward tumbler designs are the rotating barrels.
Other horizontal tumblers come with cranks or handles, which let you turn the tumbler on an axis. Furthermore, all tumblers are vented to provide oxygen, which is crucial for the breakdown process. The higher-end tumblers come with piping that directs oxygen to the breakdown area. These are all modifications with one goal – to improve the rate of compost breakdown.
How Does A Compost Tumbler Work?
The process is simple. You just load the tool with brown or green waste, that you can obtain from your home. Once full, you have to leave the tool to start the breakdown process. This process requires oxygen, and you turn the compost every once in a while. By turning the tumbler, you improve the aeration and exposure of the material to microbes as well as the air. Open the lid and check inside the tumbler to determine whether the process is complete.
What Should You Consider When Buying A Compost Tumbler?
The first thing to consider is the amount of organic material you want to produce. Most tumblers will use grass clippings from a moderately sized yard and also depend on your mowing habits. Even more, a yard with many deciduous trees will more likely produce more leaves, than any tumbler can accommodate. This is especially true when you have to determine the specific air quantity ratios of the material. If you are composting kitchen material, and small scraps of yard waste, then consider the smaller tumbler sizes. The standard features to consider include:
The capacity – on average, a compost tumbler should provide between 12 to 25 gallons of space, which is ideal for DIY gardens.
Handle design – the tumbler should also have a handle with ergonomic grips that stays comfortable in the hands
Aeration holes – the tumbler should also have aeration holes that provide a fresh supply of air to the material
Other Considerations
While using compost tumblers makes it easy to aerate compost by hand, they still require lots of attention. If you have a lack of time to check the breakdown process, or to turn the material perhaps, then it's best if you leave the process to a responsible person. Also, consider getting a compact tumbler, if you want a portable unit or a small amount of compost for potted plants.
The loading and unloading process is also another crucial factor to consider. In some cases, the compost tumbler loads and unloads from the same point of access. Others are designed to load from the top but unload from the bottom.
Final Thoughts
Getting the right garden tumbler can be a great way to collect and make use of waste materials from your kitchen or cookhouse. It's also a lot better than having to purchase artificial compost to add nutrients to your own DIY compost heap.
Rather than being forced to buy artificial fertilizer or compost, for any kind of garden or flower patch at home, you can easily save money by simply collecting some old waste from the kitchen or cookhouse and placing it within an appropriate type of tumbler then leaving it outside with some water added before it is churned on a regular basis.
In this guide, we have listed some of the best compost tumblers. While all of these have their own advantages, it's you who will have to pick the one that best suits your needs.