Are you considering a corner hot tub upgrade? Do you plan to refurbish your home with a high-quality hot tub for your entertainment, intimate sessions with your loved ones or just health goals?
With so many corner hot tubs available in the market, it can be overwhelming to select the best corner hot tub for your bathroom.
Fortunately, we have done the homework for you to ensure you do not fall for 'better deals online'.
Best Corner Hot Tub Comparison Table
Best for Family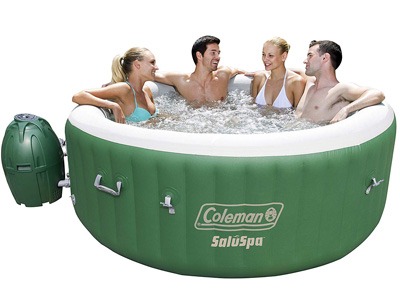 Can fit 4-6 people
Affordable price
An auto digital control panel
Easy to install, no tools required
Best for Therapy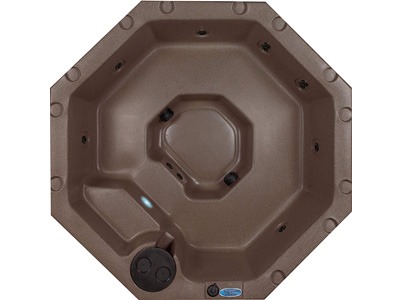 Has 11 hydrotherapy jets
It is insulated and lockable
No wiring required
Long-term warranty on equipment and labor
Best for Parties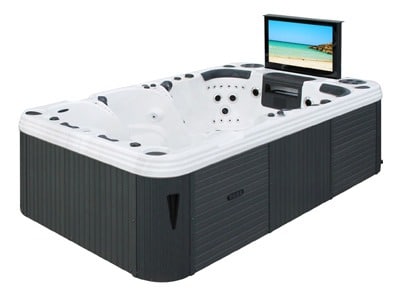 Has a 42 inch LCD fold up TV ideal for parties
Can fit ten people
Has 50 LED Lights
126 jets
​Top 3 Corner Hot Tub Reviews and Buying Guide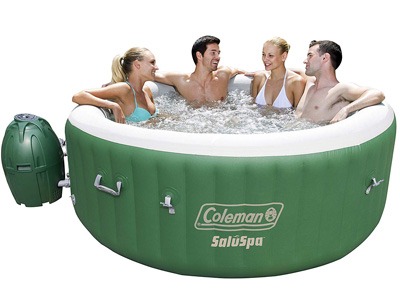 The Coleman SaluSpa which is inflatable hot tub is simple to set-up (no tools required). The beam wall construction features a Letheroid TriTech material that provides additional strength and durability. Its walls allow you to lean on the sides without bending the spa.
The Coleman SaluSpa sports a digital control panel with an automatic start/stop time that lets you set temperatures; activate jets and control the heating system.
It has a separate air pad cushioned floor underneath to provide extra comfort and insulation. The package also includes a chemical floater, dense duty repair patch, heating and filtration systems, and an inflation horse.
PROS
Check Circle 4-6 person capacity
Check Circle Low cost
Check CircleAutomatic digital control panels
Check CircleFast to set up – no tools required
CONS
Times Circle

The filter can clog easily

Times Circle

You have to keep checking whether the hot tub is working (shuts down automatically at 72 hours)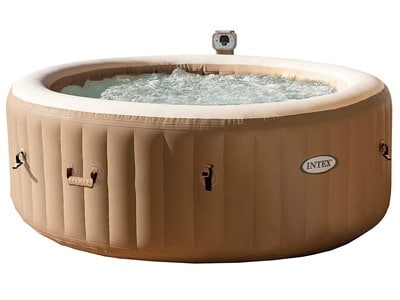 This portable hot tub is an inflatable model that can hold up to six people. Unlike the Coleman SaluSpa that features traditional beam construction, the Intex PureSpa Set design dawns high –strength polyester fibers. The fibers do not stretch over. They have the latest beam construction for comfort and resilience.
Another highlight of the Intex PureSpa set is its inbuilt hard water treatment system. It works efficiently to soften water in your hot tub for a more soothing experience on your skin. You can look forward to 140 bubble jets in the spa's interior and a control panel that activates the jets and regulates temperature.
The set brings with it the following
An insulated cover
Two filter cartridges
A carriage bag
A floating chlorine dispenser
Three-way test trips
A treating and filtration system
An air pump
A ground cloth
PROS
Check CircleAccommodates up to 6 people
Check CircleLow price point
Check CircleEasy and fast to set up
Check CircleExtremely comfortable (built-in padding)
Check CircleEasy to clean
Check Circle

A simple control unit

Check Circle

An inbuilt hard water treatment system

Check Circle

140 bubble jets
CONS
Times Circle

No actual seats and jets

Times Circle

Takes longer to heat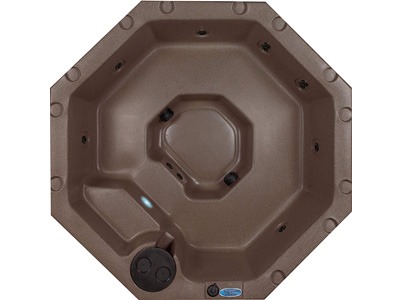 The Integrity-II Jet is molded with granite resin to deliver a high-end and zero maintenance hot tub. The spa can accommodate up to six people with its open bench-style seating.
Its hydrotherapy jets are handy for feet and neck relaxation. With no electrical connections required coupled with its lightweight nature, using it is a walk in the park. The hot tub is secured with a long lasting, and tapered insulated cover contains safety clips.
Also included are the digital remote control and LED multicolor.
The warranty included covers equipment and plumbing for two years, shell for ten years and defects in labor or material for five years. The product is delivered using curbside delivery service.
PROS
Check Circle11 hydrotherapy jets
Check CircleLong-term warranty on the cabinet, shell, and equipment
Check CircleFree curbside delivery
Check CircleInsulated and lockable
Check Circle

No electrical wiring required
CONS
Times Circle

Highly-priced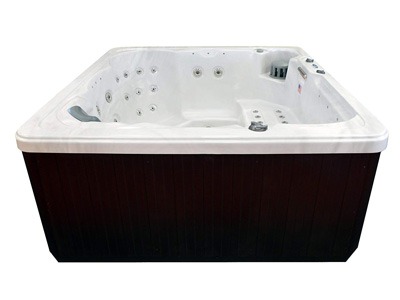 The Hudson Bay Spa XP34 is an acrylic hot tub with a sleek, classy design and featuring an outlet plug. Its shell is molded from slip-resistant, hardwearing Lucite acrylic that is strengthened with multi-layer fiberglass.
The XP34 comes with dense foam insulation along with mocha–stained cabinet that retains heat and requires minimal maintenance. It contains 34 stainless steel jets for different parts of your body such as the shoulders, neck, calves, and feet.
The product has six seats including two 'turbo seats' with extra jets. The lighting includes 12 LED perimeter lights. You can set them to cycle through multiple shades or just one hue. A digital Balboa can adjust the jet strengths and lights.
PROS
Check Circle

34 stainless steel and therapeutic jets

Check Circle

100% energy efficient

Check Circle

Lockable safety cover

Check Circle

High-performance pump

Check Circle

Free curbside delivery
CONS
Times Circle

Acrylic hot tubs need more maintenance compared to hot tubs made from other materials
One of the distinct features of this hot tub is that it has a unique jet system compared to the other models we have reviewed in this primer. It has 120 heated jets line in its interior.
Its built-in digital automatic control panel enables you to regulate temperature while its cover keeps the inside part protected from the elements.
For a breathtaking soothing experience, the Intex Octagonal Pure Spa comes with a hard water treatment system. It can survive light nicks and scratches. You are guaranteed of utmost comfort when using it.
PROS
Check Circle120 jet bubbles
Check CircleLow-cost point
Check CircleA hard water treatment system
Check CircleA simple digital control
Check CircleDurable and resistant to elements
Check Circle

Easy to install
CONS
Times Circle

They are easily available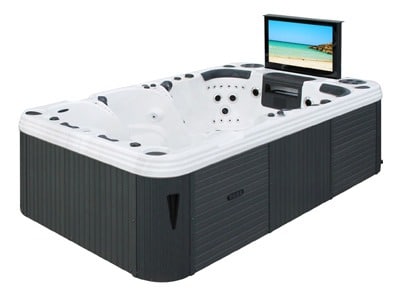 Norfolk Theatre is the most expensive hot tub on our list. You may spend too much on this one than you would on your mortgage but its design, size and features deserve that price. Norfolk theatre can accommodate up to 10 people or according to the manufacturer 'a football team '. It has 42 fold out LCD television, 126 jets and a circulation pump.
Norfolk also comes with 50 LED lights with multi –hues. If you want your hot tub to be a party hub and you have the money, then this hot tub is your suitable option.
PROS
Check Circle

126 jets

Check Circle50 LED lights
Check CircleAn LCD television
Check Circle

Party centred –accommodates up to 10 people
CONS
Times Circle

Highly-priced
The Lay –Z –Spa Vegas is an inflatable hot tub that can be easily tucked away. The installation is hassle-free thanks to a DVD set-up and maintenance manual.
The product comes with a functional jet system-87 jets. It can accommodate 4-six people. The Lay-z-Spa Vegas walls are designed using strong and durable horizontal ring construction. Its digital panel allows you to adjust temperature and jet speed.
It sports a Letheroid cover with inflatable cover and double locks safety clips that make it one of the safest options for children or pets.
PROS
Check Circle

87 jet packs

Check Circle

Easy to install

Check Circle

Can seat 4-6 people

Check Circle

Low price point

Check Circle

Simple to use digital control

Check Circle

Perfect drink holder
CONS
Times Circle

It doesn't stay slotted – though not wobbly
Best Corner Hot Tub Buying Guide
Purchasing a spa is an investment in your entertainment and health. To ensure a corner hot tub addresses your needs, here are some of the important factors you need to consider:
Size, Shape, and Construction
When it comes to hot tub sizes, you need to establish the number of people that will use the bathtub. The sizes available can accommodate 1-12 people. In terms of shape, hot tubs can be circular, rectangular, square and triangle.
To get it right on shape and size, consider the size of your bathroom and the number of family members or guests.
Hot tubs come in various materials. Each of them has different care and maintenance needs. Some of the most common materials include:
Wood - Wooden hot tubs are made from various types of wood such as cypress, teak, redwood, and cedar. Wooden hot tubs not only give your bathroom a natural appeal but also produce a relaxing aroma when wet. Furthermore, they are more resistant to cracking, chipping, and blistering compared to plastic hot tubs. The only downside is that they require more maintenance like routine staining and sealing.
Plastic - Plastic or acrylic hot tubs are widely available in the market. They come in various designs. These are more prone to aesthetic damages like cracking and chipping but durable and resistant to structural decay. Plastic hot tubs are low maintenance compared to wooden hot tubs.
Stainless steel - Compared to other materials of hot tubs, stainless steel hot tubs last longer because of their structural strength and ability to resist corrosion. They are incredible when it comes to temperature regulation. Furthermore, the material is highly durable. The fact that it is recyclable makes stainless steel an environmentally friendly hot tub.
Portable
Portable hot tubs are made from durable puncture-resistant materials. They feature an inner beam construction for support. These types bring with them an array of accessories such as pumps, heating and filtration systems. Often, most of them are inflatable. The installation process is simpler than the permanent hot tub varieties. They are cheap, but sometimes are slow to heat and mostly do not include seats.
Special features
Comfort and luxury is one of the driving factors of buying a hot tub. Here are relevant examples of special features you need to consider when shopping for a corner hot tub:
Remote control – You use a remote control to regulate temperature, lights, and jet pressure while inside or out your hot tub.
Lights - Most hot tubs come with multi-colored lights. LED lights make your bathroom safe and add a serene atmosphere.
Jet settings - How the jets looks and the spots they are fixed depends on the brand you buy. Some come with strong pulsating jets for big muscle groups for shoulders and back massage, directional jets for the neck and hydro massage jets for the feet.
Most models have automatic digital control panels that allow you to adjust the speed and strength of your jet.
Safety
To ensure that your corner hot tub is safe for you, your family, or guests consider the following precautions:
A hot tub should have an insulation cover not only for insulation and energy efficiency but also for the protection of your kids or pets.
Ensure the hot tub has removable child covers to prevent entrapment.
Infants and toddlers should not be in the hot tub due to overheating and dehydration.

Pregnant women should spend less time (10 minutes) in the spa.

Take plenty of fluids during and after the bath to avoid dehydration but avoid alcoholic drinks.
Return and Warranty Policy
Your prospective corner hot tub should be protected by a return and warrant policy. The warranty should state all the terms clearly without leaving any details.
A standard hot tub warranty should cover; craft, equipment, insulation cover and controls. Serious brands may offer a guarantee of 1-5 years on plumbing and materials.
Conclusion
All the six hot tubs we have featured on this primer boast a variety of impressive features that make each of them unique. However, in terms of cost, design, size, and functionality our best pick is Coleman SaluSpa Inflatable Hot Tub.
It is affordable, and can accommodate cup to six people can use it. The product is highly luxurious and comes with an auto digital control panel that allows you to regulate temperature levels.
Ensure review as many hot tubs as you can to get your value for money and also get maximum luxury.