The corners of a room used to be a dreaded space where dirt just pile up.
These days, with interior design trends aggressively saving spaces left and right, furniture makers and home accessory companies go with the flow producing space-saving items as well.
We've seen it everywhere - from corner medicine cabinets or corner floor lamps to corner hutches that give purpose to every inch of your home.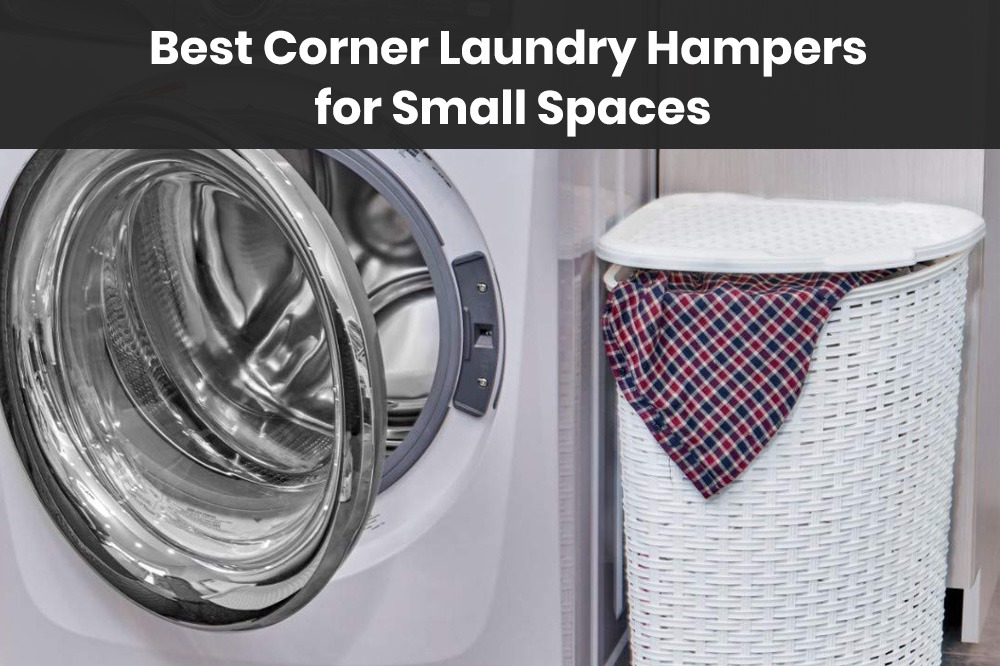 Read Next
8 Corner Laundry Hampers for Small Spaces
If you're trying to find something to fill that gap in your room, here are some corner laundry hampers examples that you might find useful for small spaces.
Best Value For Money Corner Laundry Hamper For Small Spaces
Space saver 
Affordable 
Impressively designed lid handle 
Best-looking Corner Laundry Hamper For Small Spaces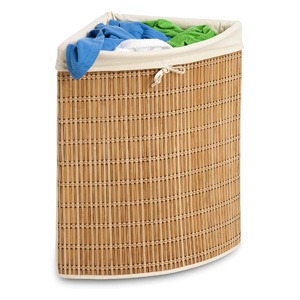 Made of Moisture-resistant material 
Pretty wicker weave design 
Useful accessories included 
Best Corner Laundry Hamper For Small Spaces
Pretty, pie-shaped design
Hand-woven by Indonesian artisans
Hand-dyed antique look
Measurement: 23 x 16 x 16 inches
Looks clean and classy
Wicker design
Water-resistant plastic construction
If you like the basket weave design on your furniture, but can't really sacrifice looks for the potential of damaging your hamper by moist clothes, your next best bet would be to go with a plastic laundry basket with a faux rattan weave design.
Superio's Rattan Wicker Laundry Hamper is ideal for a small room or bathroom, filling up the corners perfectly. Plus, you don't have to deal with opening and closing the cover every time, since the hinged cover can be removed completely.
It's not made of rattan, which is a good thing if you need a hamper to place soiled clothes and bedding into. It's lightweight too allowing users to move it from bathroom to kitchen to anywhere else in the house.
PROS
Check CircleSturdy - Made of durable plastic
Check CircleAllows soiled items - Perfect for storing soiled towels or other pieces of clothing
Check CircleFancy design - decorative basket weave look
CONS
Times CircleIf you're after design, you might be disappointed that this hamper isn't made of rattan
Measurement: 24.6 x 15.3 x 4.2 inches
Modern wood-like design
Sturdy, but lightweight
Includes Washable Cloth Liner
BIRDROCK HOME's brown laundry hamper was designed to fill up corner spaces in your bedroom, bathroom or closet. It is made of sturdy, lightweight bamboo that's treated with a nice, espresso-colored finish.
Inside the hamper is a washable cloth liner, which you can use straight out of the box. The lid is sturdier than all three sides of the hamper - this feature lets you put things into it without too much effort since the lid can stand on its own.
As a corner laundry hamper, it should fit most 90-degree room corners. And because the body is on the lighter side, fitting the laundry hamper snuggly in the corner makes it more secure. Note that you might need to add a rope as handles, especially if you plan to move this hamper from one room (like your bedroom) to the laundry room.
PROS
Check CircleCloth liner included
Check CircleGorgeous natural bamboo material in chocolate brown color
Check CircleSturdy flip-up lid
CONS
Times CircleHard to assemble, unclear instructions
Times CircleNo handle to carry when hamper isn't empty
Measurement: 13 x 13 x 23.6 inches
Made from polyester
Available in white and grey
Comes with wheels for no-fuss transport
Laundry can be tough on everything from your washers to your hampers, so having a laundry basket that can withstand the daily wear is definitely a plus.
WENKO's Tresco laundry bin is made from 100% polyester (a hard-wearing fabric) and mesh screen that covers the opening. This laundry bin has a very small footprint, which can be quite beneficial to rooms with not enough space, RV bedrooms, bathrooms, and other similarly-tight spaces.
What it lacks in size, it makes up in portability. Aside from having fabric handles that make it easy for users to transport dirty laundry, the WENKO Tresco laundry bin is also equipped with four caster wheels for stress-free transport from room to room.
PROS
Check CircleWheels let users move laundry bin around
Check CirclePolyester fabric doesn't wear too quickly
Check CircleCarries 50 liters (about 13 gallons) of laundry
CONS
Times CircleToo small for other people's rooms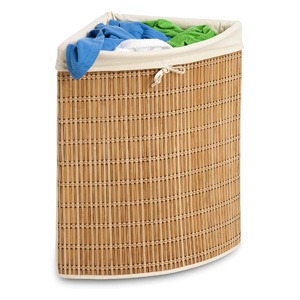 Measurement: 13 x 13 x 23.6 inches
Super stylish
Heavy duty
Affordable
There are plenty of good things to say about the Honey-Can-Do Wicker Corner Hamper. Aside from its affordable price, this laundry basket is also constructed with some of the best materials you can ever combine in a hamper: the front is made of breathable natural bamboo, while the hidden sides are made with moisture-resistant fabric.
The Honey-Can-Do Wicker Corner Hamper doesn't have a lid, but it comes with a cotton canvas liner that you can easily removed for machine-washing or changing.
The light brown color of this laundry basket makes it blend well with any room or interior design. It's big enough to hold a week's worth of laundry, or several towels at a time. And lightweight enough to be moved from one room to the next.
PROS
Check CircleDurable steel frame holds the fabric and bamboo together nicely
Check CircleSpace-saving corner design
Check CircleIncludes a removable cotton bag
CONS
Times CircleNo handles or wheels
Measurements: 15 x 15 x 26 inches
Hand-woven rattan
Comes from Indonesia
Luxurious antique finish
Anyone can quickly fall in love with The Basket Lady's corner wicker laundry hamper. It's a stunning piece, since it was built from scratch by the hand of Indonesian artisans. You can clearly see the workmanship with one touch of the lid. And the antique walnut brown color is to die for.
This imported laundry hamper was built with a sturdy frame, then hand-woven natural rattan around it to create the perfect, pie-shaped design ideally to fill those empty corner spaces in a room. The base comes with plastic feet, so your floors would be protected from scratching.
The Basket Lady corner wicker laundry hamper was designed with a hinged lid, making it easy to shoot stuff into it, or remove dirty laundry when needed. This hamper also comes with a removable cotton liner, which you can machine-wash with your clothes.
PROS
Check CircleSturdy and well-constructed
Check CircleGorgeous pie shape and finishing
Check CircleTransforms a boring bathroom
CONS
Times CircleExpensive compared to other laundry hampers on this list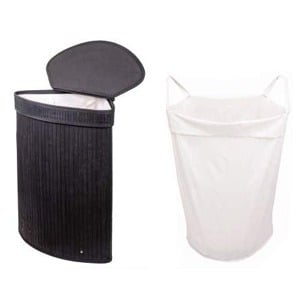 Measurement: 23 x 15 x 4 inches
Functional inner fabric liner
Made from lightweight bamboo
Requires little footprint
Adorn Home Essentials' corner laundry hamper is a well-thought of product. You might think that the all-natural bamboo casing and steel hidden frame looks like other hampers on this list, but when you get to see the little details, you'll know Adorn put some heart into creating this piece.
For instance:
The user-friendly lids - You flap it up, it opens and stay open thanks to the well-designed flip hinged covers. You can place your stuff in without having to hold the lid down with another hand. Saves a lot of time.
Flexible interior space - This hamper comes with two cotton liners: a one-compartment liner and a two-compartment liner. Choose from either liner, depending on your needs. If you'd like to separate the darks from lights, then go with the two-compartment liner and never worry about sorting clothes ever again.
Removable liners - The hamper itself doesn't have handles, but Adorne made sure that both liners have handles so you could easily remove your stuff into your washer.
There is some assembly required when setting up this hamper, but you don't need any tools. Just assemble all the pieces, securing everything from the baseboard to the metal frame, then inserting your liner and snapping everything in place before covering with the lid.
PROS
Check CircleEnvironmentally-friendly - Made from temperature-resistant natural bamboo
Check CircleTwo colors available - The Adorne corner laundry hamper is available in espresso black and chestnut brown. Choose whichever fits your intended room.
Check CircleWashable liners (hand-wash or just thrown into the washer)
CONS
Times CircleLid can sometimes get stuck
Measurement: 15.5 x 15.5 x 26 inches
Heirloom-worthy
Made of solid teak wood
From award-winning company, AquaTeak
If you're looking for something that can last for a long time, or even pass on to the next generation, this "Kai" corner laundry and storage hamper is your answer.
This gorgeous hamper comes from award-winning company, AquaTeak, which has been designing and manufacturing magnificent teak-made products for over 20 years. Each AquaTeak product is made by skilled artisans of Java, Indonesia, and then shipped off to the other side of the world for you to enjoy.
The AquaTeak Kai Corner Teak Laundry & Storage Hamper is made from 100% sustainably-harvested solid teak wood, which is treated perfectly to be naturally water-resistant. You can store this hamper outdoors near a pool, or in your indoor bathrooms or rooms and it would remain as durable no matter what.
There are two features that guarantees this hamper was designed to last:
Anti-slip rubber feet: AquaTeak placed three rubber-gripping feet for added stability and reduce the chances of slipping and scraping your floors.
Heavy duty hardware: One look at those non-corroding, stainless steel hardware pieces inside and outside the hamper and you know AquaTeak is serious about its work.
Weighs over 30 pounds: You can't just tip this over and break it like other hampers (that are made so flimsy a simple bump can destroy it)
This kind of laundry hamper is what you might see in commercial spas or gym locker rooms. It's pretty impressive (and the price tag reflects it), but you'll be paying for quality if you choose the AquaTeak Kai Corner Teak Laundry & Storage Hamper.
PROS
Check CircleFive year warranty and 30-day money-back guarantee
Check CircleFantastic design and durable hardware
Check CircleNon-slip rubber feet
CONS
Times CircleFull-sized hamper - May not fit small spaces
Measurement: 14 ⅗"(H)*14 ⅗ "(D)x 23 ⅝"(H)
Space-saving design
Made of natural bamboo materials
Very useful handle on the lid
CASART made two versions of its bamboo hamper laundry basket - a rectangular-shaped one with a removable liner that lets you separate whites from darks, and a triangular-shaped one ideal for corner sports.
And since we're talking about the best corner laundry hampers for small spaces, we'll focus on the triangular-shaped one today.
The triangle CASART is only available in black color. It is made with durable bamboo material, which isn't easily damaged or warped with moisture. This corner hamper comes with a well-ventilated, polyester cotton fabric liner with holes at the bottom to let it "breathe." You can also take this liner out when it's time for washing.
What makes this CASART hamper different from other laundry baskets on this list lies on one thing: its well-designed lid . The lack of lid handle on many hampers can be disappointing (it's a very simple concept), so having a user-friendly top lid with PU leather handle seems like a game changer.
PROS
Check CircleMade of durable and lightweight bamboo
Check CircleThickened lid with a PU handle
Check CircleSimple assemble need
CONS
Times CircleOnly one color available
3 Things to Consider When Buying Corner Laundry Hampers for Small Spaces
Size matters
The size of a laundry hamper should be your first consideration because everyone does their laundry at different intervals. For example, if a hamper can only fit a week's worth of work clothes, but you do your laundry twice a week, then the size of that hamper is enough for you.
Other considerations related to the hamper size include:
How many people would share that hamper
Will beddings and towels be placed here too?
Space available in your room.
Orientation of lid - Is your corner space located in a tight spot that would not be able to accommodate a hamper that flips up its lid to the left or right? You might think this isn't a big deal now, but once you discover that a hamper doesn't go well with how you move within a room, it will quickly turn into a big deal.
Some people base their laundry schedules with the time they can fill up a laundry basket. If this sounds like you, then you'd probably be able to adjust no matter what size your hamper is.
Portability
Let's face it, laundry hampers were created so you can pick up all dirty clothes in one go and shoot them into the washer.
With this in mind, the hamper you buy should have a way to make transferring clothes easy for you… whether this is an inner liner that you can remove with the clothes, or wheels to smoothly transfer the entire thing into your laundry room.
Sometimes, a laundry basket without a handle on the lid can make your job harder than it should be.
Materials
The materials used in crafting your chosen laundry hamper often correlates to the quality of the item. For example, a hamper with steel frame and breathable bamboo will probably hold up longer than a hamper made only with fabric.
Take note of little details - the hardware used for closing the lid, the addition (or lack) of rubber feet to keep the hamper from sliding off, how thick or thin the included liners are. All of these things will make or break your laundry basket in the future, so be mindful of the materials used for each detail.
The tricky thing about choosing corner laundry baskets based on materials is that you might end up with a more expensive hamper in the process. Weigh your options and decide based on value for money instead.
Wrapping Up: Which of these Corner Laundry Hampers for Small Spaces is Best for Me?
First, measure your space.
How small is your vacant space?
The answer to this can be very subjective: what "small space" you refer to may be big enough for the next person, or vice versa. Measuring your space availability ensure you shop with the right information at hand. That's why each product on this list tells you the measurement first.
If the available space is not an issue, you can choose from any of the hampers above.
Those looking for real wood that can last a lifetime, the AquaTeak Kai Corner Teak Laundry & Storage Hamper is a show-stopper that can add pizzazz to any room. The one from The Basket Lady Corner Wicker Laundry Hamper comes second place, since this is hand-woven by skilled artisans all the way from Indonesia.
Don't have much budget, but need a laundry hamper to organize your dirty clothes? The CASART Bamboo Hamper Laundry Basket will work just fine.
If your priority is style, the pretty Honey-Can-Do Bamboo Wicker Corner Hamper can give your space a new life without investing too much on furniture or renovation.