A corner makeup vanity table can be a great addition to a bedroom, providing a convenient and stylish space for makeup and getting ready.
Let us be honest, makeup is such an integral part of our days. Few are willing to leave the house without some on. Each morning we take time to dab, blend, and kind of contour our faces to create the perfect look. Dare I say that while many are keen on breaking the bank when shopping for beauty products, the same cannot be said about their accessories.
One such accessory is the makeup vanity table. Your special makeup corner is never complete without a makeup vanity table. That bathroom countertop and mirror can only work for so long. Soon after, you will realize that comfort and style play a huge role in nurturing inspiration to get you your best face beat yet.
Do you want to spice up your makeup routine by buying the best corner makeup vanity table? Are you considering an upgrade?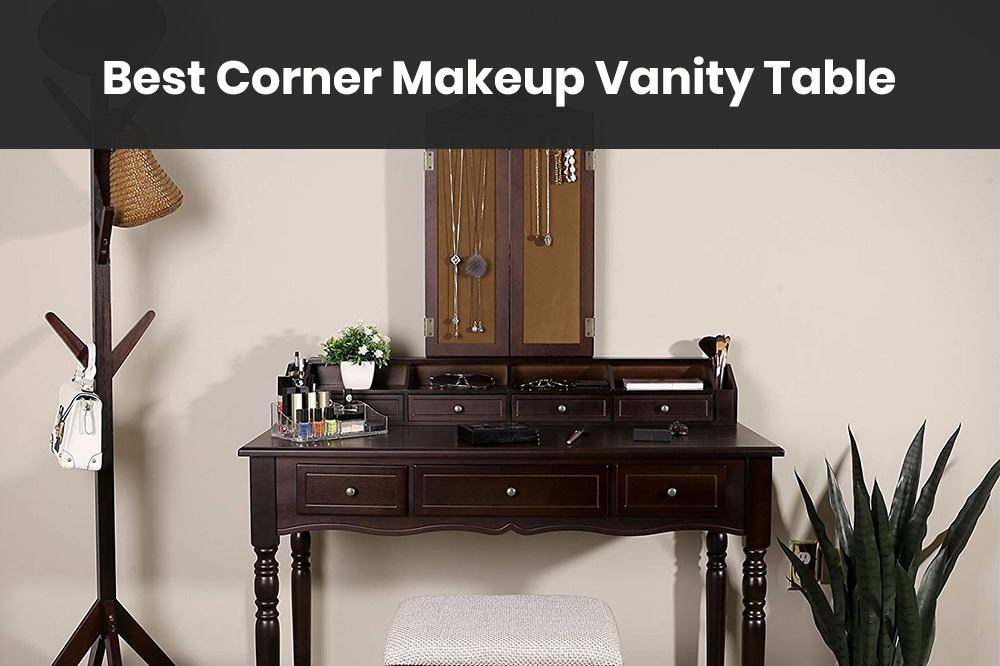 Read Next
Corner Makeup Vanity Comparison Table
Budget pick
Best under $200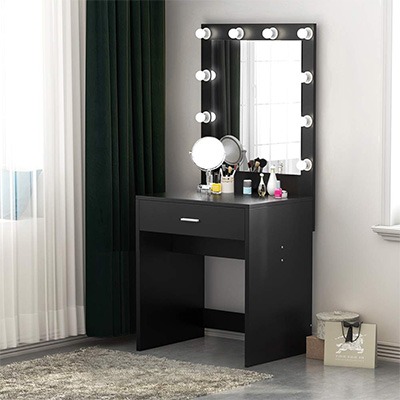 Comes with a 10 LED lighted mirror
Sleek and simple design
Black color
Mid-range pick
Best value for money
Has a multifunctional tri-folding mirror
Modern design
White color
High-End Pick
Best price and value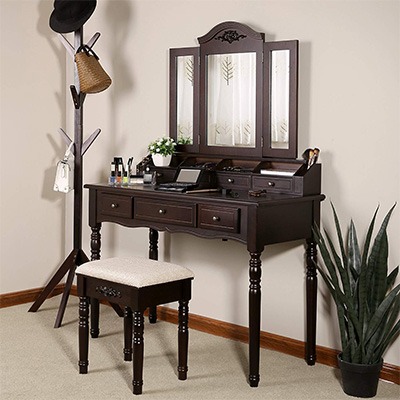 Has plenty of storage space
Classic design
Dark brown color
Best Corner Makeup Vanity Tables in the Market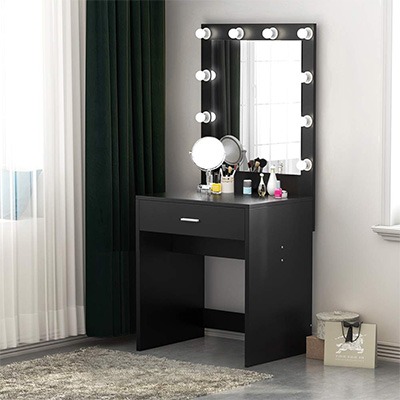 I yell a resounding yes every time I set my eyes on the Tribedesigns vanity table. I mean look at this beauty, what's not to love? From its bold color to its simple yet elegant design, this is a must-have for anyone serious about owning their makeup space.
The most outstanding feature about it has to do with the large mirror fitted with 10 LED lights. No need to spend more money looking for a lamp. You can switch the lights on whenever you're using the vanity table and switch them off once you're done.
This makeup table comes with a large drawer to fit all your makeup and beauty products. The spacious tabletop can work as an extra space for storage. You can add an additional pot to hold your brushes or scented perfume to make it look more attractive.
The Tribedesigns vanity table is made out of E1 Particle board material which is durable and strong. It measures 27.56" long x 19" wide x 62.2" high. Its medium size makes it ideal for smaller-sized to medium-sized bedrooms.
PROS
Check CircleIt comes with a large-sized mirror featuring 10 LED lights
Check CircleMade from durable and strong E1 particle board material
Check CircleBest vanity table you can get for under $200
CONS
Times CircleYou have to buy the compact stool separateThere's limited storage space
Times CircleFor a larger bedroom, this makeup vanity table might be too small
Why buy? It comes with attractive lights. Visibility is key. Create ravishing makeup looks and statements with this one-of-a-kind Tribedesigns vanity table.
Optimize your beauty routine and revamp your space with the ENSTVER vanity beauty station. Without inspiration, you won't enjoy anything about applying your makeup. This vanity table is not only designed to complement your bedroom but works well to get your creative juices flowing.
Highlighting its functionality is a trifold mirror. Besides giving you different dimensions of your face, the two mirrors on the left and right side have little hooks where you can hang all your stunning necklaces. This sturdy piece of furniture comes designed with vintage knobs that add appeal and further emphasize the Victorian style.
You cannot ignore the amount of storage space that this unit has. It comes with 7 drawers three of which are quite large and two smaller ones. What's more, there are several extra storage compartments right below the large mirror at the center.
With this much space, it can be hard to find what you want. And who wants to have to deal with an ever-messy makeup vanity area? According to Stephanie Rose, a renowned makeup guru, organizing your vanity isn't that hard. Check out some vanity tour and makeup organization tips.
PROS
Check CircleBest value for money on an average budget
Check CircleThere's more than enough space for all your makeup and accessories
Check CircleMade of environment-friendly E1 grade MDF board
CONS
Times CircleThis makeup vanity set can be too bulky for a small space
Times CircleIt can be easy to get disorganized if you don't practice hygiene or have good organization habits
Times CircleFor such a large makeup vanity, I found the padded stool too small and disproportional.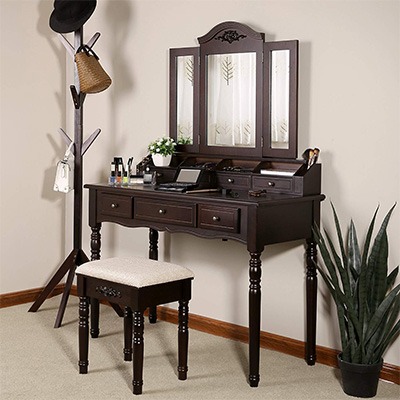 I love that the VASAGLE vanity set comes with two storage compartments made specifically for your makeup brushes. Most of the time, I have been forced to improvise flower pots and turn them into make-up brush holders.
My obsession with bold colors instantly attracts me to this espresso-colored vanity set. Its ravishing design is something no one can look past. From its simple yet chic design, trifold mirrors, and strategically placed flower engravings, you have a vanity set that will never go out of style.
The large tabletop gives you plenty of space to work on and to add more accessories. Designed with longer legs, you can choose to use the padded stool that comes with it or switch it with a more comfortable swivel chair.
With no shortage of hazardous and pollutant materials, it is important to find out what material any furniture you plan to buy is made of.
This vanity set is made from environment-friendly MDF, Rubber Wood material. It only weighs 73.7 lbs and measures 42.5" in length x 18.5" wide and 59.58" high. The padded vanity stool measures
Are you stuck on what to gift your mom, wife, daughter, or granddaughter for that upcoming special occasion? Well, the VASAGLE vanity set is the perfect gift that is certain to leave anyone in awe.
PROS
Check CircleThere's plenty of storage space available
Check CircleLarge countertop/working area
Check CircleBeautiful, chic design
CONS
Times CircleMay be too dark in a room where the décor is predominantly darker
Times CircleFor someone that's working on a budget, this set may be overpriced
Times CircleIf you're shorter than the average height, this table is oversized
Factors to Consider When Buying the Best Corner Makeup Vanity Table
Every woman who applies makeup is a diva. And no diva's bedroom is complete without a makeup vanity table. But what features should you look out for when searching for one? Here are a few factors to consider to make sure you purchase the best corner makeup vanity table.
Space for Storage
A makeup vanity table needs to have enough storage space. The more space there is, the better. It could be anything from hooks on the mirrors for your beautiful necklaces, small shelves on the side to store perfumes, or drawers and partitions to store all your lipstick, makeup, moisturizers, brushes, earrings, watches, and other accessories.
Some of you don't need that much makeup to get by. This explains why the two drawers are enough storage. But for the rest of us who have several brands of makeup and beauty products complete with their respective make-up brushes, 50 types of lipsticks, 100 pairs of earrings, 200 shades of nail polish, countless rings and necklaces, and all manner of accessories, you bet, we need all the storage space we can get.
While you're looking for a vanity table with the right storage space, it is prudent that you also factor in the locking system. This helps make sure that your jewelry or valuables stay safe in your absence or when you happen to have company over.
Size
No one wants a vanity table whose mirror is way too large compared to its tabletop or even the other way around. When it comes to size, the perfect vanity table is one whose mirror, tabletop, and stool/bench are proportionate.
The height of the vanity table should neither be too high nor too low. Comfort is key. A makeup vanity table may seem like a simple piece of furniture. But it has enough influence to make or break the aesthetics of your room.
Remember to factor in the size of your room too. A larger room has enough space to accommodate a larger-sized vanity table. A smaller-sized vanity table alternatively fits perfectly inside a medium to small-sized bedroom.
Functionality
It's easy to focus on maintaining that elegant look and completely forget all about functionality. Of course, you want a vanity table that looks good but it's no use if it doesn't work to satisfy all your needs.
Is your bedroom a tad bit too cramped but do you still want to try and fit in a makeup vanity table? If yes, why don't you go for a compact stool that fits under the table? Why don't you choose a smaller trendier mirror as opposed to a full-length mirror? It's up to you to study your bedroom space and see what works and what doesn't.
Did you know that functionality and staying organized go hand in hand? Going to Sarah Klein's article on Huffington Post, here are 14 organization habits to get you started.
Design
What type of furniture do you like? Do you like classic designs or are you more of a contemporary/modern kind of person? Take time to view different designs and see what appeals to you the most. You must consider other types of furniture present in your bedroom.
In my experience, Classic style pieces are larger and have more storage space. This makes them ideal for a larger bedroom. On the other hand, contemporary makeup vanity tables are simple, curvy, and more feminine. They are smaller making them perfect for smaller bedrooms.
Aim to purchase that vanity table that easily blends with your curtains, wall color, bed design, bedside table, and so on. Feel free to play around with colors, everything doesn't have to be the same color. Want to play it safe? You'll never go wrong with natural wood colors or neutral colors. These shades blend seamlessly with any type of décor.
Budget
According to business insider, the beauty and makeup industry is now worth a whopping $534 billion. The trend of spending hugely on favorite beauty products and accessories does not seem to be slowing down anytime soon. When you have plenty of money set aside for a vanity table all that is left is for you to sift through different options to find the one that catches your eye. However, when working with a tight budget you have to be keen not to purchase a vanity table you can barely afford.
The good news is, there's a wide selection of makeup vanity tables available selling at different prices online. A trick I use to avoid overspending is to find different pieces separately. For example, you could start by buying the vanity table alone. Save some more money and purchase a mirror and a stool.
A little later you could ask a friend to help you install DIY drawers and compartments for additional storage. And Voila! It may take you a while to get it all done, but boy does it feel good to have what you want without spending a fortune!
Quick Tips
Consider the size and shape of your room: Make sure to choose a corner makeup vanity table that fits well in your room and doesn't take up too much space. Measure the space where you plan to put the vanity and choose a size that's appropriate.
Think about the storage space you need: Consider how much makeup and other accessories you have and choose a vanity table with enough storage space to accommodate your items. Look for tables with drawers, shelves, and other compartments to help keep your makeup organized.
Choose a style that matches your decor: Look for a corner makeup vanity table that matches the style and decor of your bedroom. Consider the color, finish, and design of the table and make sure it complements the other furniture in the room.
Think about the mirror: Make sure the vanity table comes with a mirror that's appropriate for your needs. Choose a mirror size that's appropriate for your height and a shape that suits your preferences.
Consider the comfort: Choose a corner makeup vanity table that's comfortable to use, with the right height and seating options. Make sure that you have enough legroom and that the table is at a comfortable height for applying makeup.
Conclusion
All three-makeup vanity tables highlighted above each have incomparable features that make them unique. However, in terms of functionality, design, pricing, and size, the ENSTVER vanity beauty station is my best choice.
It is neither too pricey nor too cheap and fits well within the budget of anyone looking for a statement piece to add to their bedroom. The attention to detail exhibited here is mind-blowing. Its distinctive features contribute to its immense beauty. Its color, mirror design, drawer knobs, corners, and curves all work together to create a work of genius. No one would turn down the chance to have this makeup vanity table in their room.
Want to bring a sense of individuality to your makeup vanity table? Accessorize! How about you add some visually pleasing items like scented candles, small potted flowers, antiques, lamp holders, or artifacts to your space? This will make your makeup area look so fabulous you seldom want to leave.