A garden hose is an essential tool for any gardener, whether you're watering a small balcony garden or maintaining a large plot of land. With so many options on the market, choosing the best garden hose for your needs can be overwhelming. The right garden hose can make a big difference in your gardening experience, saving you time and effort while ensuring your plants get the water they need to thrive.
In this article, we'll take a closer look at some of the best garden hoses available and what to consider when choosing the right one for your garden.
Read Next
No one wants a garden hose that is not long enough or one that's too long for their small garden. Considering this it all boils down to one aspect: choosing the right garden hose for you. The mistake most people make is buying random products without researching them first. There are many types and models of hoses on the market today. If you want to know how to choose the best garden hose that will save you that kind of trouble and prove productive in the long run, you're in the right place.
Top 5 Garden Hoses We Recommend For You
Helping you decide on the best garden hoses available in the market to buy
The Best Water Hoses On The Market
The Legacy Flexzilla is also known for its sturdy nature resulting from its rib inner core design and adaptability to temperature extremes.
Pros
It comes with durable fittings made from anodized airplane-grade aluminum.
Adapts well to all climates, courtesy of polymer raw materials.
Lies flat when empty(zero memory ability)
Works well in most temperatures, with a range of -40C to 150F
Cons
Tend to grow black mold after some time that isn't easy to clean.
Low 150 PSI burst pressure
Some models leak at the nozzle, especially at the male fitting
Hard to could up or manage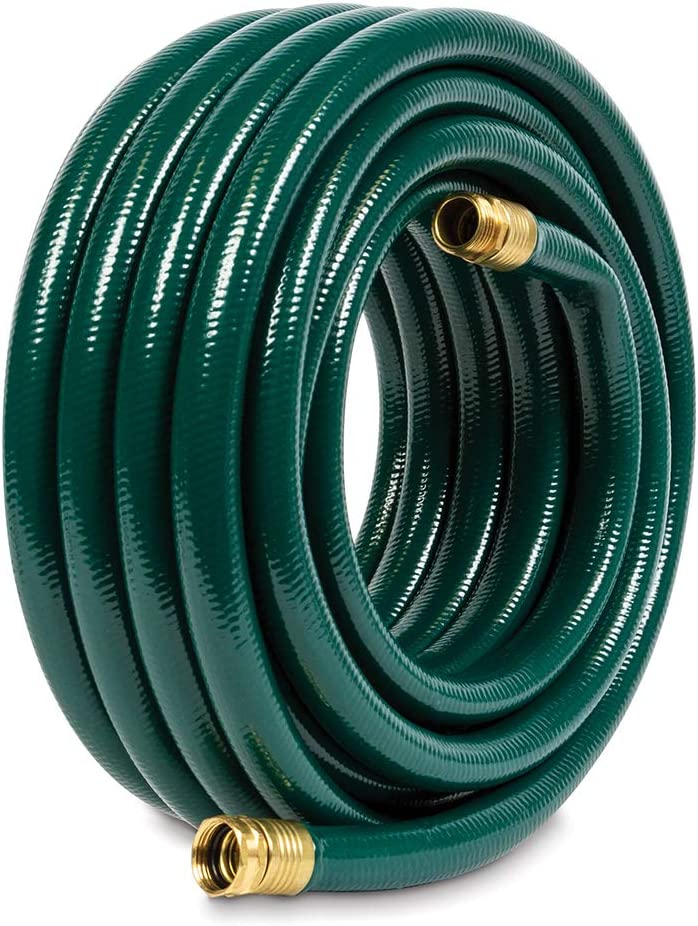 This is another of the Gilmour series known for its build and anti-kinking abilities, courtesy of its 8-ply construction that makes it durable and strong.
Pros
Resistant to kinks, stains, and abrasions
Lead and phthalate free, making it good for drinking water
Lightweight design
Lifetime guarantee
Cons
Both male and fittings may dissociate after some time
The O-ring seal leaks at the faucet connection.
The Scotts garden hose is known for its strength and sturdy nature, making it ideal for rigorous, heavy, or everyday gardening activities.
Pros
It comes with a Reflex Mesh design that prevents tangling and increases the lifespan
Wrinkle and kink resistant
Lightweight and easy to loop
500 PSI burst pressure
It comes with lead-free aluminum couplings.
Possesses Microshield fitting to protect insides from microbial activity and molds
Cons
The connection at the spigot may loosen after some time.
It can get very stiff in very low temperatures
Our topic pick is one of the best garden hoses, with an all-in-one system that heats, transports, and directs water and many other abilities.
Pros
Built-in self-regulating heat source to keep water flowing at the ideal temperature.
Safe for drinking water
Usable in temperatures of up to -40F
3-year warranty on all electrical components
Cons
May form bubbles in the hose when plugged in
Difficult to hook up, may not unroll before being plugged in for about an hour
It can get really hot during usage.
This is one of the few expandable garden hose models that spots the 8-spout design.
Pros
Metal hose. - Made of premium heavy-duty stainless steel, it won't break under pressure.
Multifunctional - Lead / BPA / Phthalates free, the Flexible Hybrid Polymer inner tube material is drinking water safe.
Tear and tangle resistant - Upgraded ultra-strong metal water hose is Kink and Puncture Resistant, Dog Chew Proof, Tear and Weather Proof, and UV Resistant.
Extendable design.
Lightweight and easy to carry.
In addition to these, one more hose pipe needs a special recommendation here. It has some amazing features that have made it feature here in the list of best garden hoses.
Pros
It is designed with PolyFusion, which incorporates PVC and polyurethane, making it lightweight for drinking water.
It has a burst pressure of 500 PSI.
It comes with an anti-kinking ability.
Works well in temperatures of up to -15F
Lightweight
Resistant against scratches and spots
Conclusion & Last Tips
Some of the best garden hose models may be hard to find or purchase online. You may need to visit your nearest store or purchase them from select gardening stores in your area. Sometimes, you may need to contact the manufacturer's retail stores too.
If you are gardening on a budget or are likely to use your hose less often, a vinyl hose should go for you. Considering its price, lightweight, and plastic fittings, it is the kind of hose designed for minimal and careful use.
Do not let product pricing determine your choice of garden hose. Experienced gardeners have always revealed that while some hoses are expensive, they provide a better return on money than their cheaper counterparts. Look for a garden hose that fits your gardening needs.
While it might appear more tiresome and expensive, buying many short hoses is better than buying one long one. This is mainly because longer hoses are heavier to carry over long distances than shorter ones.
Shorter hoses are also easier to store and manage after use. You can also add the short ones together to form one long one when needed.