A spa pump is the heart of your hot tub or spa, circulating water through the jets and ensuring that your spa or hot tub stays clean and safe to use. The right spa pump can make all the difference in the performance and longevity of your hot tub, but with so many options on the market, it can be difficult to know which pump to choose.
In this article, we'll explore the best spa pumps on the market and what you should consider when selecting a pump for your hot tub or spa. Whether you're looking to replace an old pump or upgrade to a more efficient model, this guide will provide you with the information you need to make an informed decision.
Read Next
Reasons to Replace Your Spa Pump
There are several reasons why you may need to replace your spa pump. Some of the most common reasons include:
Age: Over time, spa pumps can wear out and become less effective. If your pump is several years old, it may be time to consider replacing it.
Performance Issues: If your pump is not circulating water effectively or you notice a decrease in water pressure, it may be time to replace your pump. This can be caused by a variety of factors, such as worn-out bearings or impellers.
Noise: If your pump is making excessive noise or unusual sounds, it may be a sign that the pump is wearing out and needs to be replaced.
Energy Efficiency: Older pumps may be less energy-efficient than newer models, which can lead to higher energy bills. Upgrading to a more efficient pump can help you save money on your energy costs.
Leaks: If you notice water leaking from your pump, it may be a sign that the pump is damaged and needs to be replaced.
Compatibility: If you're upgrading other components of your spa or hot tub, such as the heater or control system, you may need to replace your pump to ensure compatibility with the new components.
In general, if your spa pump is not performing effectively or efficiently, or if it is showing signs of wear and tear, it may be time to consider replacing it. A new pump can improve the performance and energy efficiency of your spa or hot tub, making it more enjoyable and cost-effective to use.
Top Spa Pumps Reviews
Here is the top spa pumps that you can choose from whether you are building a new pool spa or replacing an old pump.
The Laing Spa Circulation Pump E5 works mostly with whatever kind of spa type you have. It has a universal working voltage of 120 to 240 volts, 40 watts, and 50 to 60 Hertz.
If you're unsure of what kind of power your pool type will need, then it would be best to get a pump like this. It also has a ¾ inch barbed in and out the hose and run-dry thermal shutoff connections.
It's 100% guaranteed to either equal or even outperform the OEM pump. It also includes a cord that measures 48 inches, and it can be considered a next-generation replacement for SilentFlo 5000.
This pump serves as a direct replacement for Watkins Hot Spring, Caldera, and Tiger River 74427 pumps.
PROS
​Available in universal voltage
​Can be mounted either vertically or horizontally
​Includes a limited 1-year manufacturer's warranty
​Works even better than other OEM pumps
CONS
​Water has the tendency to come into the motor housing
​Can develop rusting over time
Bottom Line
There is no denying that this would be a great addition to your spa, especially if you're eyeing something that is versatile. It is also interesting to note that this pump can perform better than the OEM pumps. Considering the pros of this product, there's still so much more you can expect from its performance. This will definitely function better and last longer with proper maintenance.
This pump from Waterway Plastics runs up to about 5 hp. It should, at most, receive a voltage reading of 230 volts to work correctly. Its highly-versatile wet end can be rotated with every 90 degrees turn of its Viton shaft seals.
A 56-frame motor for added strength and for cooler pump operation to prevent motor burnout and promote longer motor life. It can release water at about a rate of 220 gallons per minute and this powerful motor pump can run at two different speeds - 16.4 amperes on high speed and 4.8 amperes on low setting. It has a 2-inch intake and a 2-inch discharge outlet.
PROS
​Consumes less energy
​Easy to install
​Operates quietly
CONS
​Can easily break down due to high-power functioning
​Limited warranty coverage
Bottom Line
The Waterway Plastics spa pump is indeed a powerful one. Another good consideration is that it consumes less energy while producing more power for your pool, making it practical and effective at the same time. Although it has limited warranty coverage, the manufacturers of this product intended this pump to last a long time.
HydroMaster's spa pump is a side discharge pump. Its overall power can measure up to 3 hp, and it works in two-speed ways: 10 amperes for a high-speed setting and 3.5 amperes for a low-speed one. The whole set-up is enclosed in a 56-frame motor, and it works with power sources that measure from 220 - 240 volts.
The dimensions of the intake and side discharge pumps are 2 inches and 3 inches thread outside diameter, respectively. It's a compelling device as it can highly perform with utmost efficiency, releasing up to 210 gallons per minute of water!
The whole spa pump is very easy to install and will allow you to rotate the ports to fit your pool's outlet properly. It's an excellent replacement for Waterway or Aqua-Flo products, and it also has a self-priming function.
PROS
​Can be operated at two different speeds
​Significant discharge flow rate (210 gallons per minute)
​Connects properly to most pools
​Body is rust-resistant
CONS
​Limited 1-year manufacturer's warranty
​Bottom Line
The HydroMaster Hot Tub Spa Pump is a great replacement or alternative to Waterway and Aqua-Flo products. The best thing about this product is that it can operate at a low cost, with low energy consumed. But its output can reach up to 210 gallons per minute which are more than the amount of its kind.
The Gecko Alliance Flo-Master pump works in flow rates at 140 gallons per minute for 1.5 hp, 175 gallons per minute for 2.0 hp, and 220 gallons per minute for 2.5 hp. Whichever power you would choose to work with, it sticks to its continuous and true rated capacity.  Running it will only require 115 volts at the most.
Comparing this amount of power needed will make it more cost-efficient than the other pumps that are available in the market. It also has a 48-frame motor that maximizes energy efficiency as well.
Even though it can pump large volumes of water at fast flow rates, its high volumetric volute design can still provide a whisper-quiet operation. The overall speed rate is available in two options, that is low and high settings. This, by far, is the smallest 1.5 hp pump that can deliver such an amount of work.
PROS
​Easy to install with its 48-standard frame
​Available in 2 speeds: high and low
​Ensures whisper-quiet operation
​Power efficient
​Works well as a replacement for any spa tubs
CONS
​Possible short life span
Bottom Line
There's really no bad thing to say about this product. It comes with everything you need for a pump! Not only is it versatile and can operate in different power settings, but it's also very compact, and it won't be a bulky addition to your spa.
The Professional EZ Travel Collection pump works well for any hot tub and swimming pool and can pump out up to 3,700 gallons of water per hour. It has a drain pump that can be entirely submerged under the water. The drain pump features a 25-foot PVC discharge hose and clamp. What makes this unique is that it is very powerful, yet compact at the same time!
It has a folding bottom foot that you can adjust every now and then to allow drainage even if it is already at its lowest possible height. It is also made to be impact-resistant, heavy duty and portable too!
The manufacturers of this product thought that this should be easy to carry around and that's why they have streamlined this product with a carry handle. It features a 25-foot waterproof cord so you can use this pump for outdoor use. It also has a removable and adjustable spigot, plus a complete hose and clamp.
PROS
​Includes hose and clamp
​Has a waterproof cord
​It consists of an adjustable spigot
​Can handle up to about 3,700 gallons per hour
​It can be used in any pool installation
CONS
​Complaints about the folding bottom feet
Bottom Line
If you would need a pump that is versatile and portable, you don't have to look any further! What's amazing about this product is how compact it could get, and yet it can pump water in and out of your pool system twice as much as any other water pumps out there.
The XtremepowerUS is a robust pool pump that can work with either 115 or 230 voltage. It is equipped with a 1.5 hp self-priming pump that can deliver up to 3,450 rotations per minute. The self-priming pump can discharge air from the water intake to prevent your motor from running dry. There is a dual-voltage motor that is included in this device, and it can run on both 115V/60 Hertz and 230/60 Hertz for optimal performance.
Although it seems to be too powerful for its size, it's actually pretty cost-effective. It aims to save electricity and money with its high-efficiency single-speed motor. The motor is just as silent as you would want it to be, but it's still overall effective! You don't have to hear engines running and grinding against each other while you're supposed to be enjoying your relaxing time in your pool.
It also has an enclosed impeller fan which can prevent debris from getting stuck inside the fan. Aside from that, it has a clear lip top viewing which indicates if the basket is already full and is ready to be taken out. The overall rated capacity of this product is 5,280 gallons per hour with a maximum suction height of 66 feet.
PROS
​Can be used for in-ground pools and spas of all types and sizes
​Compatible with most solar heating and in-floor cleaning systems
​Energy efficient
CONS
​It does not come with the usual pipe union
Bottom Line
This product is one of a kind; nonetheless, it's very functional. If you are looking for a pump for your in-ground pool, then look no further as this would just be the perfect one for you! Aside from it running on universal voltage, it is also very cost-effective as it only runs at a single speed.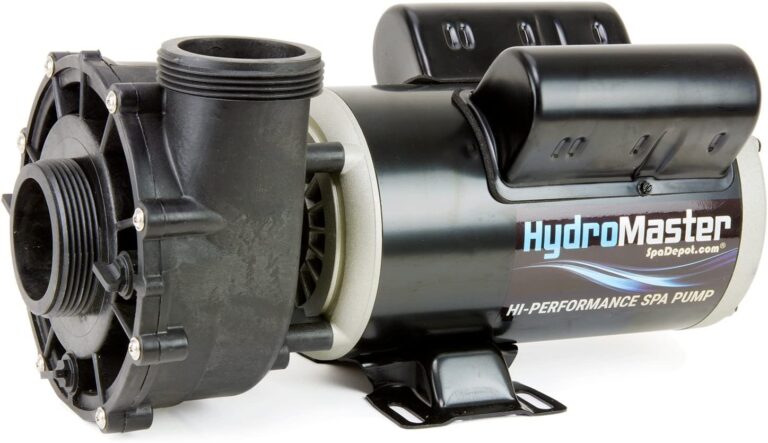 The HydroMaster hot tub spa discharge pump is a 2-speed motor. The pump works with a 1.5 hp pump and is enclosed in an easy-to-install 48-frame motor. The required power supply of this pump is 120 volts.
The outlets measure 2 inches for the intake and side discharge with a 3-inch thread outside diameter for each. For the water flow rate, it can pump water in and out of your pool with up to 155 gallons per minute of water.
The 2-speed settings of this pump are available in 13.8 amperes for high speed and 3.8 amperes for low speed. The whole frame that encapsulates the motor is smaller than the usual HydroMaster pump products.
PROS
​Able to work in two speed settings (low and high)
​Pumps an average of 155 gallons per minute
​Works efficiently
​Sturdy and durable
​It has an excellent build capacity
CONS
​Initial installation is complicated
​Bottom Line
The HydroMaster is a superb installation when it comes to your pump. This product has a lot of power, and it could increase the pressure of your spa tubs' jets. It is also considered to be an excellent replacement pump.
Conclusion
When it comes to choosing which spa pumps would work best for your hot tub or jacuzzi or pool, you will surely want something that fits just right and, as much as possible, should not be bulky. It is always a plus if the product you have is portable, that way you can bring it anywhere you may need it.
When it comes to the speeds of how your pump will operate, you can either choose from single-speed to dual-speed pumps. With this, you might be able to compromise the energy costs of a dual-speed pump will be able to generate.