Being able to keep your resources safely should be an essential priority. As a farmer, there are various reasons as to why you would want to keep your tools safely in an enclosed space.
First, it reduces the likelihood that kids or negligent users will run into the tools. Second, it reduces the possibility that your tools will be exposed to tor rain or sunlight, which can increase tool damage. Third, it also helps you to stay organized, especially if you have to work on the garden daily.
When buying a garden shed, ensure that you make an informed choice – one that resonates with the resources you have within your garden. The following is a basic guide to help you choose a suitable shed brand for your needs. Let's get started:
​Storage Sheds Comparison Chart
Product

Key Features

Best For

Check Price

15 Feet Wide offers a large storage space

Easy to set up and durable against weather elements

Various types of garden tools

Made using dual wall UV protect polyethene

Heavy duty steel trusses offer added roof strength

Small to moderate sized garden tools

The YardStash IV: Heavy Duty, Space Saving Outdoor Storage Shed Tent

Quick and easy set up design

Patented roof design to shed snow and rain

Small to moderate sized garden tools
Factors to Consider When Buying A Storage Shed
Foundation and Flooring
Some sheds are available with floors, while others are not. The wood sheds typically have standard framed floors that have plywood floors. However, with the most plastic or metal shades, the flooring is sold as a separate component. You can go for the manufacturer's floor system, or perhaps develop your own.
Ease of Installation
If you are not a DIY enthusiast and would prefer the installation process done for you, then share this information with your brand. However, if you are adept at installation procedures, you may want to save some cash, and go for an already assembled storage shed. Making storage shed might require carpentry resources and tools. Most metal and plastic sheds are developed to provide ease of set up and can be assembled by one or two users.
Access
Always ensure that the entry door to the storage shade is large enough to accommodate large equipment such as mowers. Once it's safely stored inside, ensure that you still have adequate space left for your other DIY tools. Most outdoor storage buildings average between 9 to 10 feet and have double doors. Such a unique design is highly spacious and suitable for storing large tools.
Design Factors
Outdoor tools are not only suitable for storing your resources. The appearance of an outdoor shed can easily make or break your outdoor space. Some brands tend to make large sheds, which are easily visible. Thus, go for a shed that blends well with your space, and is also appealing to look at. You might have to consider design aspects such as the painting, finish, material construction, size and more.
​3 Best Storage Shed Reviews
You can enjoy convenient storage results at the highest level with the Duramax Duramate Storage Shed. This unit is ideal for most backyards, and it offers maintenance free performance each time. Made using durable all-weather vinyl material in ivory colour, this unit never requires painting or treating. The tent will not rust, dent, rot or even fade. The material on this unit is also fire retardant and much quieter in the rain the most storage sheds you will come across.
Even more, it comes with reinforced metal structures, to make the shed a stable and convenient to hang shelves inside. A storage shed is only as useful as the amount of interior space it can provide for your needs. This is why this storage shed offers an exceptional 305 cubic feet of room, with double doors that are wide enough for equipment and more. Also, the shed is wind tested and can support as much as 900 pounds of snow on the roof.
The entire set is available with a galvanized metal foundation. It's a unique structure that makes installation easy and ensures the shed elevates from the ground.
PROS
15 Feet Wide offers ample storage space

Easy to set up and durable against weather elements

All-weather vinyl material in ivory colour

Can support large amounts of snow on the roof
CONS
Somewhat heavy in size for some users

Takes a lot of time to set up correctly
Best Durable Storage Shed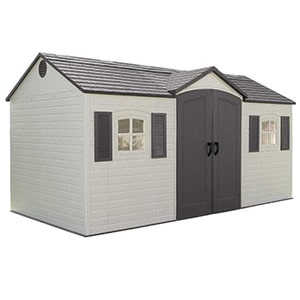 Are you searching for a reliable storage shed for your needs? Well, you are in luck because Lifetime 6446 is an excellent recommendation for your needs. Not only is this unit built for strength and durability, but it also does well to complement the appeal of your space. More so, the Lifetime 6446 storage shed also comes with a centralized location of the doors. Such a unique design provides for easy access to your storage, without having to climb over things to reach the items stored in the rear.
You will also appreciate the innovative design and durable construction of this unit, that will provide years of reliable performance. As one of the best storage shed on the market, this unit comes with six small skylights and a shatterproof polycarbonate windows. This way, you can still keep your items secure while maintaining optimal ventilation levels. Equipped with as many as 2 screened vent and two decorative shutters, this unit makes it easy to access or view the items stored inside.
The storage shed also comes with heavy duty trusses, that provide added roof strength. With a high-pitched roof design, this storage makes it easy to drain rain and snow. It even features lockable steel-reinforced doors for added security.
PROS
2 Shatterproof polycarbonate windows

Two screened vents and decorative shutters

Made using dual wall UV protect the polyethene

Heavy duty steel trusses offer added roof strength
CONS
Best Easy to Take Down
Discover the excellence of using the Yardstash IV storage shed tent, which is portable and versatile to suit your unique needs. Made using thick, heavy duty and waterproof material, this storage shed makes up for an excellent solution to store various items. The unique design of this unit is built for year-round extreme weather conditions and superior durability.
The Shed tent also provides a space-saving footprint, with an integrated floor to stash hard to store stuff such as garden tools, lawnmowers, coolers and more. For quick and easy setup, this unit is simple to assemble and without any special tools required to complete the process.
The storage shed also comes with many other unique features such as a rubber tabbed top and bottom zipper. Such zippers provide full access and full protection against various types of elements. It even comes with sealed seams and a new patented snow shedding roof design for all-season protection. The unique front mesh vent helps to eliminate condensation, and the back Velcro panel makes it easy to lock your bikes to a pole.
PROS
Made using thick, heavy duty and waterproof material

A space-saving footprint can fit two bikes

Quick and easy setup design

Patented roof design to shed snow and rain
CONS
Could use an improved storage shed finish

Accessing the floor stash section is not easy
Finally
You have to store all your garden tools properly once you are done using them. Whether you are gardening, mowing or watering, keeping your tools in the best storage shed can be an excellent solution. These are resources that provide a safe and secure way to keep your tools. Chosen correctly, they can also improve the appeal of your space.
Therefore, ensure that you go for a storage shed that meets specific design factors to ensure the best user experience. Get a storage shed that lets you store your tools conveniently, and offers ease of access today.