Horseradish (Armoracia rusticana) is a robust, perennial root vegetable known for its strong, pungent flavor. It makes a delicious condiment, and horseradish also offers numerous health benefits due to its high levels of antioxidants and nutrients. By utilizing companion planting, you can maximize the potential of your horseradish plants while improving your garden's overall health and productivity.
In this article, we will discuss the advantages of companion planting, explore the best companion plants for horseradish, and offer tips on successfully incorporating this technique into your garden.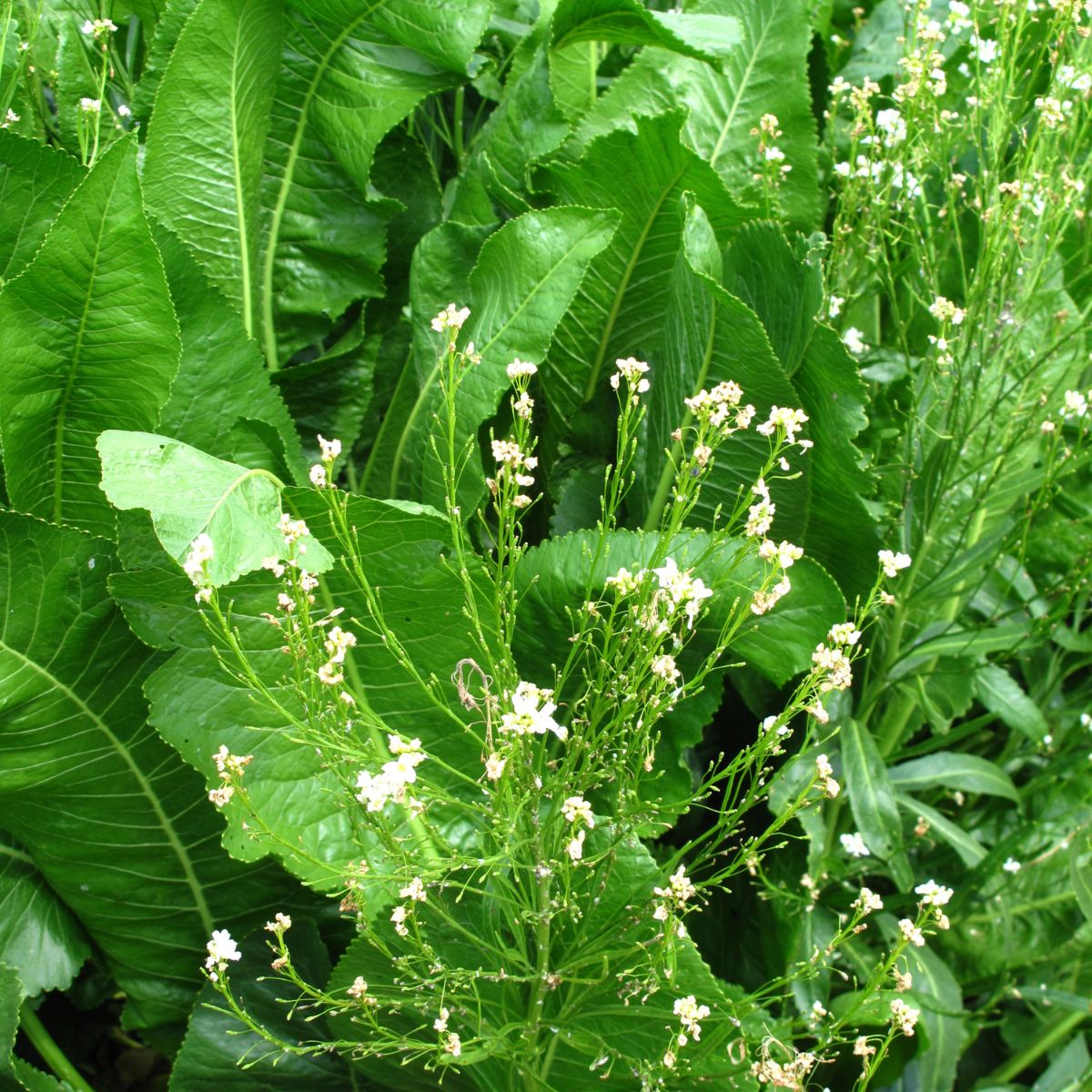 Read Next
The Benefits of Companion Planting
Companion planting is an age-old practice that involves growing different plants in close proximity to create a mutually beneficial environment. Companion planting benefits include enhanced soil fertility, increased pollinator attraction, and natural pest deterrence. Additionally, companion planting encourages biodiversity and contributes to a more attractive and healthier garden ecosystem.
Companion Plants for Horseradish
Potatoes (Solanum tuberosum) Horseradish is known to be an excellent companion for potatoes due to its ability to deter the common potato bug. This common pest can cause significant damage to potato plants. The strong smell of horseradish helps to mask the scent of potatoes, making it more difficult for the beetles to locate their preferred host plant.
Brassicas (Brassica spp.) Brassicas, such as cabbage, kale, broccoli, and cauliflower, are another group of plants that benefit from the presence of horseradish. The pungent aroma of horseradish repels common brassica pests like cabbage worms and aphids. Furthermore, horseradish is believed to affect the growth and flavor of these vegetables positively.
Tomato (Solanum lycopersicum) Horseradish can be a beneficial companion plant for tomatoes, as it helps to deter common pests like whiteflies and aphids. The strong scent of horseradish confuses pests, making it more difficult for them to locate their desired host plants. Additionally, horseradish is thought to enhance the flavor of tomatoes when grown nearby.
Beans (Phaseolus spp.) Beans are nitrogen-fixing plants, which means they can improve soil fertility by converting atmospheric nitrogen into a form that is more easily absorbed by other plants. Growing beans near horseradish provide a natural nitrogen source for the root vegetable, resulting in healthier, more vigorous growth.
Sunflowers (Helianthus annuus) Sunflowers can be an excellent companion for horseradish, as their tall stalks provide shade and support for the smaller plant. The shade from sunflowers can help keep the soil around horseradish cool and moist, which is crucial for optimal root development. Moreover, sunflowers attract beneficial insects like bees and ladybugs, which can help control pest populations.
Marigolds (Tagetes spp.) Marigolds are known to be effective companion plants for many garden vegetables and herbs, including horseradish. They produce a natural pesticide called pyrethrin that deters pests such as nematodes and whiteflies. Marigolds also attract beneficial insects like ladybugs and lacewings, which prey on pests that could harm horseradish plants.
Leafy greens (Lactuca sativa, Spinacia oleracea, etc.) Leafy greens, like lettuce and spinach, can benefit from being planted near horseradish due to their shared preference for cool, moist soil. Horseradish can provide shade for these greens, helping maintain ideal growing conditions. Additionally, the pungent aroma of horseradish may deter pests from feasting on these delicate vegetables.
Implementing Companion Planting in Your Garden
To successfully incorporate companion plants for horseradish, consider the following tips:
Plant companions nearby, but ensure there is enough space for each plant to receive adequate light, nutrients, and water. A general guideline is to plant horseradish approximately 24 inches apart, with companion plants at a similar distance.
Group plants with similar water and sunlight requirements together. Horseradish prefers well-draining soil and partial shade to full sun, so select companion plants that thrive under the same conditions.
Rotate crops annually to prevent the soil's buildup of pests and diseases. Crop rotation also helps maintain soil fertility and reduces the risk of nutrient depletion.
Intercrop your garden by mixing vegetables, herbs, and flowers to create a diverse and visually appealing landscape. This can help attract a wider range of pollinators and beneficial insects, improving overall garden health.
Enrich your soil with organic matter, such as compost or aged manure, to boost fertility and support the growth of your companion plants. Healthy soil promotes strong root systems and robust plants that are more resistant to pests and diseases.
Monitor your garden regularly for signs of pests or diseases. Early intervention is key to maintaining a balanced garden ecosystem.
Consider using organic pest control methods, such as introducing beneficial insects, using insecticidal soaps, or creating homemade repellents to manage pests while preserving the integrity of your garden's ecosystem.
Conclusion
Companion planting is an effective way to maximize the health and productivity of your horseradish plant and your entire garden. You can create a thriving, biodiverse garden environment by choosing the right companion plants, like potatoes, brassicas, tomatoes, beans, sunflowers, marigolds, and leafy greens.
Follow the tips in this article to successfully implement companion planting strategies and enjoy their many benefits.