Turnips (Brassica rapa) are versatile, nutritious root vegetables cultivated centuries ago. Not only are they packed with essential nutrients, but they're also a great choice for gardeners seeking to diversify their vegetable beds. Companion planting is one strategy to optimize turnip growth and overall garden health.
This time-honored technique involves growing certain plants together to promote mutually beneficial relationships, such as enhancing growth, repelling pests, and improving flavor.
In this ultimate guide to companion plants for turnips, we'll explore the best pairings for this classic root vegetable and the science behind their symbiotic relationships.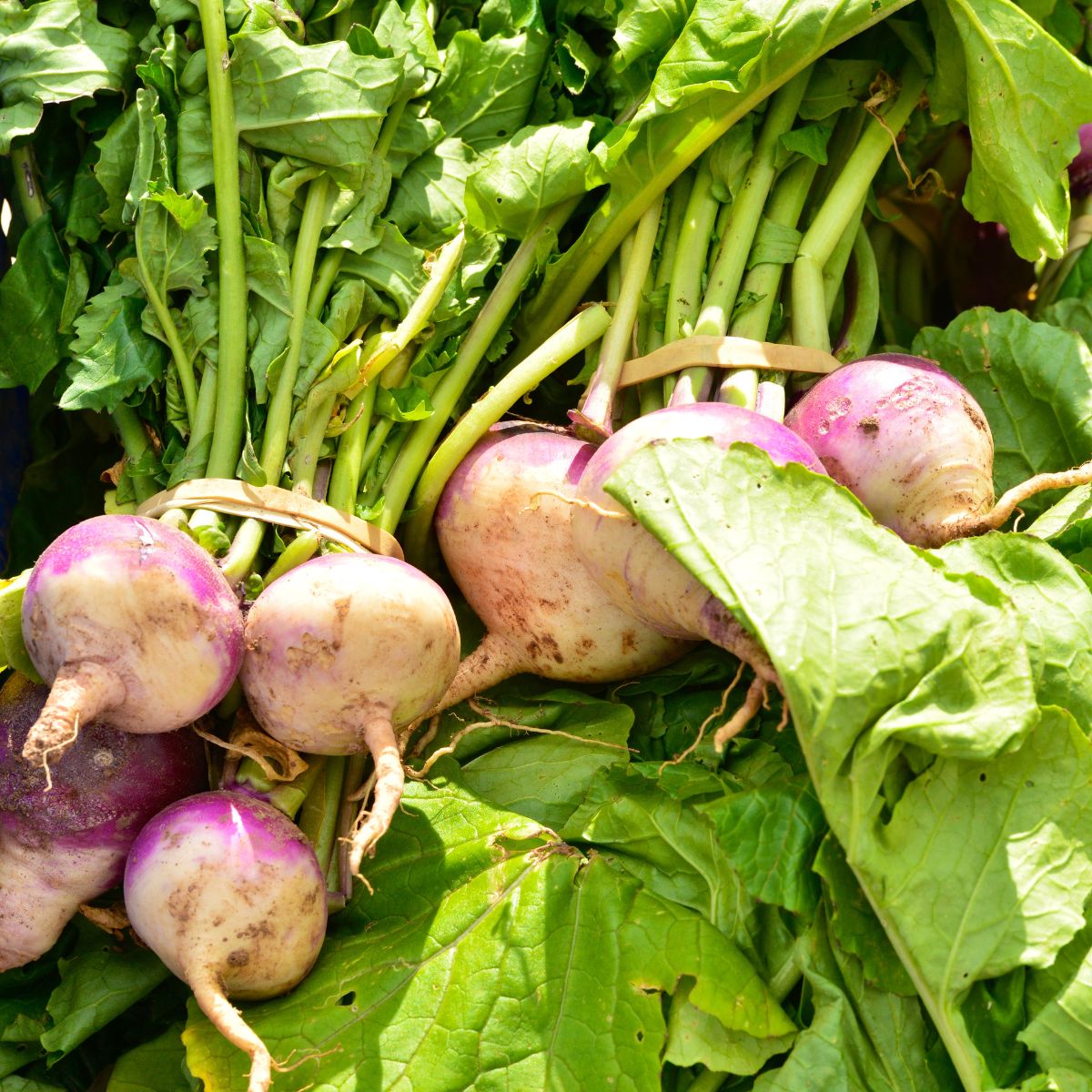 Read Next
Peas and Beans: Nitrogen-Fixing Wonders
Legumes, including peas (Pisum sativum) and beans (Phaseolus spp.), are well-known for their nitrogen-fixing abilities. These plants form a symbiotic relationship with Rhizobium bacteria in their root nodules, converting atmospheric nitrogen into a form that plants can use.
This makes legumes excellent companion plants for turnips, as they can supply the nitrogen necessary for optimal turnip growth. Planting turnips near peas or beans also helps to reduce the need for synthetic fertilizers, promoting a more sustainable and eco-friendly garden.
Marigolds: Pest Control Extraordinaire
Marigolds (Tagetes spp.) are known for their vibrant colors and pest-repelling properties. They produce a natural chemical called alpha-terthienyl, toxic to common garden pests, including nematodes, aphids, and cabbage worms.
By planting marigolds alongside turnips, you create a barrier that helps to protect your turnips from these destructive critters. Furthermore, marigolds attract beneficial insects like ladybugs and lacewings, which feed on harmful pests, offering additional protection for your turnip plants.
Mint: Aromatic Pest Repellent
Mint (Mentha spp.) is another excellent companion plant for turnips, as its strong scent helps to deter various pests. The aromatic oils in mint leaves can confuse and repel insects such as cabbage moths, aphids, and flea beetles, which commonly attack turnips. However, mint can be invasive, so it's best to plant it in containers near your turnips to prevent it from overtaking your garden.
Alliums: Pungent Protectors
The allium family, which includes onions (Allium cepa), garlic (Allium sativum), and chives (Allium schoenoprasum), is known for its pungent smell and insect-repelling properties. These plants release sulfur compounds that deter pests like aphids, cabbage worms, and slugs.
Additionally, alliums can help to suppress the growth of harmful fungi and bacteria, promoting healthier soil conditions for your turnips. Planting alliums alongside turnips provides a natural form of pest control and adds a beautiful contrast in texture and color to your garden.
Lettuce: Perfect Shade Providers
Turnips thrive in cool temperatures, and lettuce (Lactuca sativa) can help to create a microclimate that keeps turnip roots cool and moist. Planting lettuce near turnips provides shade for the turnip roots, reducing the risk of them becoming woody or bitter in hot weather. The turnip plants support the lettuce, preventing them from becoming leggy or top-heavy.
Radishes: A Rapid Growing Duo
Radishes (Raphanus sativus) and turnips share many similarities, including their growth rate, temperature preferences, and planting depth. These similarities make them excellent companion plants, as they can be planted together without competing for resources.
Additionally, radishes deter pests like flea beetles, which can damage turnip leaves. Planting radishes alongside turnips creates a mutually beneficial environment that encourages healthy growth for both root vegetables.
Nasturtiums: Beautiful, Edible Pest Deterrents
Nasturtiums (Tropaeolum majus) are beautiful and edible and effective at repelling pests like aphids, whiteflies, and cabbage loopers. The vibrant flowers of nasturtiums attract beneficial insects like hoverflies, ladybugs, and lacewings, which help control pest populations. Planting nasturtiums near your turnips can provide a stunning display while protecting your plants from harmful insects.
Chamomile: Turnip Flavor Enhancer
Chamomile (Matricaria chamomilla) is known for its calming effects, but did you know it can also improve the flavor of your turnips? This fragrant herb is believed to release compounds into the soil that enhance the flavor of nearby vegetables, including turnips. Additionally, chamomile attracts beneficial insects and can help to prevent diseases in the garden. Plant chamomile near your turnips to enjoy a tastier harvest and a healthier garden ecosystem.
Spinach: A Complementary Cool-Season Companion
Like turnips, spinach (Spinacia oleracea) is a cool-season crop that grows well in the same conditions. Planting spinach alongside turnips offers several benefits, including providing additional shade to keep turnip roots cool, reducing weed growth, and promoting the efficient use of space in the garden.
Furthermore, the leafy greens of spinach can be harvested throughout the growing season, providing a nutritious and delicious addition to your meals.
Table 1: Best Companion Plants for Turnips
| Companion Plant | Plant Family | Benefits for Turnips |
| --- | --- | --- |
| Peas | Legume | Nitrogen-fixing, promotes growth |
| Beans | Legume | Nitrogen-fixing, promotes growth |
| Marigolds | Asteraceae | Pest control, attracts beneficial insects |
| Mint | Lamiaceae | Pest repellent, aromatic |
| Onions | Allium | Pest control, deters fungal growth |
| Garlic | Allium | Pest control, deters fungal growth |
| Chives | Allium | Pest control, deters fungal growth |
| Lettuce | Asteraceae | Shade provider, microclimate support |
| Radishes | Brassicaceae | Pest deterrent, similar growth rate |
| Nasturtiums | Tropaeolaceae | Pest repellent, attracts beneficial insects, ornamental |
| Chamomile | Asteraceae | Flavor enhancer, attracts beneficial insects, disease prevention |
| Spinach | Amaranthaceae | Shade provider, weed control, efficient space use |
This table provides an overview of the best companion plants for turnips, including their plant family and the benefits they offer. Incorporating these plants in your turnip garden can help enhance growth, reduce pests, and create a more diverse and healthy ecosystem.
Conclusion
Companion planting is an effective and natural way to optimize your turnips' growth, health, and flavor. By pairing turnips with the right companion plants, you can create a thriving garden that works together to deter pests, provide essential nutrients, and enhance the overall growing environment.
The plants discussed in this guide, including peas, beans, marigolds, mint, alliums, lettuce, radishes, nasturtiums, chamomile, and spinach, have been proven to benefit turnip growth and contribute to a successful harvest.
By incorporating these companion plants into your garden, you'll enjoy a bountiful turnip harvest and create a beautiful, diverse, and eco-friendly garden that supports a healthier ecosystem.