A high-quality smoker can transform your outdoor cooking experience, and the Cookshack Smokette Elite Electric BBQ Smoker SM025 has earned a reputation for delivering just that. In this comprehensive review, we'll explore the features, performance, and value offered by this well-regarded smoker, helping you determine whether it's the right choice for your backyard culinary pursuits.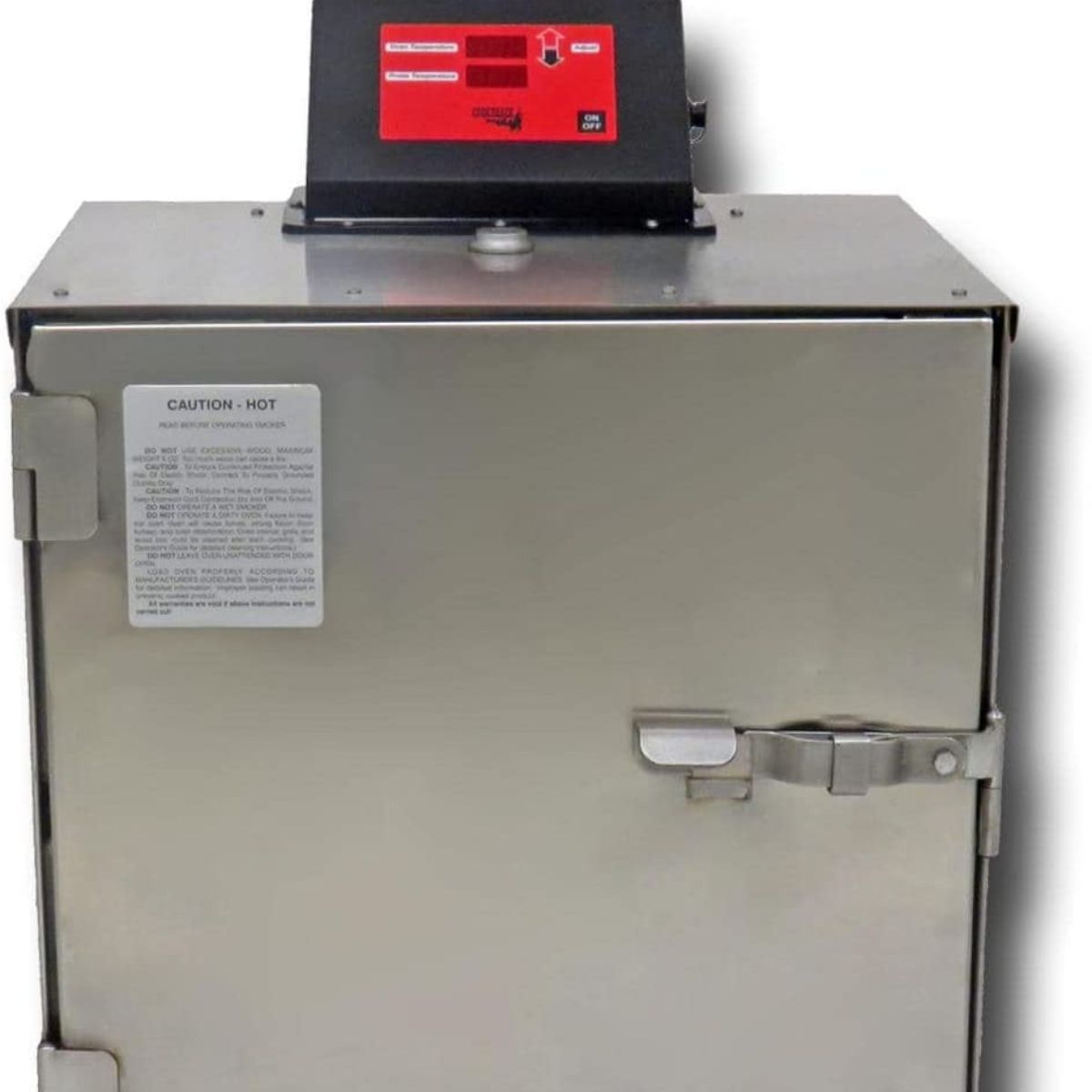 Read Next
Build Quality and Design
The Cookshack Smokette Elite boasts a robust construction with a stainless steel exterior and interior. This material ensures durability and resistance to weathering, making it suitable for outdoor use. Its modern and functional design features a compact, vertical structure that saves space.
This smoker includes three nickel-plated smoking racks, providing ample space for various food items. The insulated double-walled construction ensures efficient heat retention and consistent temperatures.
Digital Control Panel
One of the standout features of the Cookshack Smokette Elite is its digital control panel. This user-friendly interface allows for easy temperature and time adjustments. With a temperature range of 100 to 300°F, this smoker caters to a wide variety of cooking needs.
The digital panel also includes a timer, allowing users to set their desired smoking time. The smoker automatically shuts off once the timer reaches zero, ensuring that your food is never overcooked.
Ease of Use
The Cookshack Smokette Elite is designed with user convenience in mind. The digital control panel simplifies the smoking process, allowing for precise temperature control. The unit's insulated double-walled construction effectively retains heat, ensuring consistent temperatures throughout cooking.
The wood chip loading system is another convenient feature. It enables users to add wood chips effortlessly without opening the smoker door, maintaining the internal temperature and reducing heat loss.
Performance
The Cookshack Smokette Elite SM025 consistently delivers even, thorough cooking. Its 850-watt heating element ensures steady temperatures and efficient heat distribution. Users have reported well-cooked, flavorful results for various meats, including pork, chicken, and beef.
The smoker's insulated double-walled construction plays a crucial role in its performance, minimizing heat fluctuations and ensuring consistent temperatures. This results in evenly cooked food with a desirable smoky flavor.
Capacity
The SM025's three nickel-plated racks offer a generous cooking capacity. This smoker can comfortably accommodate multiple food items simultaneously, making it ideal for family gatherings or meal prepping.
The adjustable racks provide flexibility, allowing users to customize the smoker's interior layout according to their needs. This feature proves particularly useful when smoking larger cuts of meat or whole poultry.
Cleaning and Maintenance
The Cookshack Smokette Elite is relatively easy to clean and maintain. The removable water pan, drip tray, and wood chip tray facilitate hassle-free cleaning. These components can be removed and cleaned separately, minimizing the risk of cross-contamination.
To ensure the smoker's longevity, following the manufacturer's cleaning and maintenance guidelines is essential. Regular cleaning and proper storage will prolong the life of the smoker and maintain optimal performance.
Portability
Weighing approximately 93 pounds, the Cookshack Smokette Elite SM025 is not the lightest smoker on the market. However, its compact design and built-in handles make it relatively easy to move and reposition. While not ideal for frequent transportation, this smoker is suitable for occasional relocation within a backyard or patio area.
Safety Features
The Cookshack Smokette Elite is equipped with several safety features to ensure a secure smoking experience. Its door latch keeps the door securely closed, minimizing the risk of accidental opening during use. The smoker's fully insulated body and cool-touch handle help prevent accidental burns.
Additionally, the automatic shut-off feature prevents overcooking and reduces the fire risk, providing users with peace of mind.
Pros
Sturdy construction with stainless steel exterior and interior
User-friendly digital control panel
Consistent cooking results
Generous cooking capacity
Easy to clean and maintain
Insulated double-walled construction for efficient heat retention
Convenient wood chip loading system
Safety features, including a door latch and automatic shut-off
Cons
Limited portability due to its weight
No window to monitor the cooking process
Lack of integrated meat probe
Conclusion
The Cookshack Smokette Elite Electric BBQ Smoker SM025 is an excellent choice for both beginners and experienced smokers. Its user-friendly digital control panel, consistent performance, and safety features make it a reliable and convenient option for outdoor cooking enthusiasts.
With a generous cooking capacity and adjustable racks, this smoker is versatile and ideal for various food items. Its fully insulated double-walled construction and efficient heating element ensure even cooking and desirable smoky flavors.
While the SM025's weight may limit its portability, its compact design and built-in handles make it suitable for occasional relocation within a backyard or patio area. The lack of a window and integrated meat probe may be considered drawbacks, but these features are not essential for successful smoking.
Overall, the Cookshack Smokette Elite offers excellent value for its price, making it a worthwhile investment for those seeking a reliable, easy-to-use smoker that delivers consistent results.