Cozy pool seating ideas are a must-have when you're ready to get your pool patio decor set up and ready to swing into summertime! Whether you have a houseful of kids, friends, and family over often, or love hosting pool parties - all of these ideas are sure to fit the bill!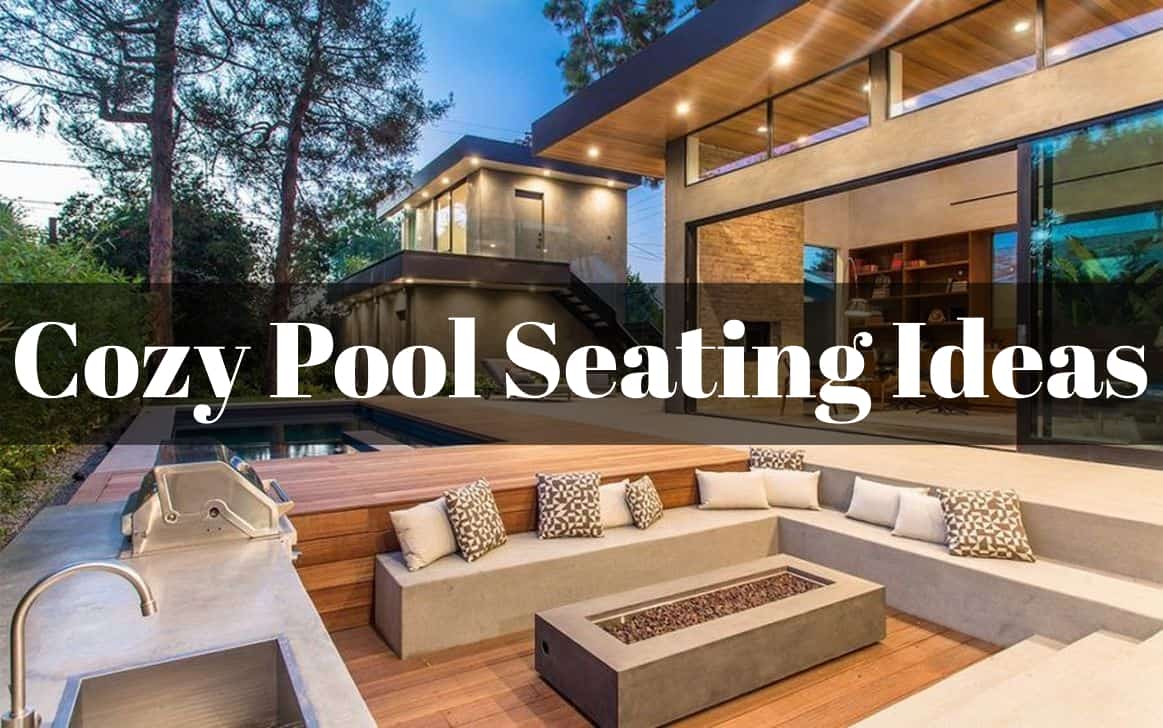 Read Next
Best Cozy Pool Seating Ideas
Nothing seems more exciting than the sound of the splashing pool and the smell of it when the outdoor season is nearly upon us. Having a pool in your backyard can maximize your enjoyment, especially when you have created a fun and cozy pool space.
A well-designed and cozy pool house is great for summer entertainment and frequent get-togethers. We have brilliant ideas for you to set up a cozy pool space.
Let's look at the following cozy pool seating ideas to help you brainstorm your own pool house. The ideas cater to all types of budgets and designs, so you may find exactly what you want for your pool area.
Set Up A Poolside Gazebo
The perfect cozy summer days are incomplete without a gazebo on the poolside. This is an interesting way of providing shelter from the sun's rays while allowing you and your loved ones to relax near the pool.
Placing the gazebo over the pool with an edge hanging over your pool gives some real beach vibes. For a more lively and cozy poolside experience, equip your poolside with furniture, lights, and some entertainment. You'll have all the necessary items with you in the gazebo, and you can take a nice relaxing swim whenever you want.
Another idea is to have a dining area outfitted in your gazebo with relaxing chairs and a stylish table. It's great for poolside parties and small gatherings.
Style With Modular Furniture
Modular furniture is easy to handle and has quite diverse uses. If you're the type to frequently change your outdoor seating arrangements, then you should probably choose modular furniture to set up your poolside.
Feeling like lounging by the pool? Reconfigure your modular patio furniture's settings to create a lounge chaise. If you change your mind the next minute or anytime soon, you can rearrange the modular furniture to create a daybed or small pockets of paired seating. Modular furniture leverages you to use it according to your choice.
You can pair the furniture with standing umbrellas, plush cushions, or a fire pit as well.
Hammock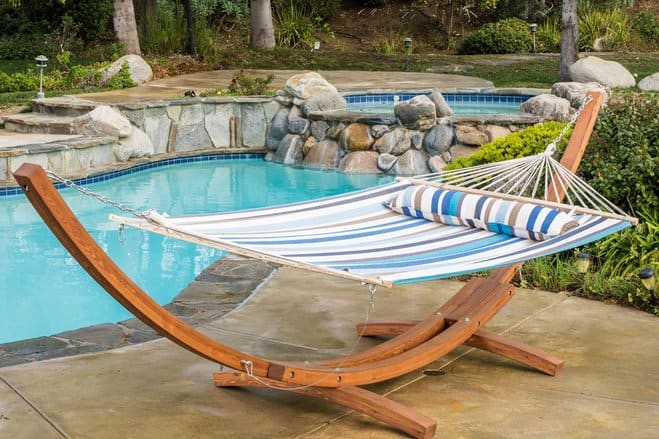 Hammocks are a unique and comfortable seating option for pool areas. They can be hung between trees or on a stand, and provide a great spot for lounging and enjoying the view
Add A Poolside Dining Set
Who can think of a better place than the poolside to sit down, have a meal, and enjoy conversation?
You can select patio furniture made using plastic, wood, or iron, and glass dining tables to set up in your poolside backyard.
For a cozy seating experience, the range varies from armchairs, cozy couches, and chaise lounges, to barstools and more. These are all extra seating arrangement options; don't forget to keep the permanent seating arrangement mentioned above (dining table and chairs).
If there's fun communication and gossip over at the dining table, then pull the chairs near some small tables and low-coffee tables. Don't forget to purchase soft cushions for extra comfort.
A Poolside Fireplace For Ambiance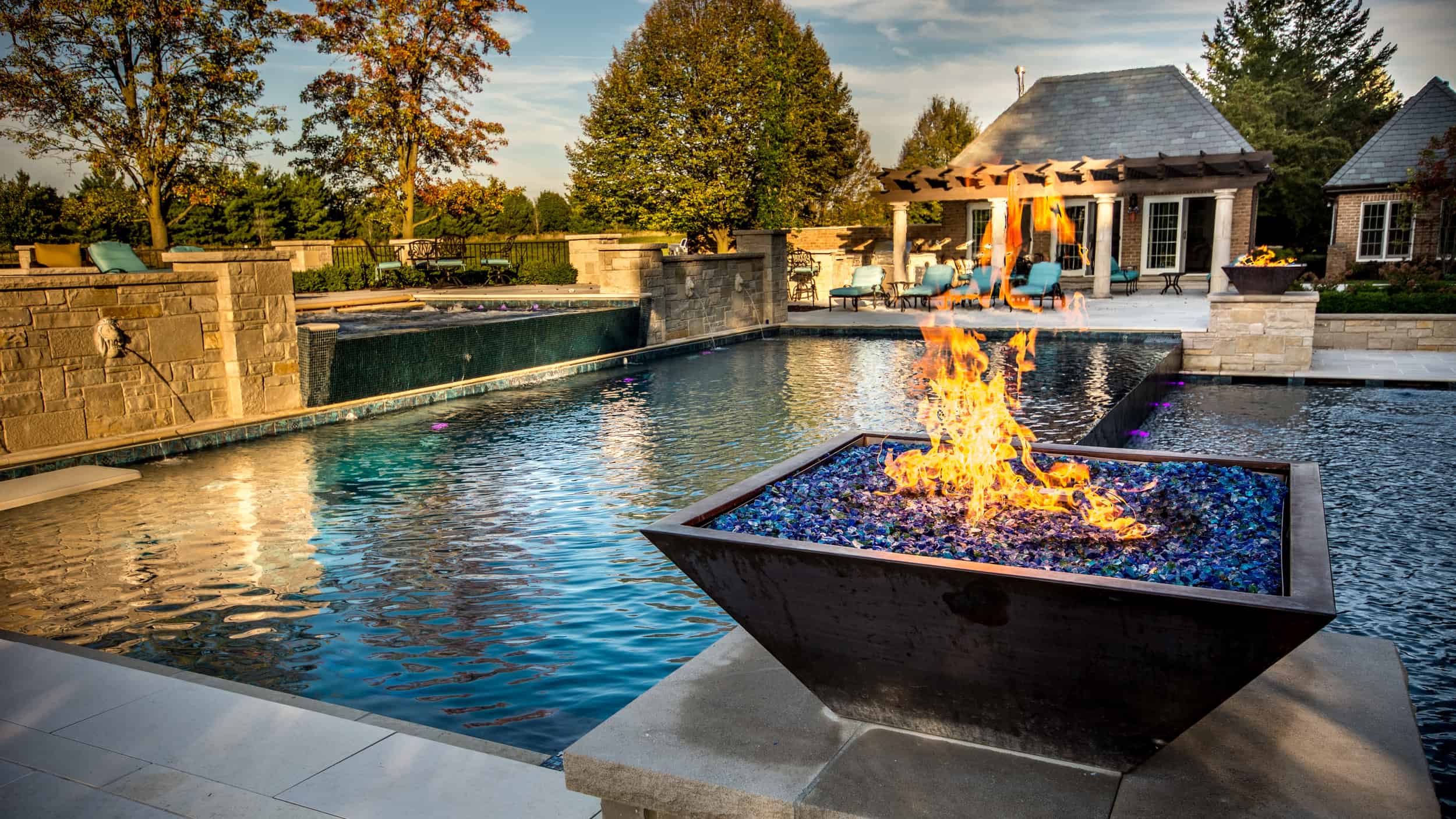 Outdoor poolside settings have become an integral part of most houses. Modern fireplaces for the outdoors come in various shapes, styles, and materials. Pick the one that matches your poolside setting.
For a more comfortable seating arrangement, keep this firepit as a focal point and place some plush couches in its surroundings.
Kids Party Poolside Idea
It's no surprise that kids love to swim, especially when there are beach balls, floating toys, and lots of snacks and drinks. However, they also need to sit down and have fun. To make things more interesting and fun for them, set up kids' chairs near the pool and place a large table a distance away from the pool to put snacks and drinks.
Inflatable sofas are best for kids. They come in different colors and you can probably find some with cartoon characters printed on them. Place some colorful lounge chairs around the table while the kids enjoy their meal and have fun by the pool.
Rustic Poolside Style
If you want a Tuscan countryside look just to give an aesthetic and different vibe to your pool area, then go for the rustic outdoor furniture styles. Set up a wood-burning stove, a dining corner, and a sleek countertop workspace by the pool.
Use wooden tables and chairs to complete the look and add extra plush cushions on top for comfort.
You can add rustic throw blankets and use an outdoor fireplace as well to give your poolside some rustic and cozy vibes. Don't forget to blow up candles at your rustic poolside; it feels amazing.
Boho Cozy Pool Seating Idea
For a boho-inspired poolside seating arrangement, turn your poolside into a chef's paradise and set up bohemian-styled outdoor furniture. Make a stone or concrete space with mosaic tiles and place cactus pots and other tropical plants near the pool.
Hang tassel beds, and place pillows and a few candle lanterns. Antique sofas would be a great match to go along with the theme, and you can place rugs as well. Place as many rocks, cacti, and trees near the pool as you can. And don't forget to use extra pillows, cushions, and blankets for added coziness to your chilly evenings.
Hawaiian Décor For Poolside
There are a lot of things you can use to set up a Hawaiian décor at your poolside. First, bamboo furniture; a good set of bamboo chairs with cushions and bamboo plants near the pool gives a lively look. You feel fresher than ever, and it gives a bit different look compared to the typical pool seating areas with couches.
Flatweave rugs and tiki statues add that extra Hawaiian look to the theme, so make sure to add them if you have enough space on your poolside. Another idea is placing floral accents that provide a tropical appeal. This seating idea is best for people who want a fresh natural feel while enjoying their moment.
Decorate with a stylish umbrella to enhance the look and provide shade if you're sitting in the sun.
Keep It Minimal
If you want a neat, sleek, and classic look for your poolside then go minimal. This type of style is best for people who don't like to do much cleaning and who like simple yet neat furniture.
Get a decent restrained pool deck with ergonomic lounge chairs. There are many outdoor sleek side tables that you can pick, but a no-frills table would give that perfect minimal look. Do not add too many unnecessary tables, just enough chairs and an umbrella for the shade.
A crowded poolside area would not give a minimal look, so keep the necessary furniture only. Consider neutral colors for furniture to give a fresh and cozy look. You can keep minimal outdoor storage to store all the items you might need afterward.
Build A Luxurious Spot
A pool house can be an escape for many people if they spend some money to upgrade the backyard poolside completely. It'll cost you a lot but it will be worth it in the end.
Add a tanning ledge to your pool for anyone who wants to soak in the sun without getting wet. You can consider placing fountains, fire bowls, and waterfalls that will transform your pool into a more luxurious style. building cabanas or a pool house in your poolside area is just a plus point. Spruce up the place with loungers, ottomans, side tables, plush couches, and benches with hidden storage.
You can throw extra shade and set up lighting in the pool house or cabana to enlighten your mood.
Set Up An Outdoor Pool Bar Seating
This idea never goes out of style if you love drinks! It's perfect for every type of occasion, whether it's a summer party or a celebration.
Create a chic tiki bar if you want a stylish swim-up bar. It can be made out of bamboo, wood, or other materials so pick the one that goes with your settings. You can also cover your pool deck with a vibrant green swath of Astroturf to create an awesome tiki bar.
If you belong to the sporty type of people, then create a sports bar theme poolside. Set up couches, bar stools, small tables, and coffee tables. And connect your pool to the kitchen to keep the food and drinks coming.
What To Consider For Your Cozy Seating
Decorating and setting up your poolside area just makes more sense when you have a gathering at the pool. It additionally enhances the looks of your house overall and adds value to it.
Out of the eye-catching ideas mentioned above, you can always work your way to find out what you want the best for your poolside. If you want to do something traditional, or need to have a unique design, then go for it. Hopefully, the ideas mentioned above will help you get an entertaining yet cozy pool seating idea for your poolside.