These flowers that start with the letter L are another great variety of blooming plants that could brighten up any area of your yard or patio garden! The lady's slipper orchid is a stunning addition to your home, patio, or garden and there are many other common favorites in this list too!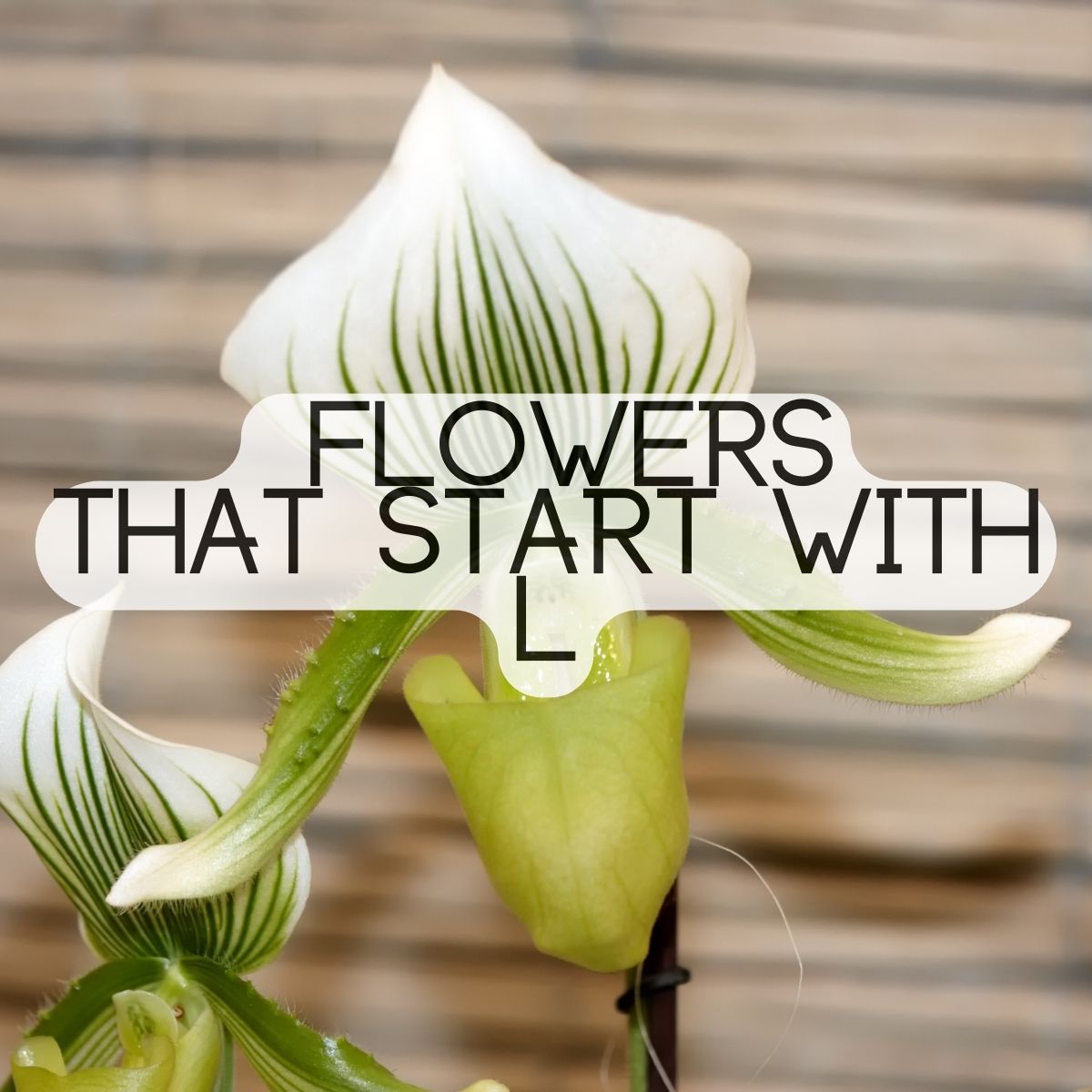 Read Next
Lady's Slipper
Scientific Name: Cypripedium reginae
Type Of Flower: Perennial
When Do They Bloom? Summer
Lady's slipper is a type of orchid plant that has royal beginnings. This historical plant is quite beautiful with large white petals and a rose-colored center that is shaped like a slipper.
Native to eastern North America, this plant thrives best in moist, fertile soil and dappled sunlight. Lady's slipper is considered high maintenance and may not be the best choice for new gardeners.
Quick Fact: Lady's slipper plants are labeled as an endangered species!
Lantana
Scientific Name: Lantana camara
Type Of Flower: Perennial & Annual
When Do They Bloom? Spring, Summer, Winter, & Fall
Lantana is a vine-like plant that produces bold little flowers that can be many colors including red, orange, pink, yellow, white, or blue. It is a fragrant plant that has a unique citrusy aroma that fills the air wherever they grow.
This plant is often grown in hanging baskets or window boxes, but can also grow well in gardens. They love fun sunny areas and grow best in well-drained soil. Expect this plant to grow to be up to six feet in height!
Quick Fact: Lantana is toxic for many species of animals!
Lavatera
Scientific Name: Lavatera spp.
Type Of Flower: Perennial & Annual
When Do They Bloom? Summer & Fall
Lavatera is a plant that produces small 5-petal flowers that are purple, pink, or white. They are easy to grow and great for gardeners with minimal experience, they are sometimes smaller or larger depending on how they are grown.
This plant is grown best in full sunlight and is great in gardens that have space that needs to be filled or paths and walkways.
Quick Fact: Lavatera is a great attractant for pollinators such as bees and butterflies!
Lavender
Scientific Name: Lavandula spp.
Type Of Flower: Herbaceous Perennial
When Do They Bloom? Summer
Lavender is one of my all-time faves! The way it smells, its beautiful looks, and its flavor makes it a top contender in my book! Lavender is a tall growing plant that produces lovely purple flowers that contrast with its deep green foliage.
These plants grow in full sun and reach about 3 feet in height. They are drought tolerant but require regular watering until they reach maturity after their first full year.
Quick Fact: Lavender plants are toxic to dogs and cats!
Lilac Bush
Scientific Name: Syringa vulgaris
Type Of Flower: Shrub
When Do They Bloom? Spring
Lilac bushes are a springtime bloomer that is both fragrant and beautiful! They bloom in small to medium clusters full of purple and white flowers.
Lilac bushes need a lot of direct sunlight to reach their full blooming potential! They can still grow in areas of part shade, but they may not fully bloom in those areas. Lilac bushes are great for both experienced and new gardeners, but they do have specific growing requirements that will help them reach their full potential.
Quick Fact: Lilac bushes grow at a rate of up to 2 feet per year and grow best in cooler climates.
Lily Of The Valley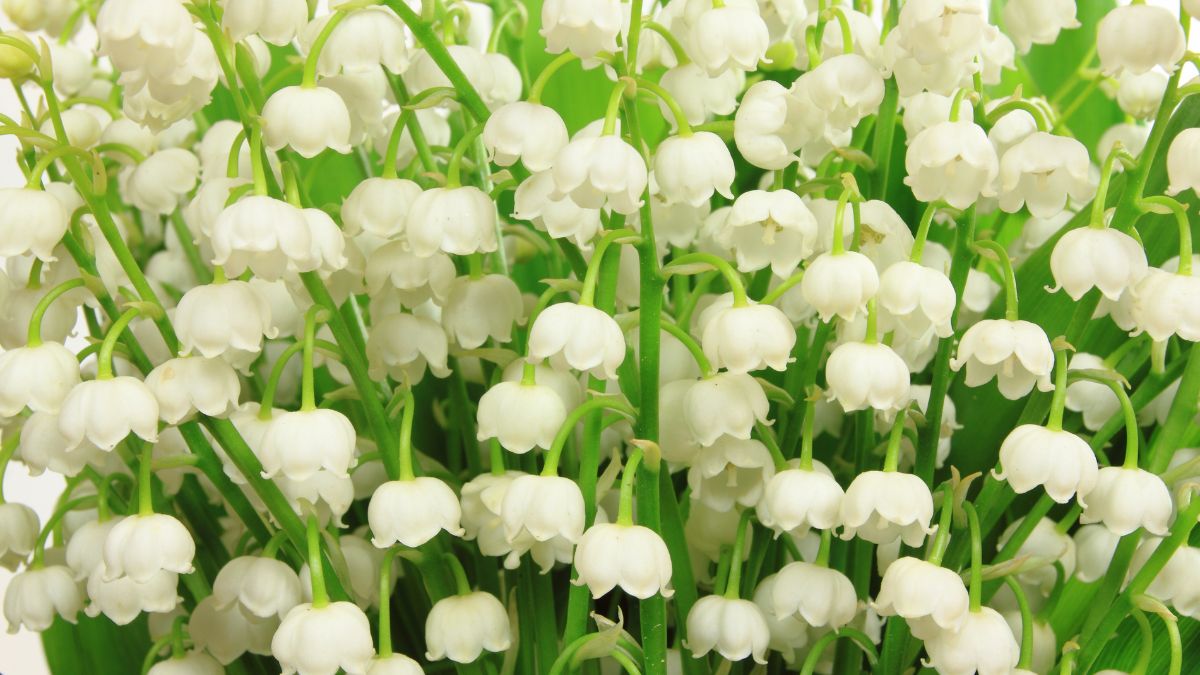 Scientific Name: Convallaria majalis
Type Of Flower: Herbaceous Perennial
When Do They Bloom? Spring
The plant known as lily of the valley isn't a lily at all, rather it is closely related to asparagus. This plant has small red berries and little white flowers that grow along its deep green leaves.
Lily of the valley is native to Europe and is listed as an invasive species in the Midwest and northeastern areas of the United States. Some states have even made laws prohibiting the plant from being grown!
Quick Fact: The berries of the lily of the valley plant should not be consumed by humans, dogs, or cats.
Lily (Madonna)
Scientific Name: Lilium candidum
Type Of Flower: Bulbous Perennial
When Do They Bloom? Spring & Summer
The Madonna lily is quite the showstopper in terms of elegance and beauty. This plant produces the most beautiful trumpet-shaped white flowers that have bold yellow centers. The flowers are not only gorgeous to look at, but they are also extremely fragrant.
Plant them in your garden and watch them grow to be tall, free-standing flowers that stand out from the crowd! Add Madonna lilies to bouquets and centerpieces, or give them to someone you love as fresh-cut flowers.
Quick Fact: Madonna Lillie's are toxic to cats!
Lisianthus
Scientific Name: Eustoma russellianum
Type Of Flower: Herbaceous Perennial & Annual
When Do They Bloom? Summer & Fall
If you love the look of tie-dye t-shirts then I think you will love this unique flower! Lisianthus plants produce lovely rose-like flowers that are white at the base and fade into a deep shade of purple or pink.
Lisianthus plants are not recommended for beginners in the garden as they can be fussy and take a long time to get started. They thrive best when planted in gardens that receive full daily sunlight and must be kept moist. Expect this psychedelic flower to grow about 3 feet in height, and their flowers are often the size of lemons.
Quick Fact: Lisianthus plants are also called bluebell gentian or prairie gentian!
Lobelia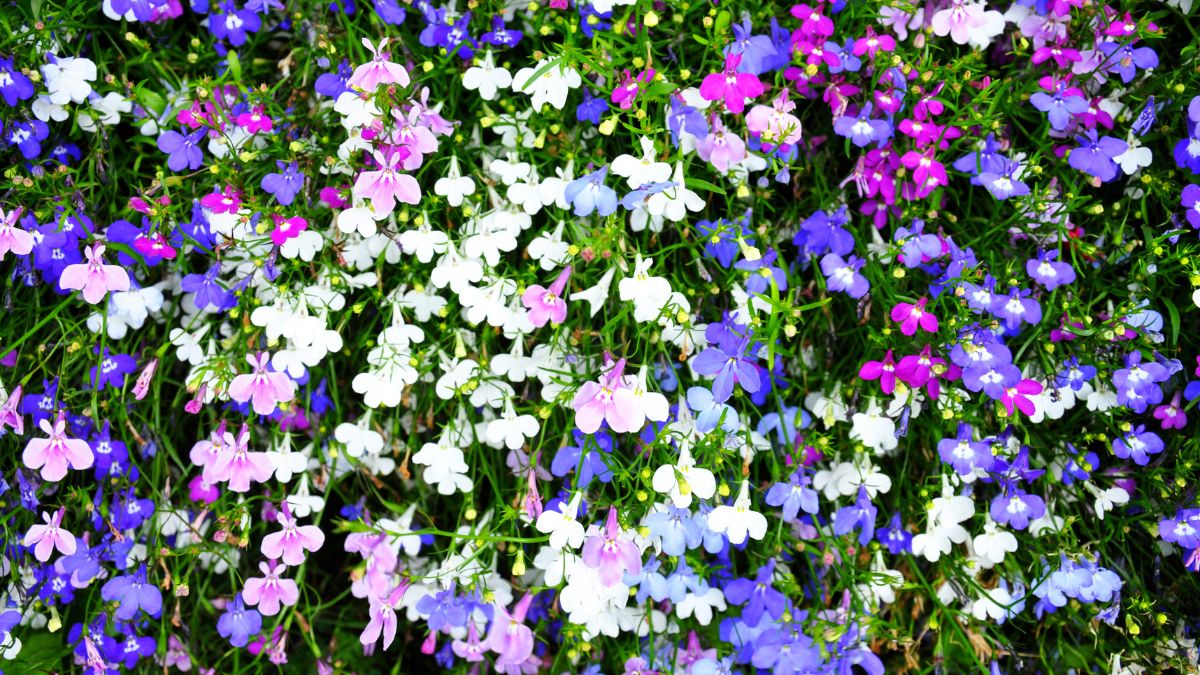 Scientific Name: Lobelia erinus
Type Of Flower: Annual
When Do They Bloom? Summer & Fall
Lobelia flowers are both delicate and bold! These plants produce small purple, white, pink, or true-blue flowers that are found in clumps along their green foliage. They often have a trademark white spot in their center.
This plant is native to Africa and can be found in areas that are fully or partially sunny, and they love moist acidic soil. Whether you are experienced in the garden or not, this is a great choice for gardens that need a low-growing pop of color!
Quick Fact: Lobelia plants attract pollinators such as butterflies, bumble bees, and hummingbirds!
Lotus
Scientific Name: Nelumbo nucifera
Type Of Flower: Aquatic Perennial
When Do They Bloom? Summer
I have a special relationship with lotus flowers, I find them to be magical and healing. They are grown in ponds or small bodies of water where their roots can develop, and their stems can become thick and sturdy. Lotus flowers can be white, pink, yellow, or blue and they can grow up to 6 feet tall.
The blossom of the lotus plant is the star of the show! They have thick petals that give them a crown-like appearance. Often found across regions of Africa, India, Asia, and Australia this plant is one of the most popular symbols in Buddhism.
Quick Fact: Lotus flowers can be grown indoors!
Lunaria
Scientific Name: Lunaria annua
Type Of Flower: Herbaceous Biennial
When Do They Bloom? Spring
Lanaria is a unique plant that produces small purple flowers, but it is better known for its off-white seed pods that resemble silver dollars. This plant can be easily multiplied and doesn't need much assistance once it is established.
Lunaria plants are grown around the world and are native to both Europe and Asia where they are often used in wreaths and other floral arrangements.
Quick Fact: Lunaria plants are also called moon wort or silver dollar plants.