These flowers that start with R are always a welcome addition to any patio plants, landscaping, and yard design with their vibrant colors and beautifully colored stems and foliage! Add some rattlesnake plants to your flower beds to watch them bloom and thrive!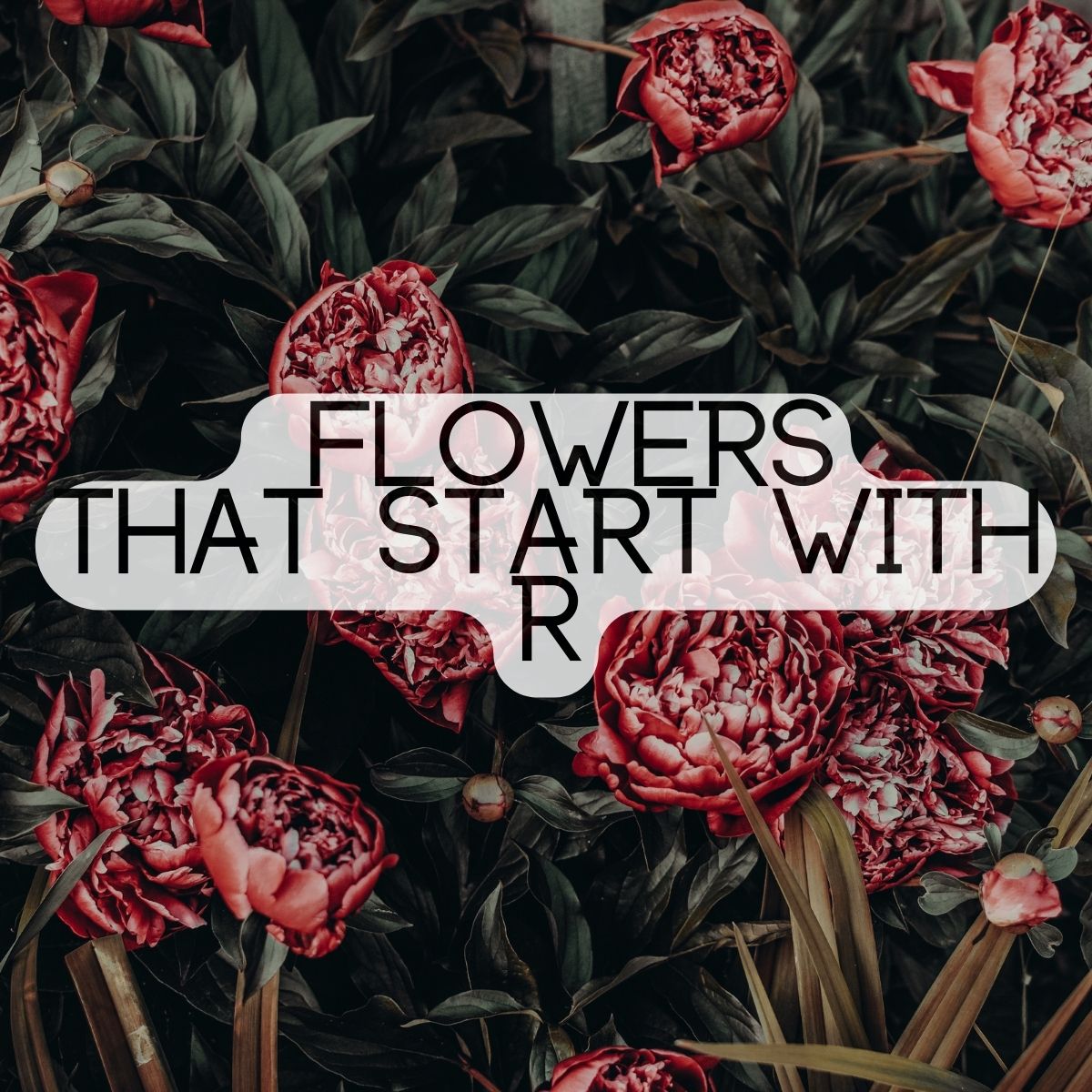 Read Next
10 Radiant Flowers That Start With The Letter R
Red Charm Peony
Scientific Name: Paeonia lactiflora x Paeonia officinalis
Type Of Flower: Herbaceous Perennial
When Do They Bloom? Late Spring & Early Summer
If you want to add a true showstopper to your garden, then you will love the red charm peony! This plant has large, round blooms that sit at the top of its elegant stems. They grow to be around three feet tall, which makes them perfect for borders and walkways!
The red charm peony thrives best in slightly acidic soil that is moist and well-draining. They love full daily sun but can also tolerate partial sun, especially in hotter climates.
Quick Fact: Red charm peony plants are mildly toxic to humans and pets!
Red Buckeye Tree
Scientific Name: Aesculus pavi
Type Of Flower: Ornamental Tree
When Do They Bloom? Spring
The red buckeye tree is a great addition to landscapes that want a pop of color to catch your eye. These trees have lovely red flowers that grow in clusters along their outer branches. They are great for adding shade due to their large size, often growing to be 20 feet high and 30 feet wide.
Plant these trees in full sun or partial shade and well-draining soil that stays moist but not consistently wet. This tree is drought-tolerant and requires regular pruning to keep it looking healthy and vibrant!
Quick Fact: The fruit of the red buckeye tree is toxic for pets!
Rattlesnake Plant
Scientific Name: Goeppertia insignis
Type Of Flower: Perennial
When Do They Bloom? Spring
The rattlesnake plant is a unique plant that can grow indoors in pots or outside in gardens. As a houseplant, it is less showy and rarely blooms. When planted outdoors, they produce little yellow flowers. The main feature of this plant is its long green foliage that ranges in color from light green to deep green and purple.
Rattlesnake plants love filtered light and grow best in moist, acidic soil types. Its growth ranges from about half of a foot to almost 2 feet tall, and its width ranges from about 9 inches to a foot and a half. This plant's size will depend on the size of the pot that you grow it in.
Quick Fact: Rattlesnake plants are also called prayer-plants and rattlesnake calathea!
Rat Tail Cactus
Scientific Name: Aporocactus flagelliformis
Type Of Flower: Cactus
When Do They Bloom? Spring & Summer
The rat tail cactus has a very interesting flow. It has long, slender stems that almost look as though they are crawling toward you! During its blooming season, it produces short-lived tubular flowers ranging in color from red to pink and orange.
These plants can grow up to 6 feet long, which makes them great for hanging baskets and pots. Expect them to grow about 12 inches annually when planted in acidic, well-draining soil and full sunlight. Even though this plant is a cactus, it requires regular watering during the spring and summer and less water in the winter when it is dormant.
Quick Fact: The rat tail cactus can endure temperatures as low as 45 degrees Fahrenheit!
Rain Lily
Scientific Name: Zephyranthes candida
Type Of Flower: Perennial Bulb
When Do They Bloom? Summer & Fall
If you want an elegant flower to add to your garden, then you may want to check out rain lilies! These flowers can be either white, orange, or pink, and they look amazing no matter where they grow. Their blooms consist of 6 upright petals that contrast perfectly with their long green stems.
This plant loves full sun and rich soil. The rain lily is a stunning flower that grows best after it rains. If you live in a dry area or are experiencing a drought, you can trigger flowering with extra watering.
Quick Fact: The rain lily is from the same family as daffodils!
Red Hot Poker
Scientific Name: Kniphofia
Type Of Flower: Herbaceous Perennial
When Do They Bloom? Spring & Summer
The red hot poker gets its name, honestly! This plant looks like a torch that could reach out and burn you! These plants grow to be around 4 feet tall. They have large bulbs that are red, yellow, and orange.
For best growth results, plant these pokers in full sunlight and be sure the soil is well-drained. Moist or wet soil can cause root rot, which will quickly kill these plants.
Quick Fact: Red hot poker plants are also called torch lilies, torch flowers, African flame flowers, and the devil's poker!
Red Poppy
Scientific Name: Papaver rhoeas
Type Of Flower: Annual
When Do They Bloom? Spring & Summer
The red poppy is stunning and bold. It has incredible blooms that come in a plethora of colors, such as red, orange, yellow, blue, purple, pink, and white! Their blooms pair well with their long green stems and soft foliage.
The flowers of the red poppy plant thrive best when soil conditions are just right, but they can grow in multiple soil types. Rich, well-draining soil is desired, but they have been grown in soil with poor nutrients. Remember, you can expect bolder blooms when they are planted in good-quality soil.
Quick Fact: The red poppy is toxic to pets!
Resurrection Lily
Scientific Name: Lycoris squamigera
Type Of Flower: Perennial
When Do They Bloom? Summer
The resurrection lily isn't a lily at all. It is a member of the amaryllis family. This imposter plant grows upon long stems that have no foliage. Their blooms are big and robust, with layers of white and purple petals.
Plant your resurrection lilies in gardens that receive full or partial sunlight and well-draining soil. They are considered low-maintenance plants, but they can't tolerate drought or excessive rain and shouldn't be replanted once they are established.
Quick Fact: The resurrection lily is also called the surprise lily, the magic lily, and the naked lady!
Reticulated Iris
Scientific Name: Iris reticulata
Type Of Flower: Perennial
When Do They Bloom? Spring
The reticulated iris is a great indicator of spring! This plant is quite low to the ground, only growing to be about 6 inches tall with small purple and yellow flowers. It is a great pop of color for rock gardens, borders, and even window boxes.
If you want this plant to thrive, plant them in full sunlit areas with well-draining soil. The reticulated iris is easy to care for and is a great plant for beginners.
Quick Fact: The reticulated Iris is also called the dwarf iris and the netted iris!
Rose
Scientific Name: Rosa spp.
Type Of Flower: Deciduous Shrub
When Do They Bloom? Spring, Summer, & Fall
Roses are a classic beauty that everyone knows. Their beautiful blooms come in almost every color in the rainbow, and they aren't just a sight to see; they smell delightful, too! From classic red, simple white, perky pink, and my favorite sunshine, yellow roses are a favorite of many.
Roses grow best in full sun, needing at least 6 hours daily. Soil conditions should be loamy and well-draining, and they should be thoroughly watered at least two times per week. If you want to grow roses indoors, be sure they are placed near a window that receives full sun!
Quick Fact: There are over 100 different types of roses!