These flowers that start with S are always a favorite for summertime blooms that add vibrant color to any yard or landscape design! From the easy-to-care for snapdragon to shooting star, shasta daisy, and the saucer magnolia shrum there's undoubtedly something for everyone!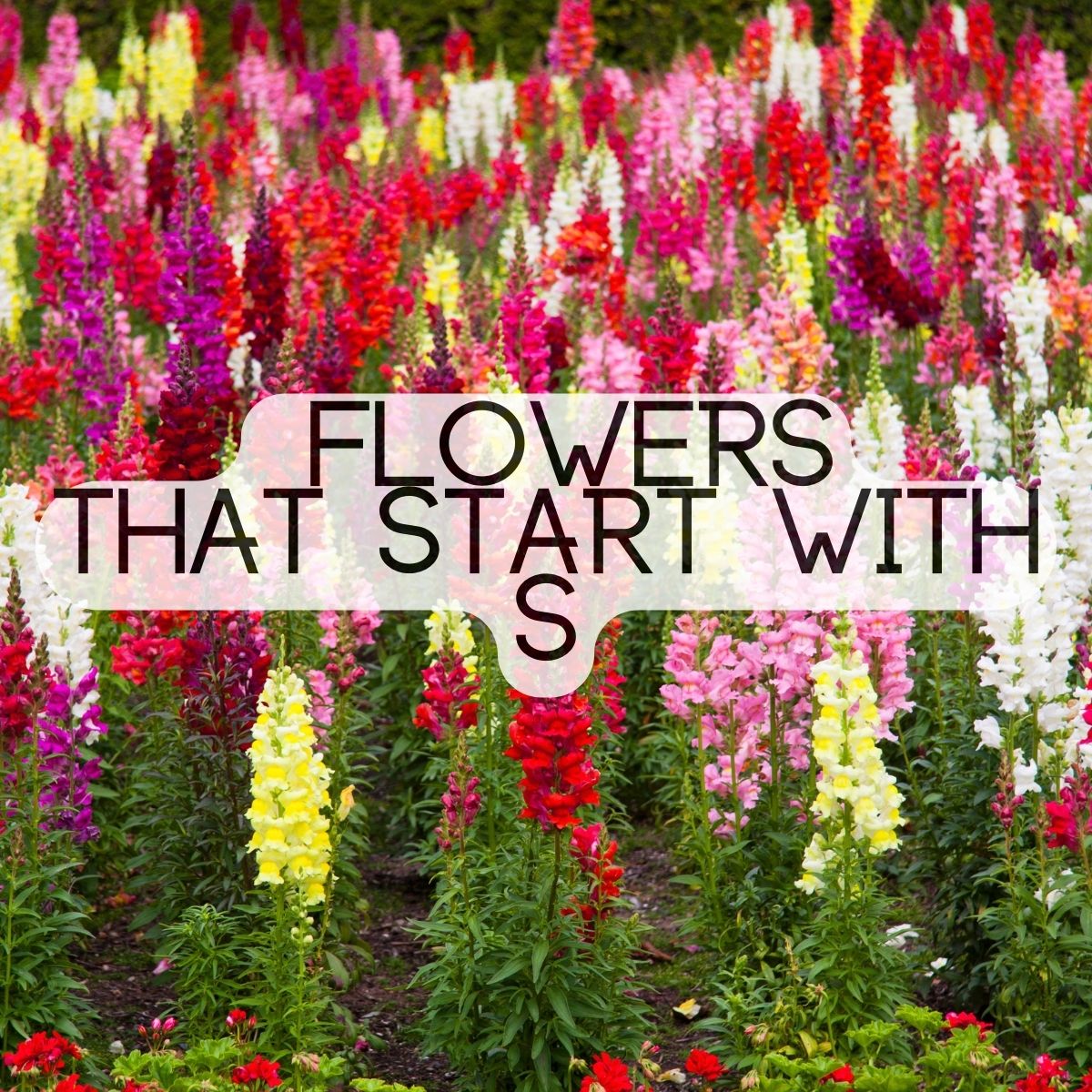 Read Next
11 Suave Flowers That Start With The Letter S
Snapdragon
Scientific Name: Antirrhinum majus
Type Of Flower: Annual & Perennial
When Do They Bloom? Spring, Summer, & Fall
Many gardeners love snapdragons because of their saturated blooms resembling a dragon's jaws. Their bold flowers range in color from red, orange, yellow, pink, purple, and white, and they can be as short as 6 inches or as tall as 4 feet in height!
These plants love the sun and will grow their best blooms when placed in sunny gardens, but if your region has hot summers, it may be best to plant them in an area with partial shade. Water them regularly, keeping the soil moist but not wet. Be sure the soil is well-draining and rich in organic matter.
Quick Fact: Snapdragon plants are also called dog's mouth, lion's mouth, and toad's mouth plants!
Scarlett Tassel Flower
Scientific Name: Emilia coccinea
Type Of Flower: Annual
When Do They Bloom? Summer
Scarlett tassel flowers are a lovely plant that isn't too showy. It has small clusters of tiny red or orange flowers that grow atop thin stems. They are very easy to grow and are known to attract butterflies and bees to your garden!
Plant scarlet tassel flowers in either full sun or partial shade and watch them flourish with ease. This quick-growing flower prefers well-draining soil and can tolerate areas with high humidity.
Quick Fact: Scarlet tassel flowers are also called scarlet magic flowers!
Sea Lavender
Scientific Name: Limonium latifolium
Type Of Flower: Perennial
When Do They Bloom? Summer & Fall
Sea lavender is a plant grown for its pretty purple flowers that grow densely upon its easily hidden stems. This plant grows low to the ground, making it perfect for ground cover, borders, or window boxes.
Plant sea lavender in sunny areas to stay dry and disease free. It is susceptible to root rot which occurs when the plant stays too moist, especially at its base and roots. Be sure the soil is well-draining and only water it occasionally.
Quick Fact: Sea lavender plants are also called marsh rosemary and lavender thrift!
Shooting Star
Scientific Name: Dodecatheon meadia
Type Of Flower: Herbaceous Perennial
When Do They Bloom? Late Spring
Shooting star is a classic wildflower that produces flowers that appear to be falling like a meteor! Its flowers can be lovely shades of purple, pink, or white.
These plants grow best in rocky and sandy areas with slightly acidic soil. They don't like too much sun, be sure to plant them somewhere that receives partial sunlight, especially if the summer months are hot.
Quick Fact: Shooting star plants are also called prairie pointers!
Shasta Daisy
Scientific Name: Leucanthemum × superbum
Type Of Flower: Perennial
When Do They Bloom? Spring & Summer
Shasta daisies are a hybrid plants with circular white blooms with bold yellow centers that grow on top of long evergreen stems. They grow up to 3 feet in height and are perfect for bouquets and vases.
Plant shasta daisies in full sunlit gardens if you want an abundance of blooms or partially shaded patios with a smaller yield of flowers. They can grow in multiple soil conditions, but it must be well-draining to prevent diseases such as root rot.
Quick Fact: Shasta daisies are toxic to dogs and cats!
Sawtooth Sunflowers
Scientific Name: Helianthus grosseserratus
Type Of Flower: Perennial
When Do They Bloom? Late Summer & Fall
Sawtooth sunflowers are a showstopper! These sunflowers have long yellow petals that grow around their clustered yellow centers. Their stems are thick and long, often growing up to 12 feet tall!
Plant sawtooth sunflowers in full sunshine for the best growth! They require at least 6 hours of daily sunlight and will grow toward the sun when thriving. They can grow in many soil types but prefer moist, well-draining soil and need plenty of water.
Quick Fact: Sawtooth sunflowers are natural bird feeders!
Saffron Crocus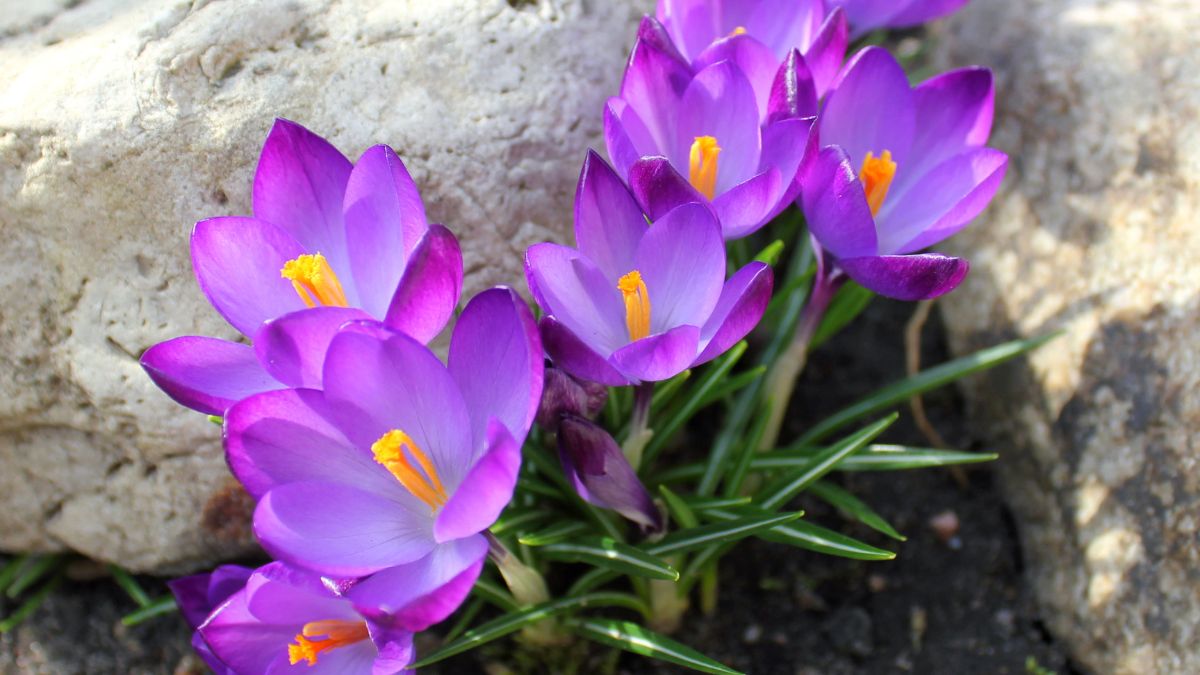 Scientific Name: Artemisia dracunculus
Type Of Flower: Herbaceous Perennial
When Do They Bloom? Summer
You may be familiar with the spice saffron, but did you know it comes from the saffron crocus plant? This plant is an easy grower that produces pretty purple flowers with long red stigmas in its center. The center stigmas are where the spice comes from!
Plant saffron crocus in a location that receives at least 4 hours of daily sunlight to get the best blooms. Be sure the soil is well-draining, and don't water it, especially during the summer months. This plant is drought-tolerant and prefers minute watering. They only need watering from natural elements such as rain and humidity.
Quick Fact: Saffron crocus is the most expensive spice in the world!
Sagebrush Buttercup
Scientific Name: Ranunculus glaberrimus
Type Of Flower: Perennial
When Do They Bloom? Early Spring
Sagebrush buttercup plants look good enough to eat, but beware! These plants are toxic for many species, including dogs, cats, and humans! These buttercups are bright yellow with 5 petals and matching centers. They grow low to the ground, which makes them easily accessible for animals, and should be planted with caution.
Sagebrush buttercups love moist soil and wet conditions, making them great for wetlands, damp forests, and other soggy habitats. Although they thrive in moist conditions, these plants love sunlight and require full sun.
Quick Fact: Sagebrush buttercups are also called crowfoot plants!
Sargent Crabapple
Scientific Name: Malus sargentii
Type Of Flower: Deciduous Shrub
When Do They Bloom? Early Spring
If you want a plant that is lovely, fragrant, and edible then sargent crabapple shrubs are the perfect addition to your garden! These shrubs have lovely white flowers that grow along their dense foliage. Expect these shrubs to grow short and wide, often spreading 10 to 15 feet wide.
Sargent crabapple shrubs bloom best when planted in full sunlit areas and require regular watering until fully established. Soil conditions vary for this shrub, it can grow in many places as long as the soil is well-draining.
Quick Fact: Sargent crabapple plants bloom biannually!
Satin Flower
Scientific Name: Clarkia amoena
Type Of Flower: Annual
When Do They Bloom? Summer
Satin flower is a true beauty! This plant has stunning blooms that can be bright pink, lavender, red, or white. They easily attract bees and butterflies, which makes them a garden favorite. They are great for patios, porches, or window boxes.
Plant satin flowers in full sun or partially shaded areas with well-draining soil. They require the most water during their initial growth cycle, but they don't require as much water once they are established.
Quick Fact: Satin flowers are also called farewell-to-spring flowers!
Saucer Magnolia
Scientific Name: Magnolia x soulangian
Type Of Flower: Tree & Shrub
When Do They Bloom? Spring
The saucer magnolia shrub is known for its gorgeous flowers and ability to be pruned into multiple shapes. Its blooms range in color from white to pink, and its thick stems give it support.
Plant this shrub in full or partial sunlight and well-draining soil. Saucer magnolias like moist conditions and need watered frequently while they are growing. Expect this plant to grow one to two feet yearly until it reaches its full size.
Quick Fact: Saucer magnolias are also called tulip magnolias and Chinese magnolias!