These flowers that start with W are a colorful assortment of blooms that are sure to bring a smile to your face whenever you look out over your yard! From the dainty winter aconite to the brilliantly colored wax begonias and wishbone flowers, you will surely find a new favorite!
Read Next
9 Wonderful Flowers That Start With The Letter W
Winter Aconite
Scientific Name: Eranthis hyemalis
Type Of Flower: Perennial
When Do They Bloom? Spring
Winter aconite is a flowering plant that produces small yellow flowers in the early spring. This plant is low growing, only reaching 6 inches in height. It is perfect when used as a ground covering or potted plant.
Winter aconite thrives best in woodland areas. It can tolerate partially shaded gardens or fully sunlit porches. Provide this plant with moist and well-draining soil, and be sure to keep it damp but not soggy.
Quick Fact: Winter aconite is toxic to humans and pets!
White Clover
Scientific Name: Trifolium repens
Type Of Flower: Herbaceous Perennial
When Do They Bloom? Spring & Summer
White clover is an invasive species in some parts of the United States. This plant often overtakes lawns and gardens, which can be good or bad depending on the homeowner's opinion of the plant. White clover has deep green foliage consisting of 3 small round leaves and small white flowers that grow on thin stems.
White clover can tolerate many weather and soil conditions. It does not need full sunlight but will grow in areas of sun or shade. Soil conditions can also vary as long as they have good drainage. The wetter the soil remains, the quicker this plant will spread, so to prevent it from overtaking your yard, try to keep the soil dry.
Quick Fact: White clover can be toxic to horses if it has fungus!
Wax Begonias
Scientific Name: Begonia semperflorens
Type Of Flower: Annual & Perennial
When Do They Bloom? Summer
Wax begonias are a great plant for gardeners that want a pop of color! These plants are low maintenance with lovely red, pink, or white flowers and waxy green leaves. Not only can these plants be grown outdoors, but they make great houseplants as well!
Provide wax begonias with rich and well-draining soil and keep it moist but not soggy. Sun conditions can vary depending on the season and the heat your region receives. During extreme temperatures, provide this plant with some shade to keep it from drying out.
Quick Fact: Wax begonias are native to Central and South America!
White Bat Flower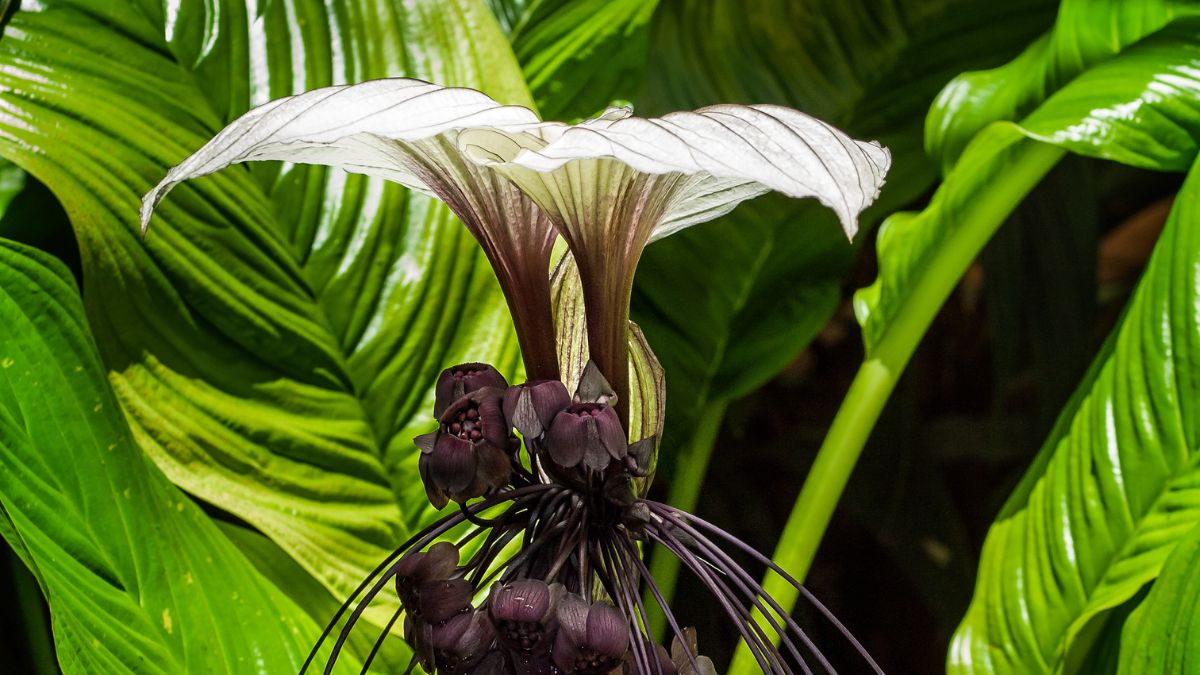 Scientific Name: Tacca integrifolia
Type Of Flower: Herb
When Do They Bloom? Spring, Summer, & Fall
The white bat flower is a tropical plant that grows in high temperatures. This plant has striking blooms that are truly unique! Each flower has large white petal-like bracts resembling bat wings; underneath the 'bat wings' are whisker-like foliage and deep purple flowers clustered together.
These plants thrive in shaded areas that don't receive any direct sunlight. Plant them under trees, corners, or fences to keep them out of the sun's direct rays. Soil conditions should be rich and well-draining to produce the best blooms. This plant loves moist areas, but be sure that it doesn't get too wet.
Quick Fact: The white bat flower plant is relatively new and is considered very rare!
White Frangipani
Scientific Name: Plumeria alba
Type Of Flower: Tree
When Do They Bloom? Summer & Fall
White Frangipani is a beautiful tree that can be smelled from quite a distance with its fragrant floral aroma! This tree produces beautiful flowers that have plump ombré leaves that fade from white to yellow.
This tree thrives in tropical areas such as Puerto Rico, Hawaii, and the Lesser Antilles. They prefer direct daily sunlight but can tolerate partial shade. Slightly-acidic well-draining soil is best for this tree if you want it to reach its maximum height of 25 feet!
Quick Fact: White Frangipani is also called white plumeria, West Indian jasmine, and nosegay!
Wishbone Flower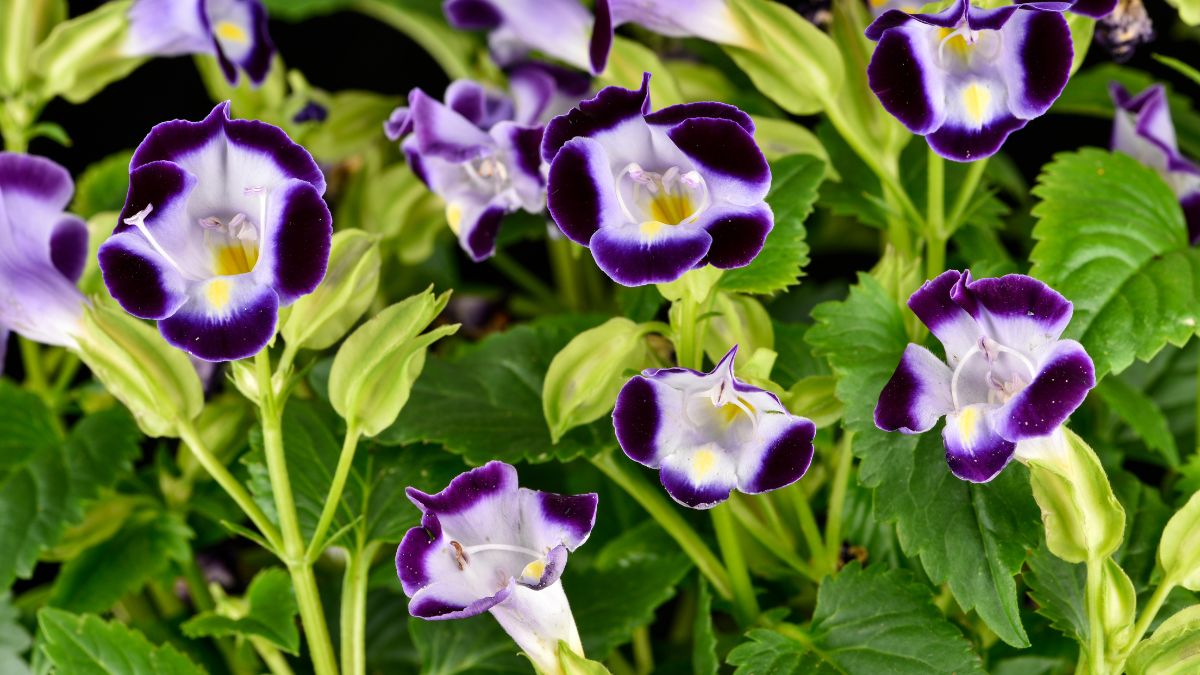 Scientific Name: Torenia fournieri
Type Of Flower: Annual
When Do They Bloom? Spring & Summer
Wishbone flowers are the perfect addition to your garden! Choose from a plethora of bi-colored blooms that can be shades of purple, pink, yellow, white, and blue. Each flower has a prominent stamen in its center that resembles a wishbone, giving this unique flower its name.
These plants can bloom in shady areas and should only be exposed to direct sunlight during cooler temperatures. They prefer rich and acidic soil types that are full of organic matter. Be sure the soil is also well-draining. Wet soil will cause a disease known as root rot, which will kill your plants.
Quick Fact: Wishbone flower is also called blue wing flower and clown flower!
Wild Geranium
Scientific Name: Geranium maculatum
Type Of Flower: Perennial
When Do They Bloom? Early Spring & Late Summer
Wild geraniums are an easy-to-grow plant that makes a great starter plant for new gardeners. These plants have a plethora of small blooms that can be either pink, purple, or white. Their flowers have a unique serrated edge which gives them a beautiful aesthetic.
Plant these flowers away from direct sunlight to protect their delicate blooms. Dappled sunlight or partial shade is best, with morning sunlight being okay as long as the mornings are not too hot. Slightly acidic soil is ideal for wild geraniums, they also prefer the soil to be moist and well-draining.
Quick Fact: Wild geraniums are also called cranesbill plants and spotted geraniums!
White Lace Flower
Scientific Name: Orlaya grandiflora
Type Of Flower: Herbaceous Annual
When Do They Bloom? Summer & Fall
White lace flowers are low-maintenance, which is great for those who don't have an abundance of time to spend in the garden. These easy-to-grow plants have lovely white flowers that sit atop green fern-like foliage. They grow up to three feet tall, making them the perfect height for borders, edges, and pathways!
These plants thrive best when planted in full sunlight, although they can still bloom in partial shade. Soil conditions can vary, but they prefer moist and well-draining soil. Be sure to water your white lace flowers regularly for the best results.
Quick Fact: White lace flowers are also called Minoan lace flowers!
Whirling Butterfly Flower
Scientific Name: Oenothera lindheimeri
Type Of Flower: Herbaceous Perennial
When Do They Bloom? Summer & Fall
Whirling butterfly flowers are a type of wildflower that is fast-growing and easy to care for. They have amazingly bold blooms that can range from one foot to over four feet in height! Their flowers are small, often less than one inch in diameter, but their vibrant colors make them feel larger than life!
These flowers should be planted in full sunlit gardens for the boldest blooms. If you experience high temperatures, you can plant them in partially shaded areas or dappled sunlight. These flowers need to be watered deeply to help saturate their roots but don't water them too often. Be sure the soil is well-draining to help prevent root rot and be aware of pests such as spider mites and whiteflies.
Quick Fact: Whirling butterfly flowers are also called wand flowers, Gaura, and bee blossom plants!