Basil is a versatile, aromatic herb that's popular in many cuisines and easy to grow in home gardens. This comprehensive guide covers everything you need to know about planting, growing, and harvesting basil, ensuring a bountiful crop of this flavorful herb.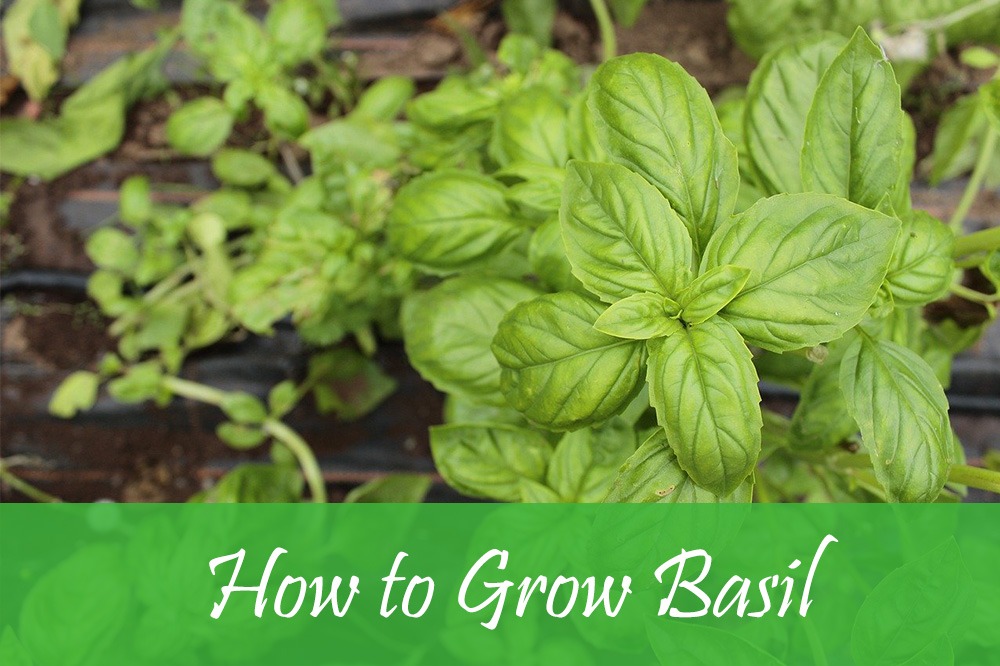 Read Next
Part 1: Getting Started
Choose the Right Basil Variety
There are numerous basil varieties, each with unique flavors, colors, and growth habits. Popular types include sweet basil, Genovese basil, Thai basil, purple basil, and lemon basil. Choose a variety that suits your culinary needs and preferences.
Select the Best Location
Basil thrives in full sun and well-drained soil. Choose a location that receives at least six hours of sunlight daily and has good air circulation to prevent fungal diseases.
Prepare the Soil
Basil prefers well-draining, fertile soil with a pH between 6.0 and 7.0. Amend the soil with compost or well-rotted manure to improve its structure and fertility.
Part 2: Planting Basil
Planting From Seed
a. Indoor sowing
Start basil seeds indoors 4-6 weeks before the last frost date. Sow seeds in seed trays or small pots filled with seed-starting mix, covering them with ¼ inch of soil. Keep the soil moist and warm, around 70°F (21°C), until germination occurs, typically in 5-10 days.
b. Direct sowing
Direct sow basil seeds outdoors once the soil temperature reaches 60°F (16°C) and all danger of frost has passed. Space seeds about ¼ inch deep and 12 inches apart in rows.
Transplanting Seedlings
Transplant indoor-grown seedlings outdoors when they have at least two sets of true leaves and the risk of frost has passed. Harden off seedlings gradually over a week, then transplant them 12-18 inches apart in well-prepared soil.
Part 3: Caring for Basil Plants
Watering
Basil requires consistent moisture but is sensitive to overwatering. Water plants deeply when the top inch of soil feels dry, ensuring the soil stays evenly moist without becoming waterlogged.
Fertilizing
Basil benefits from occasional feeding. Apply a balanced, water-soluble fertilizer every 4-6 weeks, following the package instructions for the correct dosage.
Mulching
Spread a 2-inch layer of organic mulch, such as straw or shredded bark, around the base of basil plants to conserve moisture, suppress weeds, and regulate soil temperature.
Pruning
Regularly pinch off the tips of basil stems to encourage bushy growth and prevent plants from becoming leggy. Remove any flowers that form to prolong the harvest season.
Part 4: Pests and Diseases
Aphids
Aphids are small, sap-sucking insects that can damage basil plants. Remove them with a strong spray of water, or use insecticidal soap as a last resort.
Japanese Beetles
Japanese beetles feed on basil leaves, causing significant damage. Hand-pick beetles from plants and drop them into soapy water to control infestations.
Fusarium Wilt
Fusarium wilt is a soilborne fungal disease that causes basil plants to wilt and die. Plant resistant varieties, rotate planting locations, and remove infected plants to prevent their spread.
Downy Mildew
Downy mildew is a fungal disease that appears as yellow patches on basil leaves. Improve air circulation, and water at the base of plants, and apply a fungicide if needed.
Part 5: Harvesting Basil
When to Harvest
Begin harvesting basil when plants reach 6-8 inches tall and have at least three sets of leaves. Harvest in the morning for the best flavor and to minimize stress on the plants.
How to Harvest
To harvest basil, snip or pinch off leaves or entire stems just above a leaf node or pair of leaves. This encourages new growth and maintains a bushy plant.
Frequent Harvesting
Regularly harvesting basil promotes a continuous supply of leaves throughout the growing season. Aim to harvest at least once a week to keep plants productive.
Storing Fresh Basil
Store freshly harvested basil in a glass of water on the countertop, or wrap the stems in a damp paper towel and store them in a plastic bag in the refrigerator.
Preserving Basil
Preserve excess basil by drying, freezing, or making pesto. Dry leaves in a dehydrator or hang them upside-down in a well-ventilated area. Freeze whole leaves or chopped basil in ice cube trays with olive oil or water.
Part 6: Growing Basil in Containers
Choosing a Container
Grow basil in containers that are at least 8 inches in diameter and have drainage holes. Larger pots are ideal for multiple plants or large varieties like Genovese basil.
Potting Mix
Use a well-draining, high-quality potting mix for basil in containers. A mix containing peat moss, vermiculite, and perlite promotes healthy root growth and prevents waterlogging.
Watering Container-Grown Basil
Container-grown basil often requires more frequent watering than garden plants. Check the soil moisture daily, and water deeply when the top inch feels dry.
Fertilizing
Fertilize container-grown basil more frequently than garden plants, as nutrients are depleted more quickly. Apply a water-soluble fertilizer every 2-4 weeks, following package instructions.
Overwintering Basil Indoors
Bring container-grown basil indoors before the first frost to extend the growing season. Place plants in a bright, south-facing window, and maintain consistent moisture and humidity.
Conclusion
Growing basil is an enjoyable and rewarding endeavor for gardeners of all skill levels. By following this comprehensive guide on planting, growing, and harvesting basil, you'll be well-equipped to cultivate a bountiful crop of this delicious and versatile herb.
Enjoy the fresh flavors of homegrown basil in your favorite dishes or preserve it for future use, and experience the satisfaction of nurturing this fragrant herb from seed to harvest.