Installing a spa cover lifter is a simple and effective way to make using your spa more convenient and enjoyable. A spa cover lifter makes it easy to remove and replace your spa cover, and it also helps to extend the life of the cover by reducing wear and tear.
We will explore the steps involved in installing a spa cover lifter, including selecting the right type of lifter for your spa, preparing the spa and cover, and attaching and adjusting the lifter.
Whether you're a seasoned spa owner or just starting out, our collection of tips and guidance will provide you with the knowledge and skills you need to successfully install a spa cover lifter and start enjoying the benefits of this essential accessory.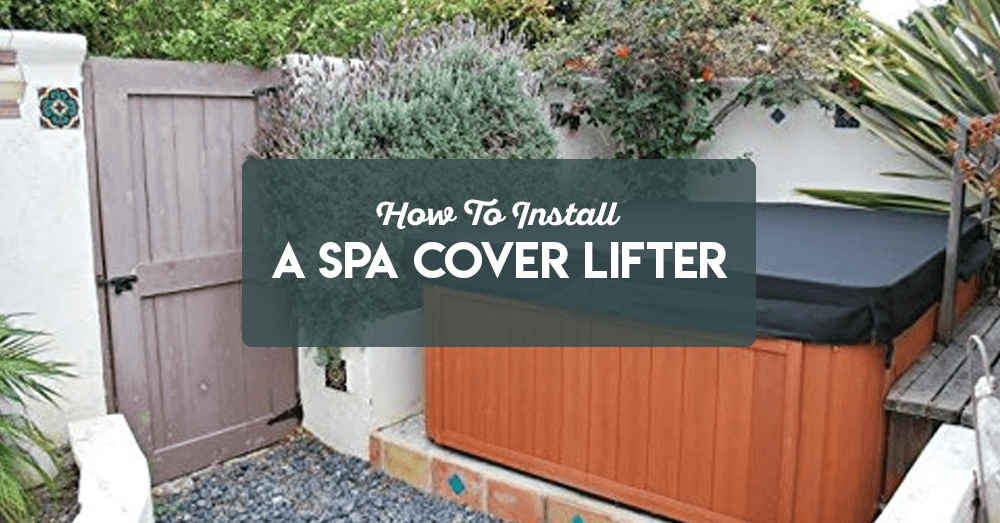 Read Next
What Is A Spa Cover Lifter For?
Regarding the advantages the spa cover lifter brings to you, the most 3 crucial factors that I cannot forget to mention are the hot tub protection and the preservation of the environment inside the spa.
Spa protection: There is no strange that the spa cover lifter can serve properly so as to protect your spa against evaporation out of the outside.
Preserving the environment inside the spa: There will be exceptional if debris, dirt, and other substances accidentally fall into the uncovered spa. How long have you wanted to clean up your spa? How much money do you need to pay for the cleaning staff? All will be simple with the coming of the spa cover lifter!
A solution on labor: Moreover, having a spa cover lifter is also a wise resolution to deal with the problem of human resources issues. Normally, if you want to lift or move out of your spa, it is quite heavy and awkward to do this. So, you may even have two people to work with your spa. Now, when you equip yourself with a spa cover lifter, the worries of the workers will not be a problem for you anymore.
How to install a spa cover lifter?
Step 1: preparing tools for the installation: as the need of the competitive market, there are more and more manufacturers providing the spa cover lifter with the fully available equipment without using any other devices. You should immediately open up your spa cover lifter box and classify each element to make your installation easier.
Step 2: drilling the holes (optional): in this tutorial, there is no need for you to drill the hold because it is a mounting system, a typical feature of the manufacturer. However, we also do not forget to remind you of this step in case of your need. Remember to be careful: not to drill more than an inch deep because you may accidentally damage the wood siding.
 Step 3: attaching support legs to the base plate: as mentioned above, you do with the mounting system, this step will be quite simple and generally speaking, you simply do this with your hands.
Step 4: Shape the supporting legs on the top lining up over the crews.
Step 5: Insert the black washer and thread in the nut caps. It should be to tighten all four nut caps on both legs. The tightening is important in this step because if the nuts are not tightened, your hot tub may collapse during the operation.
Step 6: insert the main body onto the supporting legs: if step 5 is important to maintain the strengthening of the spa cover lifter, this step is extremely necessary to make sure the perfect completion of your spa cover lifter.
Step 7: Thread in hex screw and flat washer to the main body and handing tighten for now to allow for height adjustment.
Step 8: Insert and snap the U-arm into the main body. After that, fastening and snapping into the place and securing the U-arm.
Step 9: Slide the assembled lift under the spa. Being sure to align the U-arm base to the top of the spa acrylic.
Step 10: tighten the screws to the correct height.
Step 11: threading in both ball studs and nutting for the gas shock. Making sure that both ball studs are facing in the same direction.
Step 12: Install the gas shock by snapping the ends into ball studs. And now, your spa cover lifter is ready for use.
To make sure you clearly understand the procedure to install a spa cover lifter, the useful link below is surely essential to you:
Suggested Spa Cover Lifters
With the coming of the Classic Bottom Mount Spa Cover Life, your spa has the other better choice in seeking shapes in square and rectangular up to 96 inches. You can easily lift your cover from your spa and then fold it down behind your hot tub while you are enjoying your favorite time in the water.
If you want to store the cover lift, it easily lifts up and then back over into place to protect your tub while you're away. More importantly, this Classic Bottom Mount Spa Cover Life is very innovative in terms of reducing wear and tears on the covers.
PROS
Check CircleIt is made of powder-coated aluminum.
Check CircleIt is effective to limit the wear and tear on the cover.
Check CircleIt lasts for a long time.
CONS
Times CircleIt does not suit sunken spas.
Times CircleThe installation instruction is complicated to follow.
The NP509 Spa Cover Lift and Caddy from the Valet manufacturer is a full-characteristic spa cover lift with spring-loaded hinges and an adjustable spa cover holder for keeping the spa cover off to the side, and at the height from 30 in. up to 40 in. depending on the height of the spa.  On the other hand, with the outstanding construction of the powerful gas spring, the effort used to lift and lower your spa cover is just a simple step.
Cover Caddy requires 36" of clearance in order to work effectively; will fit all spa cover widths. More importantly, the Cover Valet Spa Cover Lift NP509 is constructed of high-grade powder-coated aluminum, which is premium quality and able to handle rough outdoor environments. Hence, to the best of my knowledge, this spa cover lift is obviously the highest quality product in the market today.
PROS
Check CircleIt is made of high-grade powder-coated aluminum
Check CircleGas spring function is added to limit the effort of removing the spa cover.
Check CircleIt is able to adjust so as to go up and down the spa cover in storing
Check CircleIt comes with a quick design in installation (just with some minutes)
Check CircleThe instructions are clear and easy to follow.
Check CircleA long-lasting period of warranty (up to 5 years) promises great security during the time of use.
CONS
Times CircleIn some cases, it has difficulty to bear the heavy hot spa covers.
Another best cover spa lift from the Valet enterprise supports a unique underside mount plate that will be sophisticated to install by yourself, but when this Valet cover lift is in place, you will never have to worry about it anymore.
It makes it easy for just one person to lift the spa cover and keeps it off the ground while you are enjoying a soak.  The most interesting point of this product is that it can hide everything away at the side of your hot tub at all times, whether it is in use or not.
PROS
Check CircleThis cover lift is fitted with most of the above-ground spas on the current market.
Check CircleIt has unique under-mount installation plates.
Check CircleIt is supported entirely by the Rx and does not place any unwanted stress on the center seam to lead to a long-lasting time for the cover.
CONS
Times CircleThe instruction included is not clear enough.
Times CircleIn some cases, there is a misunderstanding of the nitrogen strut.
The ABC Spa Cover Roller suggests an easy means for your spa by using and installing the removal lifters system. With its unique design in the widely –used shape of square and rectangle, it is the best choice for most spa cover lifters nowadays.
Besides, the rollers on each arm are provided to help it snap to slide or push your hot tub cover on and off of the lifter. Another remarkable feature of this ABC Spa Cover Roller is the use of durable weatherproof materials which can protect from the harshest of environments and prolong life.
PROS
Check CircleThe high-quality weatherproof materials supports your convenience in folding snugly in case of non-use and be helpful in protection from the attack of the surrounding.
Check CircleThere are four rollers on each arm which are effective in making a snap to slide on and off.
Check CircleIt is totally simple to set up and use
CONS
Times CircleIt has a limited design, just typically for square and rectangle shape spas.
Times CircleThe installation instruction is not clear enough to follow.
Times CircleThe warranty is not life-long.
Conclusion
According to what we have discussed about the way how to install a spa cover lifter in this article, setting up a spa cover lifter is not hard anymore. Thanks to a step-by-step tutorial with a lively video clip instructed above, we hope that you will find it easy to do this task. We understand that you have many difficulties in choosing the best spa cover lifter because there are a lot of choices.
Thus, we have also suggested some outstanding products with full of significant information which will support your decision. All of the solutions we have listed above come from the collection of our experience. If you have other interesting ideas relating to the way to install a spa cover lifter, do not hesitate to share with us at the comment section on the corner of our page. It's surely a pleasure to share and exchange the amazing idea to preserve the spa. Enjoy with your spa cover lifter!
May you find this guide on how to install a spa cover lifter helpful.