Hypericum, a diverse genus of flowering plants, boasts over 400 species worldwide. Also known as St. John's wort, these plants have a rich history of medicinal, ornamental, and ecological uses. In this article, we delve into the captivating world of Hypericum, covering its various species, benefits, and cultivation tips.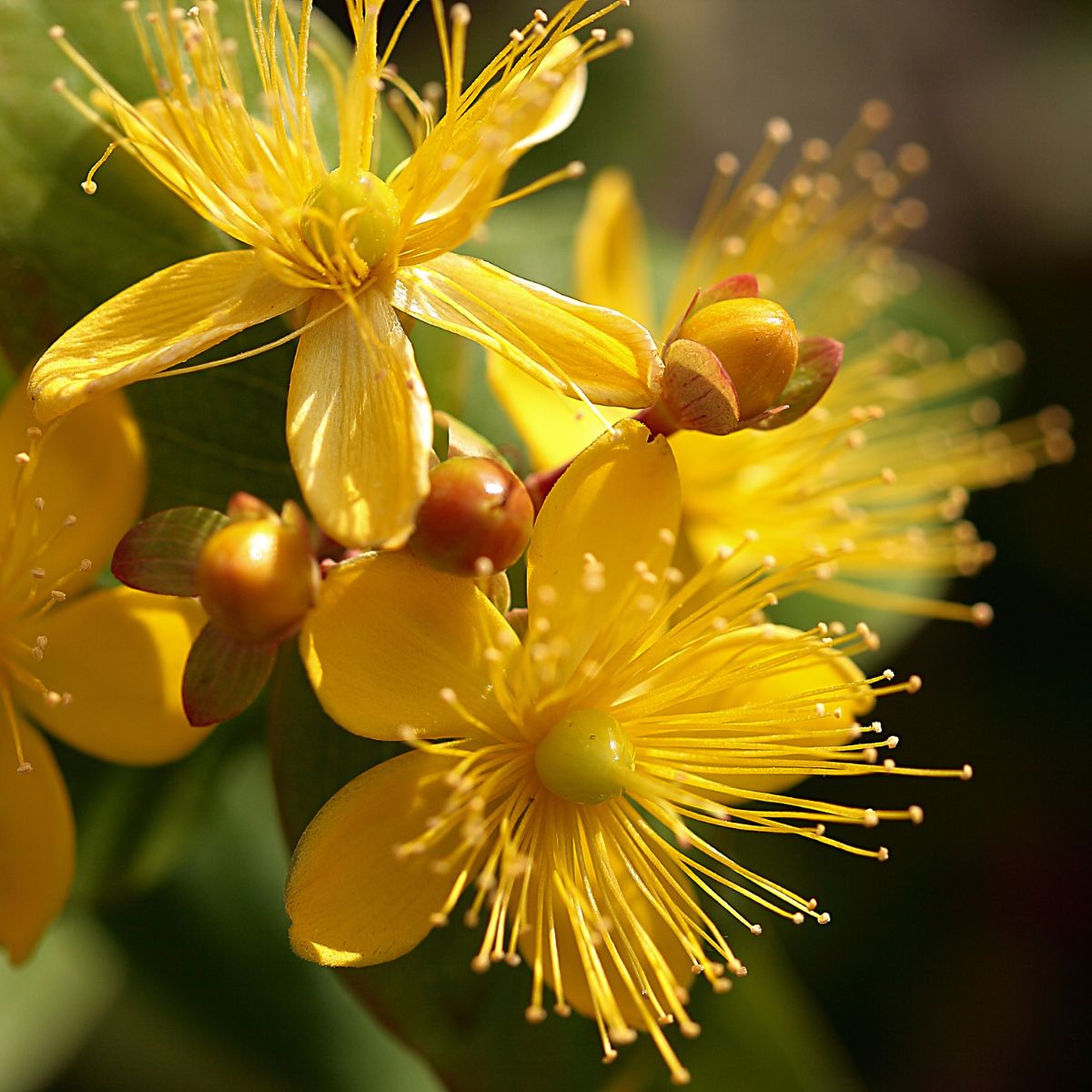 Read Next
Table 1: Hypericum Species and Their Characteristics
| Species | Type | Origin | Characteristics |
| --- | --- | --- | --- |
| Hypericum perforatum | Perennial herb | Europe, Asia | Yellow flowers, perforated leaves, medicinal |
| Hypericum calycinum | Evergreen shrub | Europe, Asia | Large yellow flowers, ground cover |
| Hypericum kalmianum | Deciduous shrub | North America | Compact, blue-green leaves, golden-yellow flowers |
| Hypericum androsaemum | Semi-evergreen shrub | Europe, Western Asia | Reddish stems, dark green leaves, red-to-black berries |
| Hypericum hidcoteense | Semi-evergreen shrub | Europe | Abundant yellow flowers, hedge or border use |
This table summarizes the characteristics of five popular Hypericum species, including their type, origin, and notable features.
Hypericum Perforatum (Common St. John's wort)
Famed for its medicinal properties, Hypericum perforatum is a perennial herb native to Europe and Asia. Its bright yellow flowers and distinctive perforated leaves make it easily recognizable.
Hypericum Calycinum (Rose of Sharon)
A low-growing, evergreen shrub, Hypericum calycinum is prized for its large, showy yellow flowers. It thrives in various soil types, making it a popular ground cover and landscaping choice.
Hypericum Kalmianum (Kalm's St. John's wort)
Originating from North America, Hypericum kalmianum is a compact, deciduous shrub with narrow, blue-green leaves. Its golden-yellow flowers bloom in clusters, attracting pollinators throughout summer.
Hypericum Androsaemum (Tutsan)
A semi-evergreen shrub native to Europe and Western Asia, Hypericum androsaemum features reddish stems and dark green leaves. Its yellow flowers mature into red berries, which later turn black.
Hypericum Hidcoteense (Hidcote St. John's wort)
Renowned for its abundant, bright yellow flowers, Hypericum hidcoteense is an attractive, semi-evergreen shrub. It's often used as a hedge or border in gardens.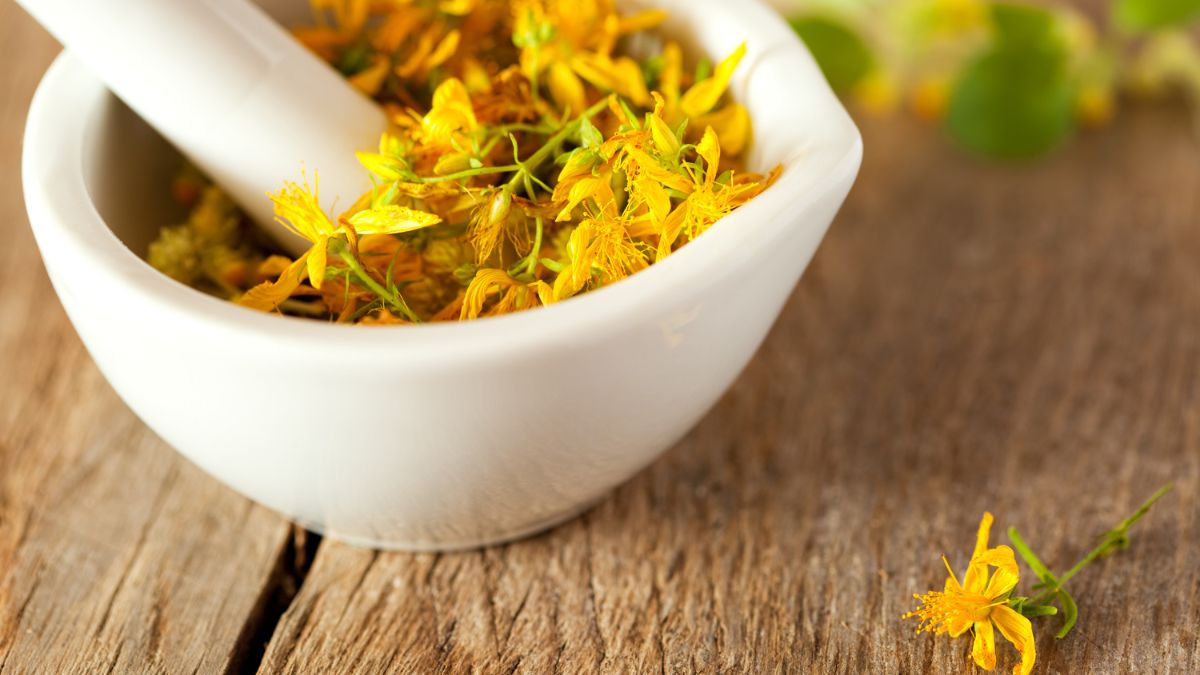 Medicinal Uses of Hypericum
Traditionally, Hypericum perforatum has been used to treat various ailments, including nerve pain, inflammation, and wounds. Today, it's primarily used to manage mild to moderate depression.
Antidepressant properties
Hypericum perforatum contains compounds, such as hypericin and hyperforin, that exhibit antidepressant activity. Research suggests it's effective for mild to moderate depression but not severe depression.
Pain relief
Some studies have found Hypericum perforatum to be effective in treating nerve pain, specifically neuropathic pain, due to its anti-inflammatory and analgesic properties.
Antiviral activity
Hypericin, a compound found in some Hypericum species, has demonstrated antiviral properties. It's been studied for potential use against viruses like herpes and HIV.
Ornamental and Landscaping Uses
Many Hypericum species feature bright, cheerful flowers and attractive foliage, making them popular for ornamental gardens and landscapes.
Ground cover
Low-growing Hypericum species, such as H. calycinum, are excellent ground cover options. They prevent soil erosion, suppress weeds, and provide a vibrant, low-maintenance carpet of color.
Hedges and borders
Taller Hypericum species, like H. hidcoteense, create stunning hedges and borders due to their dense growth, bright flowers, and semi-evergreen foliage.
Wildlife attraction
Hypericum plants are valuable for attracting pollinators, like bees and butterflies, and providing food for birds, which feast on their berries.
Cultivating Hypericum
Planting requirements
Hypericum species generally prefer well-draining soil and full sun to partial shade. However, specific requirements may vary depending on the species. Always research the needs of the specific Hypericum you're planting.
Propagation methods
Hypericum can be propagated through seeds, cuttings, or division. Each method has its advantages, but softwood or semi-hardwood cuttings are often the most successful.
Fertilizing and watering
Most Hypericum species are low-maintenance, requiring minimal fertilization. Water regularly during the first year, then reduce watering as the plant becomes established.
Pruning
Pruning encourages bushy growth and flowering in Hypericum plants. Remove dead or damaged branches and trim back the plant after flowering to promote new growth.
Potential Problems with Hypericum
Pests
Hypericum is generally resistant to pests, but some species may be susceptible to aphids, scale insects, or spider mites. Use insecticidal soap or horticultural oil to treat infestations.
Diseases
Fungal diseases, like rust and leaf spot, can affect Hypericum plants. To prevent these issues, ensure proper air circulation and avoid overhead watering.
Invasiveness
Some Hypericum species, particularly H. perforatum, can become invasive in certain regions. Check local guidelines before planting and take steps to control its spread.
Symbolism and Folklore
Hypericum, particularly St. John's wort (Hypericum perforatum), has a rich history of symbolism and folklore rooted in various cultures worldwide. Here are some key aspects of the symbolism and folklore associated with Hypericum:
St. John the Baptist: The name "St. John's wort" is derived from St. John the Baptist, as the plant typically blooms around his feast day on June 24th. The bright yellow flowers were thought to represent the sun at its peak during the summer solstice, close to St. John's feast day.
Protection: In European folklore, St. John's wort was believed to possess protective powers against evil spirits and witches. People would hang the plant over their doors, and windows, or even place it under their pillows to ward off negative forces and bring good fortune.
Healing powers: Throughout history, Hypericum has been associated with healing and restoration. In addition to its medicinal uses, St. John's wort was thought to have magical properties that could heal wounds and protect against illness.
Ancient Greek mythology: The genus name "Hypericum" is derived from the Greek words "hyper" (above) and "eikon" (picture). According to Greek mythology, the plant was hung above religious images to ward off evil spirits during religious festivals.
Christianity: In Christian tradition, the red spots on Hypericum perforatum's leaves are said to represent the blood of St. John the Baptist, while the perforated appearance of the leaves symbolizes the wounds inflicted on him.
Celtic Midsummer festivals: St. John's wort has played a role in Celtic Midsummer celebrations, symbolizing light and the triumph of the sun over darkness. It was often woven into wreaths or used as decoration during these festivals.
Love and divination: In some European folk traditions, St. John's wort was used in love divination rituals, where young women would pick the flowers to learn about their future husbands or predict the success of their relationships.
Hypericum's rich symbolism and folklore reflect its long-standing importance in various cultural and religious contexts. From protective and healing properties to its connections with St. John the Baptist and ancient mythology, Hypericum holds a unique and fascinating place in human history.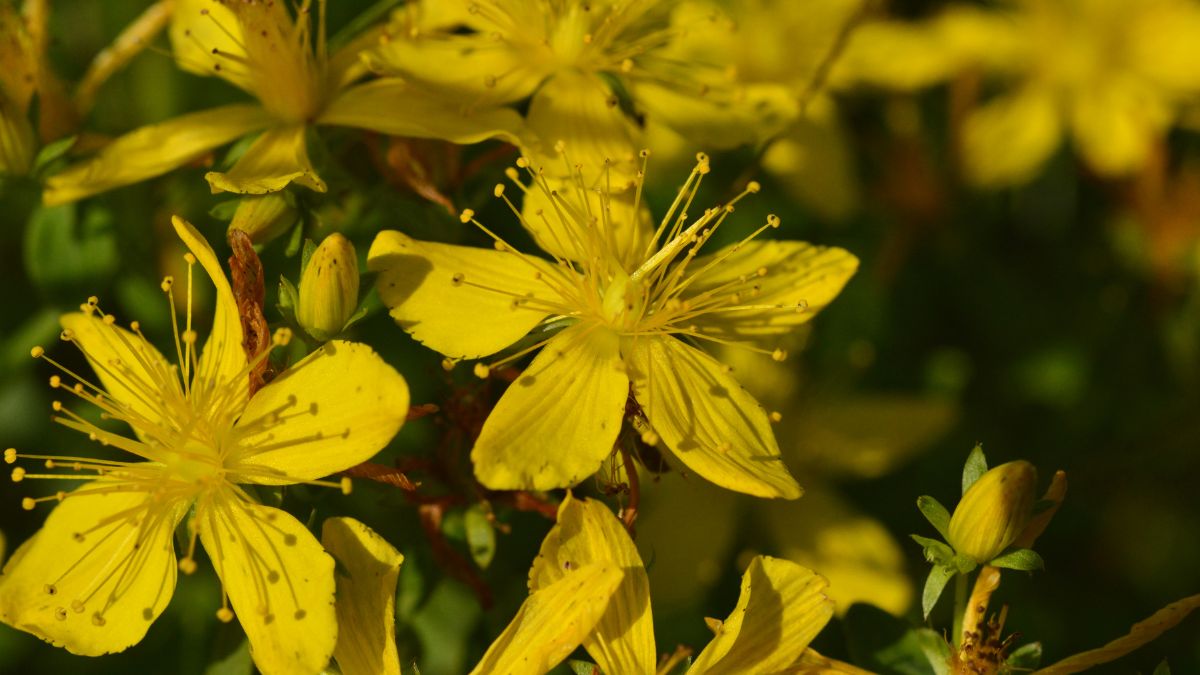 Conservation and Ecological Importance
Habitat preservation
Several Hypericum species play a critical role in preserving natural habitats, supporting pollinators, and providing food and shelter for wildlife.
Conservation efforts
Some rare or endangered Hypericum species are the focus of conservation efforts. Planting native Hypericum species can contribute to local ecosystem preservation and restoration.
Conclusion
Hypericum is a captivating genus of plants with a wide array of uses and benefits. From the well-known Hypericum perforatum with its medicinal properties to the ornamental appeal of Hypericum hidcoteense, these plants are versatile and valuable addition to any garden or landscape.
By understanding the unique characteristics, cultivation tips, and potential issues associated with Hypericum, you can enjoy these plants' beauty and benefits.