There are thousands of options for inflatable hot tubs available in the market today. And through your research, you have probably heard of the Intex PureSpa series – its impeccable design and advanced features. Today, you will get to know more about this portable hot tub and why it is such a perfect addition for your home and anywhere else you may want to enjoy it.
In-Depth ​Review Of Intex PureSpa Inflatable Hot Tub
The Intex PureSpa series will take your hot tub experience to the next level. It offers the same relaxation as hard-side hot tubs at 90% less the price. It looks great and feels sturdy as it is made with heavy-duty materials, bundled with high-quality accessories. This decent-sized hot tub can comfortably seat four (4) people with an exterior diameter of 77 inches and an interior diameter of 58 inches. The exterior has a tan color and the interior is light beige.
A brand new Intex PureSpa Bubble Massage Spa offers an all-in-one package, so buyers don't need to look for separate accessories for the installation. The spa has its own pump for inflation, deflation, heating and hard-water treatment system. Attached in it is a digital control panel that lets you adjust the temperature, activate the 120 high-powered bubble jets and its heating system.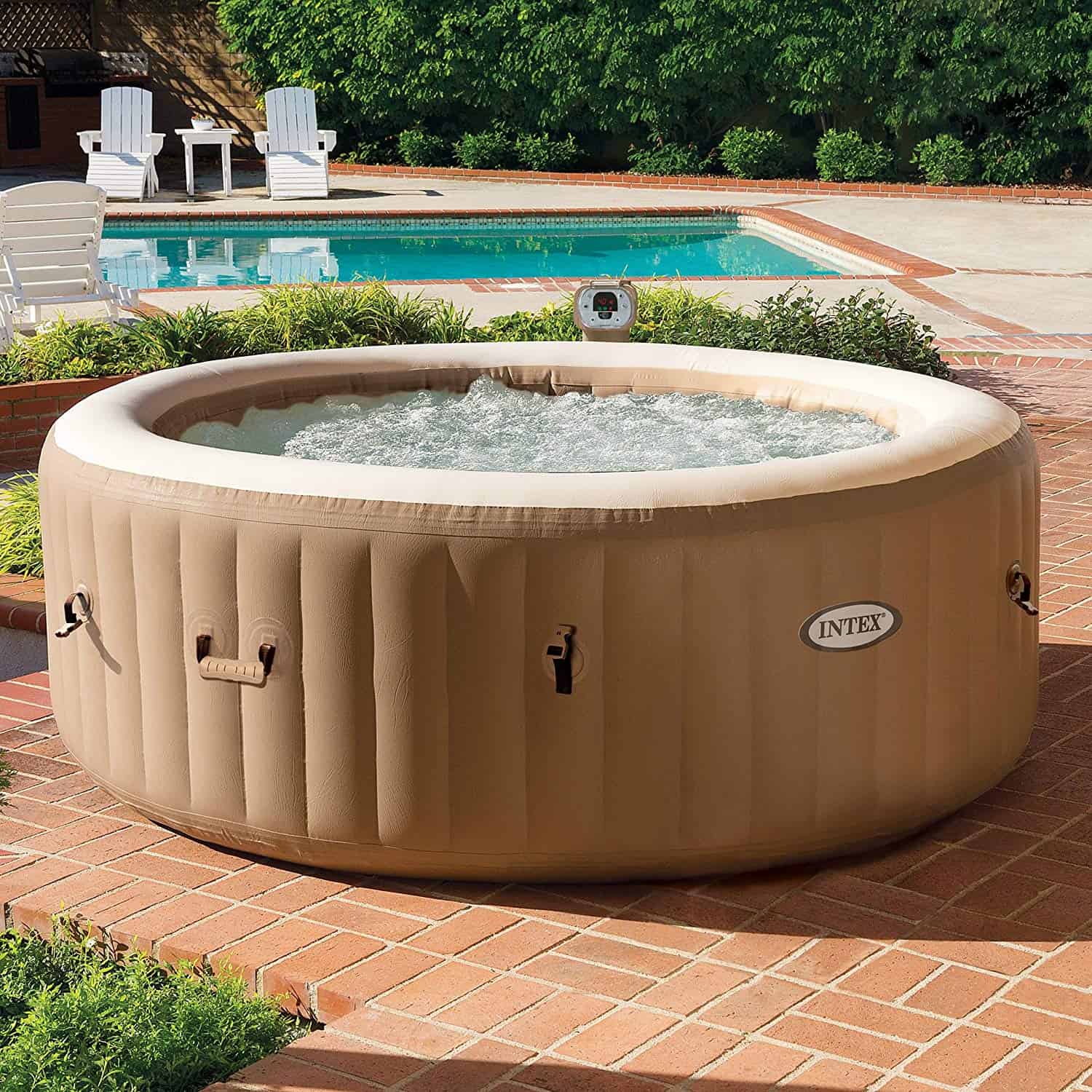 A combination of Fiber-Tech Construction and a puncture resistant 3-ply laminated material makes this inflatable hot tub an investment that you can enjoy for years. These materials make it possible for users to sit and lean on the hot tub's wall without having to worry about it becoming unsteady. The composition of the whole inflatable tub is sturdy and durable, yet it remains comfortable for everyone to enjoy.
Pamper yourself with the tub's relaxing heated water. The hot tub's water heating system can generate a water temperature range of 68 to 104 degrees Fahrenheit. According to the manufacturer, the maximum temperature can be reached as long as the minimum outdoor temperature is at a minimum of 50 degrees Fahrenheit. Aside from enjoying a warm soak, users can also enjoy softer and gentler water inflatable hot tub. This is through a built-in hard water treatment system. Using Intex PureSpa Hot Tub will not dry out your skin and will not damage your swimming attire. The water will not cause premature wear and tear on the hot tub's material and will not produce chemical build up.
The Intex PureSpa 77-inch Bubble Massage Spa is also very easy to maintain without the need to change the water often. It comes with an insulated cover with locks to make sure that you can protect your hot tub's water from evaporation, heat loss, dirt and debris when it's not in use. Your PureSpa also comes with two (2) filter cartridges that you can replace on your own to keep your spa water sparkly clean. Along with these are 3-way test strips to make sure that your spa water is chemically-balanced and a floating pool chlorine dispenser.
One of the best things about this inflatable hot tub is the fact that you can install it in your outdoor living space or you can bring it with you on vacation. It is easy to set up and as easy to pack away and store with a carry bag that is included in the kit.
Unboxing Intex PureSpa 77-inch Inflatable Hot Tub
Inflatable Hot Tub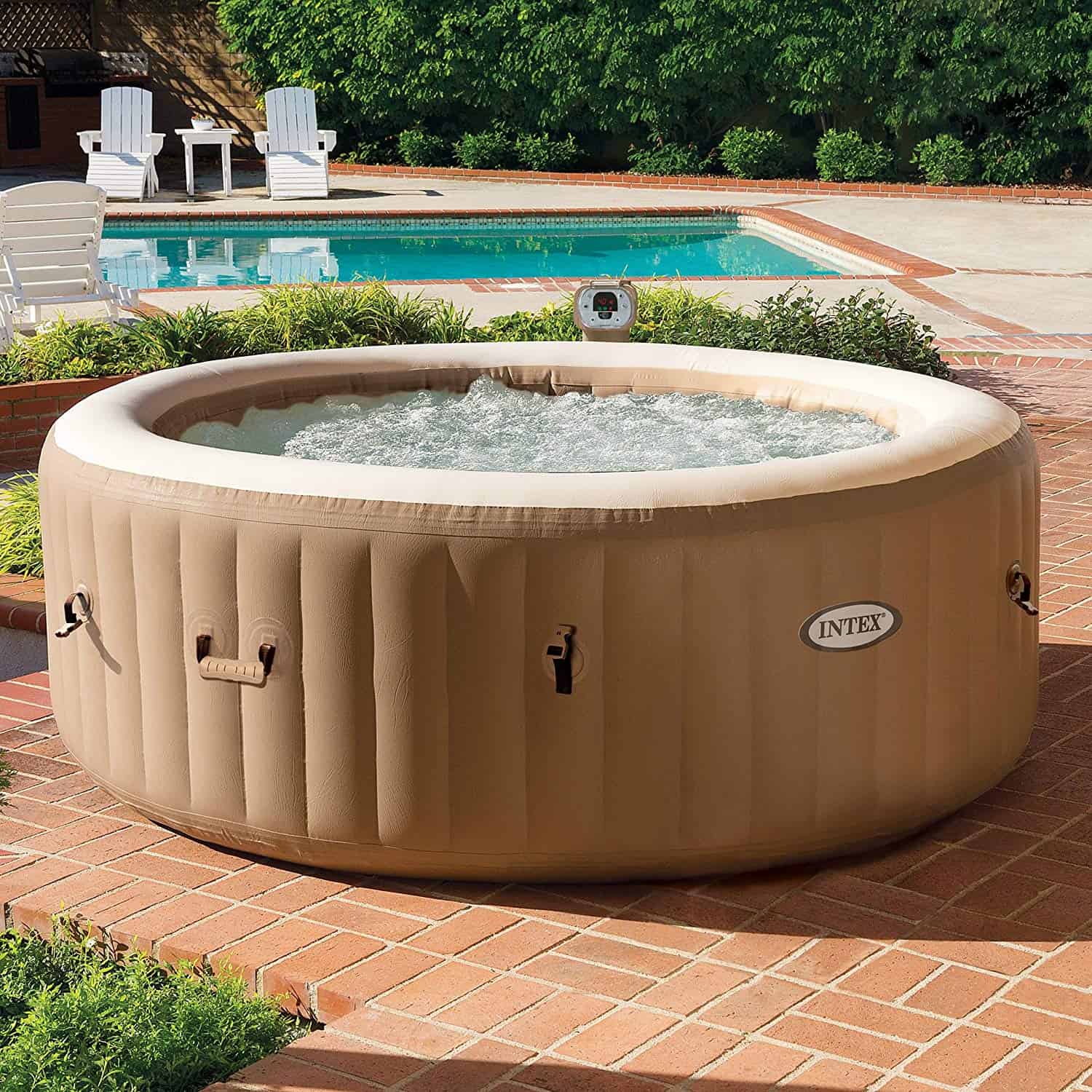 The hot tub is neatly folded inside its carry bag. Simply take it out of the box and the carry bag and place it on top of the ground cloth before you inflate it.
Ground Cloth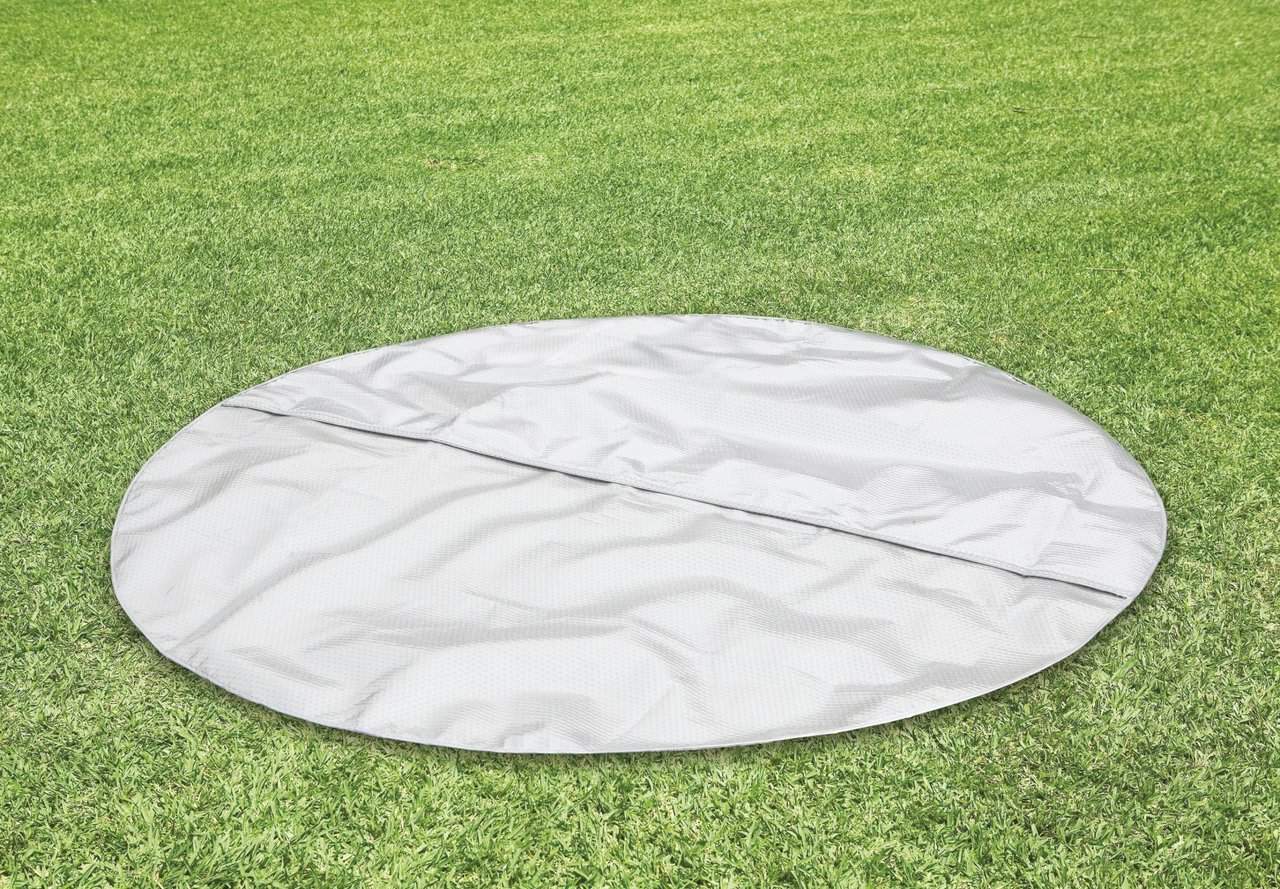 The ground cloth is made with an insulation material that resembles a more sturdy bubble wrap. It must be placed in a level and cleared out location with the bubbles touching the ground and the silver side touching the bottom of the hot tub.
Pumps
The heavy-duty pump is also in the same color as the hot tub itself. It inflates and deflates the hot tub and does a lot more. It also powers the hard-water treatment and filtration system, it powers the heater as well as the jets. It is enclosed in a durable plastic material to avoid water exposure.
Control Panel
The digital control panel sits on top of the enclosed pumps. It has a transparent plastic cover to avoid water splash and possible damage. It lets you adjust and program the water temperature, activate the filter, bubble jets and timer.
Inflation Hose
The Intex PureSpa comes with an inflation hose. You just need to hook the other end to the pump and the other on the hot tub. Press the "Bubbles" or "Air" button on the control panel and wait for your spa to be inflated in minutes. This can also be used to inflate the insulated cover.
Filter Cartridges
These two filter cartridges must be screwed at the bottom interior side of the spa before filling it with water. These are essential to the whole hard-water treatment system of the spa.
Floating Pool Chlorine Dispenser and 3-way Test Strip
These two work together in maintaining the chemical balance in your pool. The chlorine dispenser sanitizes the hot tub's water while the 3-way test strip enables the users to check the PH level of the spa water.
Insulated Cover
The cover for your hot tub will fit perfectly once inflated and locked on both sides. It can help maintain the water warm by preventing evaporation and heat loss especially when the outdoor temperature is cold. It also keeps debris and insects away from your hot tub.
Pros and Cons of Intex PureSpa ​Bubble Massage
PROS
Check Circle

​Easy to set up and install

Check Circle

​Made with high-quality materials

Check Circle

​Known brand of portable pools

Check Circle

​All-in-one set

Check Circle

​120 high-powered jets
CONS
Times Circle

​Ground cloth need improvement

Times Circle

​Pumps are noisy when jets are turned on
Accessories for Intex PureSpa 77-inch Bubble Massage Portable Spa
If you are planning to soak a little longer while completely relaxing your neck and shoulders, it would be best to get this headrest. You can customize its softness or firmness by inflating it according to your preference. The headrest will sit on top of the hot tub's wall.
Regardless of the surface, you place your hot tub on, you and your guests deserve an uncompromised comfort. Intex PureSpa Spa Seat is slip-resistant and customizable in two different heights.
Nothing beats having refreshments while enjoying your tub, right? Securely attach the Intex PureSpa Cup Holder on the spa wall and keep your juice, water, smoothie or snacks close to you while lazying in your spa.
4. Intex PureSpa Inflatable Bench
While the spa can accommodate 4 people, the rest of your friends will never miss the fun while waiting for their turn to enjoy your spa. Simply attach and lock in place this PureSpa inflatable bench which is contoured to fit around the spa covering a ¼ side of it.
5. Intex PureSpa 5-pc Deluxe Kit Set
Think you will enjoy a pair of spa seats, headrests and a drink tray? Why not get a 5-pc set which includes all of these to make your Intex PureSpa experience more convenient and relaxing.
​​6. Intex PureSpa Multi-colored LED Light
​There's no better way to amp up the mood but to add lights on your spa. Choose between white, teal, blue and purple in a single-color setting or enjoy all in a multi-color mode
Final thoughts:
Indeed, the Intex PureSpa 77-inch Bubble Massage Spa is proving that it is a worthy replacement to hard-side tubs by offering unmatched comfort and durability. Its decent size to accommodate four people may be something a permanent tub has, but the portability sets it apart. It is not only a nice tub in terms of its looks, but its advanced features like the hard-water treatment system, the powerful pumps and the digital control panel offer a premium quality hot tub experience. All of these plus the availability of accessories to enhance convenience and comfort will surely make this affordable hot tub a hot item in the market.