Madonna Lilies (Lilium candidum) have captivated gardeners and flower enthusiasts for centuries with their pristine white flowers and enchanting fragrance. This article will explore this timeless beauty's history, characteristics, and cultivation, providing valuable tips for successfully growing Madonna Lilies in your garden.
Read Next
History and Symbolism
The Madonna Lily has a long and storied history, dating back to ancient civilizations. It's native to the eastern Mediterranean region, where it has been cultivated for over 3,000 years. This revered flower has been associated with purity and innocence, often appearing in religious paintings and texts.
The name "Madonna Lily" is derived from its frequent depiction of the Virgin Mary in Christian art. It's also known as the "White Lily" or "Annunciation Lily," symbolizing the purity and grace of the Virgin Mary.
Description and Identification
The Madonna Lily is a perennial plant belonging to the Liliaceae family. It typically reaches a height of 3 to 4 feet, with a sturdy, straight stem that supports the flowers.
The flowers of the Madonna Lily are its most striking feature. They are large, trumpet-shaped blooms with a pure white color and a captivating fragrance. Each flower has six petals that curve slightly backward, revealing a yellow central band and prominent stamens.
The leaves of the Madonna Lily are lance-shaped, glossy, and dark green in color. They grow in whorls around the stem, providing an attractive backdrop for the stunning flowers.
Growing Season and Natural Habitat
In its natural habitat, the Madonna Lily grows in rocky limestone soils and blooms from late spring to early summer. This early flowering season sets it apart from many other garden lilies, which typically bloom later in the summer.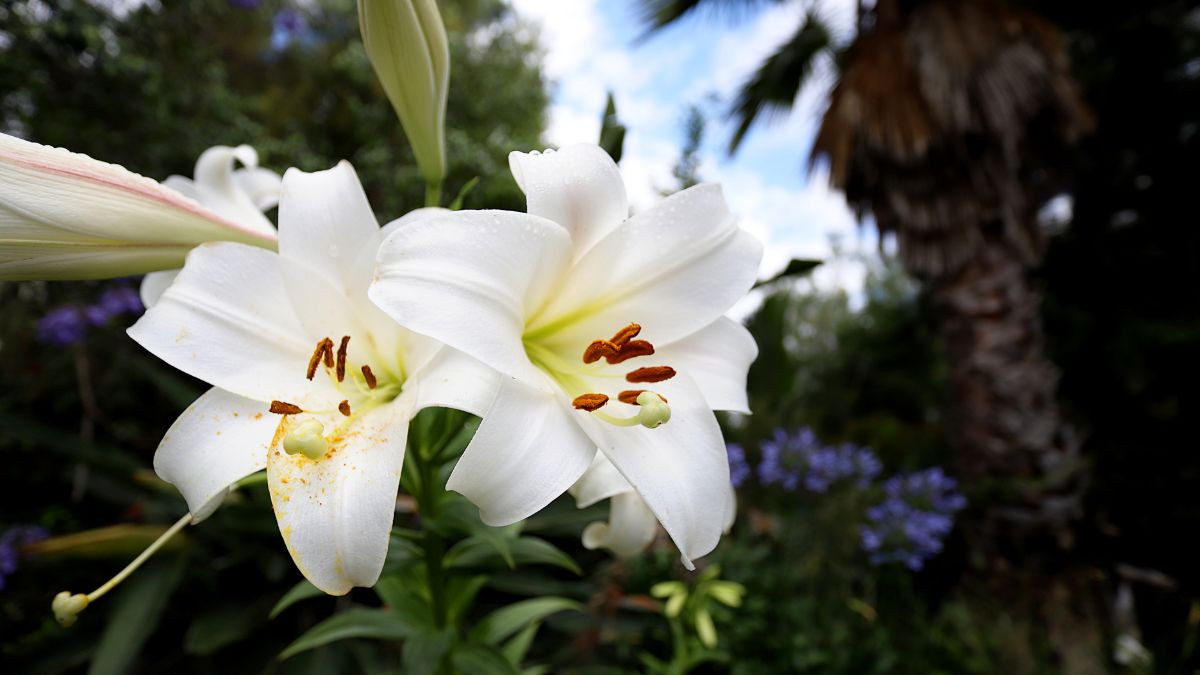 Cultivation and Growing Conditions
Growing Madonna Lilies in your garden can add an elegant touch and exquisite fragrance to your landscape. To successfully cultivate this classic beauty, providing the right growing conditions is essential.
Soil: Madonna Lilies prefer well-draining soil with a slightly alkaline pH. They thrive in rocky or sandy soils, as they are native to limestone-rich regions. You can improve your garden soil by adding lime or crushed limestone to raise the pH level.
Light: These lilies require full sun to part shade, with at least 6 hours of sunlight per day for optimal growth and flowering. Ensure the planting location receives adequate sunlight to promote healthy, vigorous plants.
Water: Madonna Lilies need consistent moisture, especially during the growing season. Water the plants regularly, ensuring the soil remains evenly moist but not waterlogged. Overwatering or poorly draining soil can lead to bulb rot and other issues.
Fertilizer: Apply a balanced, slow-release fertilizer in early spring to support healthy growth and flowering. You can also top-dress the soil with compost or well-rotted manure to provide a natural source of nutrients.
Planting and Care
Planting Madonna Lily bulbs correctly is crucial for successful growth and flowering. Follow these tips for the best results:
Plant bulbs in the fall, about 4 to 6 weeks before the ground freezes. This allows the bulbs to establish roots before winter.
Plant bulbs 3 to 4 inches deep and 9 to 12 inches apart, with the pointed end facing upwards. Madonna Lily bulbs should be planted shallower than other lily varieties, as they require some exposure to sunlight for successful growth.
Water the bulbs thoroughly after planting, and keep the soil consistently moist during the growing season.
Mulch the planting area with a layer of organic material, such as leaf mold or compost, to help retain moisture and suppress weeds. Be cautious not to cover the bulb's growing tip, as this can hinder growth.
After the flowers have faded, remove the spent blooms to prevent seed formation and redirect energy back into the bulb. Allow the foliage to die back naturally as the leaves continue to nourish the bulb for the next growing season.
Madonna Lilies can be susceptible to frost damage in colder climates. Providing winter protection, such as a layer of straw or mulch, can help insulate the bulbs and protect them from freezing temperatures.
Propagation
Madonna Lilies can be propagated through seeds or by scaling the bulb.
Seeds: Collect seeds from ripe seed pods in late summer or early fall. Sow seeds indoors in a well-draining soil mix, maintaining consistent moisture and a temperature of 60-70°F. Seedlings can be transplanted outdoors after the last frost.
Scaling: Carefully remove a few scales from the bulb, ensuring each scale has a small piece of the basal plate attached. Place the scales in a moist, well-draining growing medium and keep them in a cool, dark place until roots and shoots develop. Transplant the new plants outdoors after the last frost.
Pests and Diseases
While Madonna Lilies are relatively hardy, they can be affected by a few pests and diseases.
Red Lily Beetle: These small red beetles can cause significant damage to lilies by feeding on leaves, flowers, and buds. Handpick beetles and larvae from the plants or use an insecticide specifically designed for red lily beetles.
Aphids: Aphids can cause damage to the plant's leaves and stems. Control aphids by using insecticidal soap or introducing natural predators, such as ladybugs, to your garden.
Botrytis Blight: This fungal disease can cause leaves and flowers to develop gray, fuzzy mold. To prevent and control botrytis blight, ensure proper air circulation around the plant, avoid overhead watering, and remove any affected plant material.
Companion Plants
When selecting companion plants for Madonna Lilies, consider plants with similar growing conditions and those that provide a pleasing contrast in color or texture. Some suitable companion plants include:
Delphiniums: These tall, spiky flowers come in a range of blues and purples, contrasting the white Madonna Lily.
Irises: With their unique, sword-like foliage and vibrant flowers, irises can complement the elegant beauty of the Madonna Lily.
Lavender: The silver-gray foliage and purple flowers of lavender create a striking contrast with the pure white Madonna Lilies while also providing a pleasing fragrance.
Roses: Classic pink, red, or yellow garden roses can add color and romance to a garden bed featuring Madonna Lilies.
Conclusion
The Madonna Lily is a classic garden flower that has enchanted generations with its pure white blooms and enchanting fragrance. You can successfully cultivate this timeless beauty in your garden by providing the appropriate growing conditions, planting and care techniques, and selecting suitable companion plants. The elegance and grace of the Madonna Lily are sure to captivate and inspire, making it a cherished addition to any garden landscape.