Product Name: Melnor Flat Soaker Hose
The Melnor flat soaker hose is one of the most flexible garden hoses on the market. Most garden irrigation equipment is made out of rubber, so those hoses are unable to bend at the rate or angle that suits you. This specific flat soaker hose is made out of special "fabric rubber" so you can basically bend it and twist it in whichever way you want. It comes in three sizes, 25, 50 and 75 feet.
Although it is a top-notch soaker hose, knowing its virtues and flaws can be a major factor in mastering the use of it. Another thing for which this Melnor flat soaker hose model is praised is the fact that it's a special "flat" hose. This flatness is a result of the special fabric rubber and you can roll it up and compress it to a very small size.
If you are an avid gardener with lots of equipment or if you have a shortage of space – this characteristic is more than welcome. This innovative and efficient flat soaker hose has some special properties you should take a look at and study the way it functions.
As we are aware of the intricacy, especially for novice gardeners, here is our review of the Melnor flat soaker hose.
Things To Consider Before Buying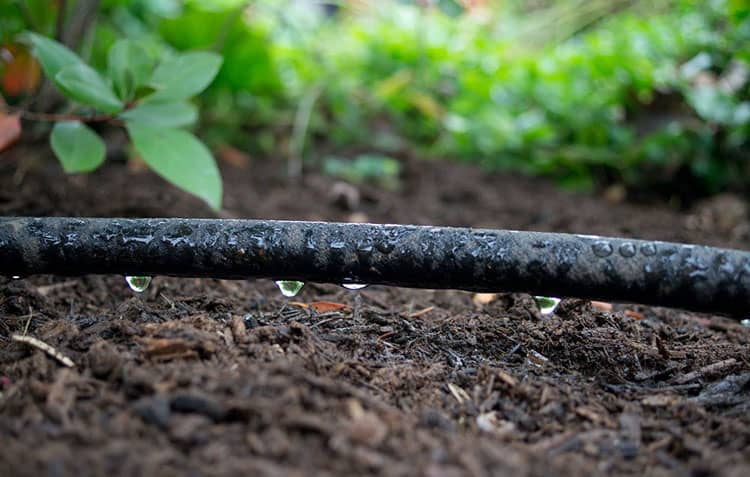 Before you venture out and decide to add this wonderful piece of garden equipment to your tool shed, you have to take a few things into consideration. It's a special hose and thus, it requires special care and attentiveness.
A number of reviewers stated that the water flow can be a little bit intense at times. You might want to secure the hose and make sure that it's either carefully buried under mulch or strapped to the ground. You also have to be careful with the bending while the hose is soaking. But this is simply irrelevant when you take into consideration how little space it takes up when rolled up.
It doesn't require a big budget. The long warranty is bound to take care of any mishaps or unwanted occurrences along the way. It's environmentally friendly and cheap, so basically, the only thing you need to do is employ a little bit of care while handling it and it's good to go.
About The Melnor Brand
If you happen to do research about gardening equipment manufacturers, you'll come to realize that few brands have the history and reputation that Melnor has. Entering their website or just about any page where you can purchase their products.
They are known for their very reasonable prices. It's refreshing to see that a company has its priority with customer service and quality, and not profit. Actually, Melnor is widely regarded as one of the first companies to start producing easily obtainable circular sprinklers in the 1950s.
A lot of reviewers and customers have complimented them as the best company with which you can equip your garden in a matter of hours. Fast delivery is also frequently found in every review.
All in all, Melnor soaker hose might just be the best choice to help you arm your gardening toolbox in the fastest and cheapest way possible. Fast delivery, quality products, and excellent discounts are always a winning combination.
About The Melnor Soaker Hose Material And Its Heat Resistant Properties
Although it's not an actual innovation, very few soaker hoses are made with the flexible, fabric rubber. This is mostly because the regular, cheap rubber costs much less to manufacture and you probably won't notice the difference if you aren't experienced.
Having the option to roll the hose flatly and store it in as little space as possible is a luxury when you have too much equipment and tools. Melnor really made a great decision for choosing to go with this material and you'll be able to capitalize right away.
Another great property of this hybrid rubber is that it is more suitable for extended use in the sun, in comparison to regular rubber models. If you live in a very sunny area, you should find this a very welcome addition.
Degrading hoses can be a nightmare, which you can easily end. Users from California and Texas were especially happy with this addition. Heat usually becomes a great breeding ground for parasites, but this special fabric should pretty much keep you safe from all the unwanted vermin than is usually prone to eating rubber-like substances.
Melnor Soaker Hose - Adaptability And Use
Via: Amazon.com
If you wish to buy this product, check out the details here
In the midst of all the testing and the reviews online, another thing that stands out is that you can maneuver the speeds of the hose in a very efficient manner. Both plants that require water rarely, like cacti and breeds, which have a need for a frequent watering can be successfully grown with the Melnor flat soaker hose. Melnor flat soaker hose is the best option if you want to water your raised bed vegetable garden or deep-water the shrubs and trees.
Something that might seem like a smudge on an excellent product is a complaint about the bending process of the hose. Although the fabric is resilient and sturdy, larger degree bends can cause water locks and blockage. This may be a result of the thickness of the material, so you should be fine unless you get too liberal with the bending.
Extensions at both ends are made of resilient plastic and don't have a tendency to break. If that does happen, the 2-year warranty has you covered and you should get the parts in no time.
Pros and Cons
There are little to no performance issues with this excellent Melnor soaker hose and you really have to nitpick in order to find some flaws. After all, nitpicking is our job and some minor issues did arise during testing and appeared in some reviews.But those flaws are far outweighed by the immense number of advantages and innovative features.re...
What we liked about it
Excellent quality of material that provides resilience to heat, bugs and wear and tear
Due to the sturdy material, the water can flow more easily so you will get more done in less time
Despite most hoses not being subject of long warranties, this flat soaker hose has a 2-year warranty
Aside from the excellent rubber construction, the plastic extensions on both ends are also very resilient
Lightweight at just 2.1 pounds
Dimension of 1.5*11.4*10.5 inches
What irked us
The problem with the bending can sometimes get annoying while maneuvering the hose around the garden.
Although we've listed the water flow as a positive thing, it can get annoying when you only want to water the garden just a little bit.
How To Use The Melnor Soaker Hose
Via: Amazon.com
You can say that this is like every regular soaker hose when it comes to using, and you won't be much wrong. However, there are some things you should keep an eye out for.
Some users have had difficulties with the first few uses. It is because the hose has excellent flow and water can start streaming really fast. This leads to a few accidents in terms of overflowing.
If you just employ a little bit more attentiveness until you get a hang of this soaker hose, you should be completely fine and no overflowing should happen whatsoever.
Other than some wild bends, this soaker hose is very flexible and you can easily wrap it around your whole garden. You can select as many plants as you can for selective watering. The holes in Melnor soaker hose are also larger in comparison to other soaker hoses on the market, so don't be surprised by the sudden and intensive stream of water when you turn the flow on.
All reviewers have agreed that the Melnor flat soaker hose is durable, so you shouldn't think about replacing this one in the near future. A good and cheap option for long-term performance.
The Final Verdict
All in all, Melnor is surely one of the best soaker hoses on the market and at least trying it out should really change your outlook on gardening and taking care of plants in general. Efficiency and durability are the things that first come to mind.
Aside from the characteristics that have become staples of Melnor soaker hoses, many gardeners lauded this soaker hose because of its versatility – both pros and amateurs can use it have it benefit their needs. Light in weight, perfect dimensions, sturdy material, and an amazing flat design makes it a perfect flat soaker hose.
Basically, the existence of this soaker hose erases the problem of having a dilemma whether to buy a beginners' hose or a more expensive one. Both we and the testers liked both the performance and the growth of the plants and trees. The final verdict is a warm recommendation to try the Melnor soaker hose out and have it on the top of your lists.
If you wish to buy this product, check out the details here