There are so many things that you can do with your lawn and backyard. It is an extension of your living space, outside the four corners of your house. You can simply lounge and entertain guests; have fun and play outdoor games like frisbee and volleyball with your kids and, engage in outdoor fitness activities like yoga and circuit training.
It will be difficult to do all of these without a well-maintained lawn. As a rule of thumb, grass should be cut once a week to keep the grass at its optimum height. This can be a tedious process using a regular grass trimmer and a push mower.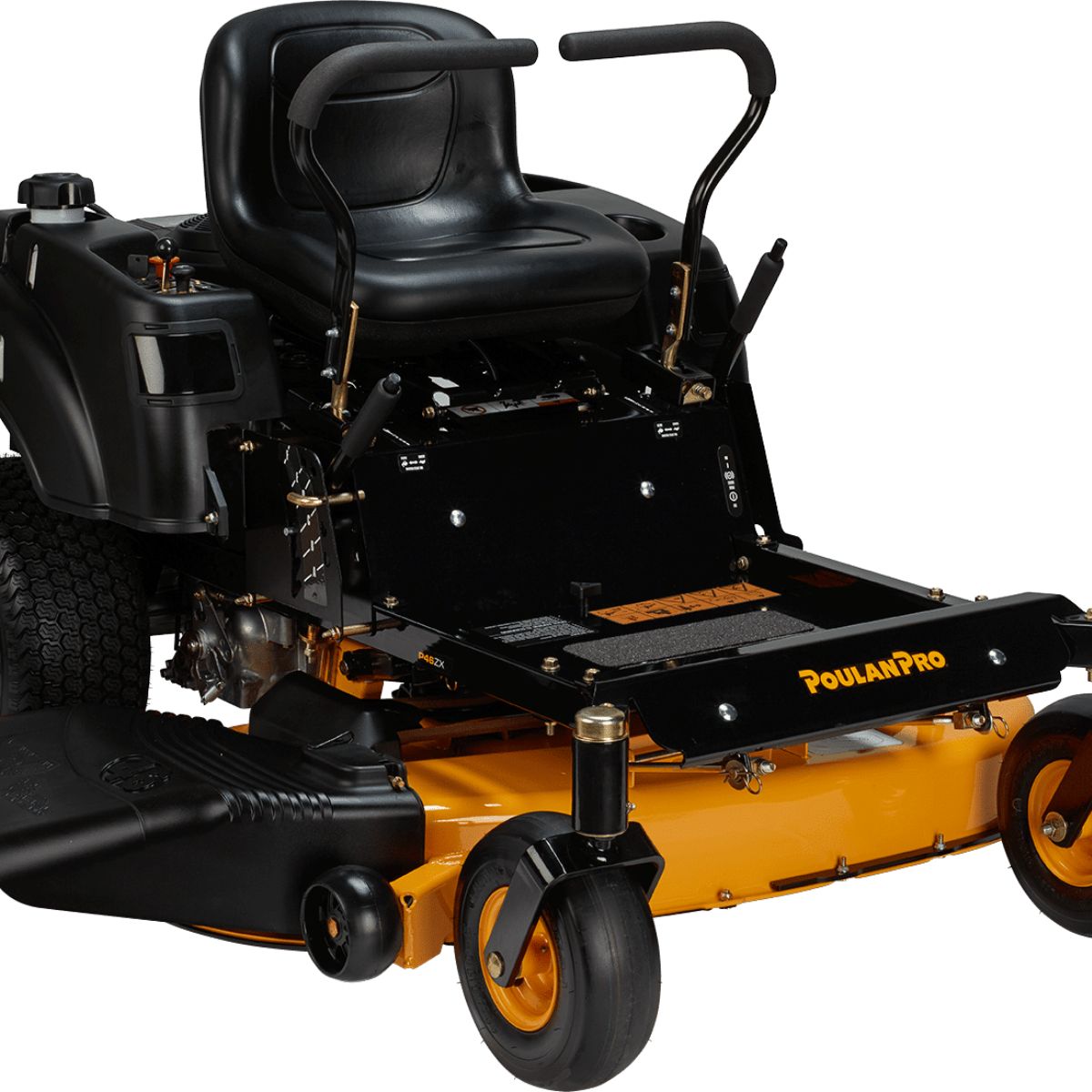 Read Next
Zero-turn mowers can turn a chore into a fun activity for you and the whole family. This article will review one of the top-rated zero-turn mowers today, Poulan Pro P46ZX Briggs V-Twin Pro.
Find out why this particular model stands out and what it's best features that are relevant to your needs.
​About Poulan Pro
Poulan Pro is a trusted American brand since 1946 and was founded by a veteran lumberjack, Claude Poulan. The brand is known to manufacture "remarkably fast, powerful, and innovative one-man chainsaws".
Their product portfolio grew when they started developing and adding high-quality grass trimmers to their roster. It was immediately followed by the launch of their lawnmowers a couple of years later.
One of their latest and noteworthy products is the Poulan Pro P46ZX Briggs V-Twin Pro. It may be entry-level in terms of its size but its design and performance definitely make it a pro. It pulls off the signature black and golden yellow color of the Poulan brand giving its a deluxe look.
This review will highlight the best features of this model and why you should consider it for your yard.
Features and Specifications Of Poulan Pro P46ZX
| Poulan Pro P46ZX Briggs V-Twin Pro | Attributes |
| --- | --- |
| Engine Power | 22 HP Briggs and Stratton V-Twin engine |
| Cutting Width | 46 inches |
| Cutting Height Range | 1.5 to 4 inches |
| Deck Construction | Reinforced steel |
| Transmission | A dual hydrostatic EZT transmission system |
| Speed | Up to 6 mph forward and up to 3 mph in reverse |
| Fuel Capacity | 3.5 gallons |
| Comfort Features | Adjustable high-back seat, dual levers with foam grip |
| Maneuverability | Zero-turn radius with caster wheels |
| Warranty | 3-year limited residential warranty, 1-year limited commercial warranty |
This table provides an overview of the key attributes of the Poulan Pro P46ZX Briggs V-Twin Pro, a popular zero-turn mower. The table highlights the engine power, cutting width, cutting height range, deck construction, transmission, speed, fuel capacity, comfort features, maneuverability, and warranty.
Engine
Poulan Pro P46ZX Briggs V-Twin Pro is equipped with 22HP Briggs & Stratton® twin cylinder Intek Series Engine. Briggs & Stratton has been providing power to millions of engines for manufacturers of lawnmowers, zero-turn mowers, tractors and push mowers around the world since 1960.
It sports an open engine design to allow easy repair and maintenance of the engine. Be worry-free of foreign objects penetrating your engine because of an advanced debris management system.
This technology can prolong the life of your engine by deflecting and rejecting grass and debris build-up on the exterior of the machine, keeping the engine clean. This build-up can cause rusting and overheating if left unchecked.
The engine also starts and runs the Poulan Pro P46ZX like a car – no choking and it is relatively quiet through its ReadyStart for Ride Technology.
It requires a minimum of 85-octane unleaded gasoline. The machine also has a fuel shut-off valve to ensure added safety when the mower is not in use.
Design and Build
Nothing beats premium quality design and a great choice of color. Brands usually have their signature color and most of the time it communicates quality. Just like the black and golden yellow colors of Poulan Pro that is also used for this zero-turn mower. It exudes elegance and gives a premium look and feel.
Poulan Pro P46ZX may be lighter than most of the zero-turn mowers in this category but that does not mean it will also weigh less on the competitive edge. It is 505 lbs., and the base measures 75 x 40 inches. It has 2 front and 2 rear wheels measuring 11 inches and 18 inches, respectively. The weight is just right for a 22Hp engine compared with other brands with a total weight of 800lbs. and an engine output of 25HP.
Zero-turn radius is achieved through its dual hydrostatic drive system and easy-to-operate lap bars which are made more comfortable with foam-padded grips.
All of these are supported by a durable and stable stamped, reinforced frame that also gives the machine a smooth and fast ride of up to 6.5MPH. The 15" vinyl, the fully-padded mid-back seat provides comfort and ease during longer mowing hours.
Other built-in accessories that provide comfort and extra productivity are the water hose connector for easy deck cleaning and a built-in cup holder.
Cutting Deck
The cutting deck measures 46" welded Steelguard, reinforced steel deck. With a 46" cutting deck, you can easily go through obstacles like narrow passages between trees and shrubs. It also comes with 3 anti-scalp wheels to ensure that the cut is clean and damage-free even on uneven terrains.
The cutting deck also features a high-performance air induction technology that allows the machine to come up with excellent cut quality and efficient bagging and grass dispersal even during heavy conditions.
Deck Adjustment
With its spring-assisted deck lift, adjusting the grass-cutting height is easy, smooth, and simple. The minimum cutting height of Poulan Pro P46ZX is 1.5 inches while the maximum is 5 inches, giving you the freedom to choose what looks best for the type of grass you have on your lawn.
Maneuverability
Poulan Pro P46ZX has a dial wheel hydro transmission that allows the driver to easily navigate forward, backward, left, and right with extensive maneuverability. Every turn is guaranteed to have a zero turn radius with this feature.
In times of engine trouble, there are bypass linkages at the rear bottom of the mower that you can disengage to push the mower to the desired location for service.
Comfort
There are many factors that contribute to the comfort level of driving a zero-turn mower. The first would be the seat. Too high and the driver becomes too sweaty, too low and the driver complains of neck strain. A 15" height for a seat is just right especially since the machine rides smoothly because of its reinforced deck. The seat is also adjustable to suit the preference of the user.
Comfort also comes in the easy clean-up of the machine. Access the cutting deck for cleaning and service purposes quickly with a removable footplate. Cleaning is very important prior to storage so a built-in water hose connector can be used to help you get rid of dirt and grass build-up inside the cutting deck.
Convenient and intuitive controls like throttle, key switch, and electric switch engagement are also within your reach and are placed in a single location for easy access. A digital monitor is also a service and maintenance reminder.
Productivity
Shorten your mowing time with P46ZX and mow between 2.2 acres to 2.8 acres per hour. Its top speed of 6.5HP and the ideal cutting deck width makes it easy for users to maneuver and go around and between plants, trees, and bushes.
This model is highly recommended for users with 2 acres of lawn and below to prolong its use and discourage overuse. The 3.5 US gallon gasoline tank is also a good size for its power and coverage.
Accessories
The brand offers three types of blades for your Poulan Pro P46ZX zero-turn mower – a high-lift blade, a mulching blade, and a 4-in-1 blade. A 4-in-1 blade is a crosscut blade for quick shredding and mulching, promoting a healthy cut for your lawn.
Replacement belts can also be ordered easily on the brand's website and their other distributors.
Is it Worth It?
Choosing a zero-turn mower for home use can be a hit or miss without proper knowledge of the things that you need, the things that are nice to have, and the things that you can simply add on as an accessory later on. Poulan Pro P46ZX zero-turn mower is a promising machine that provides all the basic necessities and a couple of accessories for comfortability.
Its average-size cutting deck provides users with a mid-range residential riding mower that can easily be rolled into your gate and can be navigated in between trees in your backyard. The cutting deck size of 46 inches is a decent choice for residential use and the 22HP engine output is not lacking in power and in delivering good performance.
It is relatively quieter than the other zero-turn mowers since most sport 25HP engines and that's a plus for this model.
The anti-scalp wheels built-in on the deck are also a highlight of this XTR. It supports the deck by keeping it from going too low or too high on uneven terrains.
The three-year warranty on the machine is industry-standard but the 10-year limited warranty for the reinforced deck adds more value to this model and gives the users buying confidence.
Users of any level of experience in using a zero-turn mower will benefit from the comprehensive instructional videos of Poulan Pro that showcase the features and basic maintenance procedures for their zero-turn mowers.
A few areas for improvement are noticeable but acceptable like the absence of headlights and having only 2 blades for the cutting deck. Some people may also find it at a higher price point but considering that it already has a built-in side bag and mulching kit, it is already priced fair and practical for its price.
Poulan Pro P46ZX is a practical option for those who are looking for a bang for the buck zero turn mower for residential use.