Nitrogen is an essential nutrient for plant growth, but too much nitrogen in the soil can cause problems such as reduced yields, plant stress, and environmental pollution. If you find that your soil has too much nitrogen, there are several steps you can take to reduce the levels of this nutrient. In this article, we'll discuss how to reduce nitrogen in the soil.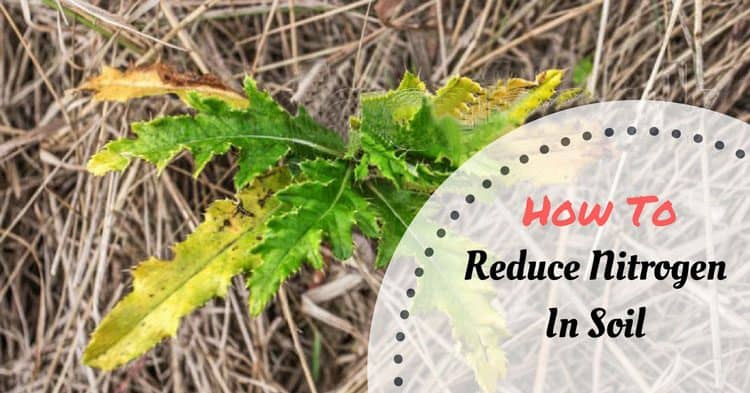 Read Next
Signs Of Too Much Nitrogen
The most noticeable sign visible to the naked eye that you have an overabundance of nitrogen in your soil is beautiful, lush, green plants with very few or unreasonably small fruits or flowers. You may also find some leaves wilting, turning yellow to brown, and looking burnt.
Test The Soil
To be sure, though, you should test the soil. You can use home testing kits or send soil samples to a lab. Once you have the results, you'll know how to amend your soil to the proper levels. If you have too much nitrogen, follow these guidelines to help your garden become a welcoming haven to flower and vegetable growth.
It is not recommended to make any of these modifications without a proper soil test, though, to ensure you are doing the correct thing for the health of your soil.
Choose Nitrogen Absorbing Plants
Plant cover crops: Another way to reduce nitrogen in the soil is to plant cover crops. Cover crops are grown specifically to improve soil health and fertility. Leguminous cover crops, such as clover and vetch, are especially effective at reducing nitrogen levels in the soil. These plants can fix nitrogen from the air and store it in their roots, which helps to reduce the amount of nitrogen available in the soil for other plants to use.
Add More Mulch
Add carbon-rich organic matter: One of the most effective ways to reduce nitrogen in the soil is to add organic matter that is high in carbon. Examples of carbon-rich organic matter include sawdust, shredded paper, straw, and dried leaves.
When added to soil, these materials help to balance out the nitrogen levels by absorbing excess nitrogen and preventing it from being taken up by plants. Ensure organic matter is incorporated into the soil thoroughly to ensure even distribution.
Add More Water
Water your plants deeply: Nitrogen is a highly soluble nutrient that can easily be washed out of the soil by heavy rain or overwatering. To help prevent nitrogen runoff, water your plants deeply and infrequently rather than giving them frequent shallow watering. This will encourage deeper root growth and help retain soil nutrients.
Do Not Fertilize
Avoid high-nitrogen fertilizers: If you're trying to reduce nitrogen levels in soil, it's important to avoid using high-nitrogen fertilizers. Instead, opt for fertilizers that are lower in nitrogen, such as those made from bone meal, blood meal, or rock phosphate. These fertilizers release nutrients slowly over time, which helps to prevent over-fertilization and excess nitrogen buildup.
Add Compost
Use compost: Composting is an excellent way to add organic matter to the soil while also reducing nitrogen levels. Composting helps to break down organic matter, which releases nutrients slowly and evenly into the soil. Using compost instead of high-nitrogen fertilizers can help maintain a healthy balance of nutrients in the soil and prevent excess nitrogen buildup.
Do Nothing
This may sound counter-intuitive; however, just letting your garden grow is always possible. Let the plants already there soak up as much nitrogen as possible and begin anew the following year after a soil test. This means you will not have a great crop for the current season, but often self-remediation is all a garden needs to get on the right path again.
Whichever method you choose, watch how the plant foliage changes and test your soil again before planting a crop you plan to harvest.
Conclusion
In summary, reducing nitrogen levels in soil can be achieved by adding carbon-rich organic matter, planting cover crops, avoiding high-nitrogen fertilizers, using compost, and watering plants deeply. By taking these steps, you can help to maintain a healthy balance of nutrients in your soil and promote optimal plant growth and health.
Resources