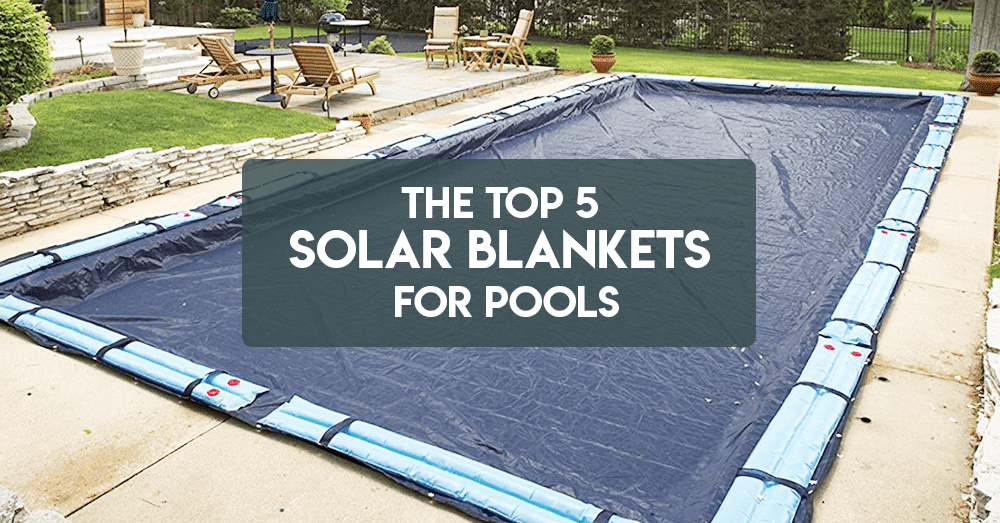 Best Solar Pool Cover in 2021: Reviews of Top 5 Solar Blankets For Pools
It has been a long day at the office. You have copious amounts of responsibility that constantly weigh you down. But the small strain of hope that gets you through the day is when you get home and jump into your pool as the relaxing chaser to your day.
You get home and you go to jump into the pool…you jump…and….IT IS BITTER COLD! Instead of a relaxing swim, you now have hypothermia.
It is important to enjoy your "you" time at the end of the day. Which is why we have come up with the top 5 solar blankets for pools, keep debris out, and reduces chemical consumption.
When it comes to solar covers there are a few things that you need to keep in mind. The first is the shape of your pool. The first item in our top solar blankets for pools list is the Amerimerc's Blue Solar Cover, which is a round blanket made for above ground pools. At 12 feet, this is the smallest cover in their product line.
Amerimerc has been around the block as far as pool equipment and manufacturing goes. They make fantastic solar and pool covers that can be used for a wide variety of pools. They are your "garden variety" type manufacturer of pool equipment.
If you are looking for a specialty product, you may need to look elsewhere. Amerimerc makes a middle of the road general product that you will be happy with.
The reason why you will be happy with your product is that they have done the research when it comes to solar covers. Their science speaks for itself.
The science behind their patented bubble technology is that with a blue plastic cover, the blue color will absorb the UV rays while the plastic will insulate the water, naturally heating it all day while you are at work.
The science has been proven time and again. You can take a look at this following video.
With any pool cover, it is important to know what kind of cover that you need. An important distinction with any purchase of a pool cover is knowing if you are buying for an above ground or in-ground pool. Another important distinction that should be made is the shape of your pool.
Some manufacturers will specialize in certain types of covers (i.e. aboveground and inground). So it is important to do some further research into a company to see what kind of cover they specialize in. Remember…not all covers are made equal.
You can also check out our Solar 800 Solar Cover review.
Amerimerc has been in the pool industry for over 20 years, and provide some of the best pool covers on the market, and they provide some of the best pool products in the industry.
Their pool covers have been noted for being among the lightest, meaning that one person can easily take off and put the cover on a pool of any size. If you have the intention to buy one, check it here.
Another bonus of this pool cover is that it will stay on your pool even if there is wind. Because it is textured on the bottom with bubble-wrap like bubbles, this means that it "grips" the water, so it won't go flying on those especially windy days.
Finally, this pool cover is an absolute deal. This pool cover is ideal for anyone with an above ground pool and who is operating on a modest budget, but for those with an in-ground pool, who don't mind spending a pretty penny, your cover is coming up.
#2 Blue Wave's Magni-Clear
Another item in our top 5 solar blankets for pools is the Blue Wave; it is another company that has been in the pool business for a significant amount of time. During that time, they discovered something; that if they made their pool covers clear the water in the pool heats up significantly faster.
Think about it. If you have an umbrella that does not allow the sun to get through on a sunny day, will you be hot? No! That is the point of having an umbrella on a sunny (or rainy) day.
Nothing, rain or UV rays, will get through. Thus, protecting whatever is underneath it.
However, let's say that you have an umbrella that is clear. What do you think will happen? Basically, what happens is that you boil because it is like being in a greenhouse or a microwave.
The clear plastic lets in UV rays and traps heat within. Therefore, Blue Wave thought that they could do the same thing with pool covers.
They thought, "If we make pool covers that don't easily let in sun and trap heat, then pools will continue to be cold, algae will continue to grow, and people will be unsatisfied with our products".
They have this picture to demonstrate the effectiveness of their pool cover:
The chart above is very helpful when it comes to making the proper purchase for your pool. They are trying to do some of your homework for you when it comes to making the right buy.
It is important that you buy a solar cover that will heat up your pool to an adequate temperature and not overheat your pool.
It is a real bummer to jump into a pool that is too hot to swim in. Therefore, buying a cover that fits the proportions of your pool will be an important factor in making your purchase.
Because their pool cover is clear, this means that the Sun is like a magnifying glass on your water.
They argue that the blue cover on most pool covers only heats up the top 2 feet of water. But with a clear solar cover, you effectively double or triple the heat distribution through your pool.
Plus, those geniuses at Blue Wave have done the math for you, so you can easily figure out how big of a cover you really need. They offer covers for the round above ground pool and the Olympic sized in-ground pool, alike.
While this pool cover is effective at heating up even the biggest pool it is not cheap. This cover is among the most expensive of the covers and is one of the heaviest of the covers, requiring 2 or more people to lay out on the water. Get it here.
The silver lining on the weight is that this cover won't float away during windy storms and will be highly effective at maintaining chemical levels. Definitely a good buy for anyone with an extended budget.
#3. The Doheny's BlueBlue Solar Cover
Don't be alarmed, but this solar cover is not for the faint of heart. This cover is for your bigger pools and for pools that are not straight-lined. Meaning that if you have a curve in your pool, this is the cover for you.
All you have to do is send Doheny's a picture of your pool and its dimensions and they will send you a cover that meets your needs.
Their covers come in three different colors depending on the depth of your pool and varying budget restrictions. However, these covers all come with incredible warranties that the other companies listed here simply can't beat. With any of these covers, you receive at least a 6-year warranty.
The prices vary depending on color and size. For the blue you will pay around £109.99 for the blue/clear you will pay around £119.99 and for the all clear you will pay around £134.99 and up.
However, while this is a quality pool cover, as you can see by this woman, the installation of such a cover is not like throwing a blanket on your bed. The installation cart is obviously going to be a necessity here, but certainly not laborious.
Any of these covers are great to have and own because they will last you a long time and they are built with the utmost quality, making sure that you get years and years of use out of them. And while at the top of the price point list, this product is sure to please
Doheny's BlueBlue or BlueClear or ClearClear covers are a great investment. They come with a phenomenal warranty and are a quality product. While Doheny's does focus on more of the bigger pools, this pool cover will certainly do the trick and heat up your larger pool to just the right temperature.
#4. The Poolcenter Swimming Pool Solar Blanket
Poolcenter has done a significant amount of work to keep up in this industry. They are a younger company looking to make a name for themselves, and here they have certainly done that. In addition to this 12-foot solar blanket designed for above and belowground pools, Poolcenter has a patented Solar Reel, but we will get to that in a second.
As you can see, the indented bubbles on this blanket look a little different than the rest of the blankets listed here. That is because Poolcenter has designed these blankets to give you the best possible yield on the Sun's heat. In addition, this blanket lets no water evaporation through, leaving you with extra water and chemical savings.
Now on to one of the best inventions in the pool industry in a long time. The Solar Reel is a patented invention that takes the work out of the installation of your solar blanket. All you have to do is mount the reel and attach the blanket and there you go! Once you are ready to swim, you reel in the solar blanket, and when you are done, you put it back.
This has taken a once laborious task and made it a joy. You cannot go wrong with either the blanket or the reel. They are sold separately. But with this high-quality blanket retailing for only £39.99 the reel becomes a little more affordable. The reel retails at around £184.99.
While on the spendy side, it is sure to save you time and effort when it comes time to roll out and roll in that solar blanket.
One way to save on the effort of the installation of this solar blanket is to purchase what you see in this picture. It is adaptable for above-ground pools only. This is an attachment that is sold by a variety of pool equipment manufacturers and makes the installation and reinstallation of your solar cover an absolute breeze.
Since there are more multiple patents of the same idea on the market we will talk about it in general terms. One example is found here and another is here.
Solar cover reels can really save on time, energy, and space. They can retail for a wide variety of prices, but a good rule of thumb is that the cost is a good reflection of quality. When it comes to this kind of accessory, it is important to know what you need and what you are willing to pay for it.
In this case, if you can afford one, go buy one. But if you can't none of the solar blankets listed here will be too hard to install.
#5. The Leslie's 7-Year Round Solar Blanket
This solar blanket is ideal for those irregular swimming pools. Whether your pool is curved, angled, or just plain strange Leslie's can make it for you. They make a wide variety of pool covers at a wide variety of costs, but this is by far one of their greatest products.
Their pool covers are 100% clear, and their solar covers are truly that clear. You see, the clearer the solar cover the more rays get through to heat your water. So while some companies say they have the clearest solar cover, if it is even a little bit cloudy you are not getting your money's worth. However, with Leslie's, you are getting what you pay for.
Leslie's does a good job at making products that are quality while keeping the price point at an average. The weight of this solar cover is not that would make you throw out your back when trying to move it or install it. They make a simple lightweight product that will do exactly what it is made to do.
Having one of the more unique textures, the cone-like bubbles on this blanket shoot the Sun's rays deep down inside your pool, offering maximum penetration in the depths of your pool. This cover will be yours for a very modest price of £64.99 and Leslie's offers free shipping.
They regularly have sale's going on, which make them a great company to monitor when the hot summer season rolls around. This pool cover is available in 15 different sizes and has a 7-year warranty. Making this pool cover one of the most ideal on the market.
Conclusion
We hope that you now know a little more about pool covers and the effect that they can have on your pool. Solar covers can be a useful investment to keep water from evaporating, maintain or increase the overall temperature of your pool, and/or keep chemicals from being wasted. As well as utilizing the cleansing power of the sun.
Hopefully, now you know which pool-cover you will choose as the hot summer months approach.
We hope you really enjoyed our "Top 5 Solar Blankets For Pools" list. Our goal as always is to inform you of the best products that are out there and help you make the most informed decision. If we missed a solar pool cover that you were hoping we would cover, please leave a comment for us, so that we can put it in the next article that we write.
Tell us in the comments what you thought and if you thought that it was really great, why not share this article with your other friends? We would certainly appreciate it.