The Turk's Cap Lily (Lilium superbum) is a captivating wildflower native to North America, renowned for its striking appearance and grace. In this article, we'll delve into the beauty and characteristics of this remarkable plant, discussing its natural habitat, growth habits, and cultivation tips for adding this vibrant wildflower to your garden.
Read Next
Description and Identification
The Turk's Cap Lily, a member of the Liliaceae family, is a perennial wildflower that can reach heights of 3 to 7 feet. Its flowers are characterized by their vivid orange color, adorned with reddish-brown spots, and downward-facing, recurved petals. These petals create the distinct "Turk's cap" shape that lends the plant its name.
The flowers, measuring up to 4 inches across, typically have six petals and are arranged in clusters at the top of the tall, sturdy stem. The plant's leaves are lance-shaped, dark green, and grow in whorls around the stem.
Natural Habitat and Distribution
The Turk's Cap Lily is native to the eastern United States, ranging from New Hampshire to Florida and extending west to Missouri and Arkansas. This wildflower thrives in moist, well-drained soils and can often be found in meadows, woodland edges, and along streams or rivers.
In the wild, the Turk's Cap Lily typically blooms from June to August, with its vibrant flowers attracting a variety of pollinators, including hummingbirds and butterflies.
Cultivation and Growing Conditions
Growing the Turk's Cap Lily in your garden can be a rewarding experience, as this wildflower adds a touch of vibrant color and natural beauty to any landscape. To successfully cultivate this plant, providing the right growing conditions is essential.
Soil
The Turk's Cap Lily prefers moist, well-drained soil that is rich in organic matter. Adding compost or well-rotted manure to your garden bed can help improve the soil's structure and nutrient content, ensuring the plant has the necessary foundation for healthy growth.
Light
This wildflower does best in full sun to partial shade. Although it can tolerate a range of light conditions, providing ample sunlight will help promote vigorous growth and abundant flowering.
Water
The Turk's Cap Lily requires consistent moisture to thrive, especially during the growing season. Water the plant regularly, ensuring the soil remains evenly moist but not waterlogged. Mulching the soil around the plant can help retain moisture and suppress weeds.
Fertilizer
To encourage healthy growth and flowering, apply a balanced, slow-release fertilizer in the spring. Alternatively, you can top-dress the soil with compost or well-rotted manure to provide a natural source of nutrients.
Propagation Of Turk's Cap Lily
The Turk's Cap Lily can be propagated through seeds, bulbils, or the division of the bulb.
Seeds: Collect seeds from ripe seed pods in the fall, and store them in a cool, dry place until ready to plant. Sow seeds indoors in late winter or early spring using a well-draining soil mix. Keep the soil moist and maintain a consistent temperature of 60-70°F. Seedlings can be transplanted outdoors once the threat of frost has passed.
Bulbils: Some Turk's Cap Lily plants produce small bulbils in the leaf axils. These can be carefully removed and planted in pots filled with well-draining soil mix. Once the bulbils have developed roots and shoots, they can be transplanted into the garden.
Division: Mature bulbs can be carefully dug up and divided in the fall, ensuring each section has a healthy portion of the bulb and roots. Replant the divided sections immediately, spacing them 18-24 inches apart and providing the necessary growing conditions.
Pests and Diseases
The Turk's Cap Lily is relatively resistant to pests and diseases, but it can occasionally be affected by certain issues.
Aphids: These small, sap-sucking insects can cause damage to the plant's leaves and stems. To control aphids, use insecticidal soap or introduce natural predators, such as ladybugs, to your garden.
Lily Leaf Beetle: This red beetle can cause significant damage to lilies by feeding on the leaves, flowers, and buds. Handpick beetles and larvae from the plant or use an insecticide specifically designed for lily leaf beetles.
Botrytis Blight: This fungal disease can cause the leaves and flowers to develop gray, fuzzy mold. To prevent and control this disease, ensure proper air circulation around the plant, avoid overhead watering, and remove any affected plant material.
Conservation and Environmental Importance
The Turk's Cap Lily plays an essential role in its native ecosystem, attracting pollinators such as hummingbirds, butterflies, and bees. By planting this wildflower in your garden, you can contribute to the conservation of native plants and support local biodiversity.
As the Turk's Cap Lily thrives in moist, well-drained soils, it can also help prevent soil erosion in areas prone to water runoff, such as slopes or stream banks.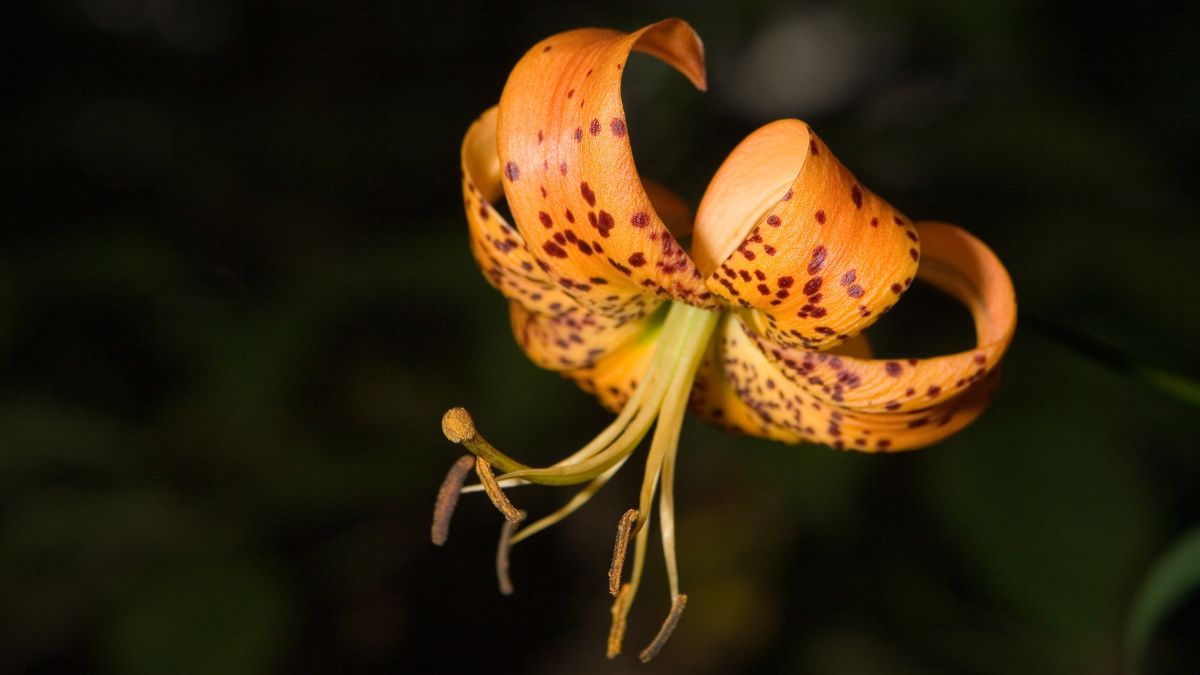 Companion Plants
To create a visually appealing and ecologically diverse garden, consider planting the Turk's Cap Lily alongside other native wildflowers or plants with similar growing conditions. Some suitable companion plants include:
Swamp Milkweed (Asclepias incarnata): This native perennial attracts butterflies and provides a valuable nectar source for pollinators.
Joe-Pye Weed (Eutrochium purpureum): With its tall, sturdy stems and large clusters of mauve flowers. Joe-Pye Weed complements the Turk's Cap Lily and attracts pollinators.
Cardinal Flower (Lobelia cardinalis): This stunning red wildflower prefers moist soil and provides a striking contrast to the orange flowers of the Turk's Cap Lily.
New York Ironweed (Vernonia noveboracensis): This tall, native perennial produces clusters of purple flowers that pair well with the Turk's Cap Lily and attract pollinators.
Conclusion
The Turk's Cap Lily is a breathtaking wildflower that can add a touch of natural beauty and vibrant color to your garden. You can create a stunning and ecologically diverse landscape by understanding its growth habits, providing the appropriate growing conditions, and pairing it with suitable companion plants.
Embrace the elegance and charm of the Turk's Cap Lily, and support local biodiversity by incorporating this native wildflower into your garden.