Do you have a sunny courtyard, or a wall herb garden idea? Or a small kitchen garden that needs more space for planting?
Recycle, upcycle, and turn a wall space into a dream herb garden. Pop out, and pick fresh herbs to cook with. Pick fresh mint for those summer ice teas, basil for a tomato, and mozzarella salad, Italian style.
It really couldn't be easier. By using the vertical space, you will be able to triple, or quadruple, your garden size.
You don't need a lot of expensive equipment, just a little ingenuity, and planning, and your fresh herbs will flourish, filling the air with lavender, rosemary, and maybe a few cherry tomatoes, too.
Read Next
DIY Wall Herb Garden Ideas For You
Here are the 12 latest and trendy DIY ideas for you to develop a great wall herb garden:
1. Stylish French Vintage Bucket Herb Garden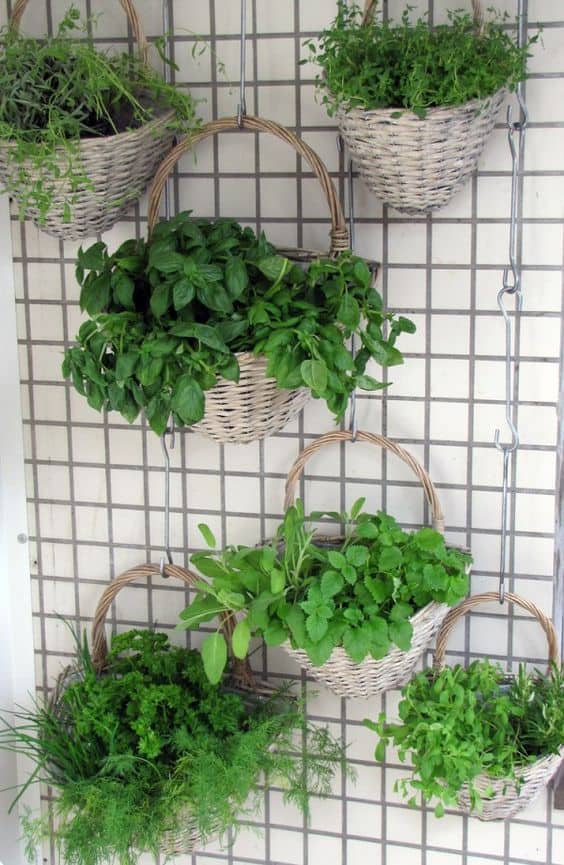 Via: theherbalacademy.com
The bouquet of scents will fill the air, and look so pretty too. You will need to source metal buckets to use as planters. Simply attach hooks, nails, or a hanging bracket to the wall – at different heights – spaced evenly apart.
Your detachable buckets will be easy to use for planting and add a touch of style to an outdoor patio, kitchen garden, or in your garden, in general. Le Petit Francais!
2. Eco-Friendly Hanging Soda – Pop Up Pop Garden!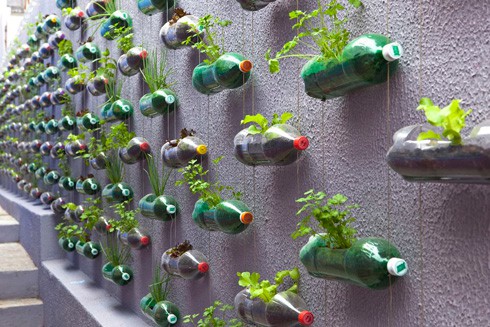 Via: livenedup.com
This wall herb garden could be made in a few hours. All you need to do is thread a fine nylon rope, or some heavy-duty, very thick, twine, through your soda bottles.
They will hang vertically. Construction will be a breeze, you simply use a sharp pair of kitchen scissors, or a craft blade, to cut out the top space of your soda planters.
You will need to puncture a few holes, to thread the rope, which will be knotted under each bottle. Attach to brackets, or hooks, and fill with compost and your seedlings! A fun project for children too! A wonderful way to recycle plastic, and look after the Earth. Your Green wall herb garden will be a delightful creation, and maximize your wall space!
3. DIY Hanging Planter Shelves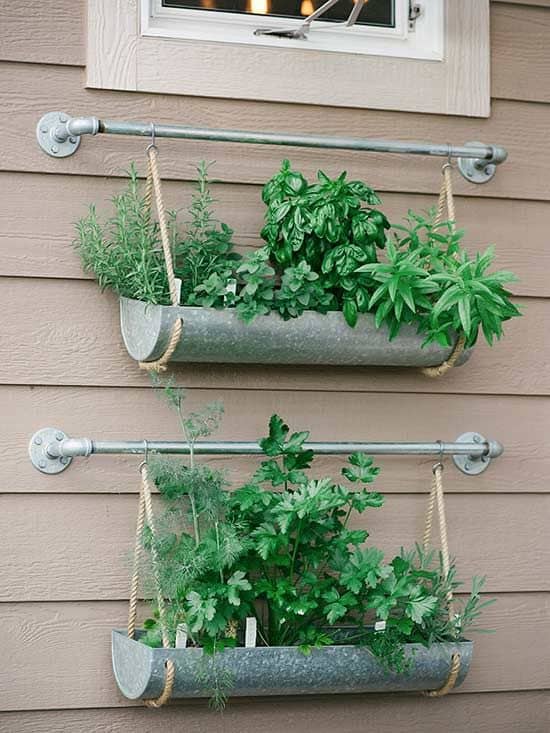 Via: suburban-bees.com
A great weekend project for anyone, and a wonderful wall feature, planter shelves are easy to make. You will need three, or four, pieces of timber. If you have the tools, you can cut the holes, but, perhaps a local hardware shop, could assist you with this job.
You simply place your plastic pots into the hole, and you will have an instant herb garden! The planter shelves will need to be threaded with rope, and attached to a wall, hang under an eave, or you can attach brackets to a wall.
4. Free Standing Stepped Planter Bench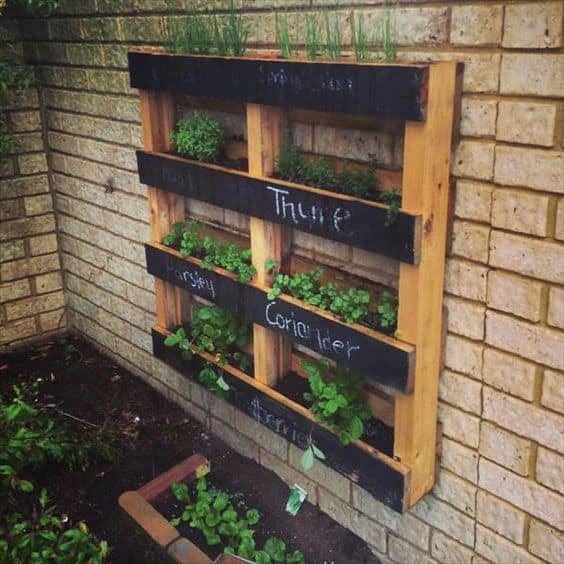 Via: 99pallets.com
While it may need a little more DIY to make a stepped, garden, it really will be worth it, in the long run. You will need a little more timber, and you will need to weatherproof your wood, a stepped garden will give you a lot of extra space!
You can place heavier planters on this more sturdy feature! Imagine pots of lavender, Rosemary, and your antique tomatoes! Wonderful!
5. A- Frame Style Freestanding Herb Wall
Via: ellasinspiration.se
The type of design which you choose for your herb wall also depends on the amount of space, and light, you have. For a smaller space, where there is less natural light, you may want to think about the A-Frame style.
This design maximizes the light to all plants – if the light is limited, you need to remember that plants on a shelf will have less exposure to sunlight. With a few DIY tips and some timber, your A-frame wall herb garden could be made on a weekend. Simply fill your shelves with seedlings, and enjoy picking your very own fresh produce.
6. The Stacked Pot Herb Garden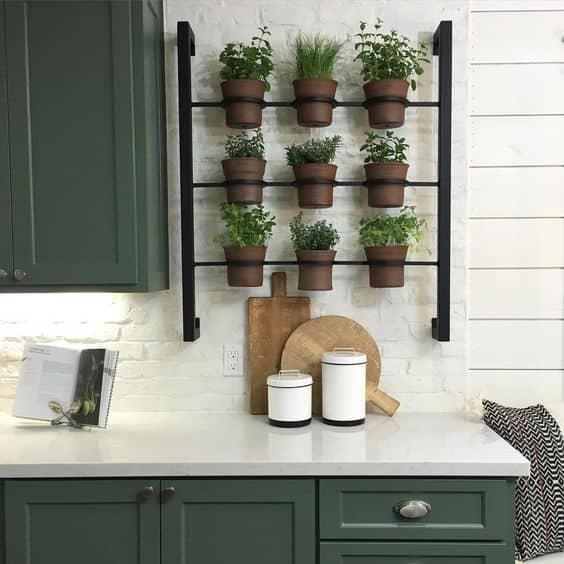 Via: housebeautiful.com
This is a delight! Not technically a walled garden, but it works on the same principles. You're maximizing vertical planting space! You will need to buy about 5 pots, of graduating size. They are placed on top of each other and secured with a rod.
Remember to be careful when drilling through terra cotta, or glazed ceramic pots, as you do not want your pot to crack! The stacked pots can be a beautiful free-standing, herb garden! This design also maximizes the natural, exposure, to sunlight. What a beautiful and clever idea for a herb wall garden!
7. Hanging Herb Planters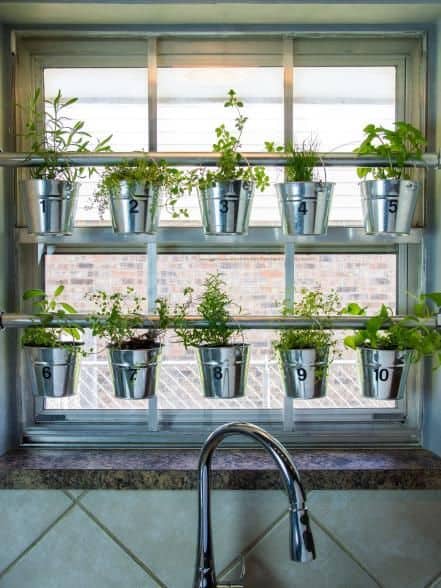 Via: hgtv.com
You can also hang pots, two or three, from a bracket. Simply drill through the base and link your pots with nylon rope, or heavy-duty twine. Remember not to overload the bracket, to choose those that are too big. Simply fill with herbs, and enjoy the wonder of your instant kitchen garden.
This is a very simple design, and the only drawback is that you will not have a lot of planting space. However it's very simple to do, and if you have a small space then it will be perfect.
8. Build A Herb Ladder with Vintage Planters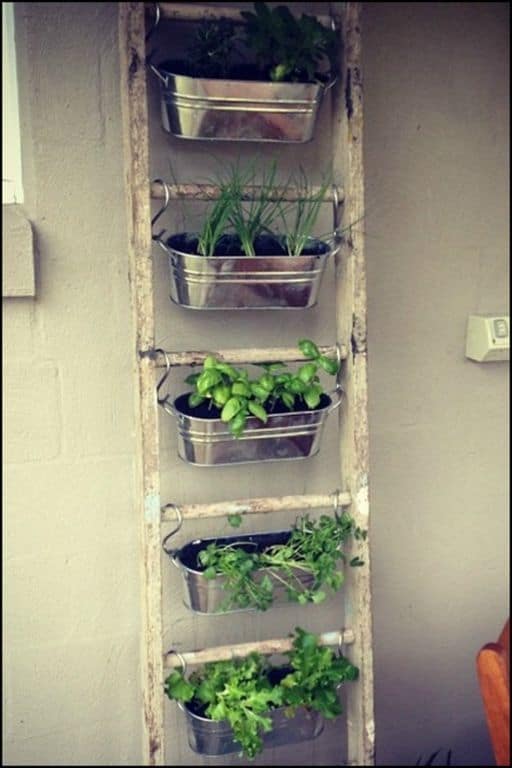 Via: theownerbuildernetwork.co
Or upcycle an old ladder, which you no longer use. This wall herb garden is very trendy, and an attractive feature! Especially when you use vintage, metal planters. They need to be able to hang from the ladder-style rungs, so be sure that the planters are not too big, or they will, in time, break.
Remember that the wat​​er weight of soil is much heavier. This is stylish and will add a touch of vintage romance to your herb garden.
9. Chalk Paint Herb Wall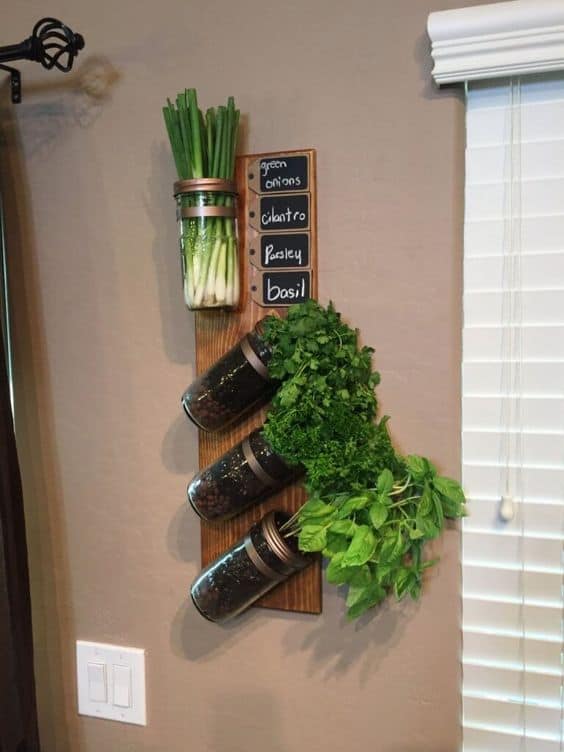 Via: etsy.com
What fun and flair! Add a touch of fun to your herb wall garden by painting with blackboard chalk paint!
Basil! Rosemary! Lavender! Rocket!
It's so creative too! Liven up a kitchen garden with a personal touch, or inspirational quote!
Attach brackets to the wall, and hang your planters – enjoy the fruits of your labor, so to speak. Fresh herbs to add to summer salads! Spring onions! Sprigs of mint! Vintage metal planters look elegant, too, against the darker background!
10. Pallet Herb Wall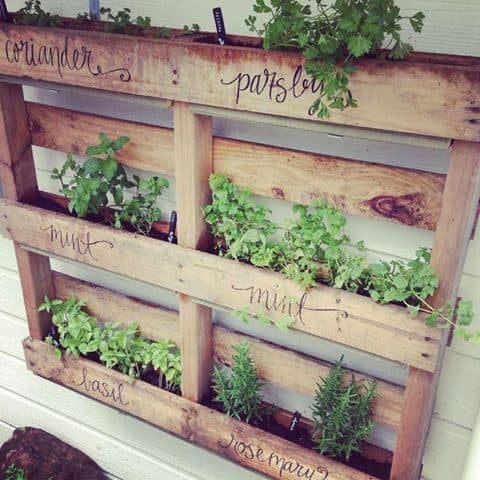 Yes! The pallets can be used to create an amazing herb wall garden! Simply use the pallet as a double frame, and be sure to use some extra pallet wood, to create planting boxes. They will need drainage holes, and to be attached securely to your wall. You can also place small pots inside.
Get creative with a marker pen, and add a touch of class, by writing the names of your herbs in a pretty font. It's a great way to recycle pallets and super green for the environment!
11. Herb Jar Garden
Via: camillestyles.com
Recycle your glass jars, and create a super green, wall garden. The jars will need to stay secure – you can use small wooden rods, to place the jars on, or, attach them to a panel. It's a bit more DIY but you will have a showpiece herb garden. By placing the jars at an angle you will give the plants more vertical space.
It will be very easy too, to see if the soil is dry. Remember that planting in glass means that you will need to use a planting material that has more drainage, than a regular pot.
12. Angled Wooden Wall Planter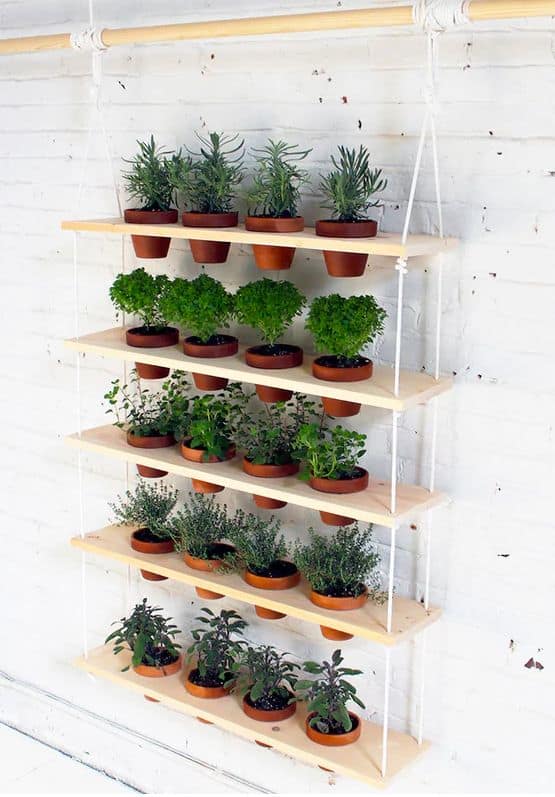 Via: homesteading.com
You will need to drill into your wall to attach this walled garden, but it will provide you with a lot of space! An angled wooden wall unit will give your plants more space, and the wooden "pockets" where you can place small pots, allow the plants more exposure to sunlight.
It's a clever design concept, and similar to a window box, but with a lot more room. Fill the wall planter with your favorites and enjoy the abundance of fresh herbs, at your fingertips. It's a project that may require a little more expertise, but well worth the effort.
Conclusion
There is many ingenious and stylish ways, many a wall herb gar​​den idea that will transform your courtyard. Your patio, kitchen garden, or smaller garden will be so much bigger, than simply using a pot.
Maximize the vertical space by creating a wall herb garden. Whether you're looking for yourself only, or a project to do with your family, a wall herb garden is a super idea!