Wood Lilies (Lilium philadelphicum) are charming native wildflowers known for their vibrant, eye-catching blooms and resilient nature. In this article, we'll explore the characteristics, natural habitat, and cultivation of Wood Lilies, offering valuable insights and tips for successfully growing these lovely wildflowers in your garden.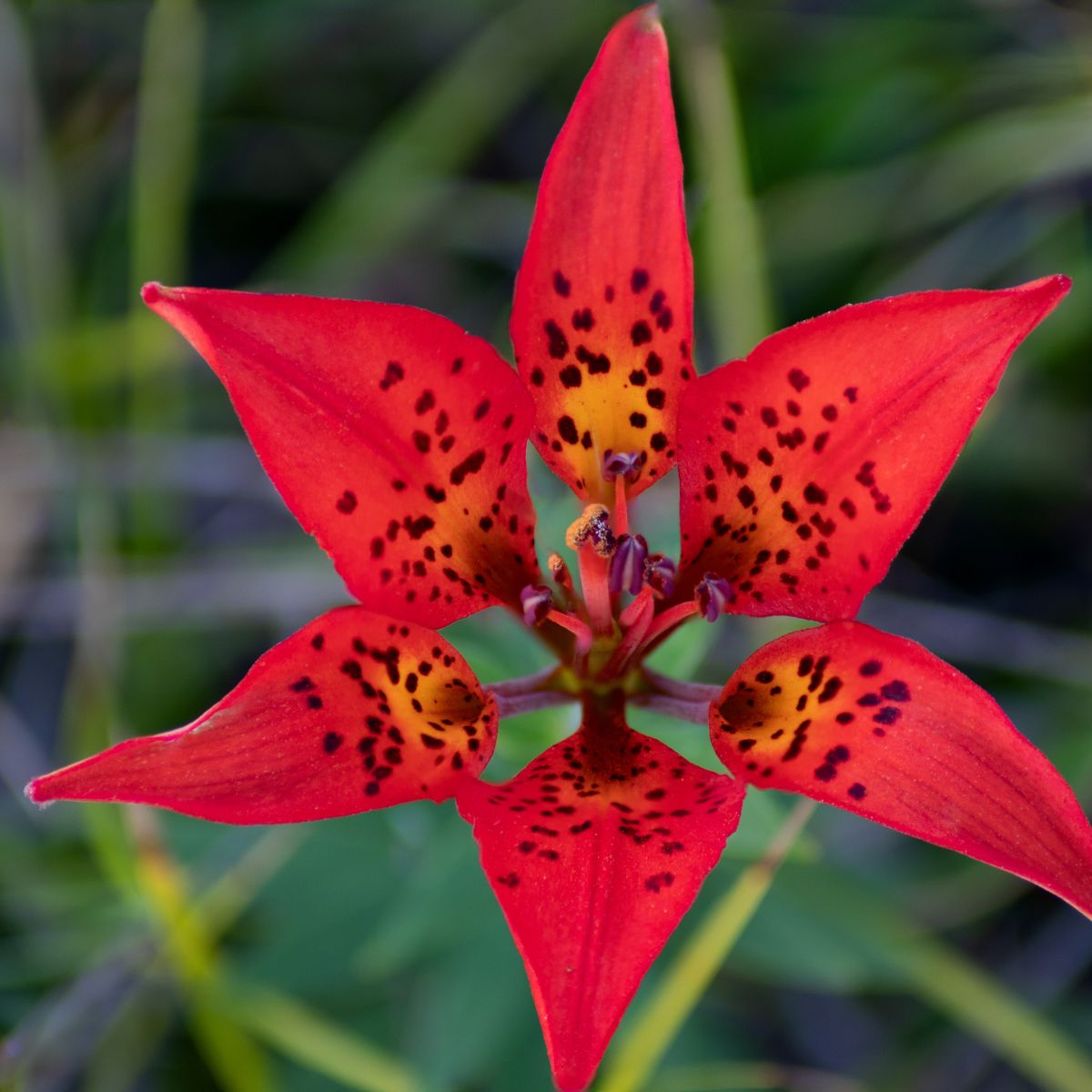 Read Next
Description and Identification
Wood Lilies, part of the Liliaceae family, are perennial plants native to North America. They typically grow between 1 to 3 feet tall, with a single, unbranched stem supporting the flower head.
The flowers of Wood Lilies are their most captivating feature. They boast a brilliant orange or red-orange color, adorned with dark brown or purple speckles. Each flower has six recurved petals, creating a striking, star-like shape. The flowers can measure up to 4 inches in diameter and usually have a sweet, subtle fragrance.
The leaves of the Wood Lily are slender, lance-shaped, and medium green. They grow in whorls around the stem, with each whorl containing 3 to 10 leaves.
Natural Habitat and Distribution
Wood Lilies are native to North America, with a distribution range spanning from the eastern United States to the Rocky Mountains and parts of Canada. They can be found in various habitats, including open woodlands, meadows, prairies, and along roadsides.
These wildflowers thrive in well-draining soil and are often found in sandy or rocky areas. They typically bloom from June to August, adding color to the landscape and attracting pollinators, such as butterflies, bees, and hummingbirds.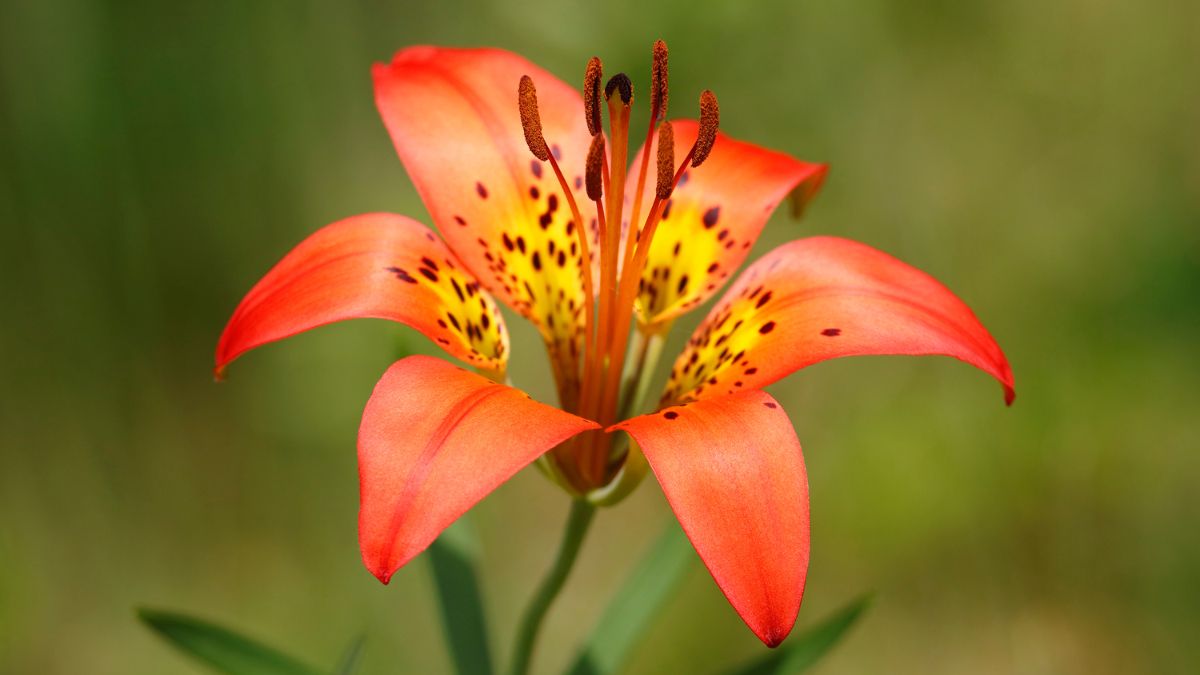 Cultivation and Growing Conditions
Growing Wood Lilies in your garden can be rewarding, as they add a touch of natural beauty and vibrant color to your landscape. To successfully cultivate these native wildflowers, providing the right growing conditions is essential.
Soil: Wood Lilies prefer well-draining soil that is sandy or rocky in texture. They can tolerate a wide range of soil types but generally prefer slightly acidic to neutral pH levels.
Light: These wildflowers require full sun to part shade, with at least 6 hours of sunlight daily for optimal growth and flowering. Ensure the planting location receives adequate sunlight to promote healthy, vigorous plants.
Water: Wood Lilies have moderate water requirements, preferring consistently moist but not waterlogged soil. Water the plants regularly, especially during the growing season, and allow the soil to dry slightly between waterings.
Fertilizer: Apply a balanced, slow-release fertilizer in early spring to support healthy growth and flowering. Alternatively, you can top-dress the soil with compost or well-rotted manure to provide a natural source of nutrients.
Planting and Care
To successfully grow Wood Lilies, follow these planting and care tips:
Plant bulbs in the fall, approximately 4 to 6 inches deep and 8 to 12 inches apart, with the pointed end facing upwards.
Water the bulbs thoroughly after planting, and maintain consistent moisture during the growing season.
Mulch the planting area with a layer of organic material, such as leaf mold or compost, to help retain moisture and suppress weeds.
After the flowers have faded, remove the spent blooms to prevent seed formation and redirect energy back into the bulb. Allow the foliage to die back naturally as the leaves continue to nourish the bulb for the next growing season.
In colder climates, provide winter protection by covering the planting area with a layer of straw or mulch to insulate the bulbs and protect them from freezing temperatures.
Propagation
Wood Lilies can be propagated through seeds or by dividing the bulbs.
Seeds: Collect seeds from ripe seed pods in late summer or early fall. Sow seeds indoors in a well-draining soil mix, maintaining consistent moisture and a temperature of 60-70°F. Seedlings can be transplanted outdoors after the last frost.
Division: In the fall, carefully dig up the bulbs and separate any offsets (smaller bulbs) from the main bulb. Replant the offsets in a suitable location, following the same planting guidelines as for the main bulbs.
Pests and Diseases
Wood Lilies are generally low-maintenance and resistant to most pests and diseases. However, they can occasionally be affected by a few issues:
Deer and rabbits: These animals may graze on the leaves and flowers of Wood Lilies. Protect your plants by installing fencing or using repellents specifically designed to deter these animals.
Aphids: These small insects can cause damage to the plant's leaves and stems. Control aphids by using insecticidal soap or introducing natural predators, such as ladybugs, to your garden.
Botrytis Blight: This fungal disease can cause the leaves and flowers to develop gray, fuzzy mold. To prevent and control botrytis blight, ensure proper air circulation around the plant, avoid overhead watering, and remove any affected plant material.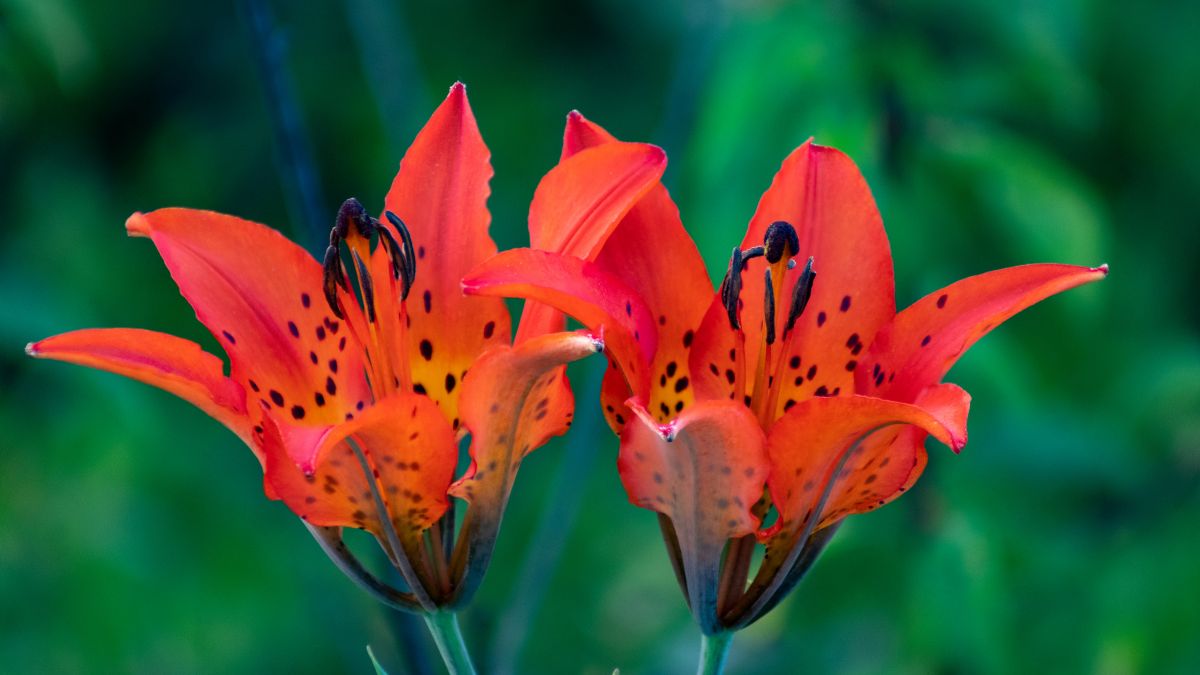 Companion Plants
When selecting companion plants for Wood Lilies, consider plants that share similar growing conditions and those that provide a pleasing contrast in color or texture. Some suitable companion plants include:
Purple Coneflower (Echinacea purpurea): The striking purple flowers and sturdy stems of Purple Coneflower provide a lovely contrast to the vibrant orange blooms of Wood Lilies.
Black-Eyed Susan (Rudbeckia hirta): Black-Eyed Susans pair well with Wood Lilies and create a warm, colorful display with their golden-yellow flowers and dark brown centers.
Switchgrass (Panicum virgatum): This native ornamental grass adds texture and movement to the garden, complementing the bold flowers of Wood Lilies.
Columbine (Aquilegia spp.): Columbine's delicate, nodding flowers offer an attractive contrast to the bold blooms of Wood Lilies while also providing nectar for hummingbirds and other pollinators.
Conclusion
Wood Lilies are a delightful addition to any garden, offering vibrant color, natural beauty, and a low-maintenance option for gardeners. By understanding their growth habits, providing the appropriate growing conditions, and pairing them with suitable companion plants, you can successfully cultivate these native wildflowers in your garden.
Embrace the charm and allure of Wood Lilies and create a stunning, ecologically diverse landscape that supports local biodiversity and adds a touch of natural beauty to your outdoor space.