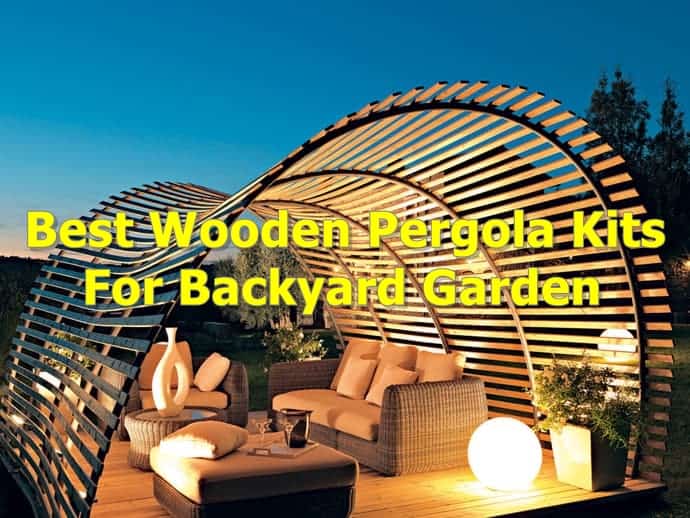 Best Wooden Pergola Kits For Backyard Garden
We spend thousands of dollars on the interior of our homes but give little thought to the outdoor area. Why waste an extensive outside space when we can do so much with it to increase the overall ROI of the property?
Outdoor areas serve as an additional space where we can do various activities such as host parties, cook food, enjoy the sunny weather, or just relax.
To make an outdoor area useful, one needs a boundary and more importantly –  a roof. Here's where Pergola kits come into play.
Pergolas are outdoor shelter structures that are made up of columns and a roof. They come in a variety of materials such as wood, cedar, steel, and aluminum. While they all have their own benefits, we suggest that you go for wooden pergola kits as they're quite affordable and attractive.
We have all the information that you need in order to buy the right wooden pergola kit. Since there are so many options on the market, picking one can be a challenge.
To help you in this regard, we have reviewed some of the best products and answered any question you may have about them.
​Why Install A Pergola In The Outdoor Area?
Some of the benefits of installing a pergola outside your house in the garden area are:
​How To Choose A Wooden Pergola For Your Garden?
Size: The first step you need to consider before buying a pergola is to measure the size of the garden. You can find a wide diversity of pergolas on the basis of different sizes that range from 6' x 6' to 12' x 20'.
                You can ask professionals for inputs on the right size. Moreover, keep assembling in                     mind. Not all products come fully assembled. You may need some extra space to                         assemble the pergola in your garden.
                Plus, make sure to leave open space as well.
                The height of the arbor top and the overall area the pergola will cover are the two                         main elements to consider when choosing the size.
                The height of the arbor should be checked against the nearby trees. You should not                     go for an option that's taller than the nearby trees. It will create a poor look. 
                Other than that, the inside area of the pergola too should be carefully measured                             against the structure, goods or objects you want to keep inside the pergola. This is                       important especially if you wish to build a pool or patio underneath.
                The ideal height of a pergola is when the tallest family member doesn't have to duck to                 adjust underneath the pergola.
​Cedar/Wood Type: Cedar and natural wood are the two most commonly used types of wood in the manufacturing of pergola. They might be treated or untreated.
                You can ask professionals for inputs on the right size. Moreover, keep assembling in                     mind. Not all products come fully assembled. You may need some extra space to                         assemble the pergola in your garden.
                Treated wood is infused with various chemicals to withstand climatic problems, while                     untreated wood comes as-is.
                If you have kids and pets at home, and if the area you live in is prone to termites and                     pests then treated wood can be a good option, however, it's a little more expensive                       than untreated wood.
Cost: The most important factor to look into when choosing a pergola for your garden is the cost. Pergolas come in a variety of shapes and sizes.

                You will find pergolas between $350 to $5000. 
                The cost depends on several factors including the size, material, and design. Make                       sure to be clear about your budget so that you can get the product that you want. 
​Maintaining Pergolas
Pergolas don't come cheap and might get damaged due to improper care. Therefore, it is of vital importance to spare time and clean them from time to time to keep them in a good shape.
Cleaning Pergolas: Treated wood pergolas are easy to clean. You can use the same material that you use to clean your deck or patio. However, avoid using power washers because they can deteriorate the wood.
Shine: A newly bought pergola is shiny but with time, the shine can be lost. To retain that shine, use a waterproof sealer (transparent varnish) to make the cedar shine bright.
Dirt: Get a soft bristle brush to remove the dust that sits on the wood. Avoid using any other tools for cleaning the dirt. You may use a vacuum cleaner but make sure to pick a good one.
Now that you know all about pergolas, it is time to have a look at some of the best options on the market.
​Do Check On Our Best Metal Pergola Kits

​Pergola Kits Under $500 (Best)
​1. Backyard Discovery Deluxe Cedar Pergola Swing
​If budget is your issue but you don't want to compromise on the look of your garden then you can consider this Pergola kit. It comes with a swing and is composed of durable cedar.
​Features Of Backyard Discovery Deluxe Cedar Pergola Swing
​This pergola swing is ideal for homeowners with a small outside area. The swing is durable and can withstand a lot of weight. Lastly, it's one of the most affordable pergolas out there.
​Pergola Kits $500 - $1000
An affordable option that will make your outdoor area look more appealing. This cedar pergola is durable and stylish at the same time.
You can accommodate plants, pots, sofas underneath, and enjoy it as a shade as well.
​Features Of Backyard Discovery Cedar Pergola 12 x 10
​If you are looking for a pergola structure that is durable and easy to maintain then this can be a good option.
Pergola Kits $1000 - $2500
If you have a large family or you love to host outdoor parties and are finding it difficult to create an attractive focal point in the garden then bring home The Oasis 14 x 10 Pergola.
It's a juggernaut of a pergola with a dimension of 168 x 120 x 95 inches.
​Features Of Oasis 14 x 10
​It is a great product. Opt for this one if you want a large unit. It offers enough space for the whole family. Moreover, you can even be creative and decorate it as per your will.
​If you are looking for a pergola to provide you with shade in the outdoor then Suncast PA1012 can be a good option. With a dimension of 120 H x 120 W x 144 D, it is perfect for the whole family.
​Features Of Suncast PA1012
​If you love the idea of a freestanding pergola that's also unique then this is the right choice. The white cedar makes it stand out.
This pre-stained pergola is a blend of cedar wood and aluminum. Hence, it looks amazing and is also highly durable.
Features Of Outdoor Pavillion Gazebo
​Pergola Kits $2500 - $5000
Decorating a patio, a pool or a lavish sitting is exactly what this 10 by 10 wooden pergola does. You can also install a shade on the roof and use it to relax and stay cool in the summer.
Features Of 10x10 Breeze Cedar Pergola
Constructed with Douglas Fir timber and redwood, this beauty has dimensions of 112' H x 144' W x 192' D. It's massive and hence perfect for big families.  
Features Of Sonoma Pergola Redwood
​This western red cedar pergola is meant to offer amazing protection against weather while filling the environment with its aroma. It is also quite big and can accommodate furniture.
​Features Of Breeze Pergola 16 x 12
​These are some of the best pergola kits on the market. Make sure to pick one according to your needs and enjoy all the benefits.