We spend thousands of dollars on the interior of our homes but give little thought to the outdoor area. Why waste an extensive outside space when we can do so much with it to increase the overall ROI of the property?
Outdoor areas serve as an additional space where we can do various activities such as host parties, cook food, enjoy the sunny weather, or just relax.
To make an outdoor area useful, one needs a boundary and more importantly –  a roof. Here's where Pergola kits come into play.
Pergolas are outdoor shelter structures that are made up of columns and a roof. They come in a variety of materials such as wood, cedar, steel, and aluminum. While they all have their own benefits, we suggest that you go for wooden pergola kits as they're quite affordable and attractive.
We have all the information that you need in order to buy the right wooden pergola kit. Since there are so many options on the market, picking one can be a challenge.
To help you in this regard, we have reviewed some of the best products and answered any question you may have about them.
​Why Install A Pergola In The Outdoor Area?
Some of the benefits of installing a pergola outside your house in the garden area are:
​Enhanced Appearance: You can even be a bit creative and add more to the aesthetics by adding colorful vines, plants, and pots.
​A Sitting Area: You can use it's a sitting area to enjoy your morning tea or evening coffee. It can also be a nice place to just sit and relax.
​Brighten the Party: A pergola can make your parties more exciting by letting guests chill and relax.
check ​Shelter: It can provide shelter against harsh weather conditions including rain and snow.
check ​Be Creative: If you have space and money to invest in a patio, then get one inside the pergola. It will enhance the look and also serve an additional purpose. Moreover, you can also install swings, if needed.
​How To Choose A Wooden Pergola For Your Garden?
Size: The first step you need to consider before buying a pergola is to measure the size of the garden. You can find a wide diversity of pergolas on the basis of different sizes that range from 6' x 6' to 12' x 20'.
You can ask professionals for inputs on the right size. Moreover, keep assembling in                     mind. Not all products come fully assembled. You may need some extra space to                         assemble the pergola in your garden.
Plus, make sure to leave open space as well.
                The height of the arbor top and the overall area the pergola will cover are the two                         main elements to consider when choosing the size.
                The height of the arbor should be checked against the nearby trees. You should not                     go for an option that's taller than the nearby trees. It will create a poor look.
Other than that, the inside area of the pergola too should be carefully measured                             against the structure, goods or objects you want to keep inside the pergola. This is                       important especially if you wish to build a pool or patio underneath.
The ideal height of a pergola is when the tallest family member doesn't have to duck to                 adjust underneath the pergola.
​Cedar/Wood Type: Cedar and natural wood are the two most commonly used types of wood in the manufacturing of pergola. They might be treated or untreated.
You can ask professionals for inputs on the right size. Moreover, keep assembling in                     mind. Not all products come fully assembled. You may need some extra space to                         assemble the pergola in your garden.
                Treated wood is infused with various chemicals to withstand climatic problems, while                     untreated wood comes as-is.
                If you have kids and pets at home, and if the area you live in is prone to termites and                     pests then treated wood can be a good option, however, it's a little more expensive                       than untreated wood.
Cost: The most important factor to look into when choosing a pergola for your garden is the cost. Pergolas come in a variety of shapes and sizes.
You will find pergolas between $350 to $5000.
The cost depends on several factors including the size, material, and design. Make                       sure to be clear about your budget so that you can get the product that you want.
​Maintaining Pergolas
Pergolas don't come cheap and might get damaged due to improper care. Therefore, it is of vital importance to spare time and clean them from time to time to keep them in a good shape.
Cleaning Pergolas: Treated wood pergolas are easy to clean. You can use the same material that you use to clean your deck or patio. However, avoid using power washers because they can deteriorate the wood.
Shine: A newly bought pergola is shiny but with time, the shine can be lost. To retain that shine, use a waterproof sealer (transparent varnish) to make the cedar shine bright.
Dirt: Get a soft bristle brush to remove the dust that sits on the wood. Avoid using any other tools for cleaning the dirt. You may use a vacuum cleaner but make sure to pick a good one.
Now that you know all about pergolas, it is time to have a look at some of the best options on the market.
​Do Check On Our Best Metal Pergola Kits
​Pergola Kits Under $500 (Best)
​1. Backyard Discovery Deluxe Cedar Pergola Swing
​If budget is your issue but you don't want to compromise on the look of your garden then you can consider this Pergola kit. It comes with a swing and is composed of durable cedar.
​Features Of Backyard Discovery Deluxe Cedar Pergola Swing
​A DIY Kit: The kit is easy to assemble and does not even require a professional. However, it may take about four hours to get the job done.
​Highly Durable: The swing is rustic and quite durable thanks to the pre-drilled and pre-stained cedar it is made up of. The company also offers a 1-year warranty on parts (if defected) and a 5-year warranty on wood.
​Weather Resistant: This pergola kit is ideal for homeowners who have to deal with harsh weather problems thanks to high quality wood that can handle all kinds of weather conditions.
​Aesthetics: It is not a very big pergola (7 feet W and 5.5 feet D) but looks quite good. Moreover, you can decorate it even more by planting flower and grapevines.
PROS
Check Circle ​

The swing can bear weight up to 600 pounds.

Check Circle ​Anchored.
Check Circle ​45'' long seat.
Check Circle ​Easy to assemble. Plus, the pieces are labeled
Check Circle ​Durable
CONS
Times Circle ​The finish is not so great.
Times Circle ​Some holes are off place.
​This pergola swing is ideal for homeowners with a small outside area. The swing is durable and can withstand a lot of weight. Lastly, it's one of the most affordable pergolas out there.
​Pergola Kits $500 - $1000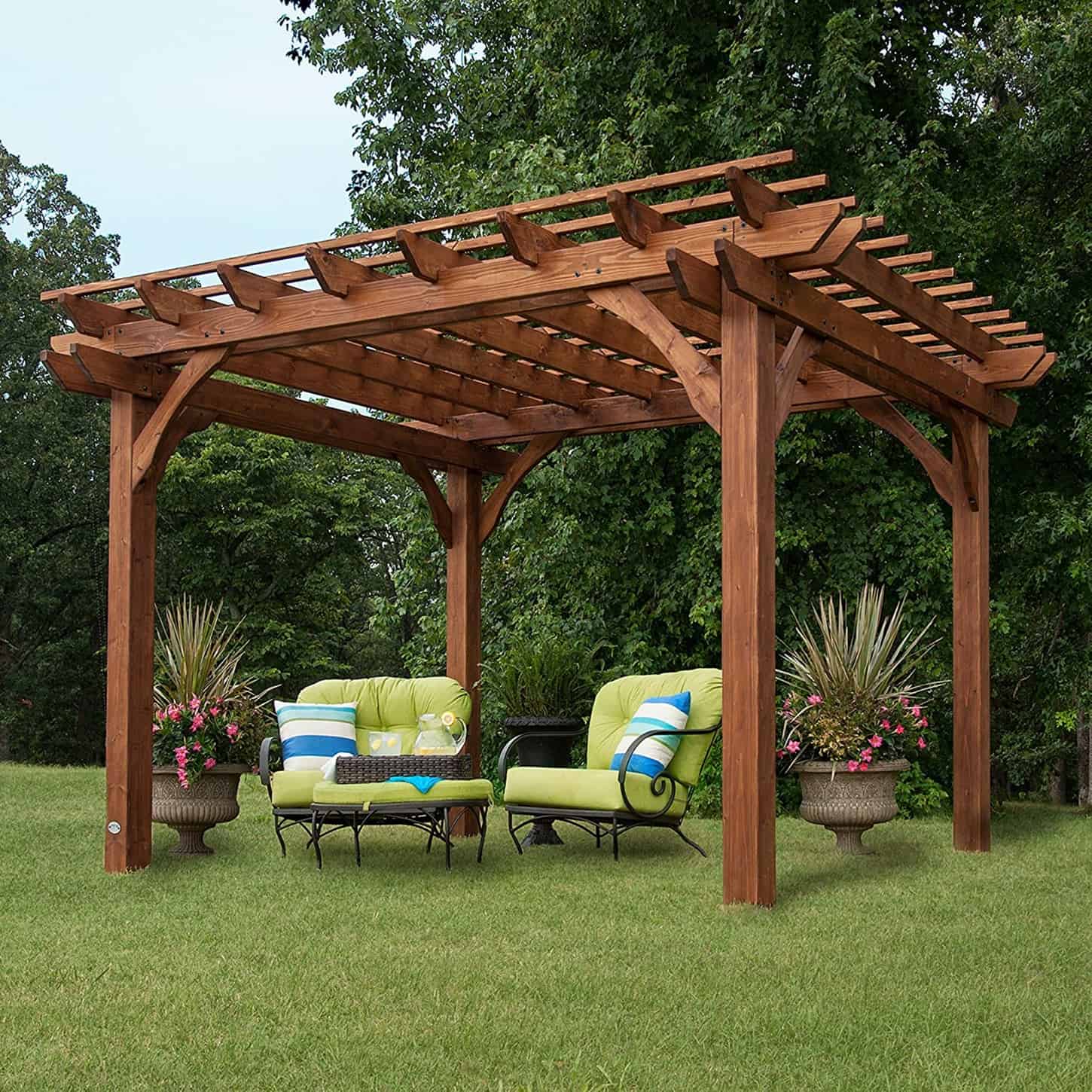 An affordable option that will make your outdoor area look more appealing. This cedar pergola is durable and stylish at the same time.
You can accommodate plants, pots, sofas underneath, and enjoy it as a shade as well.
​Features Of Backyard Discovery Cedar Pergola 12 x 10
​Patent Decorative Foot: This pergola can be installed either in a freestanding position or anchored. Moreover, the patented foot of this kit hides the unsightly anchors that hold the foot.
​Pest Resistant: It is made up of Chinese cedar, which is immune to pest attacks. Hence, it's highly durable and easy to maintain.
​Durable Structure: The upright cedar posts are 5 ½ inches wide and have diagonal braces at the top to support the roof and the overall structure.
PROS
Check Circle ​

Good overall size -

94 H x 144 W x 120 D
Check Circle ​Can be anchored or installed freestanding.
Check Circle ​Sturdy.
Check Circle ​The instructions are easy to follow.
CONS
Times Circle ​Not weather resistant.
Times Circle ​You may need a ladder to install it.
Times Circle ​Doesn't provide shade, however you can install a cover.
​If you are looking for a pergola structure that is durable and easy to maintain then this can be a good option.
Pergola Kits $1000 - $2500
If you have a large family or you love to host outdoor parties and are finding it difficult to create an attractive focal point in the garden then bring home The Oasis 14 x 10 Pergola.
It's a juggernaut of a pergola with a dimension of 168 x 120 x 95 inches.
​Features Of Oasis 14 x 10
​Multilevel and Multi- Purpose: The unit is designed for the whole family. It has pre-constructed sitting benches on one side and a higher top on the other where you can place chairs. It can also serve as an eating platform or you can stand and be the night's bartender.
​Bench And Armrest: The installed benches are sturdy enough to withstand heavy weight. Plus, there are armrests for added comfort.
​Prevents Decay: Resin foot prevent decay even if the ground is moist. This keeps the structure standing for years.
PROS
Check Circle ​Weather resistant.
Check Circle ​Waterproof.
Check Circle ​Benches included.
Check Circle ​Sturdy cedar finish.
Check Circle ​Solid anchors.
CONS
Times Circle ​Complete assemble and installation required.
Times Circle ​No canopy included.
Times Circle ​Might have to buy additional hardware.
​It is a great product. Opt for this one if you want a large unit. It offers enough space for the whole family. Moreover, you can even be creative and decorate it as per your will.
​If you are looking for a pergola to provide you with shade in the outdoor then Suncast PA1012 can be a good option. With a dimension of 120 H x 120 W x 144 D, it is perfect for the whole family.
​Features Of Suncast PA1012
​Stylish Cedar: This is one of the few pergola kits made of white cedar, hence it's a rare gem. The material gives it a royal touch and adds to the beauty.
​Freestanding: This pergola can be installed freestanding. Meaning, you don't have to cement the legs. You will get brackets to hold the legs in the ground. However, you can also use anchors. Most users, in fact, prefer to bolt it down.
​Stylish Posts: The posts are square shaped and cover half of the four-bar columns giving the pergola a rectangular shape.
PROS
Check Circle ​Plants and seating can be arranged.
Check Circle ​Oversized posts look appealing.
Check Circle ​Made of white cedar.
Check Circle ​Easy to assemble.
Check Circle ​Freestanding installation required.
CONS
Times Circle ​No canopy included.
Times Circle ​The wood is not pressure treated.
​If you love the idea of a freestanding pergola that's also unique then this is the right choice. The white cedar makes it stand out.
This pre-stained pergola is a blend of cedar wood and aluminum. Hence, it looks amazing and is also highly durable.
Features Of Outdoor Pavillion Gazebo
​Multifunctional: This 13' by 11' pergola has an inner dimension of 9' 11" x 9' 6" which makes it versatile enough to accommodate extensive seatings, offer wide shade and even accommodate outdoor large furniture sets. Its extensive size makes it multifunctional.
​Timber Grey: The overall structure is made up of timber grey which makes it look more alluring. Also, this timber is known for the warmth it provides. As a result, it can be a good option to relax and enjoy outdoor weather.
​Cedar And Aluminum: The roof of the structure is pure aluminum which protects the overall structure from harsh heat and rain. The lower structure is all cedar, which gives it a sleek look.
PROS
Check Circle ​Sleek curved gussets.
Check Circle ​6" x 6" posts finished with classic plinths.
Check Circle ​Comes with L brackets.
Check Circle ​Extremely durable.
Check Circle ​Designed to be surface mounted.
CONS
Times Circle ​Mounting hardware not included.
​Pergola Kits $2500 - $5000
Insert Image
Decorating a patio, a pool or a lavish sitting is exactly what this 10 by 10 wooden pergola does. You can also install a shade on the roof and use it to relax and stay cool in the summer.
Features Of 10x10 Breeze Cedar Pergola
​Red Cedar: This pergola is made up of red cedar which is fire resistant so you can enjoy BBQs without any worries. Moreover, it's highly sustainable.
​Wide Room: It offers 100 square feet of room to you. You can easily accommodate sofas, a table and even a few pots to increase aesthetics. It also has a good height of 9 feet.
​Paint: The wood is untreated – you can paint it as per your will.
PROS
Check Circle ​Wide area.
Check Circle ​Durable and stylish.
Check Circle ​Panels come pre-drilled and pre-stained.
Check Circle ​Shade can be installed.
Check Circle ​Fire protection.
CONS
Times Circle ​Doesn't come with post mounts.
Insert Image
Constructed with Douglas Fir timber and redwood, this beauty has dimensions of 112' H x 144' W x 192' D. It's massive and hence perfect for big families.
Features Of Sonoma Pergola Redwood
​Aroma: Douglas Fir is known for its natural aroma that can also uplift your mood. If you ever feel dull, spend a few minutes under it and your mood will get a boost.
​Wind And Sun Protection: The roof is reliable and can protect against sun and heavy wind – up to 90 miles per hour. It can be perfect even if you live in a windy area. No worries about the product failing you.
​Resistant: It may be expensive but for the right reasons. A lot of pergolas despite being the strongest, catch rust with time. However, this one doesn't because it is rust proof.
​Long Lasting: The product is crack resistant, rot resistant, UV resistant, mildew resistant and fade resistant. It's highly durable and easy to maintain.
PROS
Check Circle ​Waterproof.
Check Circle ​Arched roof.
Check Circle ​Takes only two hours to assemble.
Check Circle ​1-year warranty on the structure, finish ,and log set.
Check Circle ​Perfect for party lovers.
CONS
​This western red cedar pergola is meant to offer amazing protection against weather while filling the environment with its aroma. It is also quite big and can accommodate furniture.
​Features Of Breeze Pergola 16 x 12
​Durable: The heavy structure is made to withstand harsh climate and last for many years with little maintenance. Redwood prevents rot, pest attacks and hence is one of the most durable options.
​Versatile: Due to its large size, the pool serves many purposes. It can be used to create a shade over a pool, provide shade to the kids' area or just stand there for your friends and family to chill.
PROS
Check Circle ​Fireproof and heat absorbing.
Check Circle ​Acoustical properties (redwood).
Check Circle ​Large appealing size.
Check Circle ​Easy to assemble
Check Circle ​Pre drilled girders and pre-marked joists.
CONS
Times Circle ​No canopy included.
​Conclusion
​These are some of the best pergola kits on the market. Make sure to pick one according to your needs and enjoy all the benefits.