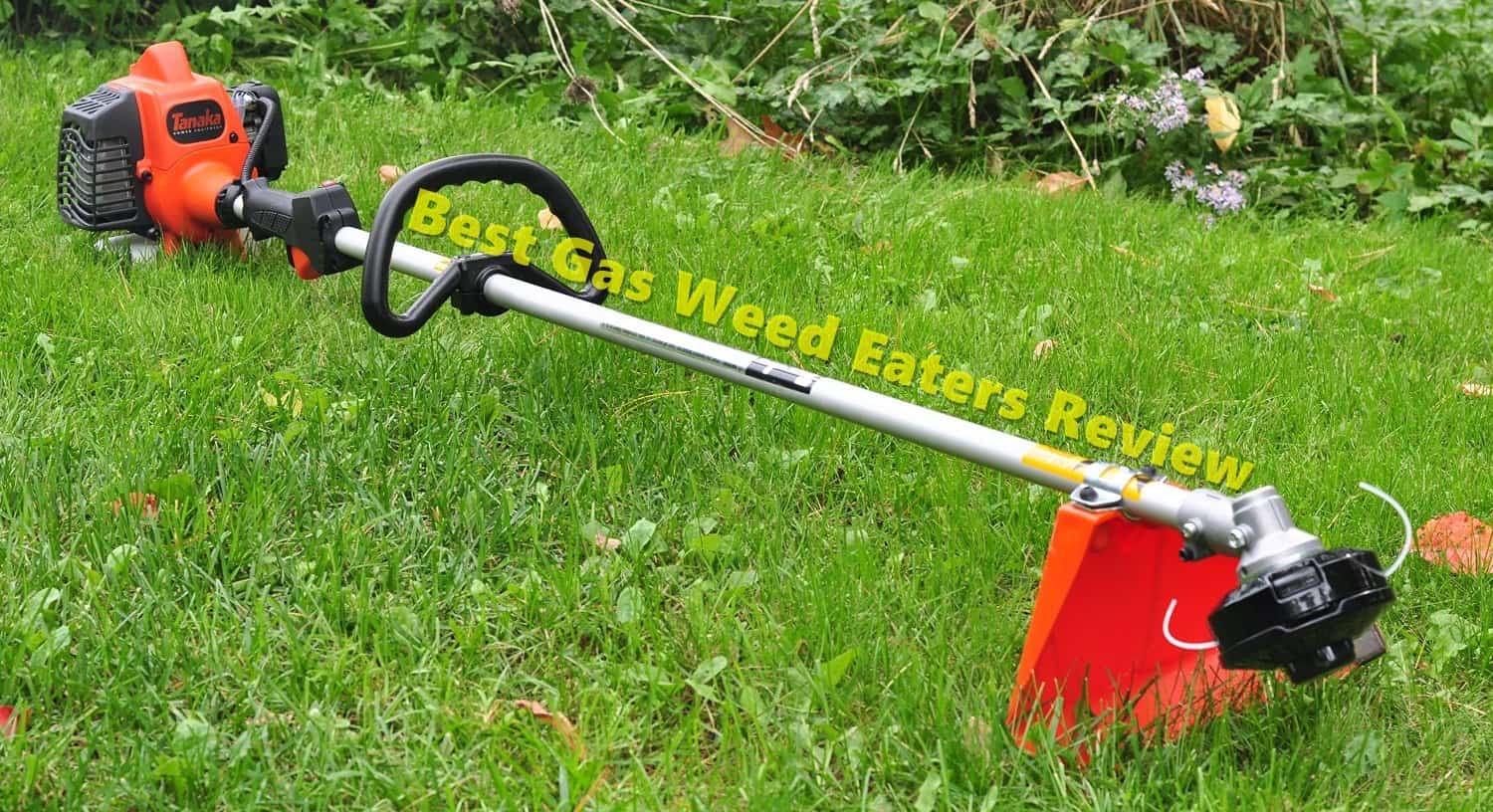 10 Best Gas Weed Eaters 2021
Keeping the yard clean and tidy is something that many people would rather avoid altogether but unfortunately it has to be done. One of the tasks you have carry out on a regular basis is keep the grass trimmed and neat, a time consuming task that can get monotonous and is at best tedious. Fortunately, with the right tools you can do it fast and efficiently and you will always have a great looking lawn.
One of these tools is a gas weed eater. A gas weed eater is a tool that you can use to very quickly cut grass, clear small bushes and get rid of weeds very quickly. Gas weed eaters are used by professional landscapers but there are many models that are designed for home use. This article will tell you the basics about gas weed eaters and look at the top 10 models in the market.
There are 3 types of weed eaters available in the market today: plug-in electric, battery powered and gas weed eaters. Plug-in electric are weed eaters that have to be plugged into an electric source for power and the obvious drawback with these is that you have to deal with the hassle of electric cables. If you have a sizeable yard you will have to buy an extra long cable to be able to get at all the grass and weeds. The other problem with plug-in weed eaters is that they don't usually last very long.

Battery powered weed eaters are better than plug-in – you can take them all over your yard without worrying about electric cables, and they are usually rather light so they are easy to maneuver. However, the problem with these is that you have to deal with the headache of dead batteries often – you can only do so much with these type of weed eater before you have to charge the batteries. Some homeowners go around the problem by buying a second battery.

Gas weed eaters are the best of the lot. They are able to work fast and powerfully and they can get your yard looking great in a short time. These weed eaters come with several benefits that are worth looking into.
Benefits of using gas weed eaters
Cons of using gas weed eaters
Now that you know the pros of gas weed eaters it is only fair that you know about the cons so that you can make a fully informed buying decision.

The biggest drawback of gas weed eaters is that they are noisy – if you hear a loud motor running every time your neighbor is trimming his lawn odds are he is using a gas weed trimmer.

The fact that you have to buy fuel for the weed eater is also another con, as well as the emissions that come from using gasoline. Many owners of gas weed eaters will also tell you that they require quite a bit of maintenance because they have so many moving parts.
A summary of the top 10 gas weed eaters in 2018
What should you take into account when buying a gas weed eater?
If you are buying a gas weed eater for the first time you may feel a bit stumped – all the technical specs may not mean anything to you. There are definitely some brands that can be relied on to deliver, but before you buy any gas or weed trimmer it is important to consider your needs – where will you use the eater, what kind of weeds and small bushes will you be trimming and how often will you need to use it? If you will be handling a small yard that doesn't generally have woody weeds you don't have to choose something very powerful, but to be on the safe side it is important to look into the following factors :
Engine type and power : There are 2 types of engine available with gas weed eaters – 2 stroke and 4 stroke. The type and power of engine determines the volume of gasoline needed as well as how powerful the trimmer is. Because you don't usually have to do heavy duty trimming around the home a 2 stroke engine trimmer or weed eater would do, but for commercial purposes the best kind of gas weed trimmer is a 4 stroke engine.
The weight of the weed eater : This is very important because if a weed trimmer turns out to be too heavy it will be very hard for you to push it across your yard. In the past most gas weed eaters were made of heavy steel parts which meant that only the strongest in the household could operate them. Today, however, some of the best weed trimmers n the market are made of steel and durable plastic which means they are lighter in weight and can be operated easily by men, women and even the elderly. When you are looking at weed eaters you should always look at the weight as compared to who will be using the trimmer.
Handle : This may not seem like a big deal but if you look at many weed eater reviews you will see many users who wish that their trimmers had a different sort of handle. There are two main types of handles that you can get with a weed trimmer – T-shaped or U-shaped. A T-shaped handle is generally recommended if you will be using your weed eater on level surfaces but if your yard is bumpy and uneven you will do better with a trimmer that has a u-shaped handle.
Additional features : Modern gas (and even electric) weed eaters come with additional features and depending on your budget you may want to think about whether or not you would like them. These include dual blades for faster cutting, extra speeds and so on. These additions will cost money so you need to think carefully about whether or not you really need them.
Your budget : As you can see from the table above gas weed eaters come at a wide price range. There are some that cost $400 or more while there are some excellent models that cost about $100. Of course you will choose the one that you can afford, but you should keep in mind that at the lower price range your weed eater may lack some functionality. Also, the warranty may not be as long as if you buy a more expensive weed eater.
An in-depth look into the best weed eaters in the market
Among gas weed eaters this one is definitely a winner. You get light weight, as well as multi-purpose use.
Bottom line
True, you will pay a lot of money for this gas weed eater, but it will help you get your yard tidied up in no time at all, and it is easy to operate.
What users seem to like most about this model is its ease of use.
Bottom line
This is an excellent gas weed eater for the average yard so long as you are not looking to do some specific types of landscaping. If you want a fancy looking lawn you may want to buy a tool that's a bit more expensive.
This is the gas weed eater to choose if you want to stick within emission levels, but it comes with some additional advantages that shouldn't be overlooked.
Top features
Bottom line
This particular gas weed eater seems to be a favorite for the ladies because it is light in the hands and easy to use. At its current price of $150, you are definitely getting a good deal.
This weed eater is really good – although it has a 2 stroke engine it is often used commercially.
Top features :
Bottom line
This is also an excellent gas weed eater when you take into account that at it works much better than other models that sell for about the same. The company also offers excellent customer service.
At the price range of about $100, this gas weed eater is definitely worth an in-depth review.
Top features
Bottom line
If all you are looking for is a gas weed eater that will not cost an arm and a leg and that can take care of a small yard then this is the perfect tool. If you have a big yard and difficult weeds you should buy something a bit more sturdy.
Conclusion
Gas weed trimmers definitely offer better value than electric or battery powered, and there are several manufacturers in the market who seem to dominate. If you want a gas weed eater to handle more than the average yard and last a few years be prepared to spend some good money.