Zero-turn mowers are becoming increasingly popular for those looking to quickly and efficiently mow large areas of grass. With their ability to maneuver in tight spaces, high speeds, and the ability to turn on a dime, zero-turn mowers are an excellent choice for both residential and commercial use.
In this guide, we will explore the key features of zero-turn mowers and provide an overview of what to consider when choosing the best zero-turn mower for your needs.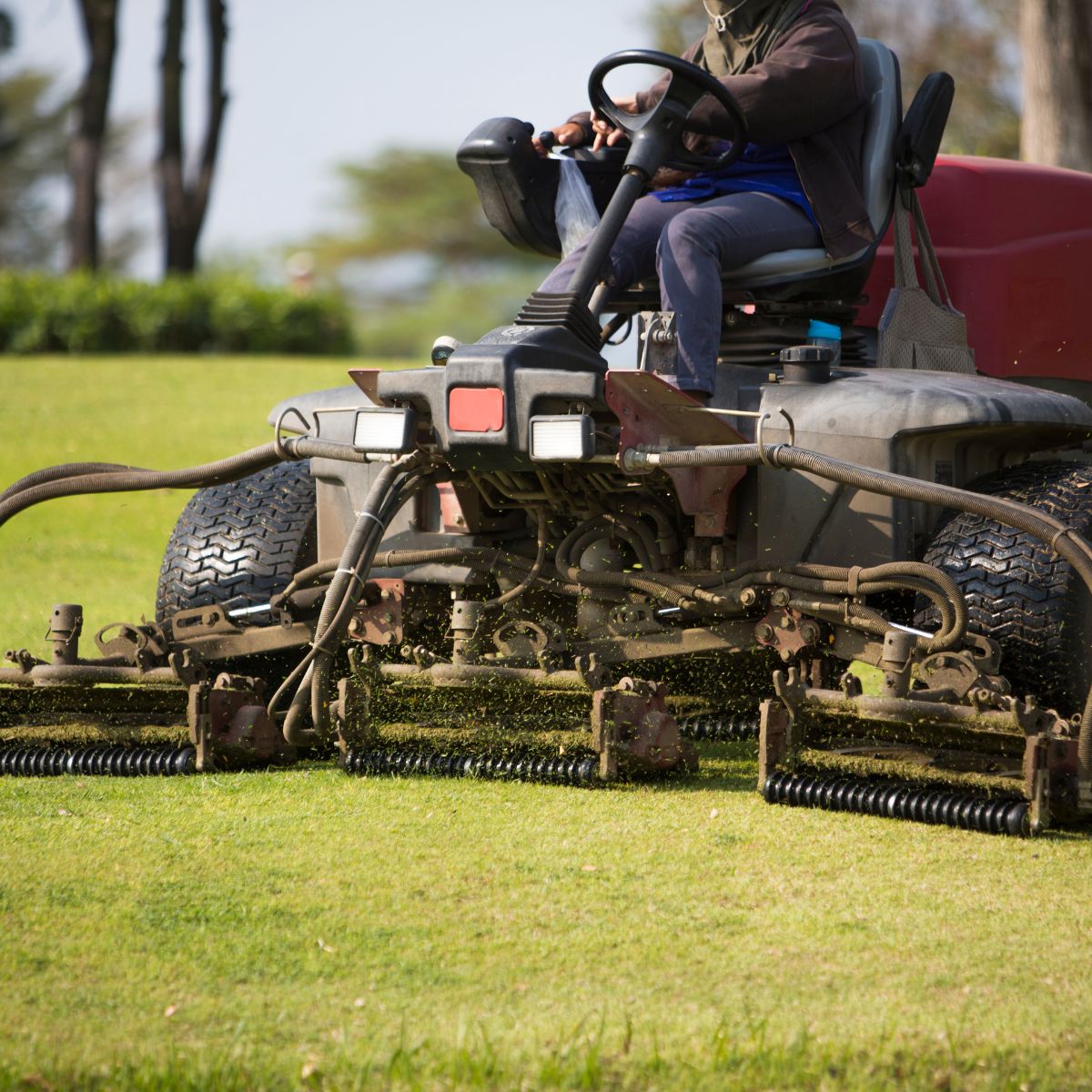 Read Next
Why a Zero-Turn Mower?
Isn't it ironic to love your lawn so much but dread cutting the grass? Well, it is a common predicament. Experts say, 5 to 10% of the total budget for a new home or for renovation is allocated to landscaping. This statement holds true, especially in the USA where people take pride in their well-maintained lawns. With this in mind, keeping your lawn and garden neat and well-groomed could truly add value to your property.
We are sure that you share the same belief with us, that's why you are here. If you are still stuck with a push mower, for more than an acre of lawn, now is the best time to re-assess and step up your game.
The average width of a push mower is 20 to 24 inches, while zero-turn mowers have a cutting deck width of between 35 to 72 inches. In terms of speed, a push mower relies on the person navigating it on foot. ZTR top speeds are between 6.5 to 8MPH depending on the engine power. It can also shorten the mowing time to 2 acres every hour. From these figures alone, ZTRs win in terms of productivity.
Want to know more? Here's a comprehensive guide to selecting, owning, and maintaining a zero-turn mower.
​What is a Zero Turn Mower
A zero-turn mower (ZTR) is an innovation in the lawn-care industry. Compared to the typically push mower or lawn tractors, a ZTR has an actual turning radius of zero. That basically means that there will be no frustrating lines or uneven patches of grass in your yard. Its capability to turn 180 degrees at the end of every row, guarantees you that as long as you maneuver properly, it starts mowing the next rows as close and as neatly as possible. You don't have to pass by the missed parts again and this will definitely shorten your mowing time. A ZTR is equipped with an engine, lap bar controls, two front wheels, and two rear wheels which are independent of each other. Common ZTRs are gas-powered, although some may alternatively be powered by electricity or a battery.
Read more: How To Choose The Right Mower Blade
​Is a Zero Turn Mower Worth It?
​Only you can answer if purchasing a zero-turn mower will be a wise investment for you. To help you find out, we have prepared a checklist to measure how much you would need a zero-turn mower :
​Your lawn is 1 acre or bigger
​Lawn mowing is too exhausting for you because of your age, physical limitations, etc.
​You want better control and maneuverability of your machine.
​You can only allocate 2 hours for lawn mowing weekly.
​Your lawn has slight slopes with not more than 15 degrees of inclination.
​You want to save on fuel costs.
​You have a budget of $2,000 to $4,000 to purchase one.
​You want a long-term investment.
If your answer to most of these statements is "Yes", it is now time to upgrade from your push mower or tractor to a zero-turn mower.
​Different Types of Zero Turn Mowers
​There are three (3) categories of zero turn mowers – consumer, semi-commercial and commercial. Each one has its own strengths and limitations and to make it work best for its users, these are the important specifications to remember :
Consumer: Consumer-type ZTRs are suitable to service a maximum of 1.5 acres of land. These usually have a cutting deck width of 36 to 42 inches and an average engine power of 22HP. It can mow 1.5 acres of land for 1 to 1.5 hours. This type comes in a basic seat, a stamped deck, and a 3.5 US Gal fuel tank capacity. It gives a top speed of 6.5MPH.
Semi-commercial: A semi-commercial ZTR is perfect if you are to maintain a yard that is 2 to 4 acres wide. It has a wider cutting coverage of 48 to 54 inches. It also guarantees stability and durability with a fabricated or welded deck. Wider coverage means more hours of work for your ZTR, semi-commercial ones have a bigger fuel tank capacity of 8 US gallons and a faster speed of 8MPH.
Commercial: Although the name says commercial, it can be used for residential purposes as well. However, the price tag is 4 times more than a consumer type of zero-turn mower. If your lawn is more than 4 acres, these big and powerful machines are for you. Packed with 12 US gallons of fuel, you can finish mowing 4.5 acres of land in just an hour at the top speed of 12MPH. Its cutting deck starts at 54 inches but can span up to 72 inches. It is also covered by a longer warranty period of 5 years for both Residential and Commercial Use.
​What to Look For When Buying a Zero Turn Mower
​Now that you have decided to purchase a zero-turn mower, we will guide you through choosing the right one for you by looking at the most important components of a ZTR.
1. Engine
​The productivity of a zero-turn mower is not just measured by its speed but also by its cutting deck width. Here's a cheat sheet for choosing a ZTR based on productivity :
ZTR engines are usually manufactured by another brand specializing in engine technology. A powerful engine will make it possible for you to accomplish your lawn-mowing task with efficiency and speed.
The power of an engine is based on its horsepower output - the higher, the better, and might be more expensive. Engines with higher output might also come with a cooling system to prevent overheating during prolonged hours of work.
2. Cutting Deck Width
For residential uses, it is important to take into consideration your gate size versus the cutting deck size of the ZTR you intend to purchase. ZTRs will be likely delivered at the front of your gate and will be navigated inside.
| ​Size of Your Yard | ​Cutting Deck Width | ​Category | ​Productivity in Acres/Hour |
| --- | --- | --- | --- |
| ​1 to 2 Acres | ​48 | Residential | ​3 Acres/Hour |
| ​2 to 4 Acres | ​52 | ​Semi-Commercial | ​3.7 Acres/Hour |
| ​4 to 5 Acres | ​61 | ​Commercial (Big Residential) | ​4.5 Acres/Hour |
3. Fuel Tank Capacity
Zero-turn mowers guarantee to shorten your lawn mowing time in half but if the small fuel tank capacity of your ZTR will require you to refill over and over, then it might not be a good choice for you.
There are different fuel tank capacities to choose from. The most common are 3.5, 8, and 12 US gallons. These are also indicators of whether the engine is powerful or if the ZTR is categorized as consumer, semi-commercial, or commercial, respectively.
4. Available Accessories
​​Some people buy zero-turn mowers only to find that there are no compatible parts and accessories with them. Buying from a trusted brand guarantees that you can find replacement parts and attachments to enhance the productivity of your zero-turn mower.
5. Warranty
​​The warranty offers for zero-turn mowers vary from one brand to another. It might be helpful to know that there are brands that offer a warranty for the engine alone while some offer warranty on the deck and other attachments. Warranties are also different for residential and commercial use.
6. Price
​The cost of ZTRs in the same category is not far from each other. Most residential zero-turn mowers start at $2,500.00 while commercial ones can start at $8,000.00.Explore how you can get discounts on your purchase, there are companies that offer trade-in promos. There might also be financing and installment payment options for you to check out.
​How Do I Maintain My Zero Turn Mower?
Clean It
Clean the attachments like mulching kits and baggers every after use. Clean the cutting deck to avoid build-up and corrosion that can cause premature wear to your equipment. Do not leave it in your yard.
As much as possible, keep your zero-turn mower in the garage so there is no moisture in the ground that will likely evaporate and can rust the steel part of the ZTR. This will also prevent exposure of the seat to moisture and heat to prevent it from getting damaged.
Oil Change
Oil change must be done based on the maintenance procedure as stated in your zero-turn mower's manual. Most brands would tell you to change the oil after 8 hours of use and after 100 hours on succeeding oil change.
It is essential to use the prescribed oil and follow the frequency to prolong the life of your engine.
Gas Refill
Just like the engine oil, brands can also be particular with the unleaded gasoline to be used on your ZTR. It is not only for safety reasons, but it is also fuel-efficient.
How to Checkup and Lift a Zero Turn Mower?
Zero-turn mowers are delicate pieces of equipment. Just like any other motorized machinery, it needs preventive and corrective maintenance periodically. To prolong the life of your ZTR, it is essential to subject it to immediate checkup and repair once you feel or hear something wrong while using it.
The best way to access the bottom of your mower is by using a hydraulic jack and a stand suitable for the weight of your zero-turn mower. An appropriate jack can safely lift and hold your ZTR.
These are the different zero-turn mower jacks you can choose from:
Conclusion
Zero-turn mowers may sound complicated and overwhelming at first. But as you get to know more about it, the more encouraged you become to get one. It has a long list of benefits in ensuring that your garden is well-groomed and that you find convenience and comfort in maintaining it. 
ZTRs are not inexpensive and for you to make the most out of your monetary investment, it is wise to have an informed decision prior to purchasing. It is also vital to familiarize yourself with the tools and accessories that will bring out the best in your equipment in terms of productivity.
Above all, prolong the life of your zero-turn mower by subjecting it to the necessary preventive maintenance. With this, you can reach the 10-year mark from your ZTR and it could even be more.