Anybody can have a well-kept lawn as long as it is regularly-trimmed. But to get a professional-looking landscape, you will either need the help of a lawn-care professional or invest in a sophisticated lawn mower. Mowing your lawn can be a tedious and time-consuming activity. It's even more challenging if there are bumps and hills on your lawn. Back in the day, homeowners need to call professional grass cutters and gardeners to maintain their lawn and backyard. There were those who can afford to get themselves a tractor or push mower but that doesn't cut the time and effort in half either. Then, zero turn mowers (ZTR) were made available for professional and commercial use.
ZTRs are riding lawn mowers that were an instant hit for both professional landscapers and homeowners. The comfort and ease it offers became appealing to homeowners and they start purchasing their own.
ZTRs can definitely cut your grass neat and shorten your mowing time in half at but it's definitely for a price. But the price is only a secondary consideration compared to the convenience and comfort a zero turn mower could possibly bring homeowners with big lawns. We've reviewed the best zero turn mowers and we'll share with you which ones are suitable for home or commercial use. After reading this article, you would be able to decide which ZTR is best for you based on engine power, cutting width and productivity.
Read more on our detailed guide on zero turn mowers here.
​Top 5 Zero Turn Mowers For Your Money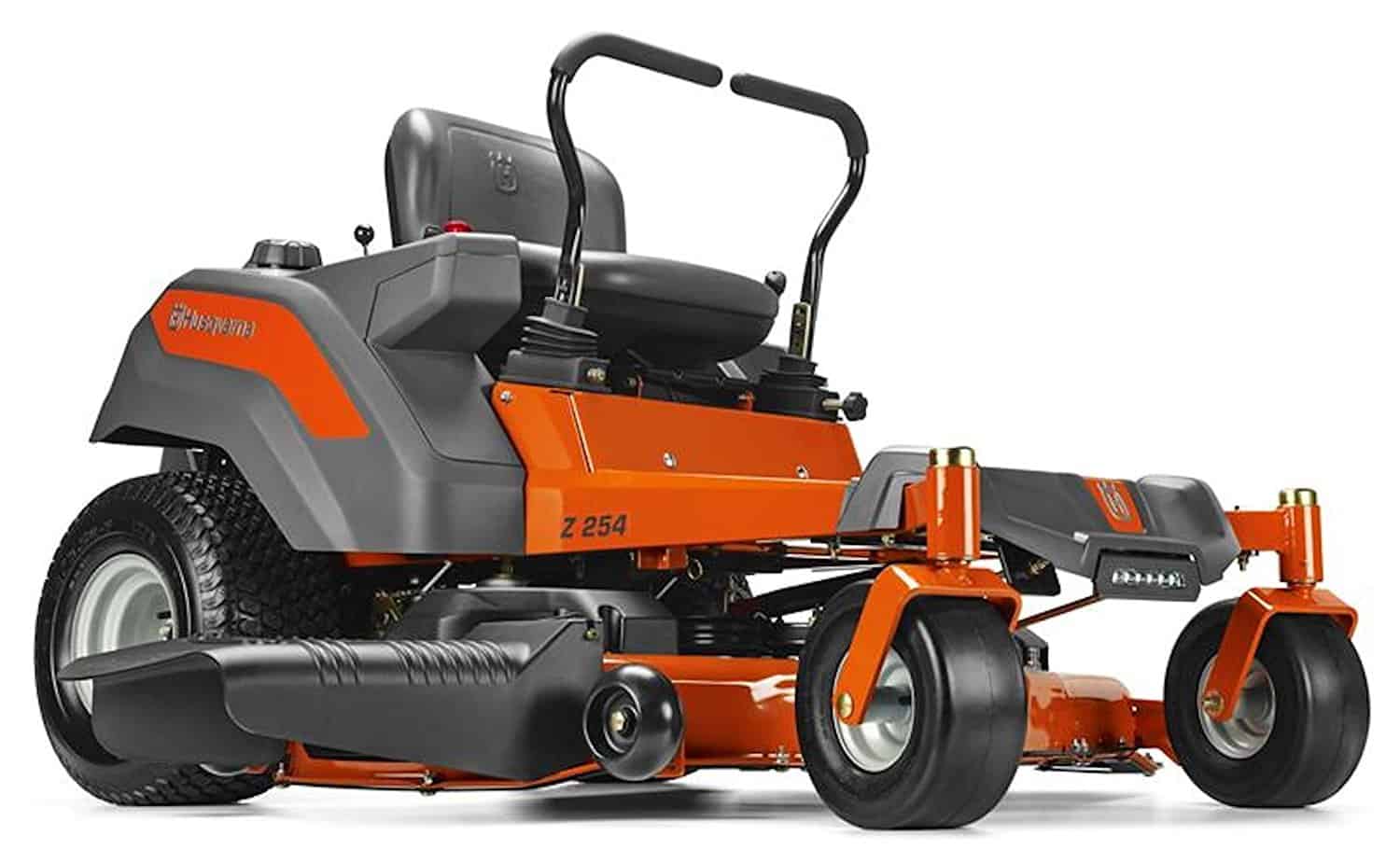 ​This zero turn mower is equipped with power and good looks. It is powered by a Kohler 7000 series engine with a 26HP power output. It is geared to cover a flat lawn area with a 54-inch cutting width or 2.8 acres per hour with a maximum forward speed of 6.5mph. It has a 3.5 US gallon gas tank capacity. For your buying confidence, it is covered by a 3-year warranty for home use. With its air induction mowing technology, a cooling fan at the bottom of the deck improves grass lift and ensures better grass cutting. This cooling system will also prolong the life of your Husqvarna Z254 26HP mower. Its 54-inch cutting deck features a reinforced steel which adds strength and durability to your mower. It's a true-blue zero turn mower with a zero-turn radius capability that guarantees efficiency and a cleaner mowing. All of these are made possible by its maintenance-free integrated zero turn transmissions. Lastly, you don't have to worry about mowing a bit later in the day and in the dark because its bumper is integrated with LED headlights. It gives an improved visibility when mowing in the afternoon towards the night.
PROS
Check Circle

Powerful 26HP engine

Check Circle

Sturdy built

Check Circle

Bumper with LED lights

Check Circle

Fits residential and commercial uses

Check Circle

3-year warranty
CONS
Times Circle

Not recommended for steep slopes
​Bottom line :Husqvarna Z254 26HP is a powerful 54" zero turn mower. It would be a perfect choice for homeowners who have more than 2 acres of lawn space. The built-in LED lights are also an attractive addition as most ZTRs offer these as accessories and might bloat the cost when bought separately. The fabricated deck of this zero turn mower makes it stand out among the rest.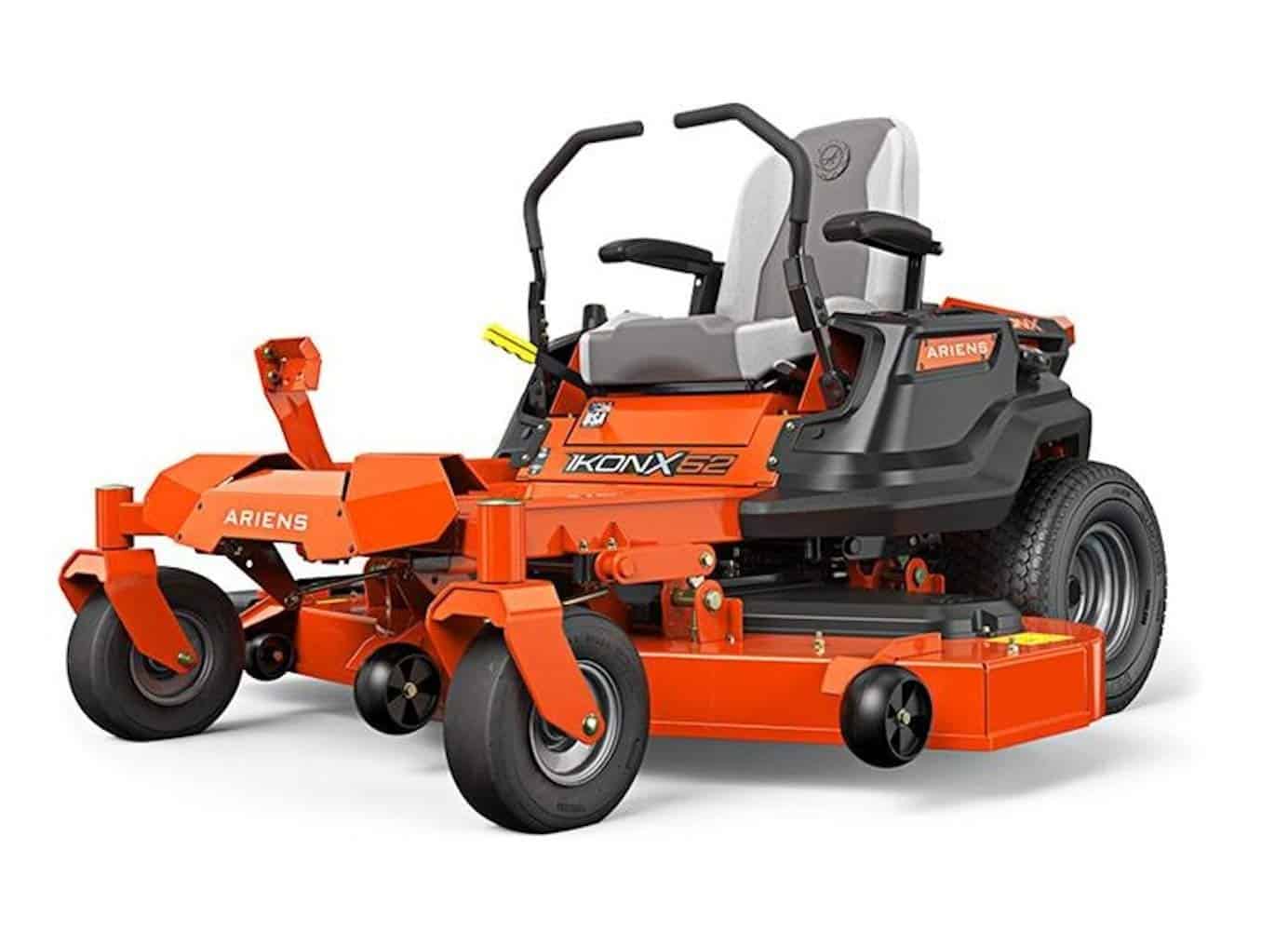 ​Kawasaki is a trusted name in designing and building powerful engines for residential and commercial lawn mowers, including Ariens Ikon-X 52" ZTR. Its 23 HP engine gives a 7mph forward and 3mph reverse speed to this zero turn mower. With a 52" cutting deck width, you can cover between 3 to 3.5 acres in an hour. It has a 2.8 US gallon tank capacity. It is highly stable with its fully tubular steel frame. And is comfortable to users because of its high-back, fully-padded seat with armrests – perfect for long hours of lawn mowing work.It also offers a wide selection of accessories to further improve productivity. Mulch kit, bagger, 48" dethatcher and LED headlight are sold separately and do not add up to the cost of a standard unit. Ariens gives a 3-year warranty for residential use and 90 days for commercial.
PROS
Check Circle

Powerful 23HP engine

Check Circle

Sturdy built

Check Circle

Plenty of accessories to choose from

Check Circle

3-year warranty

Check Circle

Fits residential and commercial uses
CONS
Times Circle

Not recommended for steep slopes
​Bottom line :Partnering with a well-known motor engine manufacturer gives this brand an easy recall to its prospects. The availability of accessories under the same brand makes it easier for users to enhance the productivity of their zero turn mowers as they familiarize themselves with its strengths and capabilities. It is also suitable for both residential and commercial use and the brand offers warranty coverage for both.
​For those who are looking for a zero turn mower that promises stability even on slight slopes, Poulan Pro P46ZX is the best match for you. It has triple anti-scalp wheels that reduce the risk of damaging your lawn on uneven terrains. It is equipped with an easy to understand and convenient keys within your reach. This ZTR with a 46" cutting deck can clear up grass overgrowth in a 2-acre yard in an hour. Its easy-to-operate steering lap bars make it easy to maneuver in between trees and shrubs around your lawn. It also features an air induction cutting deck that manages an excellent quality cut even in heavy conditions. Grass cutting height can be easily adjusted using a spring-assisted deck lift with a 6-position cutting height starting at 1.5" to 4" and 0.5" increments. Cutting deck cleaning will also be a breeze with an easy access through a removable footplate. Fuel tank with reserve has a total capacity of 3.5 US gallon to power this 22HP engine. Never miss your preventive and corrective maintenance needs. The easy access panel has a maintenance and service reminder. Warranty is offered at 3 years for homeowners.
PROS
Check Circle

Sturdy built

Check Circle

3-year warranty

Check Circle

Fits residential uses
CONS
Times Circle

High price point

Times Circle

Lack of compatible accessories according to some users
​Bottom line :For smaller yard sizes, a 46" cutting deck width is just perfect and a good 22HP engine is powerful enough. Lawn mowing will now be easy and comfortable with its high-back, fully-padded seats. Its reinforced stamped deck is also covered with an unbelievably long 10-year warranty and that's very reassuring of its quality.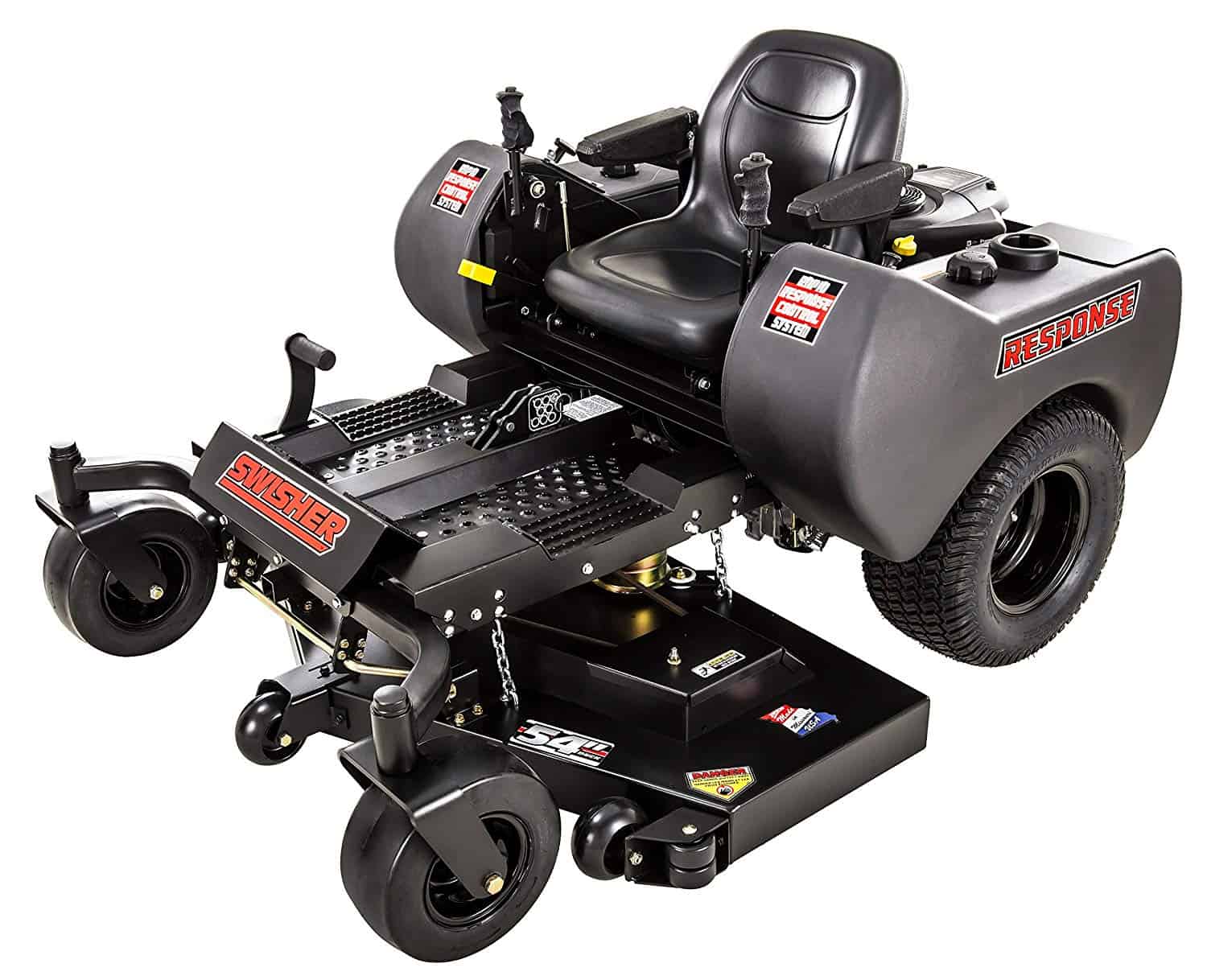 ​Packed with power and all the other superlatives, this is probably one of the best zero turn mowers for the money. Swisher ZTR2454BS-CA is a California-compliant ZTR. California Air Resources Board (CARB) is a regulatory body that limits volatile organics compounds (VOC) emissions on air to protect public health.The new rapid response control system in this ZTR gives you that control and comfort that small zero turn mowers don't have. The combination of a 24HP engine and the 54" cutting deck width with 3 Gator mulching blades will give you a professional-looking and well-kept lawn in no time.This best suits those who have 4 acres or lawn area or more. It has an 8-gallon gas tank and that's twice a much as any other brands in the market. It has an unparalleled speed of 8mph both front and reverse. It also has bigger rear tires at 20" making sure it is more stable even on slight inclines and slopes.
PROS
Check Circle

Sturdy built

Check Circle

3-year warranty

Check Circle

Fits residential uses
CONS
Times Circle

High price point
​Bottom line :A California-compliant zero turn mower is not very easy to find so is a big fuel tank capacity as much as 8 US gal like the Swisher ZTR2454BS-CA has. The impressive top speed for both forward and reverse tells so much about the efficiency and productivity it can bring. It can also cover twice as much as the other zero turn mowers within the same period of time. However, all of these great qualities come with a higher price tag.
​A wider deck for a more efficient grass cutting. Troy-Bilt Mustang 54 can cut the usual mowing time of other brands in half. It can cover almost 4 acres in just one hour. It is equipped with a 25HP Briggs & Stratton Intek Twin Cylinder Engine. And a 54" triple-blade side discharge that comes with a deck wash for a more efficient cutting. It comes with a 2.8 US gal fuel tank.Its top speed is 7MPH forward and 2.5MPH reverse. It also gives users a smooth and comfortable ride with its high-back seat with dual suspension springs. Lawn mowing for hours does not have to be straining. The deck height can be adjusted up to 8 positions for a cleaner mowing. Zero turn maneuvering is made easy even in narrow paths with a 2-way adjustable lap bars.The heavy duty frame has a limited lifetime warranty which is impressive because not all brands offer it. Plus a 3-year limited residential warranty for the equipment.
PROS
Check Circle

8-position adjustment for the deck height

Check Circle

3-year warranty and a limited lifetime warranty of the frame

Check Circle

Wide 54" deck width
CONS
Times Circle

High price point

Times Circle

Lack of compatible accessories according to some users
​Bottom line :The 8 level deck height options of Troy-Bilt Mustang 54 25HP is probably its most attractive feature. While other brands come with just a 6 level adjustment, this zero turn mower promises a cleaner and more even lawn mowing. The brand also offers a lifetime warranty on its heavy duty frame and a 3-year warranty for the mower itself.
​How Do Zero Turn Mowers Work?
​Mowing your lawn can be an exhausting chore, but everybody wants a polished and well-maintained one, right? That is also the reason behind this innovation. Push-mowers, regardless if it is battery-powered, electric or gas-powered require a lot of energy from pushing, moving around and clean up.Zero turn mowers allow users to sit back, start the equipment and control the lap bars or the steering wheel. Some zero turn mowers even offer accessories and attachments to make your life easier, like a mulching kit and a bagger to let you clean as you mow. ZTRs or riding mowers are appropriately coined because of its maneuverability. It has a turning radius that is effectively zero. It efficiently pivots from one area to another to make sure no space is left uncut. Maneuvering a ZTR is made possible by lap bars, these are two levers on both sides of the driver that extend over the lap and are used two control the speed and direction of the rear tires which gives direction the whole ZTR.
​The Different Types of Zero Turn Mowers
​For Residential and Commercial Use(For 1 to 3 acres lawn size)Lap Bars TypeZero turn mowers that are commonly sold for both residential and commercial purposes use lap bar controls. There are two transmissions in most ZTRs, each of the rear wheels are controlled by these. Lap bars are positioned forward and backward to control the speed and the direction of the zero turn mowers. Directing a lap bar forward and the other back will cause it to make a turn towards the direction of the forward lap bar. Put the lap bars in neutral position to stop or brake. Steering Wheel TypeSome people do not have the patience to get to know how to use and familiarize themselves with lap bars. Consequently, they would end up just sticking to their old lawn mowers.This is why manufacturers had to come up with steering wheel type zero turn mowers. This model makes using a ZTR similar to driving your car. You can control turns using the steering wheel, accelerate using a gas pedal and stop using a brake pedal. For Big Residential and Commercial Use(More than 3 acres lawn size)Joystick TypeIt may appear like a lap bar at first, but the joystick control is much more comfortable to navigate. Just pull up the joystick and point it to the direction you want your ZTR to turn. Pointing it forward and backward will do the same. Navigating with a joystick ZTR is easy and accidents can easily be prevented as it will not move when the joystick control is moved rapidly. It needs familiarization on the correlation between the movement of the joystick and the wheels to navigate smoothly and prevent turf damage. Stand On MowerThese are commonly used by professional lawn care providers. It gives the user a better perspective of the output and makes the ZTR easier and more precise to maneuver since the cutting blades are at the front of the mower.
​Why switch to a Zero Turn Mower?
​ManeuverabilityUneven patches on your lawn, visible zigzag lines, hard turning and reversing – these are just a few of the dilemmas of people who still use push mowers. Even the slightest slopes are difficult to reach and can be exhausting.Zero turn radius means the mowers can make a complete turn leaving no gaps in between cuts as long as properly executed. You can maneuver in between trees and shrubs, avoid toys that your kids left on the lawn and make sure your dog and cat who might be chasing you will be safe as well.Zero turn mowers are built precisely to address these concerns. Everybody wants a well-maintained lawn and with the comfort riding mowers can give, it is no doubt one of the most significant breakthroughs in lawn care. Ease of UseMowing your lawn can be a repetitive, exhausting and frustrating chore if you do it manually. But with a zero turn mower, it would instantly feel like you are playing around your yard while you cut grass. Lawn maintenance can now be shared with the members of the family since it can be an enjoyable weekly activity. Fuel EfficiencyMowing "back jobs" are quite familiar with push mowers, the efficient use of zero turn mowers prevent that from happening thus saving you a lot on fuel costs.Time and Speed EfficiencySome people spend their Saturdays keeping their lawn tidy using grass cutters or push lawn mowers. Some pay a lot yearly on professional lawn care services who use the same equipment that were featured on this review. If you are looking for a piece of equipment that would cut down your lawn mowing time significantly or if you have considered computing the long-term expenses you will incur paying for professional lawn mowers, it might be helpful to know that a durable zero turn mower can last you up 5 to 10 years. Of course, you also have to take into consideration the wear and tear of parts, but ZTRs really prove to be a wise and convenient investment. Professional looking lawnsTo top all the reasons why you should switch to a zero turn mower is everybody wants and deserves a professional looking lawn. Aside from the joy it brings to come home to a beautiful garden, a tidy lawn prevents pests and insects, making it a safer and more comfortable outdoor living space.
​Things to Consider Before Buying a Zero Turn Mower
​Before you hit "Add to Cart" after reading our zero turn mower reviews, we are giving you more tips to make a more sound decision as you purchase your very own ZTR. 1. Lawn Size and ProductivityHow big is your lawn? It is essential to understand the productivity each brand of zero turn mower can offer you. Based on our reviews, the average cutting deck width is 48" and the average top speed is 6.5MPH. At 80% efficiency, your zero turn mower with a 48" cutting deck and 6.5MPH top speed, can cover 2.52 acres per hour. While you get to cover 3.15 acres at 100% efficiency. The bigger your land is, the wider cutting deck size ZTR for you. 2. Garden or Lawn CharacteristicsZero turn mowers might seem like they do magic, but aside from making your mowing task more comfortable and faster, entry-level ZTRs are not suitable for extreme garden conditions. Despite its maneuverability, you also have to consider the distance of the trees from one another. Other factors to consider are the steepest inclination of the slopes, the type of terrain and the type of grass and soil on your yard. 3. DurabilityZero turn mowers are expected to be "built to last." You might have read in this review that there are stamped deck mowers and fabricated deck mowers. Here are their differences:Fabricated:• Made with heavy steel plates• Welded together• It keeps the mower more rigid• Oftenly used for commercial-grade mowersStamped:• Made with a single piece of steel• It is usually lighter • It also allows better airflowSo which one is for you? To simplify it, zero turn mowers with fabricated decks are suitable for clearing rough and extensive lawns. If you mow your lawn frequently and your yard is between 1 to 1.5 acres, go with a stamped deck ZTR. 4. PowerWhat does horsepower mean for your zero turn mower? The higher it is, the more powerful your zero turn mower engine is. And it directly translates to productivity.If you have a smaller yard and can spare a little more time mowing, a ZTR with a lower HP engine can cost your hundreds of dollars less than those with higher HP.If you are someone looking into adding some attachments to your ZTR in the future, you cannot settle for less power and be ready to spend a little more for a better engine. 5. Fuel Tank CapacityBigger fuel tank capacity means more extended working hours and better fuel efficiency. Likewise, if you are getting a higher HP engine, it should really come with a big fuel tank.On a normal mowing conditions, your zero turn mower is likely to consume 1.1 to 1.9 US gal per hour. A ZTR commonly has a 3.5 US Gal fuel tank capacity which is sufficient to cover 3 to 4 acres in two hours.
The Verdict :Top Pick Residential Zero Turn MowerHusqvarna Z254 26HP 747cc Kohler Engine 54" Z-Turn MowerWe all expect maneuverability from a zero turn mower, but Husqvarna Z254 26HP tops it up with the ease of use that almost anybody in the household can quickly learn how to use it. Even women users can attest to the efficiency of this equipment making it our top pick for residential use. Top Pick Big Residential/Entry-Level Commercial Zero Turn MowerSwisher ZTR2454BS-CA 24HP B&S ZTR California Compliant Trail Mower, Black, 54"Its specifications might be close to our top pick for residential use, Swisher ZTR2454BS-CA 24HP sets itself apart regarding productivity which is twice as much as the Husqvarna Z254. It also comes with built-in mulching blades that will bring easy to zero clean up necessary. Its big tires make it ready for rougher trails. Final thoughts :Zero turn mowers might sound too good to be true, but there are essential expectations to set too. Some of zero turn mowers can be used on slight slopes but nothing more than 15 degrees inclination. ZTRs are also not meant to cut shrubs or be used on muddy terrains. You can turn lawn mowing from a tedious and exhausting chore to an activity the whole family can enjoy.