​Zero-turn mowers are innovations that have been making the process of mowing our lawns much easier than using mechanical tools like push mowers and grass trimmers.
Over the years, this innovation came with more and more enhancements, further improving the user experience.
Ariens IKON-X is no different and has the capability to cut your grass clean like a professional without the need to call for one every now and then. We are going to share highlights of why this zero-turn mower is best for residential, can be considered for commercial use, and how you can maximize its potential.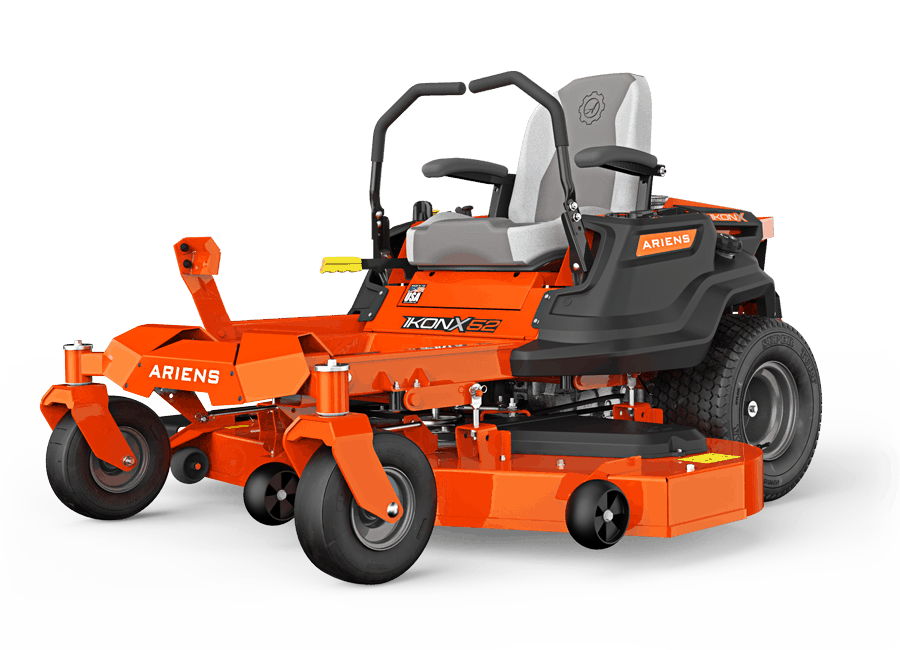 ​About Ariens
​Ariens is a brand that takes full accountability and responsibility for everything that has its name on it. Ariens is a brand that started in 1933 when a father showed his gas-powered rototiller in their garage in Brillion, Wisconsin. For 80 years, they have been specializing in machines that will keep your lawn clean, green, and well-groomed – from lawnmowers to snow blowers. Ariens takes pride in its zero-turn mowers for having the best value yet offering premium features for its users. They only trust two powerhouse engine brands to power their ZTRs – Kawasaki and Kohler. Ariens' Ikon X series is a combination of materials and features that make up a durable and reliable zero-turn mower. Let us break down what makes Ariens Ikon X 52" 23HP Kawasaki Engine one of the top choices for residential and commercial zero-turn mowers.
Read more about the best zero-turn mower reviews here.
​Features and Specifications Of IKON-X
Engine
Ikon X 52" is equipped with a Kawasaki FR691V 23HP engine. It is classified as a commercial-grade engine to satisfy the toughest demands of your lawn and backyard. It is a 4-cycle engine with an automatic compression release and an internally vented carburetor. The overhead V-valve enables fast engagement and the start of the engine giving the user an experience like driving a car. It is a 2-cylinder engine with cast iron cylinder liners which makes the engine warm up easier and cool down faster. The cast iron liners also prevent rust and premature wear of the engine.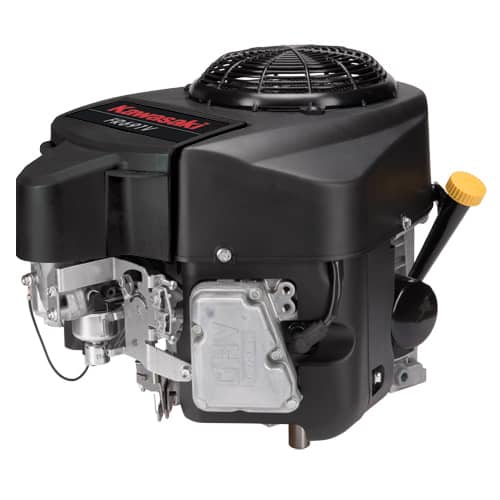 The engine is situated at the back of the seat and is exposed but there is nothing to worry about. The rotating metal grass chopper screen filters the debris out of the engine. It is built to survive even the dirtiest conditions. With the 23HP output and 726cc displacement, this tough machine has a top speed of 7MPH forward and 3MPH on the reverse. It comes with a 2.8 US gallon fuel tank to keep you going for at least 4 hours of mowing.
​Design and Built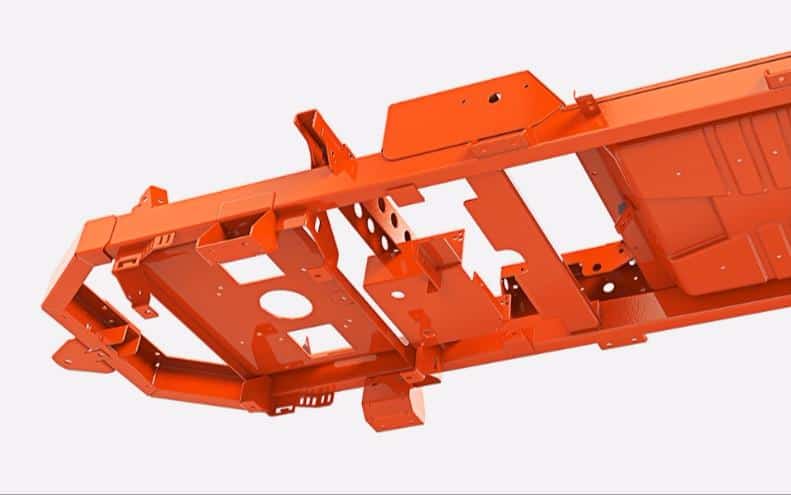 ​Ariens IKON X 52" sports a built-to-last design. It looks tough enough to conquer uneven and rough terrains and mow long hours daily. The combination of orange, black and gray also exudes energy and power adding value to the overall look of the machine. The gross weight of 635lbs. of the whole machine is relatively lighter than other brands with the same cutting deck width. This gives more productivity and speed to the machine than weighing it down because of heavy components. One special feature of the Ariens IKON X 52" is its towing capability. An Ariens Hitch Kit that you can attach to your IKON X 52" is sold separately and can be used to tow carts, dethatchers, and other mowing accessories and supplies up to 300lbs.
​Cutting Deck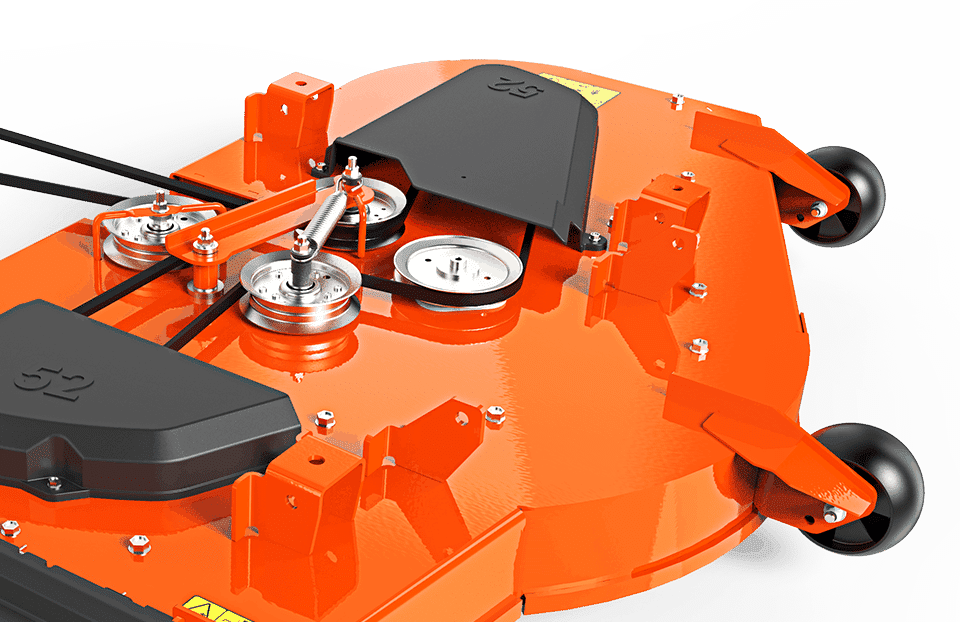 ​The 52" fabricated deck is made with 11-gauge steel. The deck is 4.5 inches deep with 3 deck rollers that will prevent scalping and turf damage. The durability of the whole machine is guaranteed by its fully tubular steel frame. The fabricated deck delivers maximum airflow even in heavy mowing conditions. Ariens IKON X 52" features 3-in-1 cutting options – side discharge, bagging, and mulching. Accessories such as rear baggers and mulching kits are sold separately. Deck AdjustmentThis is probably the most detailed zero-turn mower when it comes to the cutting positions it can offer. Easily choose between 13 cutting positions between 1 ½ to 4 ½ in quarter-inch increments with a turn of a dial. The deck lift system is manually operated by foot. Use it like a pro on uneven terrains with the commercial-style deck suspension that delivers a level cut even when the terrain gets rough. It also stabilizes the whole deck and prevents too much shaking and movement for a smoother ride.
​Maneuverability
​Effortlessly move forward and reverse or turn left and right swiftly and accurately with the easy-to-control lap bars and the Dual Hydro-Gear™ EZT Hydrostatic Drive System that enables smooth driving operation without shifting.
​Comfort
​Comfort is uncompromised even when moving with the fully cushioned high-back seats with seat springs. The seats are also adjustable to make sure the controls and the foot-assisted deck adjustment are within your reach. Comfortably rest your arms on plush armrests which are adjustable to your liking in three different directions. Control keys and buttons are all placed in one control panel which has the 12-volt key start and the 13-position cutting dial, among others.
​Productivity
​With its 7MPH top speed and the wide 52" cutting deck, an acre of lawn can be covered in as fast as 15 to 20 minutes. This is why Ariens IKON X 52" is highly considered for commercial operations of professional landscapers.
​Warranty
Since this model is considered by both residential and commercial users, the brand offers a 3-year consumer warranty and a 90-day commercial warranty. The fully tubular frame also has a 5-year limited warranty.
Is it Worth It?
​Ariens IKON X 52" gets the nod of many residential and professional users. The robust design makes it appealing but you will surely love it more once you sit and get your hands on it. Having a powerful and world-renowned brand, Kawasaki as its engine partner makes it an important long-term investment for your lawn and garden. The 23HP is a decent power output to take care of the thick and durable deck and frame of this zero-turn mower. The total weight of the zero-turn mower is also between that of an entry-level residential ZTR and a commercial ZTR and the top speed of 7MPH gets the work done in lesser work hours.The comfort that comes out of the box is unquestionable. Users now look forward to mowing their lawns weekly because it no longer feels like a tedious and straining activity. High-back seats and padded armrests are accessories worth looking for and having in a ZTR. Unfortunately, a bagger, a mulching kit, and LED headlights do not come with the standard ZTR package and must be bought separately. It would have been nice to have at least one of these included in the price. Overall, Ariens IKON X 52" can be your top consideration if you will replace your old ZTR or push mower anytime soon. If you are also looking into adding equipment for your professional landscaping business, this will be a great asset to your company. Ariens also offers financing options to make it easier and lighter for you to pay. If you haven't decided on the IKON X yet, take our word for it, it is not just all good looks, it is also tough from the engine to every component of the machine.