Your home is your haven, your happy place. You must admit though, that after living in the same space for a couple of years, everything starts looking the same. And who wants to live in a boring space? Are you wondering what it would take to give your home that new, stylish sophisticated look without spending a fortune?
So what do you do? Do you pay for a home makeover? Move houses or buy new furniture? All these are costly solutions to a seemingly small issue. Enter corner floor lamps. You can play with the lighting to create a space you love using floor lamps.
According to a recent research report by Plos.org, lighting has the power to help you relax and relieve stress. Which is just what you need after a long tiresome day at work? Many homeowners focus more on using wall lights and ceiling lights to influence the mood in their indoor spaces. But truth be told, nothing can get the job done better than the best corner floor lamps.
Whether it is inside your living room, your study area, dining room, bedroom or guest room, a corner floor lamp will fit right in. So how do you know which lamp to go for? What features should you look out for?
Here is a selection of some of the best corner floor lamps in the market plus a buying guide to help you find exactly what you want.
​Top Corner Floor Lamps Comparison Table
Torchiere Design Floor Lamp
Elegant Designs Marbleized Lamp 
Black in color 
Made out of metal material 
Measures 71 inches tall 
Contemporary Design Floor Lamp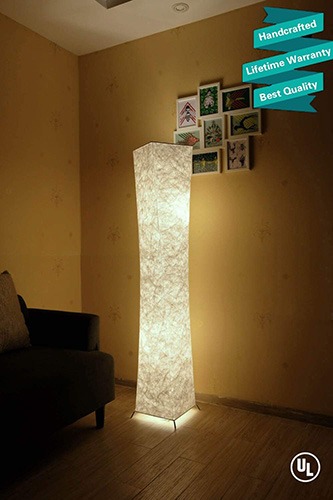 Has a textured fabric shade 
Blends well with both traditional and contemporary décor 
 Ideal for ambient lighting 
Metal Tree Design Floor Lamp
Simple Design Metal Tree Floor Lamp 
Has 3 light metal shades 
Measures 63.75 inches tall 
Weighs 8.8 pounds 
Best Corner Floor Lamps in the Market in 2019
Planning to entertain guests soon? Make a bold statement by finding one or two of these gorgeous floor lamps to adorn your space. While your furniture makes up more space, the little tweaks here and there set your living area apart from other ordinary living rooms. One tweak that can help you out with this is the Elegant Designs Marbleized Amber floor lamp.
Weighing at a paltry 13.67 Pounds Elegant Designs Marbleized Amber floor lamp is the missing piece needed to complete your living room décor. Its Torchiere design and Marbleized Amber glass shade allow light to shoot up and bounce off the ceiling to create an accent that beautifully lights up the entire space. Towering high at 71 inches, this lamp's simple design enables it to blend easily with the rest of your furniture.
Whether it is in a corner near your study area, a corner in your bedroom, dining area or inside your living room, it will never appear out of place. The fact that it is made out of metal material goes to show that its strength and durability is guaranteed.
Your furniture choices say a lot about you. In this case, the Elegant Designs Marbleized Amber floor lamp demonstrates your creativity, sense of style and attention to detail. Turn this lamp on and instantly set the tone whenever you have company coming over.
PROS
Check CircleMade out of strong and durable metal material
Check CircleHas a sleek and simple Torchiere design
Check CircleSuitable for ambient lighting in any living space
CONS
Times CircleNo provision for adjustability
Times CircleUnsuitable for task lighting
Times CircleIf poorly maintained, it can start to rust
Nothing spells control and versatility better than this Simple design 3-light metal tree floor lamp. Perfect for direct task lighting, this lamp is all you need right next to your study area. Don't want to have to light up the entire living room or bedroom and inconvenience others who may be sharing the same space? Switch on your Simple design 3-light metal tree corner floor lamp and go on about your business.
Its simplicity is a deliberate move by the designers. Their goal is to have you focus more on this floor lamp function. A feature that you can't look past is the fact that this floor lamp has three light shades.
Each one of these lights rotates and can be switched on and off individually. For example, you can turn one of the lights on when your task doesn't demand too much light.
For decorative purposes, you could also turn all three lights on and rotate the shades to face different directions.
This floor lamp weighs 8.8 Pounds and measures 63.75 inches tall. It is made from metal material, which tells you that this lamp is strong and that it will serve you for a long time. If you're looking for something that will fit well with all your furnishings and fittings this metal tree design, corner floor lamp is your best bet.
PROS
Check CircleHas three rotating lights
Check CircleMade out of strong and durable metal material
Check CircleIdeal for task or direct lighting
CONS
Times CircleThis type of floor lamp is not suitable for ambient lighting
Times CircleWeighing at 8.8 pounds, this lamp can fall easily if bumped on
Times CircleConsumes slightly more electricity than the torcher design floor lamp
Why buy this? It offers homeowners enhanced versatility, adjustability, and control.
What does your décor say about you? Are you more of a contemporary type of person or you lean more towards the traditional style? Well, you'll be glad to know that whatever your style is, this Minimalist modern soft lighting lamp will blend seamlessly. Most lamps are designed with a stem that stretches upwards with the light hanging at the top. But no, not this one. I mean why waste all that space and potential?
This corner floor lamp light stretches beautifully from the bottom to the top. It helps you create a warm atmosphere in a rather dull looking space. If you just moved in, you probably have many open patches in your house.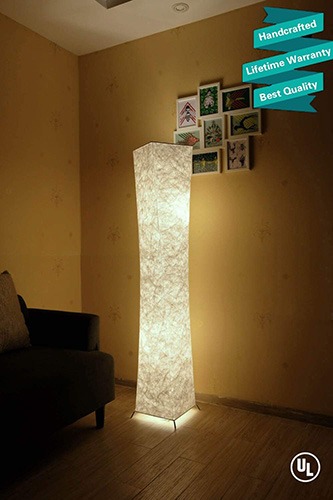 This Minimalist modern soft lighting twist tower shape corner floor lamp will make it look more presentable, an attribute that is both a good thing and a bad thing. These are the best corner floor lamps for that living space where there aren't too many fittings and furniture. But a bad thing where it would look crammed and inconspicuous in a living room with bulky furniture.
Its simple base and flamboyant shade make this floor lamp the focal point throughout the house. It's superior ability to add color and flavor into any space easily catches the eye, which makes the perfect conversation starter for friends and family visiting your home for the first time.
It measures 61 inches tall and can hold two LED bulbs. It has a classy fabric shade that enhances its potential to illuminate soft lighting into your bedroom or living room.
PROS
Check CircleAttractive minimalistic twist tower shape design
Check CircleBlends well with traditional and modern décor
Check CircleHas a sturdy steel base with four short stands
CONS
Times CircleNot great for reading and other direct tasks
Times CircleIt has limited adjustability
Times CircleWeighing at 3.75 Pounds, this lamp may be too fragile and can easily fall if bumped into
Want a shade that will look just as good during the daytime as it does in the evening? This is an incredible choice.
Dazzle your guests with this multipurpose Brightech Maxwell LED shelf floor lamp. Its design features a three-tier design for improved convenience. The bottom tier doubles as both a base and a place where you could place your flowerpot. The second tier is great for your favorite books or magazines, the third tier, perfect for your remotes and collectibles, and the fourth shelf is where the lampshade is.
Besides simply lighting your space, this floor lamp also brings you functionality. Use the Brightech Maxwell LED shelf floor lamp's ambiance and soft touch to give life to your living room, guest room, and office space, dining area or foyer. Its style and aesthetic influence are to say the least, undeniable. Even when the floor lamp is turned off, you can still appreciate its appeal.
To feel calm and relaxed, you need soft/warm lighting that isn't too harsh to your eyes. The Brightech Maxwell LED shelf floor lamp will give you just that. This lamp and shelf combo are so versatile, it can work with smart outlets like Google home assistant, Alexa, Apple SmartKit and other systems to turn on and off. Note that if you want this function, you will have to buy the smart outlet separately.
Its design makes it hard to topple over while its wooden material enhances its durability. It weighs 11.7 pounds and measures 63 Inches high. It also comes with a 9.5-watt energy-saving bulb that is guaranteed to stay on for 20,000 hours.
PROS
Check CircleMade of durable wooden material
Check CircleStrong and sturdy base
Check CircleHas an attractive and multifunctional three-tier design
CONS
Times CircleIs a tad bit highly-priced compared to other floor lamps
Times CircleCan appear bulky especially in a smaller and stuffed space
Times CircleHas limited adjustability needed for reading or task lighting
When it comes to versatility this is by far the best corner floor lamp.
In the interior design realm, layering lights gives a far better effect than a single source of lighting. To layer light means to use many lamps in varying sizes to light up space. The combination is what helps create diverse moods. The Adesso Trinity Arch Corner Floor Lamp is designed to satisfy the need for layering light.
According to Jennifer, a renowned YouTuber on matters interior design, most homeowners have the right lamps but fail to use them correctly. Here, she gives you five tips and mistakes to avoid on lamps.
Standing at 81 inches tall, this three-light corner floor lamp offers multidirectional light ideal for the living room area. Nothing is typical about this lamp; its enchanting rustic design is bound to transform any space.
It comes installed with a four-way rotary switch that enables you to either turn each light on and off individually. You can use the same switch to switch all the lights on or off. It is light in weight and has a smart outlet for when you want to use home assistant software to operate.
The floor lamp has a bronze circular base and main pole attached to three smaller poles extending in three different directions. Each extension has a hanging round shade made of a bronze frame and burlap fabric.
PROS
Check CircleMade of strong and durable bronze material
Check CircleHas three multidirectional light shades ideal for ambient and task lighting
Check CircleHas a multifunctional four-way rotary switch for enhanced control
CONS
Times CircleFor detailed tasks, this type of floor lamp may be inadequate
Times CircleIt may be too bulky for a smaller living room
Times CircleIt may be too expensive for someone working with a small budget
If you're looking for something rustic and unique, this corner floor lamp has all that and more.
Factors to Consider When Buying the Best Corner Floor Lamp
Floor lamps must be the most underrated of all lighting schemes. This despite their superior power to change the entire mood inside any space all with a switch of a button. To illuminate those dark corners of your living spaces, you only need the right floor lamp.
I love using floor lamps instead of my normal standard lights during those evenings when all I want is to lay back, read a book, and unwind. It's a great thing that I don't have to find a professional to help me install it. All I need to do is plug it into a power socket and switch it on.
Set the tone in your home by choosing the type of lighting that suits your needs. Finding the best floor lamp is no easy feat. To find one, you need all the help you get. So to help you with that, here are several factors to consider when looking to buy the best corner floor lamp.
Floor Lamp Design/Type
All floor lamps, in general, have the same upright design. They all have a stable base to help keep them grounded on the floor and a long stem that extends upwards. But other than that, floor lamps come with their unique styles and benefits.
Some floor lamp types or designs include:
Ambient Floor Lamps
Ambient floor lamps are the most common type of lamps. They are meant to illuminate general light in any room. This type of lamp almost looks like a normal bedside lamp. The only difference here is that it stands on its own on the floor and not on your bedside table.
Perfect for reading, the light bulb is usually covered with a lampshade to help diffuse the light. Bright enough to light up the entire room but not too bright that it becomes uncomfortable to see properly.
Having a beautiful floor lamp is one thing but knowing how to place it and where to place it is a whole other thing. There's nothing as unsightly as a stunning floor lamp placed behind a huge indoor plant or tucked away where it can barely be seen. Some ideal spots to set your ambient floor lamp would be beside the sofa in the living space corner or next to your lounge chair.
To find out more about lighting your home, here's a detailed read by Huffington Posts' Kaitlyn Davis.
Arc Design Floor Lamp
When you're looking for versatility the arc design floor lamp is your best bet. Unlike the standard design floor lamp, this floor lamp has a tall stem that stretches upwards with an arm/branch that extends outwards. It almost looks like a sunflower.
Part of the stem is adjustable. This makes it easier to move the shade and turn it sideways, upwards or downwards to provide direct light to a specific area. Arc floor lamps are great for dining room lighting or the living room. This makes it superb overhead lighting when performing direct tasks such as studying, or when fixing something like a faucet or a broken watch, for example.
Reading Floor Lamp
Reading requires more focused types of light. Otherwise, you will strain your eyes and end up nursing a terrible headache that could have been avoided in the first place. Reading floor lamps are created to illuminate your reading space with direct light. If you're out in search of a floor light to place right next to your desk, a reading lamp does the trick.
You'll notice that a floor lamp is much brighter than other lamp types. For improved functionality, find a reading floor lamp that comes with a flexible arm, a tilting stem, or a tilting shade. This way you are easily able to move the light to that point where you want to brighten.
Torchiere Floor Lamp
Also known as, Up Light floor lamps, Torchiere lamps have shades that point directly upwards. Designed to bounce off light from the ceiling, this type of floor lamp is perfect for creating accents. Their unique design, however, makes them insufficient for task lighting. Their decorative lighting nature can turn any pale, boring space into a stylish serene area that attracts attention.
If you want to add some character and dimension to those empty corners in your bedroom, dining area, or living room, Torchiere floor lamp design will get the job done.
Cost
The good news is that some unique floor lamps do not cost that much. But if you're looking for rustic, artistic, or custom types of floor lamps, be ready to spend anything from a couple of hundred dollars to over a thousand dollars. Whatever your budget is, there's a floor lamp that goes with it.
While it's important to stick to your budget, it's prudent that you remain flexible too. No need to pass off on a perfectly good floor lamp because its price was off budget by a few dollars.
The cost of a floor lamp should work as a guide. It's not written in stone but it gives you a threshold, a borderline to abide by. Bottom line, if it looks fantastic, works well with your furniture and serves its purpose, then, take it home with you.
Height
Don't be too drawn in by the aesthetic appeal of the floor lamp that you completely forget to factor in its height. A floor lamp that is much taller than normal light provides ambient light. It provides just enough lighting to allow you to see and maneuver throughout the room.
Alternatively, a floor lamp that's much shorter in height is better for task lighting. They are much brighter and provide adequate lighting for tasks like reading, cake decorating and so on. When you figure out you want tall lighting, think about the height of your ceiling and where you're going to place it. You don't want to purchase a lamp only to find out later that it's too tall and can't fit in.
On the other hand, if you're going with a shorter lamp, find one with adjustable arms or stem. This way you can direct the lampshade as needed without having to move the whole floor lamp.
Size
Torchiere floor lamp, for example, is designed to take up more vertical space. An arc floor lamp, on the other hand, can take up more space horizontally and vertically. So the question before you make your final decision would be, could the lamp fit in your space?
You don't want to force the lamp to fit into a tight space or keep bumping into it. Remember to measure the length width and height of the corner where you intend to place the lamp. This gives you a figure to help you countercheck and minimizes the risk of you buying a floor lamp in the wrong size.
Note that what looks attractive in a picture may end up looking quite different when you get to finally see it. If you don't have that much space to spare, play it safe by choosing a standard design upright floor lamp.
Controls and Safety
How do you turn the lamp on and off? How close is it to the power source? In a house where several people sharing the same space, you consider the controls and safety of the floor lamp. More so if there are kids involved.
Floor lamps fitted with halogen bulbs can get very hot. If one happens to stand too close to them, touch it accidentally or trip and fall over it, they may end up nursing serious injuries. What's more, they may pose a fire hazard if placed too close to the curtains or near other furniture.
Regarding controls, do you want a light that has an on and off switch or would you opt for one that's touch-sensitive instead? You're safer with a floor lamp that requires minimal contact to get it to work.
To avoid any risks, go for floor lamps with LED light bulbs in place of halogen bulbs. Ask for a floor lamp that has an inbuilt system that automatically turns the light off in case someone bumps or trips on it.
Your Living Room Décor
How well does the corner floor lamp work with your living room décor? You don't have to carry the lamp home to find out, visualize it in your mind. Still can't figure it out? How about you take a clear picture of your living room and bring it to the lamp store with you? Here, you can ask an interior design professional to help you pick out a floor lamp whose style and design are guaranteed to complement your space.
A few tips I have learned along the way tell me that semi-translucent shades bring balance into an area that appears extremely bright, conspicuous or empty. One way to bring some positive attention to this space is to make the floor lamp part of a unit. For instance, combine a cozy armchair, a small side table, and a lamp in between the two pieces of furniture to create the perfect reading area.
Additional Features
A floor lamp's main purpose is to provide lighting into any given space. Most shoppers only look to satisfy this need. But would you dare turn down a corner floor lamp that does more? What additional features can you find on a lamp out there? Some include
In-built dimmer
Most floor lamps come designed with a line cord, foot dimmer or a knob switch dimmer. However, nothing spells contemporary more than a lamp that can regulate levels of light all on its own. All this thanks to intricate in-built dimming technology.
Double pull chains
A double pull chain allows you to switch between two varying levels of light without having to use the dimmer. This feature is ideal for those who want more control.
USB corner floor lamp
Looking for an alternative way to charge your electronic devices? How about find a floor lamp fitted with a USB port? You could easily charge your tablet as you catch up on a few more chapters of your favorite book.
Shelf floor lamp
This floor lamp has several shelves/tiers as part of its structure. Instead of having four stands stretching from the base to the lampshade, some designers make use of the idle space in between to insert shelving boards. These make perfect additions for extra space to hold your indoor plants or hold your books or remote controls and so on.
No doubt, lighting is an integral part of designing your home. Pick a floor lamp that you feel has the best potential to complete your space. Ask yourself, what type of lighting do I need for this corner? Maybe you need task lighting from an arched floor lamp for reading. Maybe you prefer accent lighting from torchiere floor lamp to decorate and fill in that empty patch inside your bedroom. Could be some ambient lighting is what your living room needs to complete the look. Much cheaper than a complete revamp or complete makeover don't you think?
Final Words
To figure out the best corner floor lamps to purchase you must be clear on the needs you want to satisfy. Most lamps are designed either for reading or ambient lighting and so on. However, if you look hard enough, you will find a floor lamp that can serve different purposes at the same time.
The Simple design 3-light metal tree corner floor lamp is a floor lamp ideally designed for task lighting. I discovered by accident that if you tilt the lights upwards towards the ceiling or sideways towards the wall/curtains, you could bounce the light off the surface to create ambient or soft lighting. Out of the five-floor lamps highlighted above, this simple feature explains why the Simple design 3-light metal tree corner floor lamp is my favorite.
Be sure to get the right piece for the right space. Remember that the placement of the floor lamp also matters. If you feel a bit confused or unsure, the factors above will help you get everything into perspective.
Standing floor lamps are designed to light up your space, but they are also decorative. Don't be carried away by how gorgeous the lamp is and forget to factor in the space into which you want to bring the lamp. Give it a bit of thought and watch your room become your serene place. Not just for you but for anyone who gets to share your space.
So off you go, let your creative juices flow, and create a space that will be the talk of the town when they get to see your home.