In today's world, living in the urban capital implies that you have to make some crucial choices when it comes to living spaces. Among these choices, involve choosing the right futon or sofa bed for your room.
A sofa bed is a dual-purpose piece of furniture that serves as a couch in the daytime and a sleeping bed during the night. They are designed explicitly to accommodate this dual functionality. When shopping for a sofa bed, you will come across a variety of designs, shapes, sizes, and materials.
Traditionally the standard sofa bed is a pullout couch, a futon sofa bed, or a simple convertible sofa bed. The critical difference between the two is the mattress design. You will find the mattress of the sofa bed concealed below the frame during the day or when used as a couch. It has a complete set of seat cushions.
For a futon, the mattress serves as a seat cushion and bed mattress at the same time. In sofa mode, the sofa bed appears and feels precisely like a standard couch. It has thick cushions regular couch armrest and very well upholstered.
To use a sofa bed for sleeping, you need to remove the cushions to expose the underbelly of the mattress frame. This frame is then flipped up to show the mattress side. To switch back to couch mode in the morning, you need to fold back the structure to its place and put back the seat cushions.
To turn the futon into a bed, all you need is to push the backrest to form a full flatbed, which now makes the cushion a sleeping mattress. The purpose of this back-story is to create a distinct picture between the two furniture pieces. It is because, with the advent of new technology, the line between the two is getting blurrier.
Most sofa bed design companies come futon companies have managed to create a hybrid design of both the futon and the sofa bed.
Let us have a look at the comparison table of the three-corner sofa bed and futons discussed in this article.
Comparison Table
Budget pick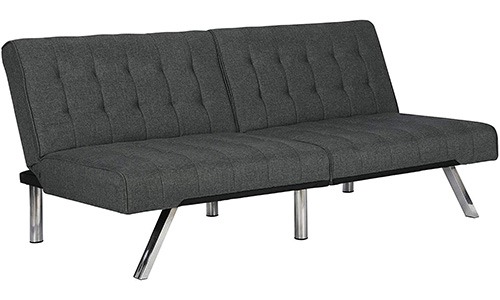 Sturdy 
Comfortable 
Durable
Medium pick
Better Homes and Gardens Wood Futon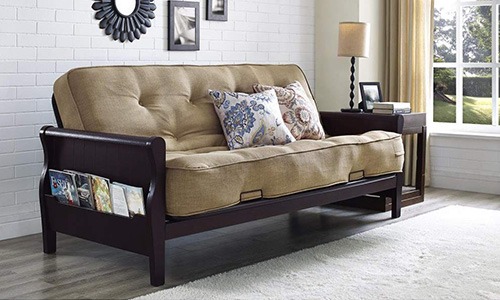 Firm mattress 
Easy to install 
8 Inch Pocket Coil Futon Mattress
Best Pick
Classic Brands Memory Foam Sofa Bed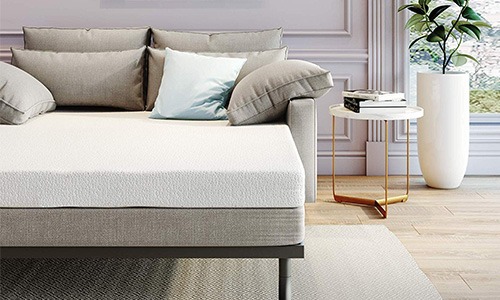 Memory foam 
3-year warranty 
 Firm cushion feel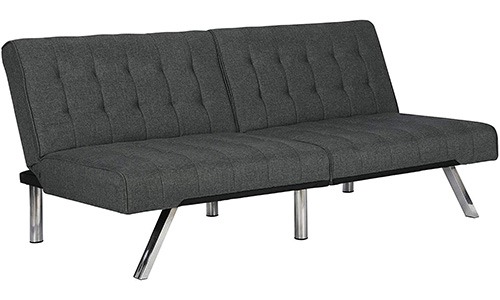 If you need some additional seating space for your TV room without breaking your bank, then this is for you. It is slim, comfortable, and very stylish.
The upholstery is beautiful with a very soft touch as compared to the faux-leather corner futons. It is available in navy blue linen material or lovely grey color.
It comes with an adjustable split rear for comfort and saving space. Its sleek modern design gives it a dual-purpose application for a home or an office environment.
It boasts a comfortable feel with a firm mattress for those that prefer a firmer mattress. If you prefer a softer feel, it is prudent to buy a soft mattress topper to complement the base mattress.
PROS
Check CircleIntact shipping package with a timely delivery
Check CircleEasy to assemble
Check CircleLightweight
Check CircleEasy to use manual
Check CircleOne-year warranty
CONS
Times CircleTends to get weak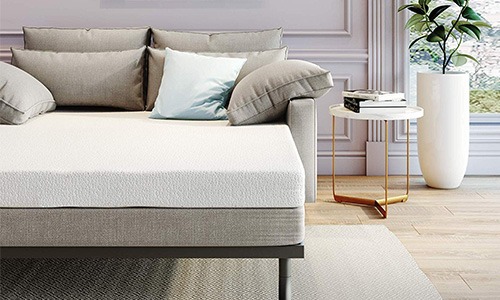 This sofa bed is a better alternative from the innerspring mattress sofa bed. It has a 4.5 inches thick mattress with high tech memory foam designed to last, in turn, provide comfort, and pressure relief for a quality sleep session.
The mattress has a natural allergen, bacteria, and mold-proof materials. It folds out easily into a bed and folds back to its original shape creating a perfect combo as a guest bed and a couch.
The sofa mattress has two-layer memory foam, a top layer made up of cozy memory foam for comfort and pressure relief. The underlying layer has dense foam that acts as a foundation and orthopedic support. These two layers form the more significant part of the 4.5-inch sofa bed mattress, which also acts as a seat cushion.
PROS
Check CircleThe memory foam mattress provides proper air ventilation
Check CircleIt offers full-body support and comfort
Check CircleDurable high-density foam
Check CircleHeatproof
CONS
Times CircleTakes a while for the new mattress smell to wear off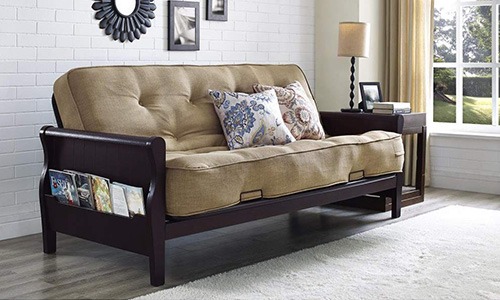 Armed with a coil mattress design, The Better Homes and Gardens Wood Arm Futon is a perfect fit for a contemporary modern living room. It serves as an excellent couch during daytime and transforms into a full-size bed for sleeping.
It features a stylish design with a rich wood feel combined with a sturdy wood armrest and a durable metal frame. It has an 8-inch coil mattress for support.
The posh will cover morphs very well with any modern décor. It has over 500 enveloped coils working independently to provide support, whether you are seated or lying down.
In case you find its assembly manual a bit tricky, this video gives a step-by-step procedure on how to handle assembly.
PROS
Check CircleVery easy to assemble
Check CircleA very natural transformation from couch to bed and vice versa
Check CircleLow arms for optimum foot space
CONS
Times CircleCan be a bit bulky to move
Created with a very comfortable cushion from the Novogratz Brittany linen, this is the best choice for a home office and guest room scenario. If you have a room that you use as an office during the day and host sleepover guests, this is the perfect futon option. It has a tufted back cushion for support provision that makes you sit relaxed for hours without getting fatigued.
The navy linen upholstery creates an elegance component and can act as a centerpiece in any room. Its slanted legs and the curved armrests complement each other to bring out a unique curved appeal. The pricing is very fair, and from the reviews it is comfortable. You can throw a softer mattress on it for a softer feel in case the guests find it too firm.
The package has a well-folded futon that you can assemble under half an hour by going through the simple assembly instructions.
PROS
Check CircleEasy to assemble
Check CircleA firm mattress tend to last long
Check CircleBlends with the décor
CONS
Times CircleThe firmness can be uncomfortable to some users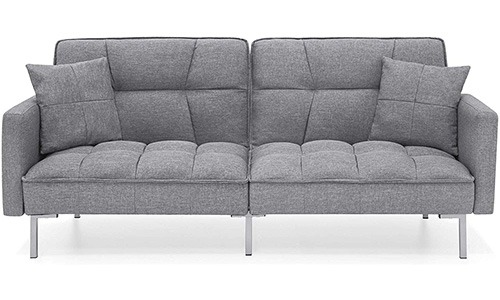 This masterpiece provides excellent adaptability to the general modern interior design. Regardless of the context, it gives comfort, whether hanging out with friends on the lounge or need for a cozy bed. You can decide to pull it to a flatbed platform or keep one side up. Either way, it serves the dual bed cum couch purpose very well.
The package has a pillow and tools compartment to assemble and complete the futon. You can repurpose these compartments for bed sheets or other utilities.
People who purchased this futon have found it to be very comfortable. It also does not occupy a lot of space during the couch to bed transformation.
PROS
Check CircleVery comfortable for lying down or sitting
Check CircleComes with two pillows for extra resting your head
Check CircleHas a reclining back between the couch and bed positions
Check CircleEasy to assemble
Check CircleDoesn't take much room as a couch
CONS
Times CircleThe mid fold section is not well cushioned and tends to be uncomfortable when laying in certain positions
If you have a small space like a trailer or a small room and you are hunting for a sofa bed solution with a touch of elegance, this product is perfect. It's a cleverly engineered piece of furniture designed to fit spaces where a full-size bed is not an alternative.
It comes with a removable cover for easy cleaning and high-density CertiPUR certified foam to ensure quality and durability. It a quality fit for video game rooms, libraries, and hosting sleepovers.
Its package is compact, with a rolled mattress inside; no assembly required. All you need is to remove it out of the bag and remove the plastic seal cover. It comes soft but starts to expand when exposed to air. Therefore, you need to wait for about 20 minutes for it to get firm and cozy.
During the day, you can fold it up to form a couch shape, use it for seating, and roll it flat when you want to sleep.
PROS
Check CircleNo assembly required
Check CircleComfortable foam
Check CircleLightweight perfect for mobility
CONS
Times CircleTakes a while for the new mattress chemical smell to wear off
If you want to create a lovely lounge experience, the DHP Sophia Sofa Bed is the way to go. It has little bit sleighed arms that complement the brown linen and a modern, timeless elegance created by its tufted upholstery and reliable construction. Its unique features are solid wooden legs and a trundle packed with several wooden planks that eradicate the need for box springs.
It is a gorgeous bed with an easy assembly process, though it can take a while to get the hang of it. Verified purchasers of the DHP Sophia Sofa Bed have given their experience and shared tips for easy assembly. It is best to start with one black slat when assembling.
Do not make the mistake of trying to snap them all in at one in the name of saving time. It is risky since forcing the slats to lock can lead to breakage.
Therefore, instead of trying to insert them at the end and the middle at the same time, start with just a single slat and snap it at the end, from there, pop the middle plastic lock.
PROS
Check Circle Very cozy
Check CircleExemplary quality
Check CircleGreat purchase price
Check CircleEasy to assemble
CONS
Times CircleCan take a while to assemble
Factors To Consider When Buying A Futon Or Sofa Bed
Room and access points Size
It is essential to measure the space that you are going to fit the sofa bed and futon. Before deciding to go out and make a purchase, make sure you have the correct dimensions. Not only measurements for your room but make sure you also have opening and closing allowances.
You may have a perfect sofa bed that fits well as a couch in the house but blocks access or fill up the whole room when opened into a bed.
Apart from room space, please make sure you measure the hallway and the doorways, or the access point where your new sofa bed will pass to get to your room. We have had instances where the sofa fits well in your room, but it cannot get past the doorway.
Décor blending
If you are making this purchase for the long haul, make sure it fits well with your décor. You should ask yourself how regularly you intend to use the sofa bed. If it is the centerpiece in your living room, make sure it blends well with the interiors. It ensures you do not end up having a piece of furniture that looks like a misplaced folded up bed in the middle of the living room.
Mattress quality
If you are planning to use the sofa bed regularly, invest in the right mattress. For a medium usage, pick a medium density mattress and add an extra topping for additional comfort.
Keep in mind a thicker mattress does not mean durability or quality. In some instances, a sleek bed that is well designed provides more support than a thick one. An excellent choice would be the pocket coil mattress or the memory foam.
However, style change comes with a price change. Therefore, before you make a purchase make sure you test each mattress style.
Look for foam toppers deals
Most manufacturers give out additional mattresses when you make a sofa bed purchase. Always consider these since they are more comfortable to use than regular ones.
Check the Mechanisms
Check out if your new sofa bed has sharp points that can mess with the hemming of your sheets. You also want a hassle-free transition from couch to bed and vice Versa.
Bulkiness 
A sofa bed consists of both the bed module and the couch module. It means that in some models, the futon or the sofa bed tends to be very heavy. Therefore, if possible, it is advisable to get your hands on the lightest make. In case you are to lift it through the stairs way up to your apartment to the 30th floor, a massive model will not be favorable.
Conclusion
In a perfect universe, we would all have homes with guest rooms with so many spare beds to accommodate sleepover guests. Unfortunately, that is not the case in the real world. That is where the sofa bed and futons come in handy.
If you own a thin sleeper uncomfortable mattress over hard iron bedding, then you need to check out the latest sofa beds. Manufacturers have come a long way with hundreds of iterations to fit your needs. With the choices you will get out there, it is advisable to have a fact sheet to guide you out like this article.