Corner hutches provide dramatic detail to kitchens and dining rooms. Traditionally, a hutch showcases China and other impressive glassware. This piece of furniture isn't exclusive to plate storage anymore.
Hutches are versatile enough to blend well with a bedroom, foyer, bathroom, or other room in need of extra storage. They can be the centerpiece of a room, or a side piece to complement a room's motif.
If you have a room with an odd corner in need of a purpose, a corner hutch could complete this room.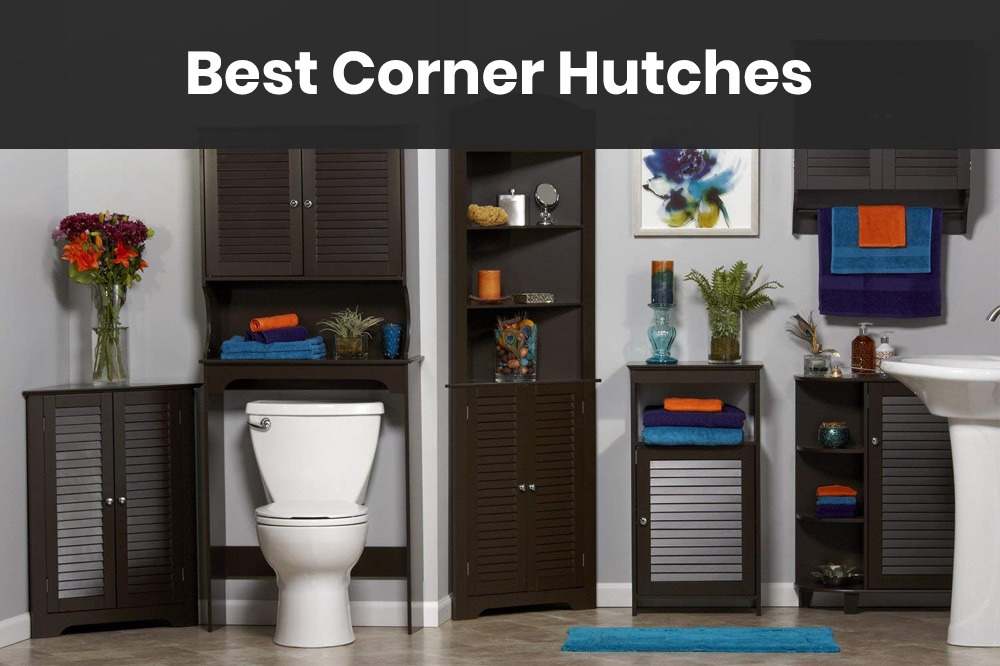 Read Next
The Best 6 Corner Hutches In The Market
Most Affordable 
Best Corner Hutch Under $150
3 adjustable shelves
Very sturdy
Easy to assemble
Most Versatile
Best Corner Hutch For Any Kind Of Room
Available in white and brown colors
Can be mixed and matched with other Ellsworth items
Includes an enclosed cabinet
Most Luxurious 
Corner Hutch Made With Best Materials
Head-turning design
Amish Handcrafted
Made of Pine wood
Why Buy: Sleek-looking in white and light blue; it's affordable too!
Highlight: Simple design makes it easy to switch rooms
Dimensions: 31½"W x 15¾"D x 64"H
BrylaneHome's cottage kitchen corner cabinet is constructed with a mix of medium-density fibreboard (MDF) and pine wood, sealed with matte paint in either all-white or all light blue.
From top to bottom, this cottage-style corner hutch weighs 60 pounds and measures 31½-inch width x 15¾-inch depth and 64-inch height. It's heavy enough to stay in one place, but light enough to move around when you need to.
Like most of the hutches on this list, you'd have to assemble the BrylaneHome cottage kitchen corner cabinet on your own. Thankfully, it consists of only a few parts, making it user-friend to build piece by piece.
Design-wise, this versatile corner cabinet features an enclosed, double-door cabinet with two 9-inch non-adjustable shelves, followed by two open shelves in the middle, and another enclosed cottage-style two-door cabinet at the bottom, matching the one at the top.
BrylaneHome is a brand under reputable New York-based company FULLBEAUTY Brands, which has been providing plus-sized clothing for men and women since 1901. Although BrylaneHome is the only furniture and home lifestyle brand under FullBeauty Brands' wing, BrylaneHome has produced numerous furniture and home products since 1998.
PROS
Versatile - can be used in the kitchen or any other room
Affordable - the pine wood MDF material and simple design made this
Easy to assemble - No complex instructions needed, you can assemble this corner cabinet quickly and stress-free
Tons of space - The 2 enclosed cabinets provide a lot of storage space, and if you want to showcase something, the open shelves are ready to accommodate your needs
Easy to clean - The finishing used for this corner cabinet allows users to just wipe it with dry cloth when cleaning
CONS
Cannot be placed near steam - Like most wooden hutches, it's not recommended to place near the shower or cooking area, where steam could affect the wood.
Why Buy: This tall corner cabinet can add character to a room on its own, or as part of a furniture set from the RiverRidge Home Ellsworth collection
Highlight: Amazon's Choice for several years in a row
Dimensions:23.25" W 17.5" L 11.5" D 63.31" H
Built with high-quality MDF painted in either all-white or espresso, The RiverRidge Ellsworth tall corner cabinet was made to fill up a small and "dead" corner space whether it's in the bathroom (as it what RiverRidge Home claims it was designed for), or any other room.
Design-wise, this corner cabinet features three open shelves at the upper part, making them perfect spaces for showcasing awards and trinkets in the living room, toiletries in the bathroom, or any fancy glassware in the kitchen. The lower part of the RiverRidge Ellsworth tall corner cabinet had an enclosed traditional shutter door with two extra shelves in there.
There's a minor flaw in the design: the upper and lower parts can be a bit loose, so you'd have to anchor the whole thing to the wall for added stability, or you could use wood glue to connect them permanently.
It's cool that you can purchase this on its own, or buy more space-saving, store cabinets from the same Ellsworth Collection that matches perfectly.
PROS
User-friendly assembly - There's a manual to help you put this together. You might get overwhelmed by the number of pieces at first, but it's quite easy once you begin. Most people built it under 20 minutes.
Secured bolts - The screws and bolts were all labeled, then packed in a ziplock bag so no chance of tiny parts getting lost before assembly.
Inexpensive - For something that could add depth to a room, this tall cabinet is affordable
Can work as a standalone or part of a set - RiverRidge Ellsworth also sells several other pieces of furniture to complement this tall corner cabinet.
Isn't "tall" as you'd expect - The name of this corner cabinet emphasizes the word "tall," so the assumption is that it would be, but it measures roughly 63 inches, which is just right for most home cabinets.
CONS
Smells of stain - The espresso one), but goes away after a few days
Why Buy: Available in over 10 colors, Sawdust City's corner hutch could bring a vibrant pop to any room
Highlight: Unique texture due to non-processed wood
Dimensions:22" W x 8.75" D x 58" H
This small wooden corner hutch is handmade from Eau Claire, Wisconsin-based furniture company Sawdust City.
Unlike other corner hutches on this list, this one is made of "solid knotty pine," so you get the rustic vibe of traditional cottage-style furniture. Those knots and minor imperfections you'd see on this hutch not only make each piece unique and look "custom built-in", they also prove that the company doesn't really incorporate highly-processed wood into their craftsmanship.
The upper part of the corner hutch has three adorable shelves measuring 13.125"W x 7"D that allow for 9"H. The lower part has a one-door cabinet (measuring 22" W x 8.75" D x 58" H) with two additional shelves hidden inside.
PROS
Tons of color options - You can choose from class white, brown or black, but there's also options to go bold with red, sage and blue.
Two types of finish to choose from - Go with "solid" if you want a simple two-coat paint, but pick "old" if you'd like a single-coat paint with light distressing
Perfectly packaged - Sawdust City made sure the hutch doesn't get damaged from shipping, so they separate pieces into two packages.
Sturdy construction - It is made with real wood, so expect a more solidly constructed piece of furniture
CONS
A bit shorter than other corner hutches - This is stated on the name of the product though, so no complaints here
Why Buy: If you want a furniture set, but don't have the funds yet, Prepac's Elite collection gives you the option of buying this classic corner storage cabinet as a standalone or as a set to fill up a kitchen, living room or bathroom.
Highlight: You're free to mix and match Prepac furniture that compliments your corner hutch
Dimensions:29.25"W x 72"H x 18.75"D
Prepac's Elite Home collection has over 10 variations, all with varying styles and price, but we're focusing our eyes on the Elite Tall 1-Door Corner Storage Cabinet for now.
This towering corner hutch has a sleek, simple design. Measuring 72 inches tall, and around 30 inches wide, the Elite Tall cabinet will definitely be a scene-stealer, whichever room you decide to put this in.
At the upper part of the cabinet, you have three open adjustable shelves, which is perfect if you're planning to store items like wine bottles that wouldn't have fit fixed-height shelves. The lowest part of the hutch is an enclosed, multipurpose cabinet with two extra shelves.
PROS
Solid build - Even if it was made from laminated composite, nontoxic wood, the hutch feels solid and sturdy
Adjustable shelves - Allows you to place more possible items, since you're not constricted to a specific height
Pick door placement - You'll have control over how you want the cabinet to face - install it to open right or left, then finish it off with the included white door knob
Includes wall anchor - Plus points to Prepac for including a wall anchor without extra charge
Warranty - This corner hutch has a 5-year Manufacturer's limited warranty on parts
CONS
Only available in white color
Very heavy for 1 person to carry
Why Buy: If you're all about simplicity and quality, this traditional cottage-style hutch will fit the bill.
Highlight: Packed with five shelves
Dimensions:31.1W x 15.74D x 63.78H inches
This all-white corner hutch from HomeCharm International fits the bedroom, bathroom, kitchen and living room. It is constructed with a mix of low emission-engineered, wood composite and MDF painted in pure white body with veneer top.
The symmetrical design will draw your eyes in - an enclosed two-door cottage-style cabinet at the uppermost part and a matching one at the bottom layer with two open shelves sandwiched in between. Inside those pretty cabinets, you can choose to make the storage 2-layer or one-layer thanks to the removable shelf it was designed with.
PROS
Space-saving design - Like all other corner hutches on this list, this kind of furniture definitely gives a corner space new life
Perfect size - This corner hutch has the perfect high and size. It's not too short, nor too tall.
Flexible storage thanks to movable shelf - You'll like this particular feature if you plan to store wine bottles, serving platters, and other chunky or tall items.
Easy to assemble - Arrives flat-packed, so you'd have to assemble it on your own. There's an assembly guide, which should take you 10 to 20 minutes to follow.
CONS
Need to anchor to the wall, or place something heavy inside the lower cabinet to weigh the hutch down
Why Buy: If you need a show-stopping centerpiece hutch that doubles as storage
Highlight: Authentic Amish Hand-Craftsmanship
Dimensions:13" depth x 31" width x 71" height
If you want the best of both worlds: a sufficient storage hutch and a beautifully-crafted piece of furniture, you can't get any more luxurious than the Heritage Pine Collection Farmhouse corner cabinet. Just look at it! It's a piece of art!
This corner hutch from Heritage Pine Collection, like all other furniture from its store, was handcrafted by the celebrated Amish craftsmen of Lancaster County, Pennsylvania.
What makes furniture made from this area double-special is the unique finishing achieved through masterful distressing, rubbing-through and painting techniques not found anywhere else. The beauty truly shines through and makes every handcrafted hutch an heirloom piece worthy to be passed from one generation to the next.
The Heritage Pine Collection Farmhouse corner cabinet was brought to life with premium-grade cuts of Eastern White Pine Wood finished with a "legacy black" rubbed-through paint for that unique distressed look. The upper part of the corner hutch has three layers of shelves, while the lower part is an enclosed two-door cabinet with fixed shelves.
PROS
Extended warranty - Gives 15-year Manufacturer's warranty
Heirloom-quality - This corner hutch is made from exceptional pine wood that can withstand decades of use
Impeccable design - The grooves of the wood, raised panels, finishing and overall design is truly something to behold. Imagine what a conversation-starter this hutch can give if you place it at your home's entryway or living room.
Shipped carefully - You'll receive the item in two pieces to prevent shipping damage
Solid assembly - You need to use the supplied three bracket screws in connecting the hutch top to the base
CONS
Expensive - This is one of those cases where you get exactly what you pay for. The Heritage Pine Collection Farmhouse corner hutch is higher-priced than others on this list, but you won't find any downside to this piece.
Factors To Consider When Buying Corner Hutches
If you're shopping for corner hutches, know that many of these adorable cottage-style furniture may look similar, but they're actually not.
Price shouldn't be your only deciding factor. Instead, check each corner cabinet to see if the features would blend well with your budget and preference:
Durability: Any piece of furniture you add to your home should be considered an investment. Make sure the materials used for building the hutch can withstand daily use.
Storage Space: Corner hutches are great not only because they're space-savers, but also because of the number of items you can store in it. Stash tons of toilet paper if you place the corner hutch at the corner; hide your wine bottles away from your kids, or showcase your beloved glassware.
Dimension: Make sure the corner hutch you buy actually fits the dead space at the room you intend on placing this.
Versatility: Why do you need a corner hutch? Is it to keep toiletries dry inside a cabinet? Is it to display your China in the dining room? Is it to remove the dead spot in your bedroom? The best corner hutches should be able to meet your needs, while opening up more possibilities than what you plan to use it with.
Design: Are you looking for hutches with adjustable or removable shelves? Interested in colored hutches? How about hutches without enclosed cabinets?
Wrap Up: Which is the Best Corner Hutch?
Out of the many pieces of furniture of its kind, these six landed our best corner hutches available in the market today. But like anything else in life, they're not equally made.
If you have the money to splurge, go for the heirloom piece from Heritage Pine Collection. It is worth every cent you pay for it, and your grandkids will enjoy it too!
Those who are looking for a corner hutch to spice a room up, pick from any of the 10 color variations of Sawdust's City Small Wooden Corner Hutch. They're fun, well-made and will surely make any boring room come alive.
If you're in a budget, but still want a durable corner hutch, Prepac's Elite Home Corner Storage Cabinet will definitely do the trick. In addition, Prepac has other products that would easily complement your storage hutch if you wanted to design your home gradually with matching furniture.
You see, picking the best corner hutches is highly subjective and would depend on your personal needs and preferences, but I hope this guide has helped you bring down your options significantly and make it easier for you to buy the one most perfect for you.