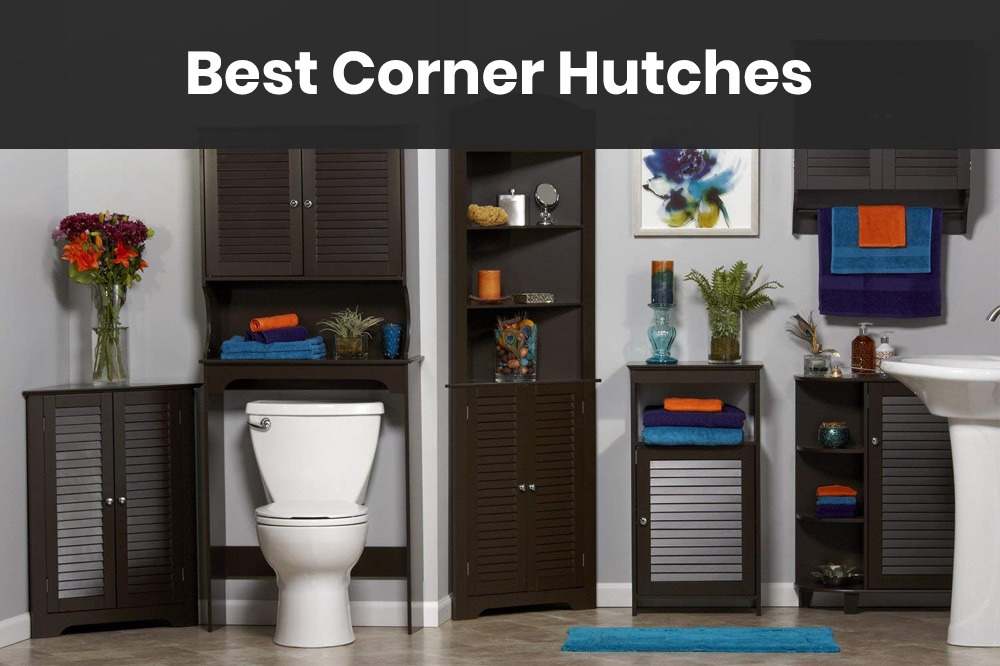 6 Best Corner Hutches You Will Love: Reviews & Buying Guide
Corner hutches provide a dramatic detail to kitchens and dining rooms. Traditionally, a hutch showcases China and other impressive glassware, but this piece of furniture isn't exclusive to plate storage anymore. 
Hutches are versatile enough to blend well with a bedroom, foyer, bathroom or other rooms in need of extra storage. They can be the centerpiece of a room, or a side piece to complement a room's motif.
If you have a room with an odd corner in need of a purpose, a corner hutch could complete this room. 
​Top 6 Corner Hutches In The Market This 2019
BrylaneHome's cottage kitchen corner cabinet is constructed with a mix of medium-density fibreboard (MDF) and pine wood, sealed with matte paint in either all-white or all light blue. 
From top to bottom, this cottage-style corner hutch weighs 60 pounds and measures 31½-inch width x 15¾-inch depth and 64-inch height. It's heavy enough to stay in one place, but light enough to move around when  you need to. 
Like most of the hutches on this list, you'd have to assemble the BrylaneHome cottage kitchen corner cabinet on your own. Thankfully, it consists of only a few parts, making it user-friend to build piece by piece. 
Design-wise, this versatile corner cabinet features an enclosed, double-door cabinet with two 9-inch non-adjustable shelves, followed by two open shelves in the middle, and another enclosed cottage-style two-door cabinet at the bottom, matching the one at the top. 
BrylaneHome is a brand under reputable New York-based company FULLBEAUTY Brands, which has been providing plus-sized clothing for men and women since 1901. Although BrylaneHome is the only furniture and home lifestyle brand under FullBeauty Brands' wing, BrylaneHome has produced numerous furniture and home products since 1998.
---
Built with high-quality MDF painted in either all-white or espresso, The RiverRidge Ellsworth tall corner cabinet was made to fill up a small and "dead" corner space whether it's in the bathroom (as it what RiverRidge Home claims it was designed for), or any other room. 
Design-wise, this corner cabinet features three open shelves at the upper part, making them perfect spaces for showcasing awards and trinkets in the living room, toiletries in the bathroom, or any fancy glassware in the kitchen. The lower part of the RiverRidge Ellsworth tall corner cabinet had an enclosed traditional shutter door with two extra shelves in there. 
There's a minor flaw in the design: the upper and lower parts can be a bit loose, so you'd have to anchor the whole thing to the wall for added stability, or you could use wood glue to connect them permanently. 
It's cool that you can purchase this on its own, or buy more space-saving, store cabinets from the same Ellsworth Collection that matches perfectly.
---
This small wooden corner hutch is handmade from Eau Claire, Wisconsin-based furniture company Sawdust City. 
Unlike other corner hutches on this list, this one is made of "solid knotty pine," so you get the rustic vibe of traditional cottage-style furniture. Those knots and minor imperfections you'd see on this hutch not only make each piece unique and look "custom built-in", they also prove that the company doesn't really incorporate highly-processed wood into their craftsmanship. 
The upper part of the corner hutch has three adorable shelves measuring 13.125"W x 7"D that allow for 9"H. The lower part has a one-door cabinet (measuring 22" W x 8.75" D x 58" H) with two additional shelves hidden inside.
---
Prepac's Elite Home collection has over 10 variations, all with varying styles and price, but we're focusing our eyes on the Elite Tall 1-Door Corner Storage Cabinet for now.
This towering corner hutch has a sleek, simple design. Measuring 72 inches tall, and around 30 inches wide, the Elite Tall cabinet will definitely be a scene-stealer, whichever room you decide to put this in.
At the upper part of the cabinet, you have three open adjustable shelves, which is perfect if you're planning to store items like wine bottles that wouldn't have fit fixed-height shelves. The lowest part of the hutch is an enclosed, multipurpose cabinet with two extra shelves.
---
This all-white corner hutch from HomeCharm International fits the bedroom, bathroom, kitchen and living room. It is constructed with a mix of low emission-engineered, wood composite and MDF painted in pure white body with veneer top.
The symmetrical design will draw your eyes in - an enclosed two-door cottage-style cabinet at the uppermost part and a matching one at the bottom layer with two open shelves sandwiched in between. Inside those pretty cabinets, you can choose to make the storage 2-layer or one-layer thanks to the removable shelf it was designed with.
---
If you want the best of both worlds: a sufficient storage hutch and a beautifully-crafted piece of furniture, you can't get any more luxurious than the Heritage Pine Collection Farmhouse corner cabinet. Just look at it! It's a piece of art!
This corner hutch from Heritage Pine Collection, like all other furniture from its store, was handcrafted by the celebrated Amish craftsmen of Lancaster County, Pennsylvania. 
What makes furniture made from this area double-special is the unique finishing achieved through masterful distressing, rubbing-through and painting techniques not found anywhere else. The beauty truly shines through and makes every handcrafted hutch an heirloom piece worthy to be passed from one generation to the next.
The Heritage Pine Collection Farmhouse corner cabinet was brought to life with premium-grade cuts of Eastern White Pine Wood finished with a "legacy black" rubbed-through paint for that unique distressed look.  The upper part of the corner hutch has three layers of shelves, while the lower part is an enclosed two-door cabinet with fixed shelves.
---
Factors To Consider When Buying Corner Hutches
If you're shopping for corner hutches, know that many of these adorable cottage-style furniture may look similar, but they're actually not.  
Price shouldn't be your only deciding factor. Instead, check each corner cabinet to see if the features would blend well with your budget and preference:
Wrap Up: Which is the Best Corner Hutch? 
Out of the many pieces of furniture of its kind, these six landed our best corner hutches available in the market today. But like anything else in life, they're not equally made.
If you have the money to splurge, go for the heirloom piece from Heritage Pine Collection. It is worth every cent you pay for it, and your grandkids will enjoy it too!
Those who are looking for a corner hutch to spice a room up, pick from any of the 10 color variations of Sawdust's City Small Wooden Corner Hutch. They're fun, well-made and will surely make any boring room come alive. 
If you're in a budget, but still want a durable corner hutch, Prepac's Elite Home Corner Storage Cabinet will definitely do the trick. In addition, Prepac has other products that would easily complement your storage hutch if you wanted to design your home gradually with matching furniture. 
You see, picking the best corner hutches is highly subjective and would depend on your personal needs and preferences, but I hope this guide has helped you bring down your options significantly and make it easier for you to buy the one most perfect for you.