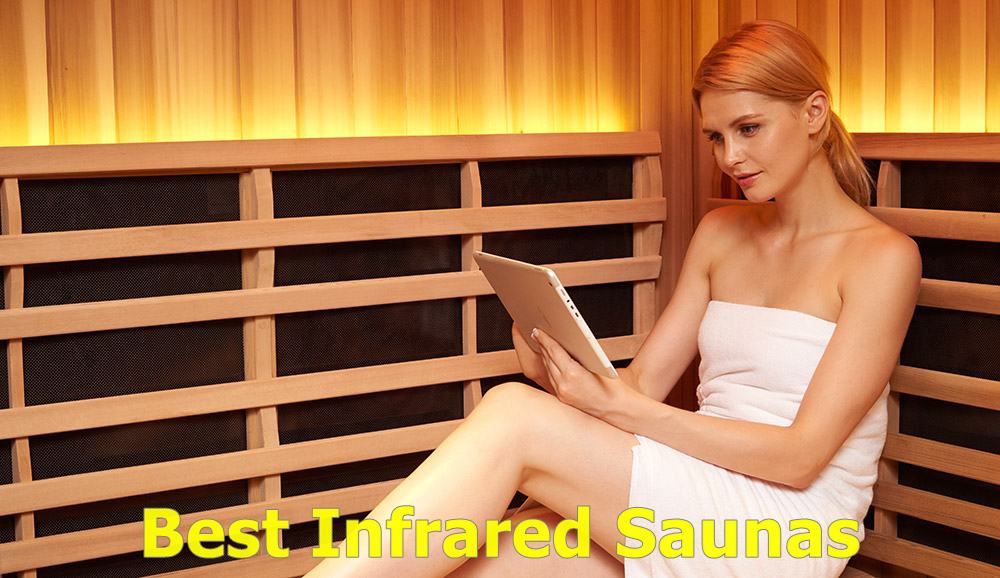 10 Best Infrared Saunas for 2021: Expert Review & Buying Guide
Saunas have been with us for a long time – their fist use was in Finland almost 2,000 years ago. In Scandinavian countries saunas are a way of life – almost everyone uses them a few times a month for their health and other benefits. If you have recently been in a sauna you may have enjoyed the experience so much that you are thinking of getting one for your home.
There are many saunas that are designed for home use – so many, in fact, that buying one may not be as straightforward as you think. This article will tell you about the best infrared saunas for 2021, as well as provide you with vital information that you should know about these saunas before you purchase one.
Your experience may be with a traditional sauna, which uses hot rocks or a stove to warm the air around you, and you may be wondering what an infrared sauna is. Infrared saunas are different – they use infrared energy which works rather differently than hot rocks or a stove.
In a traditional sauna the air around you becomes very thick with hot steam, and very hot too. For people who are not able to withstand heat and too much humidity this is a problem – they will not be able to stay in the sauna long enough to enjoy the full benefits (we we look at those in a moment). Infrared saunas work rather differently – the heat that is generated goes directly into your skin and muscles without heating up the air around you so you are able to enjoy the sauna for a longer time.
Infrared saunas will not get steamy – they generate dry heat which is then absorbed by your skin cells and transmitted to your muscles. Another difference is the amount of power that is needed to run the sauna. If you choose to install a traditional sauna you should be aware that it requires more power to run than an infrared one (about 6 kw, while infrared needs only a small fraction of that). The other important difference between these two types of saunas is the way the work to cleanse the body.
A traditional sauna will cause the air around you to heat up, and the heat will then be absorbed. The more heat you take in the higher your temperature, which leads to sweating and eventually detox. An infrared sauna will release infrared heat which will be absorbed directly into your skin, causing a rise in temperature which then leads to sweating and detox but without the need for extremely high temperatures in the air around you.
What are the benefits of sauna treatments?
Saunas have become very popular around the world as people realize that they have many health benefits. The most important one is detoxification. Our bodies accumulate toxins as we go through life.
They come in the air we breathe, the food we eat, the products we use and all around us. The higher the levels of toxins in your blood, the higher the chance of illness. It is recommended that you detoxify on a regular basis, and there is no better way to do that than in a sauna. As your pores open up and you sweat all the toxins are releases along with the sweat. If you are in the habit of using a sauna you enjoy better health. There are other benefits to regular sauna use :
What should you take into account when you are buying a sauna for home use?
As you look at the variety of saunas that is available in the market you may wonder what you should take into account when buying one – how do you know which one will meet your needs? The good news is that there are not so many things to think about. The most important thing may be the infrared levels that the sauna has to offer.
There are 3 levels available in the best saunas – near, middle and far. Near infrared levels are recommended when you want to heal wounds on the skin or improve immunity. If you are looking primarily for muscle relaxation then you should choose middle infrared levels, but if your main aim is to detox you should choose far infrared levels. Here are other factors that you should take into account before you make your purchase:
Top 10 infrared saunas for 2019
An In-depth look into top 5 infrared saunas
To help you choose an infrared sauna that is suitable for your home and health needs we will look at the top 5 from the table.
This seems to be by far the best sauna in the market and it has been labeled "Amazon's Choice".
Top features :
Bottom line
As far as saunas go you will be making an excellent investment in this one. It has a few cons but all of them are easy to overcome. When compared with other infrared saunas that are much more expensive this one offers real value for money.
This infrared sauna gets 4 stars on Amazon which means that people love it.
Top features
Bottom line
There is very little that is not to like about this infrared sauna. You will see some people complain that it doesn't get very hot – infrared red saunas are not supposed to because they use a different kind of technology.
This is an excellent infrared sauna if you don't have a big home – it is rectangular in shape and can fit in a small space.
Top features
Bottom line
You will not find many people who are not happy with their purchase of this unit. It gets very high ratings consistently and even people who have been using it for a long time continue to sing its praises.
So far we have looked at 2 and 3 person saunas, and now it is time to look at one of the best one-person saunas in the market.
Top features
Bottom line
This is a great investment – it doesn't cost as much as other saunas and you will get just the same benefits as if you were sweating in a bigger sauna. It may have a few design flaws but most people are able to get around them and enjoy the benefits of the unit.
If you have been looking for an infrared sauna that can accommodate your family this one is perfect – it can take 4 people comfortably.
Top features
Bottom line
This is one of the ultimate infrared saunas for family use when you consider its price. Although you may have to do a few electrical adjustments once it is set up it will work great.
Conclusion
Traditional saunas are not very easy to set up and maintain at home. Fortunately, you have a choice of infrared saunas which are cheaper to buy and maintain, their heat is easier to withstand and they offer the same health benefits as their traditional cousins.