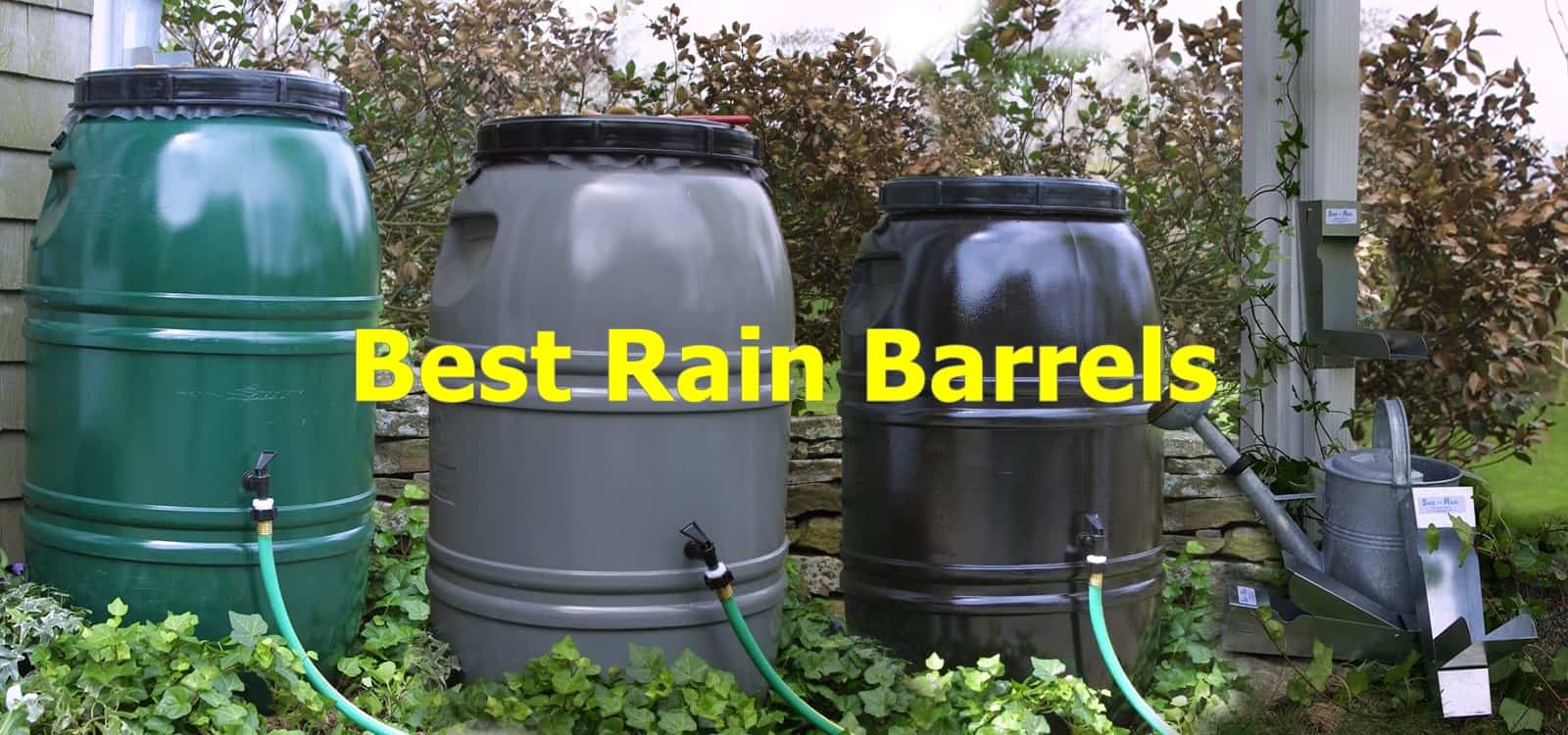 2021's Best Rain Barrels: Top 10 Picks Reviews & Buying Guide
​There is an old saying that tells us to save up for the rainy days. But did you know that you can also start saving for the dry season when it starts raining? That's what rain barrels are for. It lets you store rainwater that you can use to clean your garage, water your garden and wash your car.

Rain barrels are connected to your downspout and can store between 30 to 100 gallons of rainwater. The earliest rain barrels are made from recycled plastic containers used to transport spices however, this will need some training and additional materials to make.

Ready-to-use rain barrels are now widely available in the market. From the most simple and straightforward designs to the most intricate ones that resemble a vintage wine barrel, there is surely one that will fit your preference.

Here's a quick look at the best rain barrels in the market today :
| | | | | |
| --- | --- | --- | --- | --- |
| | | ​BPA-free, Recycled Polyethylene | | |
| | | | | |
| | | | | |
| | | | | |
| | | ​Virgin Food Grade Polyethylene | | |
| | | | | |
| | | | | |
| | | | | |
| | | ​Food grade plastic resin | | |
| | | | | |
​If you don't own one yet, or just want an additional storage, this is your ultimate rain barrel buying guide :
The battle of the best rain barrel is now head-on in terms of design and functionality. Yimby 50-Gallon Urn Style Rain Barrel battles in both categories as it can pass as a terracotta urn just by looking at it.

It comes with a receiving nozzle where water from the downspout goes directly. It has a mesh debris drain to prevent leaves and insects from getting into the barrel. The rest of the top of the barrel is enclosed and is intended to be a planter.

It is made from durable, UV-resistant plastic, designed and molded to look like a real clay urn. It can match and become an instant accent to your garden especially when the planter on top is utilized.

It comes with a 3-ft. hose, a shut-off valve, hanging clip and elbow. The hose receptacle also has a threaded seal making it easy to remove the hose and drain the water.
Bottom line :
Buying a rain barrel can be tricky. Almost every brand comes with a stylish and garden decoration-worthy rain barrel. That makes the accessories and the durability a top priority. For Yimby 50 Gallon Urn Style Rain Barrel, even with a promising sturdy built, some accessories need to take a second look.
If you are looking for a touch of zen in your rain barrel, this is the perfect match for you. This rain barrel with a 75-gallon capacity sports a modern zen design with the durability of plastic.
It can withstand extreme temperatures since it is made from rotational molding plastic. It comes with a brass spigot and an overflow spout on top.
One nice feature of this rain barrel that other brands don't have is the drain plug at the bottom. It is an easy access to drain water, most especially sludge at the bottom of the barrel.  It also comes with a rust-proof debris cover.
There are no complicated installation or connection necessary. Just let the downspout sit on top of the rain barrel and it will start collecting rainwater.
Bottom line :
Not every barrel with this much rainwater storage capacity can be this attractive. Kyoto Koolscapes Rain Barrel scores positive points in terms of design, durability and ease of set up. However, the brand may need to improve their spigot and overflow hole.
Form meets function in the Algreen Cascata Rain Barrel. It looks like a real giant clay pot and it comes in 3 different colors – Terra Cotta, Gray and Dark Brown.
It also has everything you may look for in a rain barrel. A decent 65-gallon capacity, a brass spigot, and a 6-feet long watering hose with a shut-off nozzle. A removable planter sits on top of a corrosion-proof screen guard for added garden appeal.
It is made from a double-walled rotomolded plastic that guarantees not to crack, chip or fade. It can be attached to your downspout through an eavestrough nozzle on the double-walled crown planter.
There is also an overflow valve at the back and a built-in hook for the garden hose that comes with it. The overflow valve also serves as a linking valve for similar Algreens rain barrel using Algreen's linking kit.


Bottom line :
Algreen Rain Barrel got the nod of users in almost all of the areas - a sturdy built, a planter top, an aluminum mesh, link-readiness and more. Except one, the 6-feet long hose, that comes with it lacks durability and is the most common concern.
Rain wizard is a trusted name when it comes to rain barrels. It comes in a stylish terra cota urn made with BPA-free plastic. It has a 65-gallon capacity and can give you big savings on your water bill.

It has a self-draining full top planter that can be used for flowering vines to draw more attention to the rain barrel and your garden. The drain also ensures that the plants will not be soaked and rot due to excess water.

A meshed screen keeps the barrel from getting dirty from leaves, twigs and insects that may be washed away from the downspout. Unlike other rain barrels, Rain Wizard has a flat back design that can be placed tightly against the wall so it won't occupy too much space.
The routed channel on top makes way for excess water to be diverted in front of the barrel – a smart design to keep water away from your foundation. The brass spigot is also durable and adds extra appeal to the overall design.

It is also linkable to rain barrels under the same brand and has a 1-year manufacturer's warranty.
​Bottom line :
From a trusted brand of rain barrels, Rain Wizard Rain Barrel is easy to fall in love with, with its flat back design and premium look. However, users are advised to prepare to do some modification on their downspouts to ensure that the barrel catches the water properly.
A rain barrel that looks exactly like an old wine or water barrel is sure to add an elegant and vintage touch in your lawn or garden. It comes in three colors – Oak, Green and Brown. The brass spigot matches the vintage design really well.

The oak barrel texture was achieved using a mold and is guaranteed to remain free from fading, rotting and insect infestations. The flat back design enables users to save space as it can be placed against the wall. It is also linking-ready.

The aluminum screen will remain corrosion-free and keeps the stored rainwater free from any kinds of debris. The spigot is hook-up ready with a garden hose. However, the barrel needs to be elevated to fill water cans.

RTS Home Accents Rain Barrel is made from virgin food-grade polyethylene, has a 50-gallon capacity and does not require complicated set up due to the large mesh-covered opening for the downspout.
​Bottom line :
The design is attractive, it is linking-ready and the flat back design is a space-saver. However, users say it only saves space unless it is full. This brand will have to reinforce their material, especially at the back to address this concern. 
Suncast Rain Barrel comes in a more straightforward and linear design. It is meant for those who do not want preparations and setups for their downspout anymore.

This square rainwater storage comes with a tight-fitting lid with a mesh that filters any unnecessary debris. It comes with two sturdy hoses, one to drain excess water and the other one to fill your water buckets and cans.

The middle part of the lid is deeper than the rest, allowing maximum water flow inside the barrel. The front part of the lid also has a channel to let any excess water flow.
​Bottom line :
Not everyone is a fan of fancy-looking rain barrels. If you are after the functionality and durability, this one will definitely bring you great savings. 
The leaf green color of this rain barrel makes a nice complement to every garden or lawn. It holds up to 75 gallons of rainwater and it has a removable debris screen.
It is ready to be linked with another Achla Rain Barrels in seconds if you need more rainwater storage. Each rain barrel comes with a linking kit so you don't need to buy once you decide that you need it.

It has a built-in 4-ft. hose and a thumb valve where the hose sits perfectly and neatly. Users say the rain barrel itself can stand the test of time, however, the hose and the overflow hose needs to be replaced with more sturdy ones.
​Bottom line :
With its high price point, too much is expected from this brand. Although users can attest to the durability of the barrel itself, it is just fair if the brand can equip it with a more sturdy hose.
This 50-gallon rain barrel is made with FDA-approved, ultra-tough polyethylene that can withstand harshest weather conditions. Most rain barrels have a history of cracking especially during winter. The rotationally-molded plastic made it possible to hold up against cracking and splitting.
It sports a close-to-real vintage whiskey barrel design with a standard-sized brass spigot to add character to it look. There are also 5 colors to choose from that would fit any theme for your home and garden.
The top is fully covered except for the built-in provision for the downspout which has a rust-proof mesh to trap foreign objects. It is linking-ready and has a space-saving flat back.
​Bottom line :
It is surprisingly cheaper than other rain barrels in the same category in terms of design. Most buyers are happy in terms of durability, capacity and price. However, one common complaint is the fading of the barrel after a few months.
For those who want to get a rain barrel and ensure that it is thick enough to survive the coldest and hottest seasons, easy-to-customize and holds a decent amount of rainwater, then here's one for you. Great American Rain Barrel is made from recycled plastic resin, about 3/16" thick and promises to last you a lifetime.

It is a regular looking plastic drum with a removable mesh, a tight lid and a built-in spigot. It is ready to be linked with similar barrels for more rainwater storage.

It does not need complicated setup. Although there is not much to expect from it aesthetically. It is bulky and is most suitable for corner downspouts.
​Bottom line :
If you are someone who doesn't mind the exterior appearance of your rain barrel but gives utmost importance to its durability, this Great American Rain Barrel is perfect for you. However, pricing is also an important consideration. It is slightly on a high price point for its features.
This rain barrel comes in a bright leaf green color to blend in your lawn and garden. It does not require complicated installation or linking of your downspout because the top is completely open to water. But debris is still trapped in between the main lid and a mesh screen.

It also comes with a durable hose that sits neatly on a valve provided on the lid. It has a slightly protruding flat back with linking provisions on the side. The overall look of this rain barrel will instantly give a more industrial and modern feel to your garden.
​Bottom line :
With the numerous rain barrels that looks exactly like this Green Rain Barrel, superiority comes with the durability of the product and its accessories. It is also ready to use without the need to hook-up your downspout to any receptacle which makes it more attractive.
​What should you look for in a rain barrel?
​Not all rain barrels are created equal but most of them are on the same price range. These are the rain-barrel must-haves that you should look for before buying one :
1. Brass spigot
Having a spigot is nice. Having a brass spigot is better. But making sure that the brass spigot that comes with your rain barrel will last you for a very long time. A durable one will cost you $3 to $5 each and if the barrel you are eyeing comes with a dependable and sturdy one, that's one positive point for it.

2. Sludge drain
The first rain after a long dry season can bring in dirt from your roof to the rainwater you are saving on your barrel. No debris cover can prevent that. The only way to get rid of the dirt particles is to let it settle and sit at the bottom of your rain barrel.

If your rain barrel has a sludge drain, you can open it a few days after the rain has stopped and let the dirty water at the bottom be flushed out.

3. Rain barrel links
More and more customers see the value of having a rain barrel. Most people start with just one and eventually add more after seeing the savings and convenience it can give.

Rain barrels that can be linked will minimize overflow from the primary rain barrel and will save more rainwater for garden and greywater use.

4. Debris cover
Our roof gutter can be harboring dried twigs, leaves and dead pests that only a good amount of rain can push out. A debris cover will strain all of these foreign objects from the rainwater you are trying to conserve.

It will also keep mosquitoes from making your rain barrel a breeding ground for their eggs, which is a very important consideration.
​Rain Barrel Maintenance
Final thoughts:
Algreen Products Cascata Rain Barrel 65-Gallon, Terra Cotta tops our list for the Best Rain Barrel for 2019. It has a premium and luxurious feel in its design. It also has a better storage capacity compared with other brands. You can use it straight out of the box and it costs less that other rain barrels with a smaller capacity. It will surely be a great accent in your garden and yard and its double-walled design will last you a very long time.
With a long list of benefits, it can bring you, it is really practical to own a rain barrel. This review highlighted the best rain barrels in the market based on their capacity, appearance, accessories, price and durability.
Whether it is a simple-looking water barrel or a more sophisticated urn style one, all rain barrels will surely help you save up water not just for the dry and hot days but for everyday utility and garden use.