​Twin Bed Frame Comparison Table
Twin Bed Frame Buying Guide
A bed is an essential aspect of your sleep quality and even interior décor, which means choosing a suitable type is vital in the quality of your rest. With so many options available on the consumer market, you might have to consider various key factors to ensure the best results
Usually, bed frames comprise of three main components which are the side rails, footer and header sections. Depending on the size of the bed, it may be available with a centre support mechanism. Some bed brands even have extra support rails, which serve as a support mechanism to bear the load of the central section of the bed. Thus, the bed sits stable on the floor while offering optimal support for the user and the mattress. To take things further, some bed frames even have appealing finishes, that complement the design aesthetics of your room.
Before investing in the bed also consider the space in the room, the interior décor factors, other furniture and more.
Bed Types
The first aspect to consider is to choose a bed style that fits with both your needs and decorating preferences. This way, you can choose a bed that sets the mood in your room, and also blends well with interior décor components. Among some of the common bed types on the market include
Canopy bed – these bed types classify under the traditional category, and will often consist of a tall frame, that can also hold curtains. The curtains help to keep heat around the sleepers, while also preventing the entry of pesky bugs. Nowadays, the best twin bed frames are also important in interior design aesthetics. Before investing in a twin bed frame, consider the ceiling height, and size of the room to ensure the best results.

Platform beds – platform beds are beneficial because they provide styling, and mean that you won't need a footboard. These types of beds also look appealing with bunky boards or low profiles springs. They are perfect beds for contemporary homes and settings.
Bed Materials
The next important factor to consider is the material construction of your bed. The common material types you might come across include:
Wood Beds – these are by far the most popular types of bed material and provide various benefits. The wood beds are simple to set up, durable and blend well with most types of interior décor. More so, since wood is an extremely versatile type of material, these beds also often feature clean lines and even curved headboards. All these components, combined on a wood bed, can easily take the quality of your interior décor to the next level.
Metal Bed Frames - metal bed frames are simple and can also be tailored to suit specific interior design settings. The benefit of metal beds is that they are simple to assemble and compact as well. Some metal bed frames even come with upholstered material to enhance the aesthetics of the bed. Others feature unique metal slats, the help to prevent mattress sagging and slipping issues.
Bed Sizes
All beds are designed to accommodate various types of mattress. The following are some of the common dimensions for mattresses that you should expect. You might have to add a few inches on each side, to account for the physical aspects of the bed frame. Furthermore, you might also have to consider the number of sleepers and their physical characteristics as well. Among the common bed sizes including the twin versions include:
Twin: 39" x 78", suitable for one

XL Twin: 39" x 82", suitable for one

Full: 54" x79", suitable for one or two

Queen: 62" x 82", suitable for two

King: 78" x 82", suitable for two

California King: 74" x 87", suitable for two
Selecting a Proper Headboard
As you narrow down the ideal bed for your needs, remember to consider the headboard and footboard design. If you want to make an accurate decision, consider how you use the bed most often. For those who love collapsing on the bed after a long hard day at work, a wood or metal headboard is ideal. More so, for users such as sexually active couple, a twin bed frame would not necessarily be useful. A twin bed with a headboard is ideal for a single user, looking for a comfortable yet sturdy bed for rest.
​Number 1 Beds for Small Spaces
For those who want to outfit a small room, twin bed frames are perfect for your needs. While the twin bed frame is usually suitable for one user, you can still get a good mattress – and it will fit two people. More so, you can also easily get a twin bed frame that does not come with a headboard or footboard. Without these components, the bed easily takes up a small footprint while also sitting sturdy on the floor surface. Also, consider measuring the size of your room before settling on a specific bed frame for your needs.
The Simple Houseware 14-inch Twin Size Mattress Foundation bed frame is the perfect way for you to enjoy resting at night. Designed to feature 14 inches height for more storage space, and 13 inches storage space under the frame, this bed is perfect for your needs.
It is also simple to assemble, and you won't need an extra pair of hands to complete the process. The Simple Houseware brand is among some of the leading names when it comes to interior décor products. This is why the Simple Houseware 14-inch twin size bed is perfect for your needs. Are you tired of having to re-organize your room all the time, or do you perhaps feel like your bedroom space is limited? Well, this best bed frame is the perfect solution for your needs.
Why? It takes up a small space in your room, but with a good mattress, it can support as many as two sleepers comfortably. As usual, with a high-quality bed frame, the assembly process is also easy thanks to the high-quality metal construction.
You don't even need an additional box spring when you want to set this bed up. For large users or perhaps a sexually active couple, this best bed frame offers a stable platform for a good night of sleep. The heavy-duty design features sturdy rails and slats that prevent any mattress sagging issues.
PROS
Supports many types of mattresses
Heavy-duty bed design with reinforced steel frame
Easy to assemble bed without tools
No additional box spring required
CONS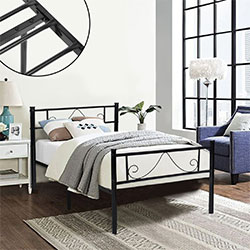 You are one step away from sleeping like a true King with the Greenforest Twin Bed Frame with metal slats. This bed comes with many features that will take your resting experience to the next level. For instance, the bed features a unique footboard and headboard design, that make up for an exceptional bed structure. Also, the unique physical design of this bed makes it an excellent solution for guests, kids, toddlers and more.
It comes with high-quality metal slats, that offer optimal mattress support. The bed frames is also sturdy and can operate without any box spring required. The sturdy 100% metal frame construction of this bed ensures years of reliable bed performance. With this bed, you can forget about the many physical issues that affect people due to poor sleeping posture. Why? The Green Forest Brand uses a patented method to make beds, thus making them ideal for people of different physical characteristics.
To make things better, this best twin bed frame is also made using reinforced and powder-coated steel material. The steel material is heavy-duty and offers many years of reliable bed performance. While this bed has a heavy-duty design, moving it around is quite easy thanks to the easy to assemble the structure.
PROS
Twin bed frame with unique headboard and footboard
Comes with metal slats that offer quality mattress support
Slatted iron supports eliminate the need for a box spring
Reinforced metal tube with powder coating
CONS
Not suitable for extra tall users
The bed should be available in other finishers than black
Realize what you have been missing during sleep time by considering a twin bed frame such as the Zinus Lorelei 14-inch Bed Frame. The bed has a 14-inch profile mattress foundation that can support various types of mattresses. Furthermore, the unique structure of the bed also means that it does not require a box spring, which makes it convenient. The Zinus Lorelei Best Twin Bed Frame also has a sturdy steel structure that will prevent any sagging, and enhance the lifespan of your mattress.
Being one of the best bed frames on the market, this unit has non slip tape on the wooden slats. The unique tape does well to prevent any unusual mattress motion and promotes its longevity. Sometimes, setting a bed up can be a challenging experience, especially with all the instructional manuals and tools required. Not with the Zinus Lorelei Bed! Yes, that's right! You can have this bed ready to go, with just basic DIY bed assembly techniques.
The best part is that this unit is compact and sits stable on the floor. Equip the bed with a good mattress, and you might even get sufficient space to support another sleeper.
PROS
Non-slip tape on wooden slats prevent mattress damage
No box spring required for bed assembly
14-inch profile mattress foundation supports various mattress types
Strong steel structure offers optimal user support
CONS
Does not have headboard and footboard
The bed is only available in one finish
Are you suffering from sleep complications? Well, you will benefit greatly by getting a good bed such as the Zinus Abel 14 Inch Metal Platform Bed. Designed to provide 14 inches with 14 inches of clearance under the frame, you can be sure of adequate under the bed storage space. Furthermore, the compact design of the bed makes it ideal for tight areas such as doorways and even staircases.
The bed is also reliable and extra-durable, thus making it perfect for various types of mattress foundations. The bed assembles easily in minutes, as you would expect with all the other beds on this list. This frame is not picky, so no matter what type of design of mattress you prefer, it makes up for an excellent addition to your bedroom space.
Owning a good bed is essential, especially for your spinal and overall body health. For this reason, the Zinus Abel is precisely engineered to provide optimal support for your bed as you sleep. According to the Zinus brand, the Abel Twin Bed Frame is designed to provide the perfect blend of style and strength. Therefore, this bed frame is ideal for high profile mattresses, and also offers quality support.
PROS
Compact design allows for portability in tight spaces
Reliable and extra-durable steel slat mattress foundation
Offers an exceptional 13 inches of clearance and storage space
Upholstered bed frame looks appealing
CONS
Could use plastic caps to protect the floor from damage
The bed is heavy for some users
Improve the quality of your well-being by owning a good bed such as the Linenspa 14-inch folding metal bed frame. This unit is the perfect solution for replacing your old chunk box spring, thanks to its 14-inch folding frame. Such a unique bed frame provides enhanced and reliable support for all-night rest. Even more, design to provide 13 inches of clearance, this base offers optimal space under the bed for your storage needs.
It is also quick and straightforward to assemble and might take five minutes, with no tools required for the process. All you need to do is to unfold and hand tighten the leg support bolts, and enjoy one of the best twin bed frames on the consumer market.
For most people, box springs tend to be heavy to carry around, and are also highly inconveniencing. Thus, consider tossing out your bed and replace it with a durable platform that is also comfortable. It even comes with steel support braces, anti-slip treads and a surface grid design to provide exceptional stability.
The unique steel support braces on the bed and anti-slip treads, help to ensure your mattress sits stably on the bed surface. Furthermore, the unique surface grid design offers optimal stability to accommodate as much as 750 pounds of weight.
PROS
Offers 13 inches of clearance for optimal storage
Quick and easy assembly takes one person
Steel support braces and anti-slip treads
Surface grid design to provide optimal stability
CONS
Every good night of sleep starts with a proper sleeping and rest regimen. This is why the Amazonbasics Mattress Foundation is perfect for your needs. This unit offers the look and functionality of a traditional box spring, but it also made using steel for longevity. More so, the heavy-duty bed frame design can support various types of mattresses including foam, hybrid and spring mattresses. Similar to most of the common bed frames today, this unit has a durable steel frame and horizontal slats. These components provide reliable and sturdy support for peaceful rest at night.
The AmazonBasics brand has also done well to include a step by step instructional manual to make assembly a simple process. The bed frame is also available in various sizes, thereby making it ideal for a kid's room, master suite and kid`s bedroom.
The unique 2-piece fabric top and bottom covers are also simple to zip securely for full coverage. The cover is also removable to allow for convenient cleaning. The all-new frame construction also makes assembly easy, and without any tools required for the process. The foldable steel frame is simple to pack into a smart package, that provides convenient delivery benefits.
PROS
Can support various types of mattresses
Durable steel frame and horizontal slat make it sturdy
2-piece fabric top and bottom covers zip securely
The cover is removable to provide spot cleaning
CONS
Could use a headboard for enhanced bed performance
The bed takes up a lot of to assemble
Overall
When it comes to choosing the perfect bed, you should do some research so that you can make an informed choice. Beds are many, and are available with many unique features, for as many different uses. We have compiled a list of some of the best twin bed frame reviews on the consumer market for you to consider. Also, we have compiled some other useful information for you to consider when selecting beds.
Getting a bed means that you have to be aware of various key factors such as your bedroom space, physical characteristics, number of users and more. Through this approach, you can select a bed that only offers the best value for money, but comfort and style as well.