Delve into the realm of Asclepias syriaca, more commonly known as Common Milkweed, and you will uncover a plant teeming with ecological and cultural significance. This native North American perennial, known for its distinctive spherical clusters of pinkish-purple flowers and signature milk-like sap, plays a critical role in numerous ecosystems.
Its value extends beyond its ecological importance, providing potential benefits in medicine, horticulture, and even industrial applications.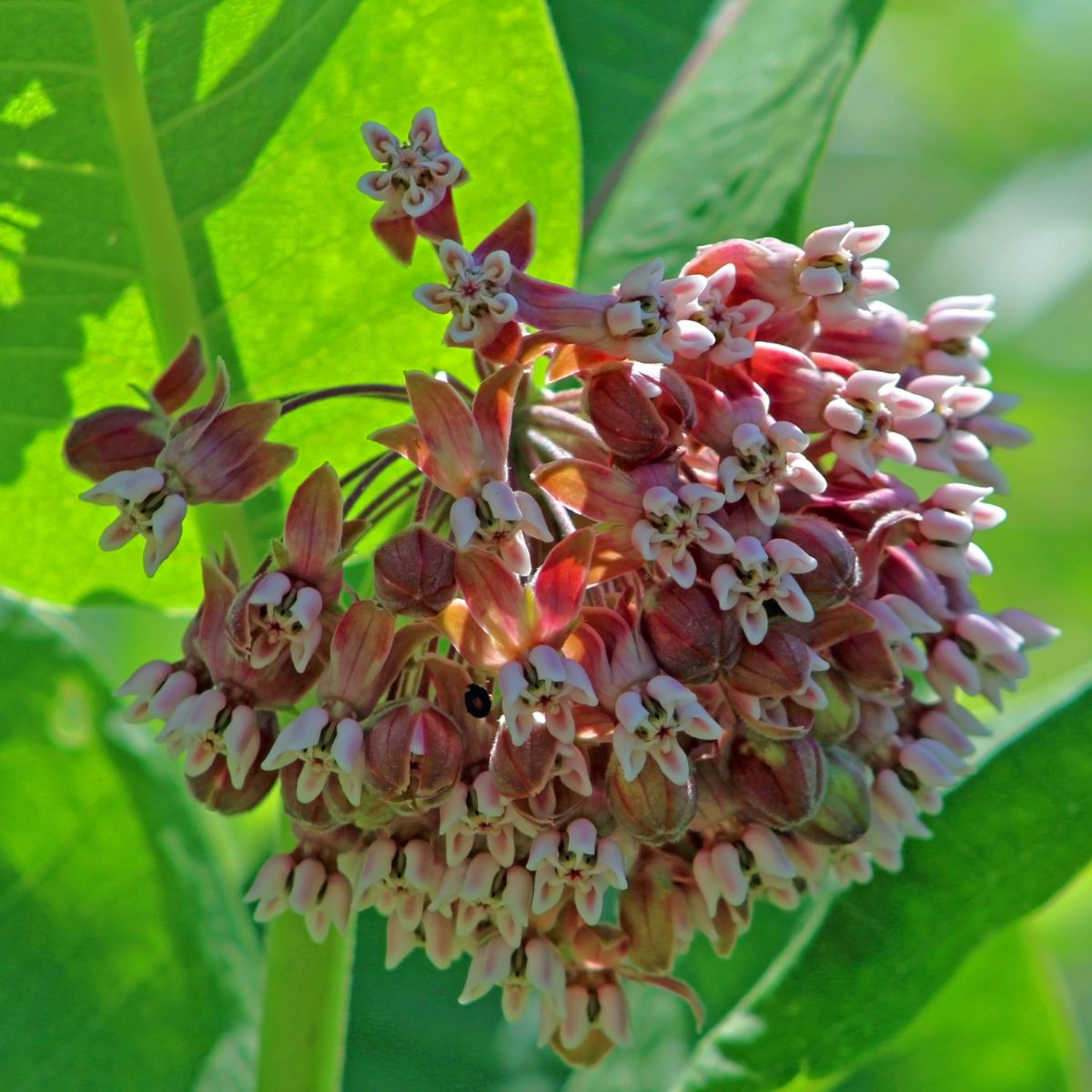 Read Next
Botanical Profile
Common Milkweed, belonging to the Apocynaceae family, is a robust and resilient perennial herb. This sun-loving plant often reaches a height of 1-2 meters and displays broad, oblong leaves arranged in an opposite pattern along sturdy, upright stems. Like other members of the Asclepias genus, the plant's leaves exude a white, milky sap when broken, giving it the moniker 'Milkweed'.
Perhaps the most distinctive feature of Asclepias syriaca is its floral presentation. The plant blooms from late spring to mid-summer, displaying fascinating spherical umbels of fragrant, pink to mauve flowers that offer an enticing banquet for pollinators. The flower's intricate structure and arrangement are not just for show - they facilitate a unique type of pollination known as 'pollinia', where pollen is transferred in cohesive masses rather than individual grains.
By late summer, the plant's flowers give way to large, elongated pods filled with seeds attached to silken parachutes designed for wind dispersal. The sight of these seed pods bursting open and releasing a flurry of seeds into the autumn wind is one of nature's truly enchanting spectacles.
Ecological Importance
Asclepias syriaca is a cornerstone species within its ecosystems, contributing to biodiversity and acting as a host plant for several insect species. The most renowned of these is the Monarch butterfly (Danaus plexippus). Monarch caterpillars feed exclusively on Milkweed leaves, ingesting the plant's toxic compounds, which they retain as a defense mechanism against predators.
The survival of the Monarch butterfly population, which has seen a severe decline, is closely linked to the availability of Milkweed plants.
Moreover, the nectar-rich flowers of the Common Milkweed attract an array of insects, including bees, wasps, and other butterfly species, providing a significant food source during the summer months.
Habitat and Distribution
Native to most of the continental United States, southern Canada, and the eastern part of the American Midwest, Asclepias syriaca is an adaptable species that thrives in a wide variety of habitats. It can be found in prairies, open woodlands, alongside roads, and even in disturbed urban areas. It is a sun-loving species that is often found in open areas with well-drained soils.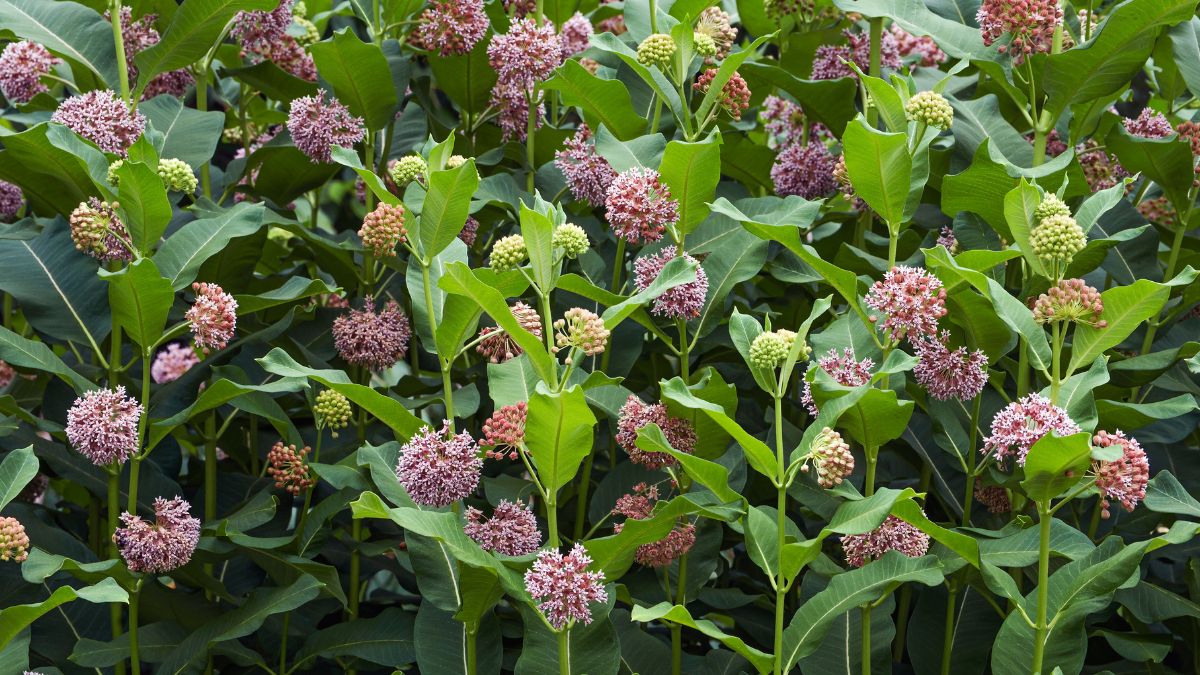 Horticultural Uses
Despite its weedy reputation in certain regions due to its vigorous growth and spreading habits, Common Milkweed can be an excellent addition to many gardens. Its tall stature and eye-catching blooms provide a strong visual impact in garden borders and naturalistic plantings. Additionally, its role as a crucial food source for Monarch butterflies makes it an ideal choice for butterfly and pollinator gardens.
The Common Milkweed can become part of a wildlife-friendly garden when appropriately managed. It can be planted in a mixed border, where it can provide vertical interest, or as part of a native plant garden, contributing to local biodiversity.
Conservation and Cultural Significance
Conservation efforts often involve the Common Milkweed, especially those focusing on the Monarch butterfly. Encouraging the growth of Asclepias syriaca is a key strategy in Monarch conservation initiatives, as the plant provides the necessary habitat and food source for Monarch caterpillars.
By planting Common Milkweed in our gardens, roadsides, and community spaces, we can help support the struggling Monarch population.
Aside from its ecological and conservation value, Common Milkweed has a deep cultural and historical significance. Native American tribes have long used Asclepias syriaca for its medicinal properties, harnessing its milk-like sap to treat conditions such as warts and ringworm. The tough stems have been used to make fiber for ropes, while the fluffy seed pods have been used for insulation purposes.
Moreover, during World War II, the U.S. government collected floss from Common Milkweed pods extensively to fill life jackets and flight suits. Today, research is being conducted into the plant's potential for biofuel production, revealing a promising future for this adaptable plant in the realm of sustainable energy.
Conclusion
Common Milkweed, Asclepias syriaca, is a plant that truly encapsulates the interconnectedness of nature. From hosting the magnificent Monarch butterfly to providing nectar for a variety of pollinators, its ecological significance is undeniable.
Despite its name and sometimes overlooked status, the Common Milkweed is far from ordinary. It is a plant of resilience, beauty, and remarkable utility, holding immense ecological, historical, and cultural value.
Its potential as an ornamental plant, a conservation tool, and even a future resource in sustainable industries highlights its versatility and the need to appreciate and preserve this native species.
As we strive toward a more ecologically sound future. Plants like the Common Milkweed will undoubtedly play a pivotal role, reminding us that sometimes, the most common aspects of our landscapes can hold the most extraordinary secrets.