Chimineas are outdoor ovens with pot bellies. They originated in Mexico, back in the 1600s. They used to make these ovens from clay but now, they can consist of different materials. A lot of people use chimineas as an outdoor decoration as well as for entertaining in the backyard. They are great sources of light and warmth.
Aside from this, chimineas are also great for cooking. Cooking food over a fire adds a smoky taste to it. However, with a chiminea, your cooking isn't just limited to grilling or barbecuing. You can actually cook different kinds of food with it.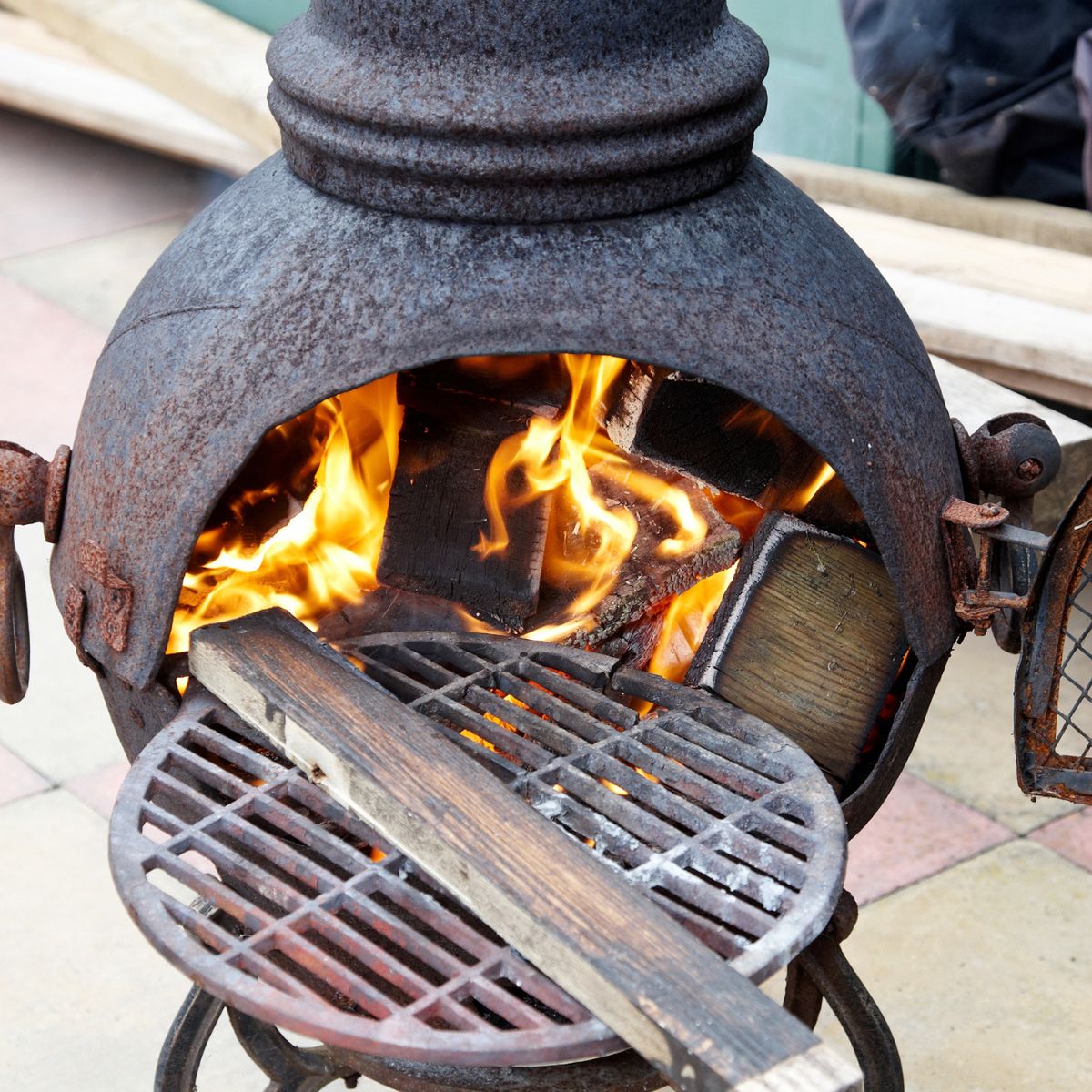 Chimineas are beautiful and functional. Their rustic appearances make it very welcoming to sit next to them while a warm fire is glowing within.
These environment-friendly ovens are very beneficial. In this article, we will be going through everything there is to know about cooking with a chiminea. From tips to recipes, by the end of this article, you'll be a chiminea-cooking genius!
Read Next
Expert Tips For Cooking With A Chiminea
First off, let's look at some helpful tips for cooking with a chiminea. We'll start with the preparation and then move on to actually cooking food in the oven. Here are some tips for you:
Before you start, make sure your chiminea is stable. Place it on a flat, firm surface that won't catch fire. Do this to ensure the safety of your chiminea.
When you've lit your chiminea, never leave it unattended. If you have to go back into the house, then make sure an adult is watching over the fire. Have a pair of rubber gloves on hand when you're cooking with a chiminea. You may need them at one point or another.
It's important to keep in mind that food that cooks inside chimineas cooks quickly. So make sure to watch what you're cooking so you don't burn it!
Now let's move on to the cooking tips.
First, make sure to light the fire about half an hour before you start cooking. You can use charcoal or wood to cook your food.
Prepare all the food you are to cook beforehand. They should be right next to the chiminea. Do this so you can just reach for them as you are cooking.
When cooking meat, it's convenient to cut them all up to the same size. So that when you're sure one of the pieces are already done, you'll know that they're all done. Also, keep the same kinds of food together when you're cooking them.
If you're cooking food on skewers, you can cook them on top of a metal grill. If you're cooking food in foil, place it right on top of the coals or the grill.
Use tongs to put and take out food from the chiminea. This is the safest way to handle your food while cooking.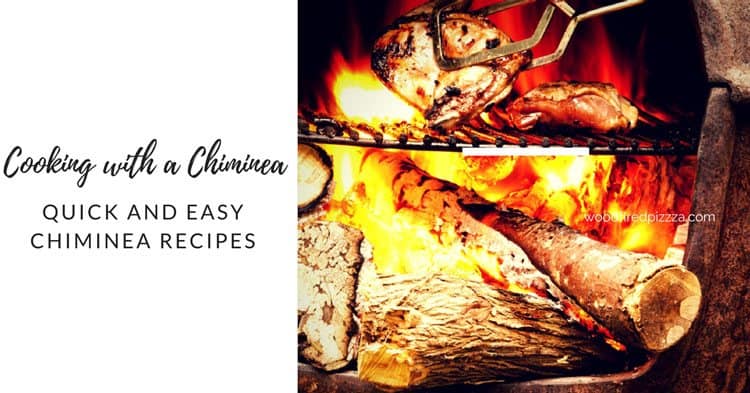 What Types Of Food Can I Cook With A Chiminea?
One reason why chimineas are awesome is that you can cook basically any type of food with them. Outdoor cooking just got a lot more fun because of this simple oven. You can barbeque ribs on it and even make some amazing casseroles. After all, chimineas were mainly for this purpose.
Chimineas were mainly used for cooking years ago and now, they still serve the same main purpose. If you enjoy grilling, you can do so with a chiminea.
If you love creating different stews and casseroles, you can cook those too. Baking is also possible with a chiminea. So if you're a really creative cook, you'll enjoy having a chiminea in your home.
Quick And Easy Chiminea Recipes
Now that we've established the fact that you can cook just about anything in a chiminea, let's take it a step further. In this section, we'll go through some quick and easy recipes you can whip up.
Cooking different dishes outdoors will surely elevate your status as a party thrower. You're sure to impress your guests with the right recipes.
These days a lot of people are learning how to cook for a number of reasons. It's a lot more economical and it allows you to learn new things with each new dish.
Aside from that, cooking food for family and guests can be a lot of fun! Here are some recipes for you to try out:
Barbecue Ribs & Potatoes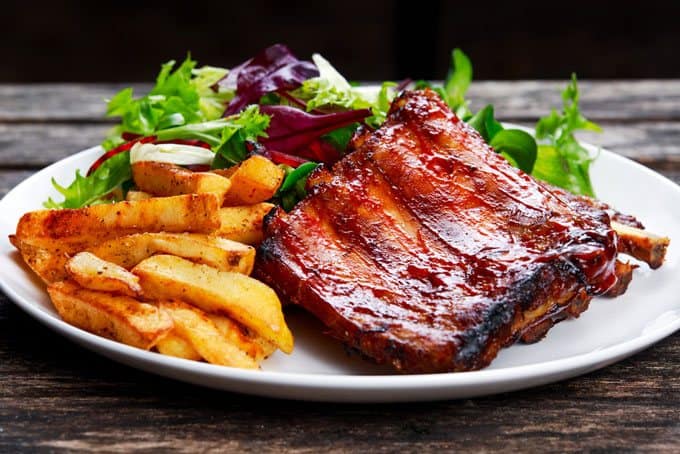 This simple recipe is easy when cooking with a chiminea. You'll need a few choice ingredients to be able to cook this delectable dish outdoors.
Prepare short ribs (about 2 half racks) and a few small potatoes. These are the main ingredients. you'll also need some garlic, butter, and tin foil.
Season the ribs according to your own preference. Then place the ribs on the grill inside the chiminea, making sure that the fire isn't too big. Keep checking your fire and your ribs so you don't end up burning them. Place the ribs on one side to leave space for the potatoes.
As the ribs are cooking, prepare your potatoes. Poke a few holes into the potatoes using a fork. Place a number of the potatoes on a piece of tin foil.
The tin foil should be big enough to wrap up all the potatoes nicely. Before wrapping up the potatoes, place 2 garlic sections and 2 squares of butter with them. Wrap them up and place them on top of the grill next to the ribs.
Cook the ribs according to your preference. Baking the potatoes takes about half an hour. The cooking time is relative, depending on the size of your fire and your chiminea.
When everything's done, take them off the grill and serve while hot.
Chiminea Baked Pizza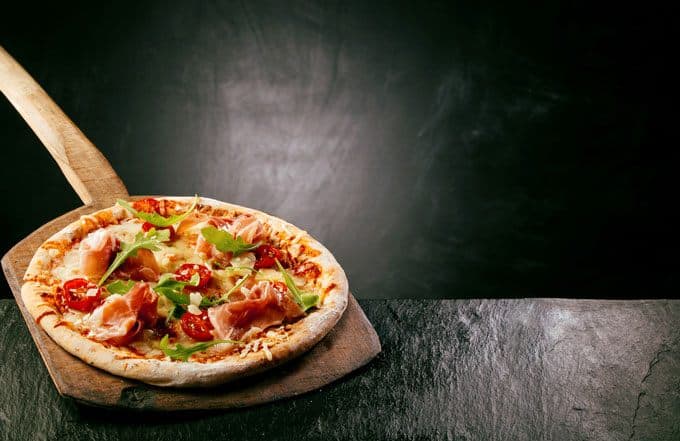 Baking pizza on a chiminea is fun and delicious. That's why this is one of the more popular dishes cooked in such an oven. This method requires a pizza stone so you won't be cooking the pizza over direct heat. First, make your pizza the traditional way.
Prepare the dough then roll it flat. Then, spread some sauce on top and sprinkle your choice of cheese. Finally, add the toppings of your choice and bring them out for cooking.
To prepare the chiminea, allow the fire to die down first. Then, place the stone in the chiminea to pre-heat it for about 15-20 minutes. This will allow for a crispy pizza crust. If you want, you can line the surface of the stone with foil so the pizza won't stick to it. Chiminea-baked pizza only takes a couple of minutes to cook.
When the edges of your pizza have started to brown and the cheese is bubbling, it's done! One tip for baking pizza on a chiminea - don't place too many toppings. When your pizza is heavy on toppings, the base ends up soggy.
Cheesy Chicken Casserole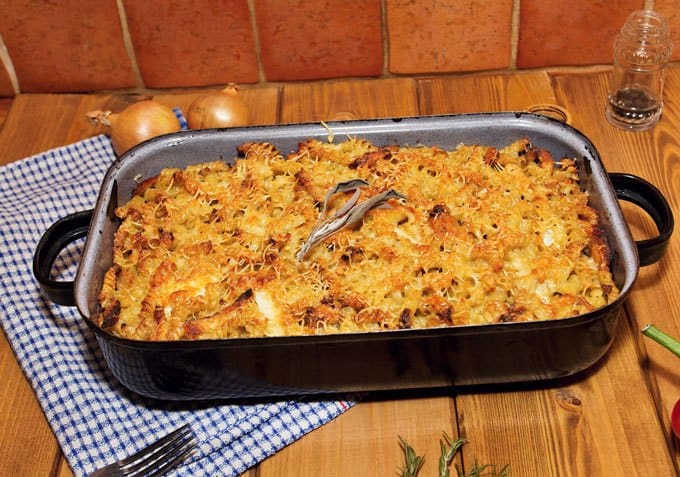 This budget-friendly dish is delicious and easy to cook. Prepare the ingredients first. Then you can start cooking the casserole in your chiminea.
Cut up some fresh broccoli and wash about 2 cups of white rice. Also, prepare 2 medium chicken breasts by cutting them up into cubes, and about 3-4 cups of water.
Finally, cube a quarter block of Velveeta cheese for the topping of the casserole.
One useful tip for you is to make sure all the ingredients are roughly the same size. This makes everything cook evenly. Also, make sure the cheese cubes aren't too big so they'll melt quickly and evenly.
When you've prepared all the ingredients, it's time to assemble the casserole. To do this, take a big casserole dish and combine all the ingredients in it. It's better to have a casserole dish with deep sides so it won't boil over while it's cooking.
Place the casserole dish inside your chiminea and allow it to cook for about 45-50 minutes. Of course, you still have to check the dish regularly to make sure you don't overcook it.
How To Cook With A Chiminea
When you're thinking about cooking with a chiminea, you probably don't know that there are many possibilities. A chiminea is a lovely addition to your backyard and it's functional too. With it, you can cook a wide range of dishes using different techniques.
We've already gone through some simple but delicious recipes in the previous section. Now, we'll see the different ways how to cook with a chiminea. As you'll see, these methods are all quite easy. Aside from that, learning them will open new doors for you in your chiminea cooking journey.
Grilling And Barbecuing With A Chiminea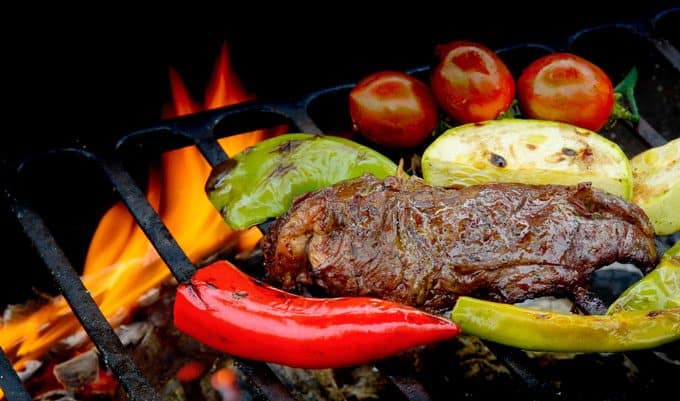 Chimineas are awesome for grilling and barbecuing. It's a lot of fun to entertain guests and feed them with delectable meats cooked right off the grill. Chimineas are smaller in size compared to regular barbeque grills. Because of this, you need to plan your cooking accordingly.
To grill or barbeque meats in your chiminea, you need a grill. A lot of models come with a slide or swing-out grill. But if yours doesn't have one, you can either buy one or purchase one. The important thing is the grill has to be food-safe and fire-resistant. You can even use cooling racks or cake racks for this purpose.
If you're planning to grill a lot, it may be a good investment to get firebricks. These allow for a stable base for your grill/rack. Then your meat won't fall into the burning fuel under the grill. For the fuel for grilling, charcoal works best.
When it burns, it's really hot and provides constant heat for you to cook evenly. Also, it doesn't affect the taste of your food. Dry wood works well too, especially if you have a chiminea made of clay. When grilling or barbecuing in the outdoor oven, watch your food carefully to avoid burning it.
Smoking With A Chiminea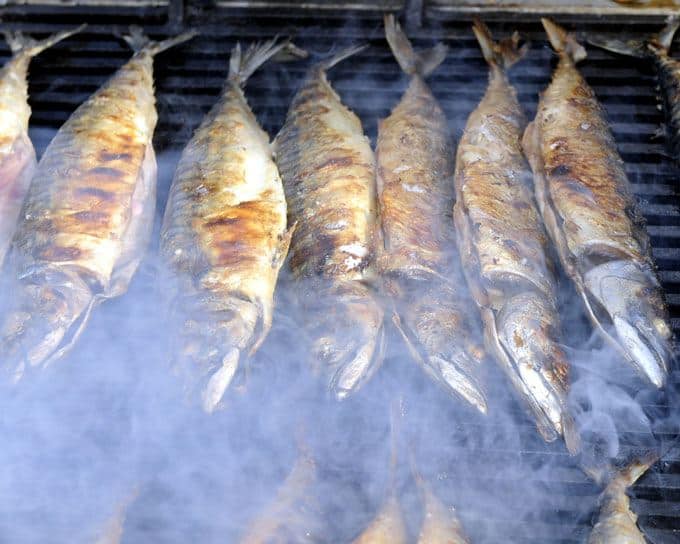 A lot of people don't know this but you can also use your chiminea as a smoker. The design of the oven draws the smoke upward, towards the chimney. If you want to be better at smoking food in your chiminea, there are a lot of available smoker attachments. You can place them right on top of your chiminea chimney.
Fish and bacon are among the most popular foods smoked in a chiminea. But actually, you can smoke any kind of food you want to. All you have to do is carefully run a skewer through the food you want to smoke. Either that or make use of a fish basket for smoking.
With either method, hang the food on the chimney for smoking. Doing this gives the food a rich and smoky flavor. Just like with barbequing, make sure to keep checking your food. Once you see that it's cooked to your liking, take it out.
Baking With A Chiminea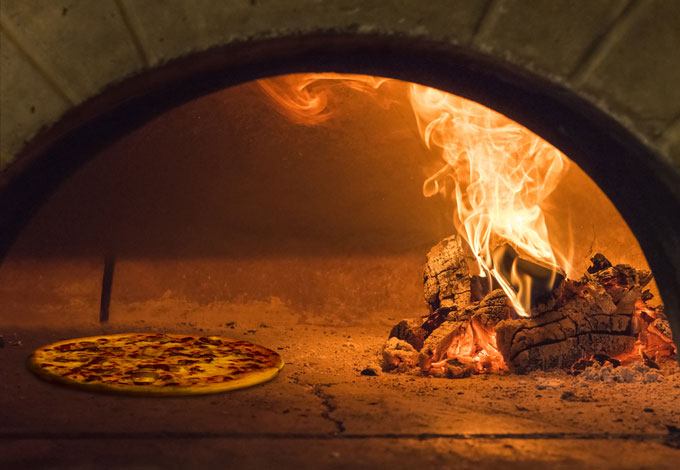 Chimineas are very similar to ovens, so it's no wonder you can also bake food in them. You can bake different types of food in a chiminea. If you want to bake potatoes, wrap them in foil with some seasoning then place them on the grill to cook.
One popular food you can bake in a chiminea is pizza. With this, you will need a pizza stone, just like we've mentioned in one of the recipes in the previous section. You can bake pizza over charcoal or wood. Either way, the pizza will turn out delicious.
When baking a pizza this way, it's also helpful to pre-cook your toppings. Do this because the crust itself cooks quickly on top of the pizza stone. So you just have to wait for the edges to start turning brown and the cheese to start bubbling. Then you know that your pizza is good to go.
You can also bake some bread in these outdoor ovens. The best kinds to bake are flatbreads like naan or focaccia bread. When baking bread, you can also use the pizza stone. Other options are cast iron pans or ceramic tile.
As you can see, the food choices are seemingly endless when cooking with a chiminea. All you have to do is prepare the ingredients beforehand. This is mainly for convenience as chimineas are typically found outside. So plan your meals, prepare your ingredients, and start cooking!