Imagine sitting outdoors on a cool summer evening. You're just hanging out with family or friends. Or having a fun cookout with lots of guests. These scenarios are a lot more fun and fulfilling if you have a chiminea in your garden or backyard.
This is a great heating option that has a lot of uses aside from beautifying your outdoor space.
The chiminea originated in Mexico. Back then, these were used to provide warmth for the home. They were also used for cooking indoors. These days, chimineas have been modified to be placed and used outdoors or on the patio.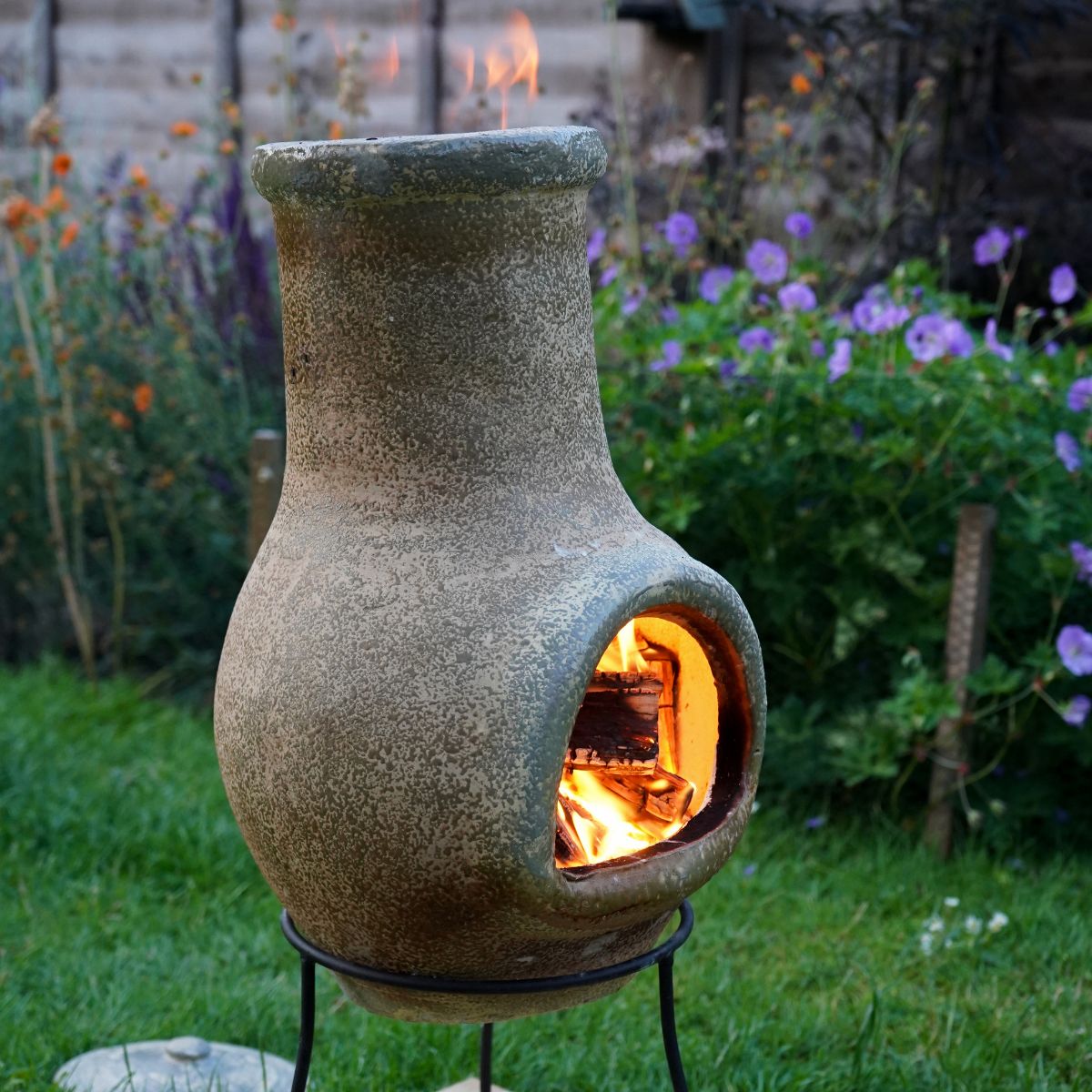 Chimineas are becoming more popular. Finding the best chiminea can be tedious unless you have the right information. Here we'll review some of the most superior products. These are:
Based on our reviews, we believe that the best is The Blue Rooster Co. Casita Style Cast Iron. We highly recommend this product because of all its amazing features.
It's a superior product that is made is durable and high-quality materials. This beautiful chiminea will allow you to bake and grill. Because of its design, it's even ideal for commercial purposes. Finally, it comes with a lot of handy extras which are useful and convenient.
If you're looking for a cast aluminum chiminea, then you can go with The Blue Rooster Co. Dragonfly Style Cast Aluminum. It's a great product that is safe to use and designed beautifully.
A great kind of outdoor chiminea is Deckmate Sonora Outdoor Chimenea Fireplace. It can withstand high temperatures so you can burn real wood or artificial logs on it.
For a superior steel chiminea, the Blaze Steel Fire Pit Charcoal Grill Metal Chiminea is best. It's versatile, easy to assemble, and easy to use.
But if you want one which is made with different materials, then you can go with The Blue Rooster Venetian Chiminea - Charcoal - Aluminum. It's a huge model which can be used for grilling and baking.
Read Next
Top 5 Best Chimineas For Your Garden
What We Recommend: The Best Chimineas
This chiminea is an excellent product that gives you easy access to the grill. It's a great choice for those who like grilling or cooking over an open fire. The Blue Rooster Co. Casita Style Cast Iron Wood Burning Chiminea is made with a unique design. This is because it can be used as a fireplace and as an oven.
It's designed and constructed with cast iron, which is a heavy and sturdy material. Because of its weight, it's not easy to carry around. This is why it's also ideal for commercial settings such as restaurants or even camping grounds.
It has a barbeque grill located at the back of the sunburst, also made of cast iron. With this chiminea, you'll be able to grill and bake too. This chiminea needs regular maintenance to keep it looking good. That's why it comes with a paint bottle and other handy extras. You can either touch up the paint or leave the cast iron material to weather until it gets a patina finish.
Pros
Hardware and the support stand are made of steel while the body is made of durable cast iron.
Comes with a wood tool, a screen, a rain lid that can be removed, and a paint bottle for touching up.
Also, includes cast iron grates for different purposes - for baking or grilling and to support the fire.
Cons
Doesn't come with a cover
Cleaning the unit can be challenging because of its design.
This beautifully designed chiminea is the perfect ornament for your patio or outdoor area. And aside from being eye-catching, it's functional too. It's a great model which you can use for something as simple as roasting marshmallows or something as grand as grilling on an open fire.
Because of the sturdy construction, you will be able to enjoy using this chiminea for years. The body of this heavy chiminea is made of cast aluminum, which is resistant to rust. Because of its size, it can handle full-sized fire logs. It even has a huge mouth opening so you can enjoy the view of the fire.
The Rooster Co. Dragonfly Style Cast Aluminum Wood Burning Chiminea is a low-maintenance model. It's able to withstand different kinds of weather, which is useful because it's placed outdoors.
This unique model even comes with a lot of nifty extras. It comes with an insert for grilling, a lid for the rain, and a grate which is made with cast iron. It's an affordable model which will give you good value for your money.
Pros
Safe to use because of the single opening.
Traditional style chiminea with a lovely design.
Hardware, mouth screen, and bolts are made of stainless steel.
The body is made of durable cast iron aluminum.
Cons
The paint gets chipped easily.
The screen of the chimney is prone to rust in long run.
The Deckmate Sonora Outdoor Chimenea is a sturdy outdoor unit that is made of cast iron. It's made with a bronze finish which is rubbed so it's able to withstand high temperatures. It has a cap on top to keep rain from getting into the unit.
This chiminea has a sliding door which is very convenient for adding in fuel. It's ideal for burning real wood or artificial logs. It's a great addition to your backyard or patio.
The Deckmate chiminea is a well-made product that is ideal for any kind of person. It even comes with an ash catcher, which makes cleaning up a lot easier. Whether you're a beginner at using chimineas or you're already a pro, you can use this model.
Pros
The paint finish is able to withstand high temperatures.
Fire can be viewed all around the chiminea from the wire mesh screen.
Comes with an ash catcher, a fire tool, and a log grate.
Cons
Only suited for outdoor use.
Not rust proof.
The Blaze Steel Fire Pit Charcoal Grill Metal Chiminea is a mouthful to say, but that's because it's a multifunctional model. It's a fire pit, a grill, and a chiminea all rolled into one.
This product is made of heavy-duty steel which is made in America. This kind of steel is up to 3x thicker than other kinds of steel making it resistant to hail, the wind, and even debris in your yard. Because of its sturdy construction, you'll be able to keep this chiminea outdoors for years.
Steel ages naturally as years pass by. The outstanding quality of the construction, as well as the sleep appearance, will make this a great centerpiece for your outdoor area.
The assembly of this chiminea is unique. This is because you can position the five parts one at a time. So you don't have to handle heavy parts at once. To be able to secure this unit, all you have to do is fit 6 bolts with its slot and tab design.
It's a versatile product that is easy to assemble and use. Finally, because of the tower design which looks like a pyramid, smoke gets diverted upward. This means that you and your guests won't have to endure the smell of smoke while using it.
Pros
Constructed with durable American steel.
It's a combination of a fire pit for burning wood, a charcoal grill, and a chiminea.
The unique and modern design will stay in your outdoor space for years.
Easy to assemble and easy to use.
Cons
Once assembled, it's difficult to move around because of the weight.
One of the more expensive products available.
This huge chiminea makes a great centerpiece for your favorite outdoor space. It's made by The Blue Rooster, which is a brand known for making high-quality chimineas. Because of the huge mouth opening, you will have a great view of the fire for up to 180 degrees.
The Blue Rooster Venetian Chiminea can be used for open-fire grilling and baking too. It comes with an insert for these purposes. This means that you can take pleasure in watching the flickering fire while cooking a delicious meal.
Finally, this product comes with some useful extras. These are the wood tool, the screen, and a bottle of paint for touching up.
Pros
Comes with an attractive rain lid and a neck which are removable.
Made with different materials - cast iron, steel, and aluminum alloy.
Complete with hardware, bolts, screen, and an insert for grilling or baking.
Cons
Prone to oxidation which may cause discoloration.
The wood needs to be sized down to fit.
Choosing The Best Chiminea
When searching for the best chiminea for your outdoor space or patio layout, you need to consider different factors. Mainly you should think about what you want to use the chiminea for.
There are different kinds out there and they all come with their own unique features. When you know what you need a chiminea for, then you can start thinking about these other factors:
Chimineas Material
Chimineas made of different materials also have different looks. Here are the most common materials used:
Cast Iron
These are the most durable kinds of chimineas. But those made with cast iron are usually heavy. This means that they are extremely difficult to move around. Also, the interior and exterior of cast iron models can get really hot so you have to be careful when using them.
Clay
These are the most traditional kinds of chimineas. They are classic looking and would be a great addition to any outdoor space. These are the easiest kinds to maintain but they are also breakable. So you need to handle them with care and place them in a spot where they won't get bumped into by anyone.
Steel
These kinds are more resistant to weather. They're also lighter, making it easier to move around. Steel chimineas come in different sizes but you may need to cover them up when it starts to rain.
Type Of Fuel
Chimineas can be designed to burn different kinds of materials. Fuel can be coal, wood, peat, or briquettes. Find one which is most suitable for you.
Weight of the chiminea
The weight of the chiminea is an important factor to consider. If you want to be able to move it around, then it's best to get one that isn't so heavy. But if you're planning to keep the chiminea in one spot to serve as a focal point, then you can choose the heavier kinds.
Accessories and extras
Almost all kinds of chimineas have a grill included with them. This is so you can cook food aside from enjoying the fire in the unit. Yet some models come with more accessories and extras. These can be handy and convenient. Especially if they contribute to the chiminea itself.
Maintenance
Most chimineas are fairly easy to clean. The ease of maintenance typically depends on the material of the unit as well as how it's been designed. Some models indicate how the chiminea needs to be maintained while others don't.
If you don't think you have much time or patience to clean, then choose one which requires little maintenance. But if you are good at cleaning and you're patient with it, then you don't have to think about it much.
Chiminea Safety Tips
Before you buy your chiminea, it's helpful to learn how to use them safely. The biggest risk of using such products is getting burned or injured. The good thing about most chimineas is that it's designed to contain the fire, unlike a fire pit or a bonfire. Here are some safety tips for you to guide you as you use this outdoor heat source:
Set up your chiminea on a foundation which is stable
This is an important safety tip. The more stable the foundation is, the safer it will be. It's safe to place your chiminea on top of cement or bricks.
It's not a good idea to place the unit on top of a surface which can catch fire easily. If you do this, you might run the risk of starting an accidental fire. This can cause harm to you and the people in your home.
Select a location which is safe
Placement is also important. First thing - never place it right next to your house. It should also be placed in a location which isn't close to any kind of flammable materials. The fuel for your chiminea should also be placed separately.
Do this so that if any sparks or embers come out, they won't land on the fuel and risk lighting it up. Finally, think about the surrounding area. Generally, chimineas are used outdoors. Just make sure that the outdoor space has good ventilation. It should also be far from trees with low hanging branches.
Use the proper fuel for your chiminea
As we've discussed previously, there are different kinds of fuel for chimineas. Make sure you know which one is right for your chiminea and make use of only that. Chemicals aren't needed to start a fire going in a chiminea. Also light the fire gradually because big fires might damage the unit.
Make use of spark arresters
Spark arresters are very useful for chimineas. They keep any sparks and embers inside the chiminea while in use. If your unit doesn't come with its own spark arrester, then you can make use of chicken wire. Simply fold it on top of the unit to keep the sparks and embers contained.
Remember that chimineas can get really hot.No matter what material your unit is made of, it will heat up when it's being used. This is because there is a fire inside of it. So always remember not to touch the exterior and interior of the unit while a fire is burning inside it.
Keep the fires small
Chimineas were designed to be a great source of heat even though the fire is small. So when starting the fire, keep adding fuel until you've reached a good size. Don't add so much fuel that you end up with a big, roaring fire.