Are you interested in creating your own garden at home but don't know how to start? Do you know that gardening can actually be easy?
Making your own DIY hydroponic garden at home is easily achievable. With a little creativity, DIY hydroponics is possible. This kind of system is a smart way to grow different kinds of plants in a small space. And the best part is, it doesn't require much effort!
DIY hydroponic systems are a great way for you to grow small plants and herbs. With this method, you can grow a variety of fruits and vegetables right in the comfort of your home. To make such a system, you will need inexpensive materials and basic skills. The ideas in this article can help you out. Read on to learn these cool ideas and start your own garden at home.
Be sure to check out my post on Deep Water Culture Hydroponics.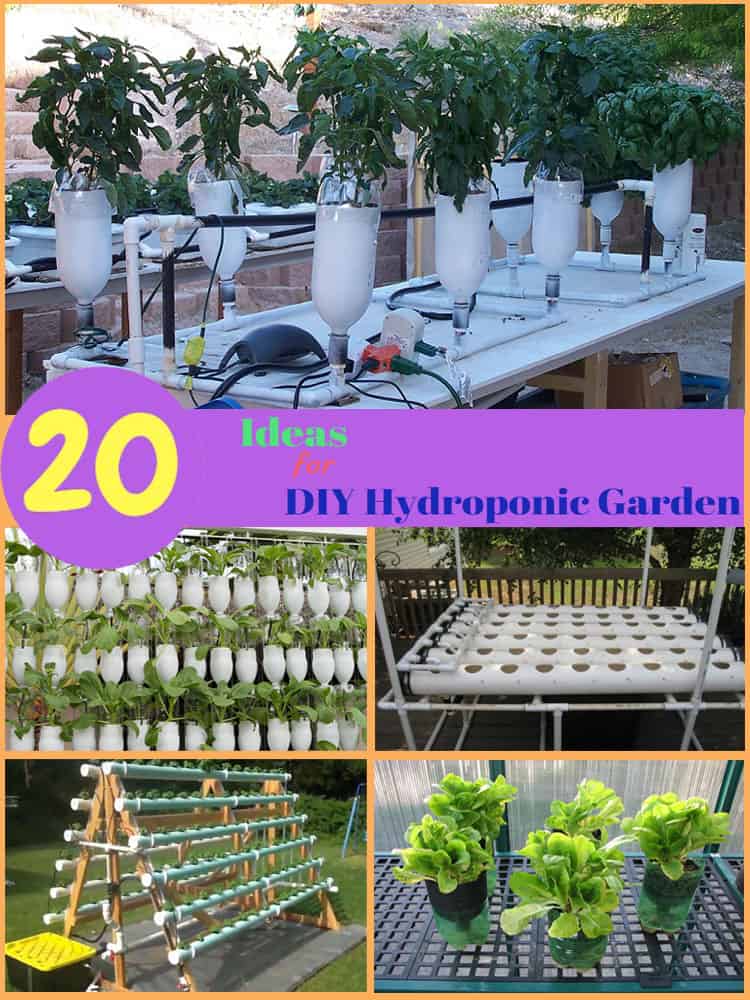 Read Next
DIY Hydroponics to Try Out
Take a look at these incredible DIY hydroponic systems for your home. You would surely want a few of them for yourself.
1. A 6x10 System for Growing 168 Plants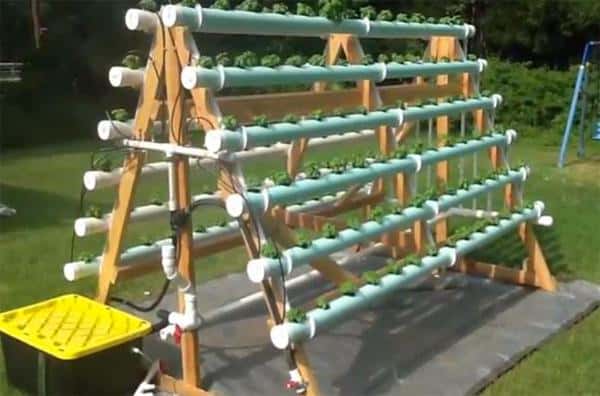 Via: goodshomedesign.com
This DIY hydroponics system is big and bold. Making this requires inexpensive materials along with basic carpentry skills. First, you construct the wooden frame in an A shape.
Then you install the pipes which have holes for the plants. Make the necessary connections for the water to flow. The water should flow from the main reservoir to the plants.
With this system, you will be able to grow up to 168 plants in a 6 x 10 space only! It's an efficient system if you want to grow a big number of plant life.
2. Veggies in a Bucket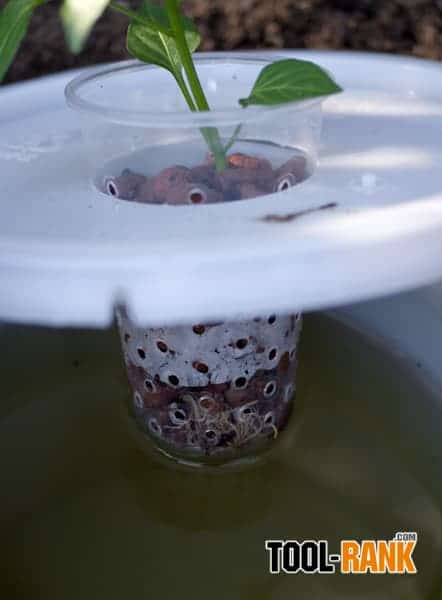 Via: tool-rank.com
Growing veggies in a bucket are inspired by the Kratky method. It's extremely simple and cheap to make. With this system, you won't need electricity. It's a great setup to use if you're a beginner at hydroponics. All you need is a bucket, a cup, hydroponic fertilizer, some water, and a plant.
Making this hydro-bucket is easy. With these materials and a few simple tools, you can build the system in a day. Then you can start growing a plant in it. With this method, you can only grow one kind of plant at a time.
3. A System to Grow Fodder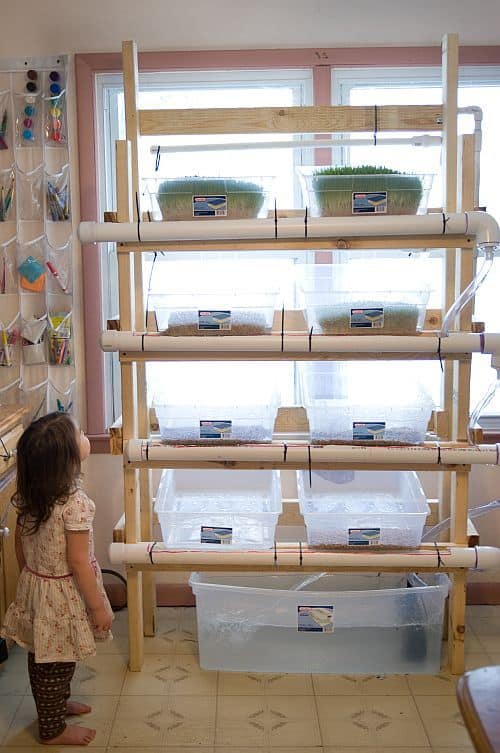 This is a cool DIY hydroponic garden you can use to grow fodder for your animals. With a few choice tools and materials, you can build this easily. What's great about this type of system is that you can easily harvest the grass and feed it to your animals.
The great thing about this kind of system is that it's cyclical. When the cycle of fodder starts, then you can harvest feed for your animals every single day. And as you are harvesting, you can also start planting new seeds each day.
4. Hydroponic Tomato Garden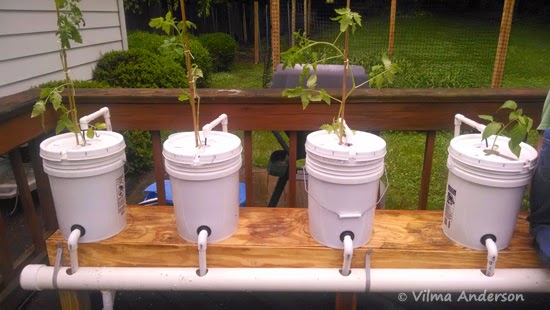 Using hydroponics to grow your own tomatoes is easy. All you need is 5 buckets and different varieties of tomato plants. You can use the same varieties too, it all depends on your own personal preference.
To be able to create this system, all you have to do is modify the buckets to accommodate the plants. This structure allows the water to drain from the buckets. Then it circulates back to the growing plants. The water that circulates is full of nutrients, which makes tomatoes grow better.
5. 3Dponics and Recycled Bottles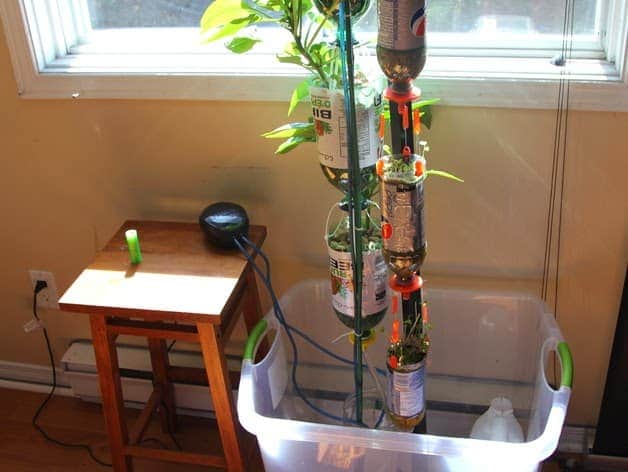 Via: diy3dprinting.blogspot.com
3Dponics is a system that uses components printed with a 3D printer. This allows you to create an inexpensive hydroponics system to grow plants. With this system, you grow plants in recycled plastic bottles.
What's great about this system is the fact that you can grow different plants in a small space. Making use of recycled plastic bottles to grow the plants means that it's eco-friendly too.
6. Coffee Container Planter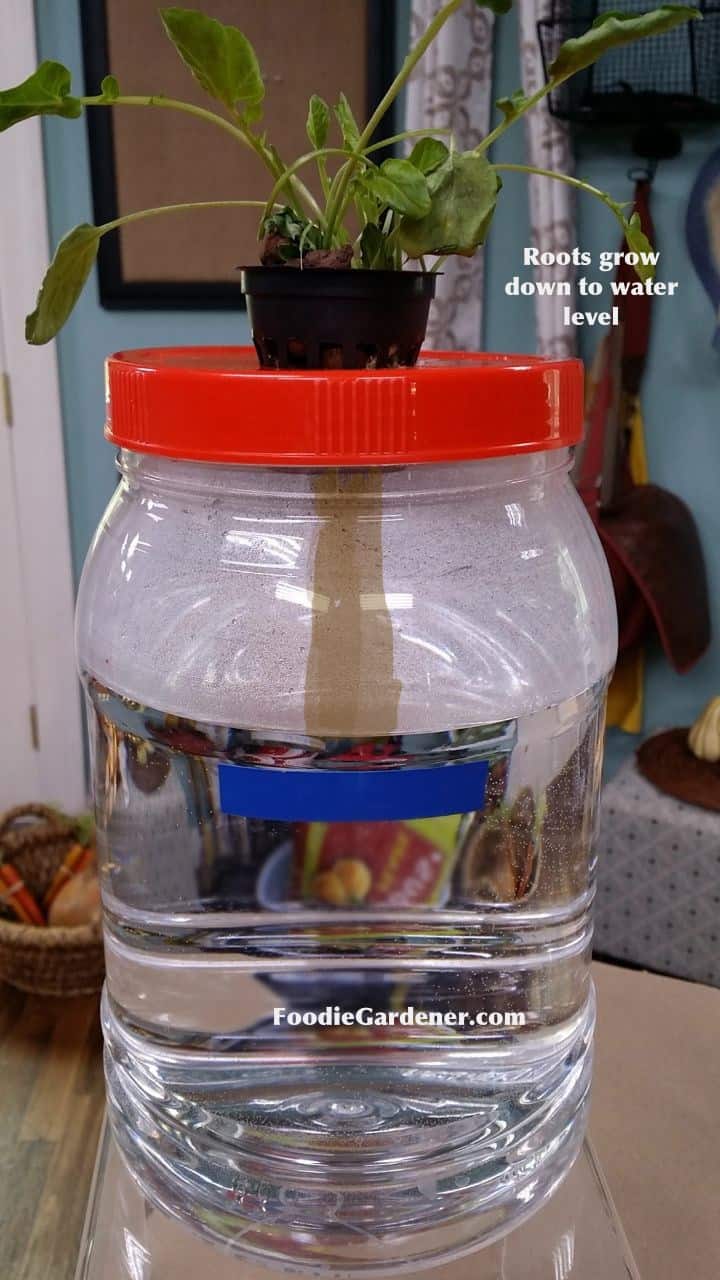 Via: foodiegardener.com
This nifty little DIY hydroponic planter is perfect for foodies rather than actual gardeners. It's a very simple project which uses a used coffee container to grow the plants. With this planter, you can grow herbs or greens all year.
The coffee container system needs no electricity and pumps. All you need are a few simple materials to build the system. Once you're done building the simple structure, you can start planting.
7. Miniature NFT System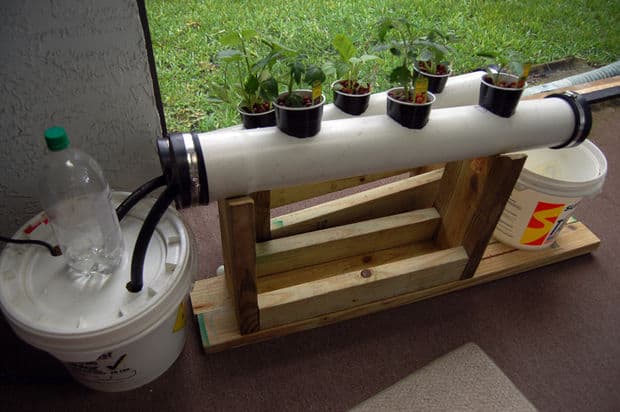 Via: instructables.com
Here's another variation of a hydroponic system. NTF stands for Nutrient Film Technique. With this system, a channel keeps water flowing past the roots of the plant. The water used here is rich with lots of nutrients, hence the name. Gravity plays a role in this system. It works hand in hand with the water pump to aid the flow of water.
Each end of the pipe used here is an inch higher than the end of the next pipe it's connected to. Water enters from the highest tube and comes out from the lowest one. You can use lumber to construct the framework. This means that basic woodworking skills are essential here.
8. Simple DWC System Worth $30
This DWC system is easy to make. Building the whole thing will cost you about $30 and a little bit of effort. DWC stands for deep water culture. With this system, you can grow just about any kind of plant in your home.
Watching the video tutorial for making this system will guide you throughout the whole process. It's a step-by-step instructional video that describes what to do to create the structure. Once you're done, you can start growing your choice of plant.
9. Homemade Hydroponic System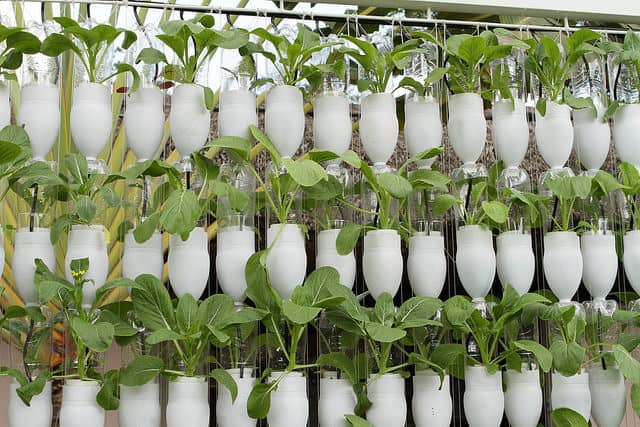 This is another simple DIY hydroponic garden you can make at home. Use an aquarium or tank as a reservoir to hold the water and nutrients for the plants. To make this system work well, you need to prevent light from getting into the water. Paint the container black to stop algae from growing in it.
Place the plants in pots attached to pieces of Styrofoam so they will float on the water. Make sure to drill holes into the posts to let the water in. Finally, add in a pump with an airstone and you're good to go!
10. Single Planter from a Tennis Ball Canister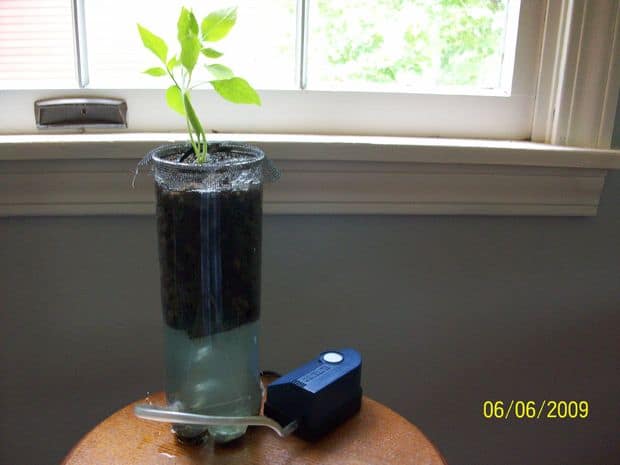 Via: instructables.com
Here's another innovative design from repurposed materials. If you have an old tennis canister lying around, you can use it to build your own hydroponics system. Just acquire a few more materials and tools to build it easily.
With this planter, you can grow one plant at a time. The great thing about this system is that you can customize it as much as you want.
11. DIY Hydroponic for less than $100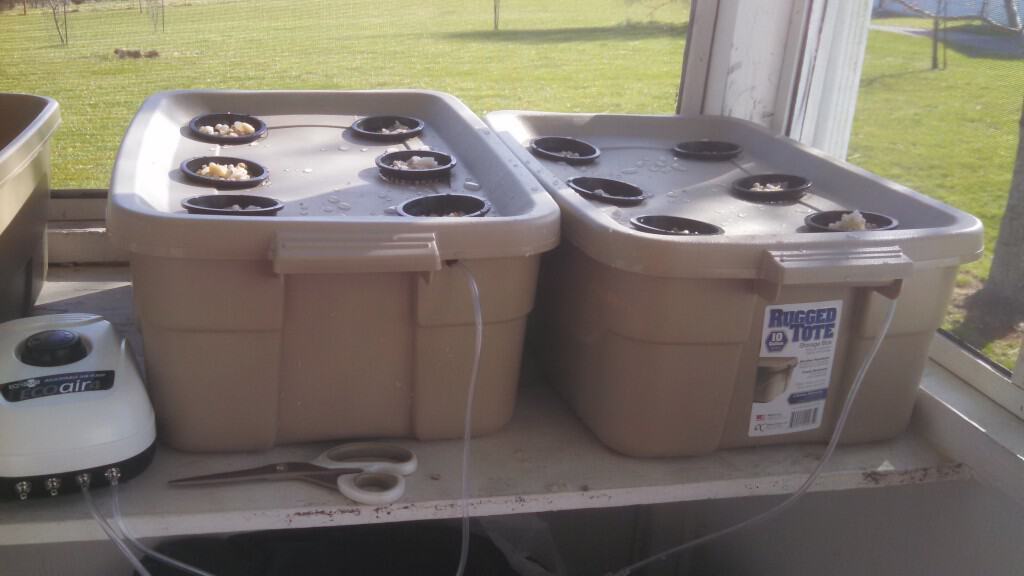 Via: puretraditions.com
With this system, you can grow your own food for under $100! This is a simple system that requires minimal maintenance. You won't have to weed the plants and you won't have to water them frequently either. With this system, you can grow up to 25 plants in 4 containers.
Place the plants in pots with holes so that their roots are in the water. Then use the usual materials to create the system for hydroponics. It's simple and it will give you a great yield.
12. Indoor Trellis System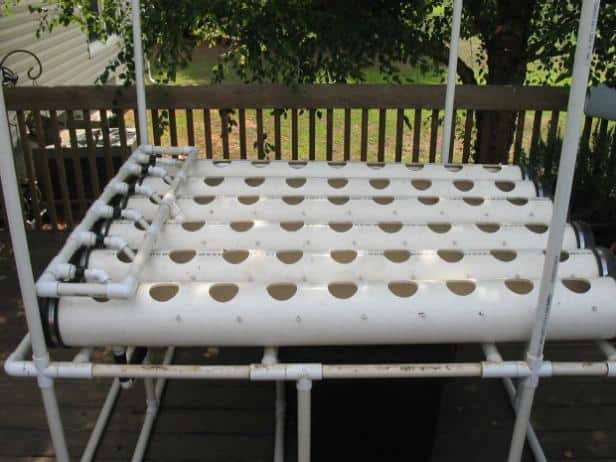 Via: diynetwork.com
This system is quite complex but if you can build it successfully, you'll have a lot of space to grow plants. Line the PVC pipes on a stand with a trellis, which is also made from PVC. It's a complete system that needs a lot of planning to be able to build it well.
The trellis makes this planter unique. When you've placed the plants in the PVC growing tubes, you then tie them to the trellis. In doing this, the plants climb upward as they grow. This maximizes the space the plants are growing in.
13. NFT System from Bamboo
This is a variation of the previous NFT system. It's built similarly but with one key difference. Instead of using PVC pipes, you use bamboo as growing tubes. This is ideal if bamboo is readily available in your area. It's cheaper and more environment-friendly than using PVC pipes.
To build this DIY hydroponic system, you need to have basic woodworking skills. This is because you have to build the actual structure before you start planting.
14. Flood & Drain System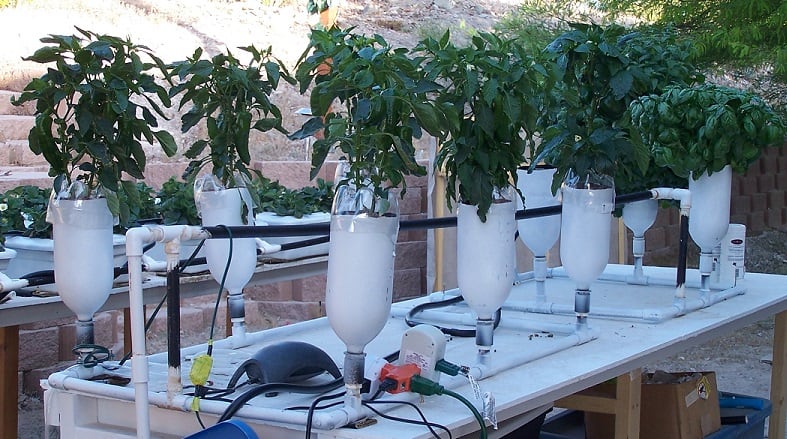 Via: homehydrosystems.com
The flood & drain system supports 6 plants at once. If you want to grow more plants at a time, the design is easy to modify. With this kind of system, you can reduce the number of plants or add to it. Just make sure that your water reservoir will support all the plants.
This hydroponic structure utilizes a blend of recycled and new materials. As soon as you've acquired all the materials and tools needed, you can start building it.
15. Styrofoam Garden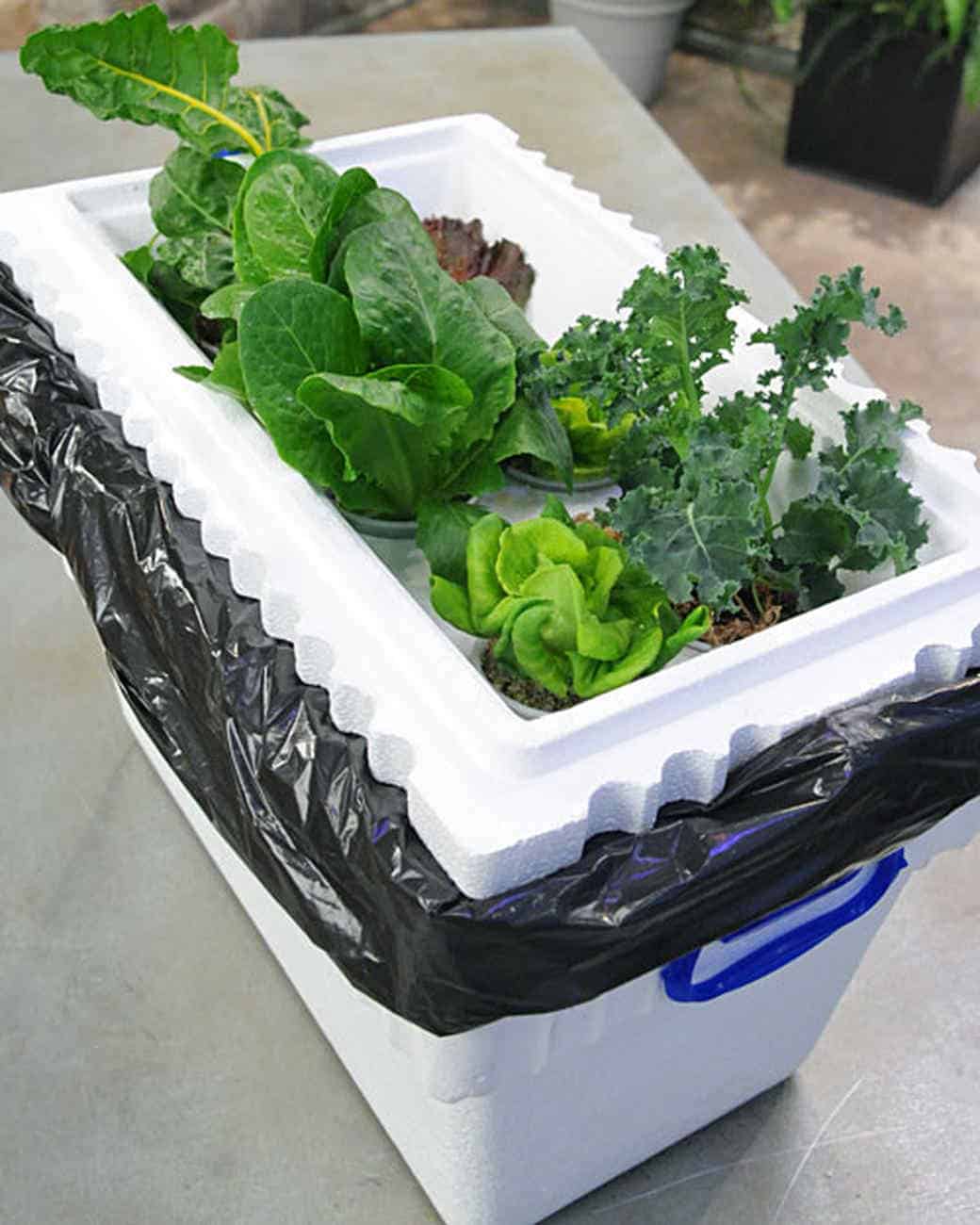 Via: marthastewart.com
Who knew you can make a DIY hydroponic garden using an ice chest made of Styrofoam? It's actually quite easy. Just cut out holes on the lid of the ice chest so you can place cups on it. With this system, you can also make use of Styrofoam cups.
This choice is not as eco-friendly as the others. But if you're using your old Styrofoam materials, then you're making good use of them. Instead of throwing the Styrofoam out, repurpose it for a home garden.
16. Easy Drip System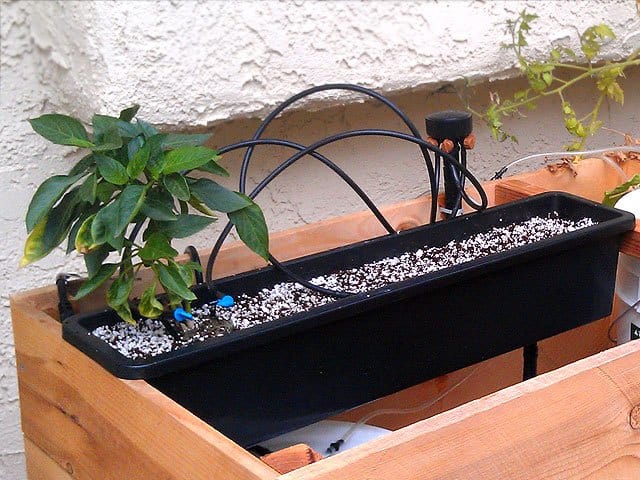 Via: gardenisto.com
The easy drip system is fairly simple to set up. Drip systems are good for hyd​​roponics beginners. This is because you work with growing mediums similar to dirt. These growing mediums are more flexible. They also offer better control in terms of their capacity to hold moisture and aeration.
With this kind of system, water moves through an irrigation structure. The water drips to the plants from a tank found under the container for growing.
17. Easy Aeroponics System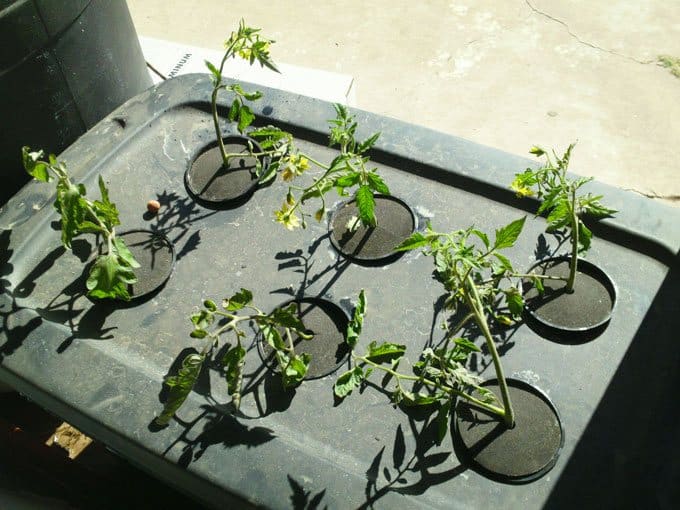 Via: gardenpool.org
This system is easy to build but requires a lot of different materials. That's okay though because you can grow up to 6 plants in just one container.
This system is a bit different from traditional hydroponics. In aeroponics, you grow plants in an environment with mist. You suspend the plants just like in hydroponics and aquaponics. But with aeroponics, you don't use any growing medium.
18. Beginner Wick System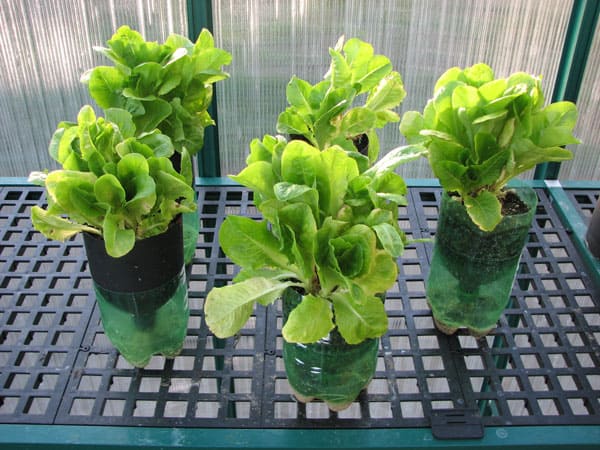 Via: powerhousehydroponics.com
This is another kind of DIY hydroponic that is ideal for beginners. That's because the structure and the process are simpler. This system doesn't need any pumps or electricity. With this system, you keep the plants close to the tank with the nutrient solution.
Place a wick from the tank to the plants for the nutrients to reach them. The solution moves from the tank to the wick and finally to the root system of the plant.
19. DIY Floating Garden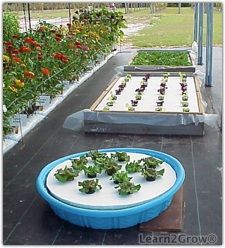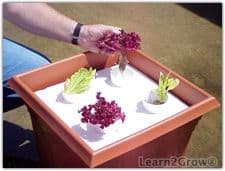 Via: learn2grow.com
This kind of DIY hydroponic garden is easy to make. The secret to making the garden float is using styrofoam to hold the pots. You can make this garden whether you're a beginner to hydroponics or you're more experienced.
You can use any kind of container for this system and you can grow as many plants as the container can hold. Just make sure that the nutrient solution can support the number of plants you are planning to grow.
20. Vertical Hydroponic System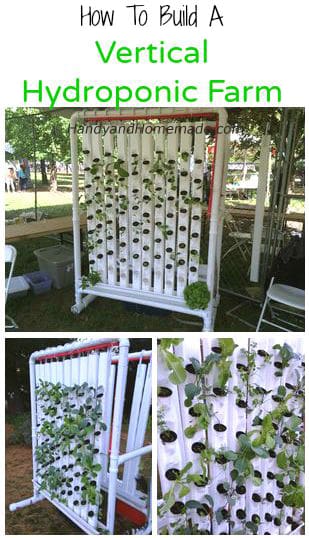 Via: handyandhomemade.com
A vertical system allows for a faster growth cycle and greater yield. You won't need as many resources since the nutrient solution flows from the top to the bottom. This structure is also great for limited spaces.
If you have a small living space, the vertical system is ideal. It will allow you to grow as many plants as you want. The number of plants depends on the structure you build.
Conclusion
As you can see, there are plenty of ways for you to create your own DIY hydroponic system at home. The amazing ideas you've seen range from simple systems to more complex ones. Each system requires a certain level of skill.
If you're a beginner to hydroponics then you can choose to make the easier systems. But if you're more seasoned with the concept of growing plants in water, then you can go for the more complex projects. Either way, you can start growing plants in your home with a system you've built by yourself!
More Hydroponic Articles