Whether it is that you're experiencing low water pressure in the pipes within your home or in the hose that you're using for gardening, it can sure be a pain to fix both problems. And if it's a problem that suddenly appeared, it can be even worse since you don't know what exactly can be the cause of it, faulty pipes? A bad machine or device?
Either way, know that you will definitely need to replace something, you should also consider buying a garden hose pressure booster since it seems to solve the problem for most people. In the following section, we will exactly explain how to increase garden hose pressure in the easiest way, so keep on reading!
Read Next
Pressure Test And Check Your Hose
Usually, the most common suspect for low water pressure are clogged pipes, if you don't regularly change or clean those pipes you will definitely end up with clogged pipes. But what should you do if you have already changed them recently?
Well, the first thing you should do is check if the valves are fully open, sometimes the shutoff valves for the pipes aren't fully turned around, which will force the water to flow with lower pressure.
After you have done that, it is recommended that you check the water pressure as well, you can ask the local water department for that information but you can do that yourself as well.
Most of these water pressure testers are really easy to use and cheap as well, we would recommend you the Rain Bird P2A tester since it seems to be the most efficient one. All you need to do is connect the tester with your outdoor water spigot and then turn on the water.
The Rain Bird P2A water pressure tester is really good and very easy to read the information from it, it can also show you accurate readings ranging from 0 to 200 PSI.
It even comes with a ¾'' female hose adapter which makes it even easier to connect it directly with your hose or faucet. It is also recommended by the company to use it to replace pressure gauges on all the popular brands like Hayward, Pentair, and Zodiac.
The only bad thing about it that customers complained about was the bad scale marker design, each mark was divided by 2.5 PSI instead of 2 or 5 PSI, which made it somewhat harder to read.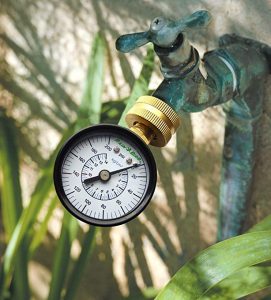 How To Boost Pressure
In order to know exactly how to increase garden hose pressure, you will first need to buy a garden hose pressure booster that suits your needs. The price will vary a lot depending on how much you want to actually boost the pressure and how easy it is to set up.
Some garden hose pressure boosters only cost around twenty dollars while others can cost you hundreds and hundreds of dollars. In the end, it all depends on the material used, the strength of the pump, and energy efficiency, just don't buy anything that is more than what you need.
If your water department really can't deliver you more water pressure then this is a safe choice, it's even better if you already have a ¾-inch plastic or copper water main going through your house.
All it does is take in water coming off from the streets and boost its pressure with the help of an electric pump or pressure tank. Most boosters even have a dial on top of them so that you can easily change the PSI.
​The cheapest and safest solution for you is the CISNO High-Pressure Hose Attachment. It is really simple to use and you don't have to waste hours and hours setting it up, you don't even need to mess with your pipes and water flow since you directly attach this to your hose.
It is entirely rust and corrosion-resistant, which means that besides getting the cheapest option, you're also making sure that it lasts long enough. The construction material used for this design is Brass.
This attachment also comes with a galvanized steel ball valve casing and stainless-steel fittings and washer wand tubing made out of aluminum.
The attachment can fit all standard ¾'' garden hoses, as well as other sizes which tend to use 1'' female hose bib connectors. And if that is not enough, it also has a hose adapter that converts female threaded garden hoses to ¼'' with the help of an O ring.
With the help of the ¼'' ball valve, you can also control the pressure as well as turn the water flow on and off.
But know that you won't be able to heavily influence the amount of pressure there is since it is only an attachment. The company says that the water pressure output demands depend heavily on the water pressure input.
So, in the end, this is more of a device to control the pressure that you already have, instead of boosting it.
The next item is priced a bit higher compared to the first booster, but this time you're actually investing money in a real water pressure booster since this one comes with a real tank and power system where you independently increase the pressure as much as you want.
It has a one-year warranty and the company recommends that you get it, especially if you want to get a booster for RVs and other vehicles.
The product can deliver reliable performances at high flows with the amount of pressure that you want.
The 2088 model series is mainly used for a variety of dispense-on-demand applications.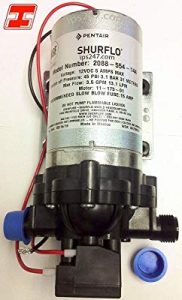 The pump also has an NSF certification which means that you can use it easily with drinking water, for bathing, and for food preparation, a lot of RV pumps and water boosters do not have this certification.
You also have the option to easily mount it either vertically or horizontally as it offers you a lightweight and convenient design.
The material inside that gets in contact with the water is made out of Santoprene and polypropylene which makes sure that the water is safe for consumption.
The booster has a weight of only 4.8 LBS and it uses a voltage of 12 volts DC. The maximum possible water temperature is 130°F. The pump can boost the water with up to an additional 45 PSI.
And for the last item, we will leave you with a truly real machine, it seems to be the most efficient option yet for customers who really need the horsepower. The company claims that the design of this pressure booster is really efficient, specifically they meant the energy efficiency.
This is something that you really need since you will have to spend a portion of your budget on keeping this running at all times. It uses a ¾'' tube opening and it uses 115/230 volts.
With a weight of 28 pounds, this booster is quite heavy, but since it will be in the same place during its use it really isn't that bad.
​When you use this booster under full load, you will only draw 13/6.5 amps which aren't that bad.
It is an ideal replacement for pressure-side booster pumps which usually aren't as efficient as they could be.
The booster is made out of durable and corrosion-proof materials, you have a hose and adapters included.
As for the pressure boosting, you're looking at around 50 PSI at 12 gallons per minute. If you know how to increase garden hose pressure you won't have any problems using this.