Make sure to use a square shovel when removing your grass. Cut the lawn short and water it a day or so before you plan to remove it. Then, using either a sod cutter (although time-consuming and hard), an edger (convenient but expensive), or a square shovel, cut into the lawn vertically with straight lines and slits that are parallel to each other.
The process may also depend on what type of grass it is.
Due to the weight of the soil and grass, consider getting a shovel with a low-profile design as well as excellent ergonomics. You might want to have a wheelbarrow around, which you will use to collect the soil layer. It's an ideal approach to managing your property, especially when commercial services and tilling machines are costly.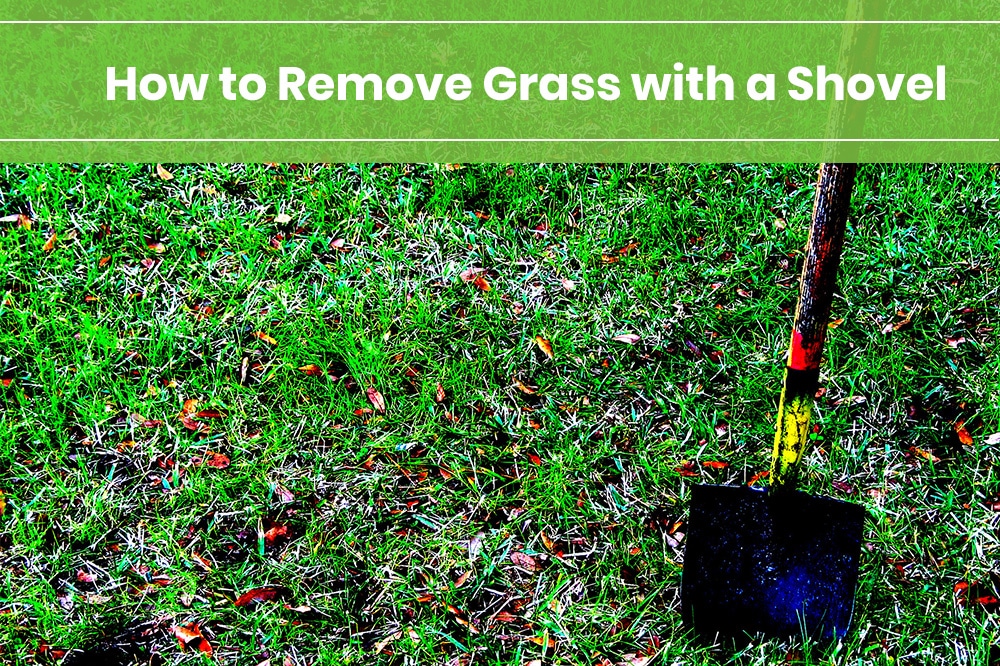 Read Next
Planning to Remove a Lawn
Removing grass from your lawn is a delicate process. Failing to do it correctly might easily compromise the structure of the soil layer. While there are various ways of removing grass, usually most of them are time-consuming and costly. Some techniques even have adverse effects on the environment than others, while others are simply not accepted in the neighborhood. Finding the right balance between these factors, and knowing the cons of each method can save you a lot of hassle. You have to consider the following before performing a grass removal:
Ensure that local homeowners association rules and state rules won't interfere with your project
If you have underground piping systems, then you will have to proceed with caution
For Starters
Before you start the removal process, you need to get a shovel that is up to the task. The consumer market has various shovel brands available, but with the right information, you can get a good one. Consider the following key factors:
The Options for Garden Grass Removal
The options are endless when you want to remove grass from your lawn. You can consider using power equipment such as power tillers. However, these machines are only suitable for large-scale projects and might end up compromising the structure of the grass. Using a shovel is sometimes an effective technique, especially if you are DIY enthusiasts that want precise results.
Digging up a small yard usually does not require herbicide. Also remember that, if you remove soil layers, then you also remove organic matter that you have to replace. That said, you will see the results almost immediately. The lawn will diminish, and you can start preparing it for the planting or seeding period. If you let the sod convert into compost, you are making things easy by retaining useful organic matter.
Even when using power equipment, digging up a lawn is not an easy task. Using incorrect techniques might expose weed seeds embedded in the soil, which gives them the chance to grow. There is also a likelihood that you will remove a large amount of useful topsoil. Using tools such as sod cutters and tillers means that you also have to consider the price of fuel.
More so, digging up some yards can be challenging, especially for those with perennial grass such as Bermuda. Such types of grass have deep roots, and will easily regrow when uprooted. For this type of plant, you may have to apply the correct use of herbicides.
Garden Shovel Buying Guide
Type of Shovel
Getting the right shovel is a critical aspect of the grass removal process. Even if a shovel is not necessarily an exciting purchase, it's a utilitarian workhorse that belongs in the tool shed of every DIY enthusiast. Thus, a key factor to consider when removing grass is, "what is the best shovel for removing grass?" Of course, there are several shovel brands out there, which means that you have to make good decisions. Consider these common solutions available:
The garden shovels are the most common. These types have concave and rounded blades that make them effective for scooping. These shovels are popularly used for scooping dirt and digging holes. They also come in handy for moving snow and soil.
Garden spades come with blades that have a concave design, with broad and flat edges. These types are used for slicing into soil layers, edging lawns and even digging up small holes.
The garden scoops are also typical, and they often have wide and flat blades that have raised edges on the side. It's an excellent garden tool for digging up holes, removing mulch and various other lightweight tasks.
Trowels are garden tools that are perfect for small plant pots or gardens. In most cases, they consist of long and shovel-shaped blades, that have small handles. You can use them as soil scrapers, or perhaps for digging small amounts of grass at a time.
Shovel Features
Material construction – you will have to evaluate the material structure of your chosen shovel. The common ones include high-quality plastic or steel alloy material. The blade on the plastic shovel has to be metal because a plastic shovel is inefficient at scooping soil layers.
Ergonomic aspects – you need a shovel that sits comfortably in your hands, regardless of the amount of soil you have to scoop. Ensure that you also go for a shovel, that is contoured to provide added grip when excavating soil layers.
Weight and durability – you also need to get a shovel that is lightweight, but durable at the same time. Such a shovel type is convenient and easy to use, especially when you have large lawns.
Blade design – the ideal garden shovel has a scooped design, that can remove large amounts of soil in one go. Also, consider the surface area of the blade and whether it suits the nature of your gardening tasks.
How To Remove Grass With Shovel Steps
1. Tools And Materials required
Ergonomic shovel – you need a shovel to help you with the removal process. The shovel should be ergonomic, in that it's comfortable in the hands, regardless of the weight you have to lift. We recommend that you have a look at the Bond LH015 and Fiskars 46 Inch Steel Shovel.
Wheelbarrow – while a wheelbarrow is not imperative, it makes up for an excellent addition to your gardening regimen. Aside from carrying the soil layer, you can also use the wheelbarrow to carry tools and more.
Trowel – get a good trowel, which you shall use to scrape off soil from the spade. Ensure the trowel is compact and ergonomic as well.
2. Cut the Grass into Sections
Using the shovel, cut the grass into measured sections to make it easy to remove the grass. If you want to transplant the grass to another region, then consider making large sections. Using large areas will improve the quality and growth of the grass yield. On average, the right size of the soil layer should be 20 by 20 inches. The large sections are not easy to manage, while the small sections have poor growth results
Place the rear end of the spade cutter and the indicated cut points. Then gently press the spade forwards as you gently lift the grass layer. If the soil is tough, consider watering it, or perhaps push down on the spade with one food.
3. Tilt the Grass on Its Side
Once you make the vertical slices, place the blade in the cut that is close to the rest of the lawn. Tilt the shovel away from your body, such that its acts as a fulcrum to lift the soil layer. Once you collect the soil layer, use a trowel to scrape off any excess soil on the shovel.
4. Tip the Grass onto A Carrying Device
A shovel is a rigid device, and you will have to tilt it slightly to match the structure of the grass layer. Using this approach won't break up the grass layer, and makes it easy to transplant to a new section.
Tips on Removing Grass
If precision is crucial to the results of your project, then consider marking a grid design on the grass using some visible paint.
Avoid slicing excessively because the cut marks might become challenging to see and locate
Remove the grass a few hours after rain or irrigation. You will notice that waterlogged grass and layer can be heavy on a shovel when dry.
Have a wheelbarrow and trowel close by, which you shall use to remove any excess soil. Removing the excess soil is vital to the efficiency of the process.
Removing A Lawn with Herbicide
Using chemical products is also a technique used to remove grass. However, this technique is associated with various adverse effects, when compared to using a shovel. The chemical products might easily compromise the nutrient structure of the soil, and lead to pollution.
Rain can, or irrigation water can wash the chemicals, which can seep into various other vital ecosystems. Products that contain high levels of glyphosate are notorious in this category. More so, these products are often costly and require specific application procedures to achieve the best results. In fact, you may have to wait for up to two weeks, before working on soil layers with insecticides.
On the contrary, using a shovel may be back-breaking work, but you achieve precise results, and the soil structure stays the same. Even more, you don't get to spend hundreds of dollars on chemicals, that are otherwise harmful to the functionality of your soil.
After Removing Your Lawn Grass – What Next?
Regardless of the technique, you use to remove the lawn, there are a few things you have to do after you remove the grass. Even if you use a method that lets you plant grass immediately, the landscape will benefit from land preparation. If the land you have is compromised due to disease or weeds, then address these critical problems before they come up again:
Perform a soil test. This test gives you a clear perspective on the condition of the soil, which makes it easy to develop precise solutions. Adding product amendments to the ground will help improve the quality of future yield.
Fix grading complications. This is an excellent approach for getting rid of any lo

​

w

​

or high spots – thus making the ground level.
Consider pests. Removing grass can sometimes expose the ground to pests. You will have to evaluate the soil for the occurrence of pests such as larvae, which you have to deal with before plantation season.
Remove new weeds. An open bed of soil that has no turf offers the perfect platform for weeds to grow. If you notice new weeds growing, use a pruner or shears to cut them off. Avoid using herbicides because this can easily pollute most water sources around the area.
Removing Grass with Shovel
Shoveling the dirt is quite simple and easy, but the use of the right tools is imperative. A lot of people tend to buy a shovel without checking the features and specifications. So, you should go through the process of reading the reviews of the shovels and then invest in the one which you feel is best for you.
Also, check for the tool which can be used for a longer period of time. The shovels which are used for digging hard soil layers can be used for a longer period of time.