When investing in a new bed, it's often easy to get overwhelmed by the several products you have to choose from, and their features. Whether it's mattresses, the frame style, or even ergonomic factors, there are various vital factors you should consider. In this guide, we have information on how wide is a king-size bed frame. There are some exceptionally excellent designs in décor and comfort out there today.
Read Next
Thus, it would be good for you to start with a focus on the sizes of beds and choose measurements that will fit in your preferred room. This is particularly true if you want to size up from the current bed you have available in your room.
Common Bed Sizes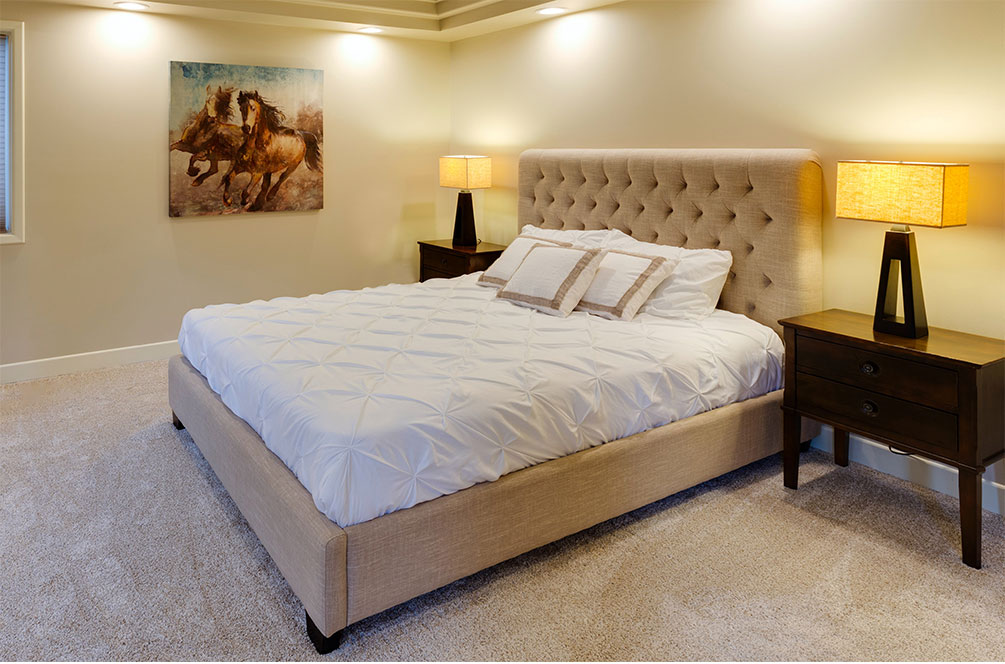 There are some common terms that people will associate with beds today, which include full, queen, twin, and king-size beds.
The twin- and full-size beds are common with children who will get their first beds, mainly since both are elements of bunk bed frame structures. These are excellent choices for children, as an adult can also use them. The king and queen size beds are popular among couples or even young adults to upgrade from single bed types.
Before learning about king-size bed frame dimensions, it would also be good to gain insight into the other common bed sizes. Below is the guide
Twin Size Bed Dimensions
Usually, the frame dimensions of a twin-size bed are typically 38" W x 75" L. It's the smallest size of the mattresses in the adult size category. A twin-size mattress would be ideal for a child who has outgrown their beds, or a single adult.
It's a typical size for products such as bunk beds, daybeds, guestrooms, and more. Plus, it is also the smallest mattress size for many of the popular mattress companies today.
For sleepers on a tight budget, the Twin size mattresses offer the same luxury as when you have a large mattress.
Twin XL Size Bed Dimensions
The twin XL size mattress has the dimensions 38" W x 80" L. While it may have the same width as the conventional twin, it's 5" longer in size. Thus, it's ideal for tall adults who don't have adequate space for large beds.
Furthermore, not all sheets or comforters are available in the XL size. For this reason, ensure you double-check the dimensions so you know the difference before you invest.
Full-Size Bed Dimensions
A full-size mattress has the dimensions of 54" W x 75" L. It's also commonly termed the "standard double." The mattress is ideal for active sleepers who like to sprawl out or couples who have small rooms. That said, it may not be perfect for couples who have children or pets.
Queen Size Bed Dimensions
The dimensions of a queen-size bed are 60" W x 80" L. it's among some of the most common mattresses in the world. Why. Well, because the mattress is suitable for couples, active sleepers, or those who share beds with pets or children.
To ensure the mattress and its bed fit in your room, ensure you have at least 10'W x 10'L of space.
King Size Bed Dimensions
The dimensions of a King size bed are 76" W x 80" L. It's also an incredibly comfortable option, suitable for active sleepers, and couples that share beds with pets. To ensure this mattress fits in your room, it's recommended that you have at least 14'W x 14'L.
Obviously, a bed frame of any size can vary largely, because factors such as the style you consider are crucial. Beds such as the floating platform types tend to be wider and longer, and you should expect the same with any bed that has storage mechanisms. More so, the sleight frames might be longer, which means they can accommodate the curved aspects of the head and footboards. That said, they also share a common factor – the space available for the mattress to rest.
If a simple frame is all you need, then you have to compensate by adding at least 3 inches to the measurements of your mattress. Why? Well, you do this to ensure the frame has enough space, even if the exact dimensions will be available from the bed frame brand. Furthermore, the king-size beds (NOT California Kings) have the same length as queen-size beds, while the widths are different.
You should also note that a king is 16 inches wider than a queen, which will provide added space to spread out. That said, when you consider the added space required for the frame and mattress, you may have to consider getting more than 18 inches of floor space to accommodate a larger size.
Split King Size Bed Dimensions
A split king mattress has two mattresses that have the same size, each measuring 38" W x 80" L. This is the same size you would expect with a complete king mattress. More so, sleepers who prefer these types of beds often have different resting needs from their partner. It's a unique mattress design that ensures each user has a mattress that suits their specific needs without sacrificing the needs of their partner.
Some Split King beds are joined at the bottom half of the mattress and only split at the top. This style is more for sleepers who do not have different sleep preferences since the interior of the mattress is the same throughout. Some couples may also opt for a flippable mattress that offers a different firmness level on each side, such as the Layla mattress.
The advantage of this type of mattress is that you can use it on an adjustable frame, whereby each mattress can move independently. Also, it lets sleepers sit up or lie back, without affecting the sleep quality of their partner. That said, the main issue would be in finding sheets that suit the mattress.
California King Size Bed Dimensions
A California King size mattress has the dimensions of 72" W x 84" L. It's a mattress that is ideal for tall sleepers or those who want added length to their mattress. Plus, it's also highly spacious for active sleepers, or couples that rest with pets or children. Even if California mattresses tend to be 4 inches longer, they also tend to be narrower than a standard king mattress by 5 inches. To ensure a California King mattress fits, ensure your bedroom is at least 14'W x 14'L.
King Size Bed Frame FAQ?
Q. Is there a difference between a mattress and the right bed frame size?
A. Usually, mattresses are similar when it comes to selecting the corresponding frame size. That said, some frames (the ones with headboards and footboards) may be slightly larger than the mattress. The modern bed frames that have shelves on the headboard, sleigh bed frames, and wide platform beds might require more space – when compared to the conventional bed frames. It would be good to measure the dimensions of your room before you invest in a suitable bed frame for your needs.
Q. Is a California king larger than a king?
A. No, while a California king is longer than the conventional king, it's also 4 inches narrower. It may be smaller in width, but its length is perfect. More so, even if Cal kings are often more luxurious than the standard kings, they are an excellent alternative for people who want added legroom.
Q. Are headboards wider than mattresses?
A. Yes, the headboards tend to be 5 inches wider than the beds. For instance, a king-size headboard might be 82 inches wide, and 5inches wider than a king-size mattress.
Types of King Beds
King-size beds have changed significantly over the past few years. Nowadays, there are several variations to this standard type of bed to suit the needs of different users. The typical sizes include:
Split King
The standard king is an excellent mattress for couples who enjoy personal space during rest times. It's also a really large bed that can accommodate one or two kids – perfect for parents with pets or kids.
The split kings are excellent choices for couples that enjoy personal space but have varying sleeping needs. A split king mattress is just a twin XL mattress, which is integrated. Thus, each sleeper has over 40 by 80 inches of space on the side section of the bed. More so, a split king also lets both sleepers select their preferred levels of comfort and support for the side structure of the bed.
California King
A California king mattress also has unique dimensions. It tends to be 4 inches longer and 4 inches when compared to the standard king. The added length provides room for the tall sleepers. Averaging 72 x 84 inches, the California king makes up for the lost space in width, with its extra length. It's the longest among most standard-size beds.
Since a California king may not be as wide as the king, it may not be suitable for families with many children. The California kings are also available in split types, which lets you choose a mattress type for specific needs.
Finally
The quality of your sleep is essential, and this is why you need to invest in the right bed type for your needs. Even more, the right bed can do a lot for your interior décor. Thus, this guide has been all about how wide is a king-size bed frame. Why? Well, it's among some of the most popular bed frame types on the market today.
Thus, it's good to consider the size dimensions before getting a king-size bed frame. Some of the critical factors to consider include the size of the mattress, the number of sleepers, the size of the room, and more.